Bars, gyms and restaurants packed densely into downtown areas have played a "decisive role" in drawing young college graduates to city centers, revitalizing America's urban landscape.  That's the conclusion of the lead study in this week's research wrap. Other papers and posts show factors in a child's environment that predict adult innovation, underline the sunnier side of monetary policy spillovers and highlight a perk of lightening consumer debt loads. Check this column each week for new and thought-provoking economic work from around the world.
Build gyms and they will come
Urban Revival in America, 2000 to 2010, Published November 2017 Available on the NBER website
In a well-worn meme, Millennials are skipping out on homes and kids and spending money on things like avocado toast and spin classes. That trend is giving cities a boost, based on this working paper by University of California Berkeley's Victor Couture and University of Pennsylvania's Jessie Handbury.  Between 2000 and 2010, young, educated Americans flocked to population centers, and that change seems to have been driven by their comparatively high demand for services, which are more concentrated in cities. Initial levels of amenities like bars, gyms and personal services explain between 50 to 80 percent of the group's urbanization, the researchers find. Factors like the slight increase in the concentration of higher-wage jobs played a less important role.
The trends probably came as fewer people formed families, the authors find, because singles have a higher demand for amenities and urban living. Rising disposable incomes in the early 2000's could have played a role, though the Great Recession hit toward the end of the research period, obscuring the trend.
America's missing Einsteins
Who Becomes an Inventor in America? The Importance of Exposure to Innovation
Published November 2017
Available on the NBER website
Children born to parents in the top 1 percent of the income distribution are 10 times as likely to become inventors than those born to families with below-median income, according to findings of a group of five researchers including Stanford University's Raj Chetty. Children who grow up in areas where a lot of patents are filed are much more likely to go on to invent themselves, and children whose parents or parents' colleagues hold patents are more likely to patent in the same field, suggesting exposure also matters.
One thing that isn't a great indicator of future inventiveness? Natural ability. Low-income kids who achieve top scores in math in the third grade are still much less likely to file a patent later in life, when compared to their higher-income peers.
If capable people fail to invent simply because they lack exposure to innovation, it means society is leaving potential talent on the table, the authors note. At a time when productivity has slumped and new inventions are harder and harder to come by (see: Robert Gordon), that matters a lot.
Weekly demo(graphic)
Household Wealth Trends in the United States, 1962 to 2016: Has Middle Class Wealth Recovered?
Published November 2017
Available on the NBER website
When it comes to wealth, houses are still the middle class' mainstay.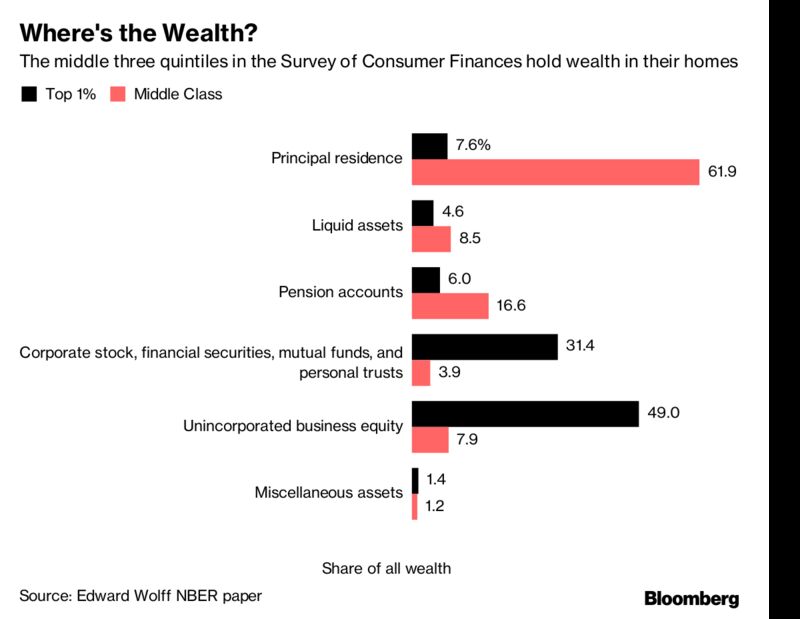 How the Fed helped Canada
Unconventional Monetary Policy in a Small Open Economy
Published Dec. 1, 2017
Available on the IMF website
Unconventional monetary policy in the U.S. boosted Canada's industrial output by an average of 0.127 percent per month as the two countries recovered from the Great Recession. That's even more than the change brought about by Canada's own policy, which promised rates would stay low as long as inflation wasn't expected to take off.
"Our work contributes to an alternative perspective on unconventional monetary policy spillovers: that under certain circumstances, in particular when international monetary policy is coordinated, such spillovers can be favourable," the authors write.
Debt and central banking
Household Debt: Recent Developments and Challenges
Published Dec. 3, 2017
Available at the Bank for International Settlements website
Central banks might have more room to maneuver in future crises if they can keep household debt under control today, research by the Bank for International Settlements suggests. If consumers have a lot of debt, and especially a lot of debt with short maturity, then interest-rate increases curb economic activity by more than an equally-sized rate cut would expand it.
This is because credit-constrained borrowers cut consumption a lot in response to rate hikes, but don't expand consumption as much in response to lower borrowing costs. As a result, macro-prudential policies like loan-to-value caps and credit growth caps can have a positive effect on monetary policy by containing debt levels and affording officials greater wiggle room.