One of the hottest questions among energy nerds these days has to do with the interaction of electric vehicles and the electricity grid. Will EVs remain passive consumers of electricity, like toasters or refrigerators, the way they are now? Or will they be able to communicate with the grid and send power back to it when needed?
The answer depends on both technology and economics. A new study contains reason for great optimism.
First, some quick background.
Grid nerds hope EV batteries will talk to the grid
If recent forecasts are accurate, the electric vehicle market is about to take off. The latest research on EVs from Bloomberg New Energy Finance (BNEF) — which gets more optimistic every year — now estimates "that EVs will account for 54% of new car sales by 2040, not 35% as previously forecast," which means that "a third of the global light-duty vehicle fleet will be electrified by 2040."
That means tens of millions of batteries floating around, storing electricity while the cars aren't in use and releasing it when they are.
Theoretically, all that energy storage could be very useful to the grid, which needs all the storage it can get in order to integrate more variable renewable energy. It needs big, steady, long-term storage, for monthly or yearly variations in sun and wind, but it also needs fast, responsive, short-term storage, to smooth out smaller variations of seconds, minutes, or hours — to provide "voltage regulation," "frequency response," and other grid services (many of which are now typically provided by natural gas plants, which will have to go soon).
The hope among EV enthusiasts is that, when they are not in use (remember, the average car is parked 90 to 95 percent of the time), all those EV batteries will be able to hook up to, and communicate with, the grid. If the grid could communicate simultaneously with thousands or millions of distributed EV batteries, it could treat them as one big virtual battery, capable of storing or producing electricity as circumstances require, serving that vital short-term storage role.
That would both help the grid, smoothing out variations in renewable energy, and increase the value of EV batteries, stimulating EV markets.
It's called vehicle-to-grid, or V2G, and if it works, it will be a win-win.
From a user perspective, it wouldn't make much of a difference. When EVs are plugged in — overnight, or while their owners are at work — they would signal to the grid that they are available and the grid would use them to store or produce energy. Since the grid would have thousands of such batteries to work with, the amount of juice added or subtracted to an individual battery would likely be quite small. And of course EV owners would be compensated for making their cars available for V2G, though the business models remain to be worked out.
The economics of V2G are still uncertain, but there's promising news
There have always been V2G skeptics. The debate can get technical, but the main point of contention is degradation. Running EV batteries on cycles (and for purposes) for which they were not designed will, it is feared, reduce their capacity and lifespan. That loss of value will be greater than the value produced by any services to the grid. V2G just isn't worth the trouble — or so the skeptics say.
But a study recently released by researchers at the University of Warwick suggests that degradation is not necessarily a foregone conclusion.
After running extensive simulations on a "comprehensive battery degradation model," researchers developed a V2G algorithm designed to minimize degradation. They found that under the right conditions, a two-way power exchange with the grid could extend a battery's useful life — specifically, it could "reduce the EVs' battery pack capacity fade by up to 9.1% and power fade by up to 12.1%."
This is just one study, over a relatively short time period, using idealized V2G conditions. So the jury is still out on the long-term, real-word effects of V2G. (There are numerous pilot projects, many done, many still underway, that will tell us more over time — see here, here, here, here, here, etc.)
But if the study's main finding holds true in further tests, it will be a very big deal.
Adding 10 percent to the life of an EV battery is a service people would pay for. Adding 10 percent to the lives of tens of millions of EV batteries would be a market-shaking boost to EVs.
That's unrealistic, of course, since real-world V2G conditions are unlikely to match idealized usage patterns. But one can imagine commercial V2G services developing their own algorithms to minimize degradation, with real-world competition driving rapid learning. If the algorithms get good enough, V2G could even someday be marketed as ongoing EV battery maintenance.
Even if V2G can have neutral or only mildly effects on battery life, it will be a huge boost for EVs. Revenue from grid services will effectively become a free bonus available with an EV, at no extra cost. That will make batteries more valuable, EVs a better bargain, and the market that much hotter.
Parked electric cars are earning money balancing the grid in Denmark: Vehicle-to-grid system could offer frequency response, incentivize electric ownership.
By Megan Geuss, 14 Aug 2017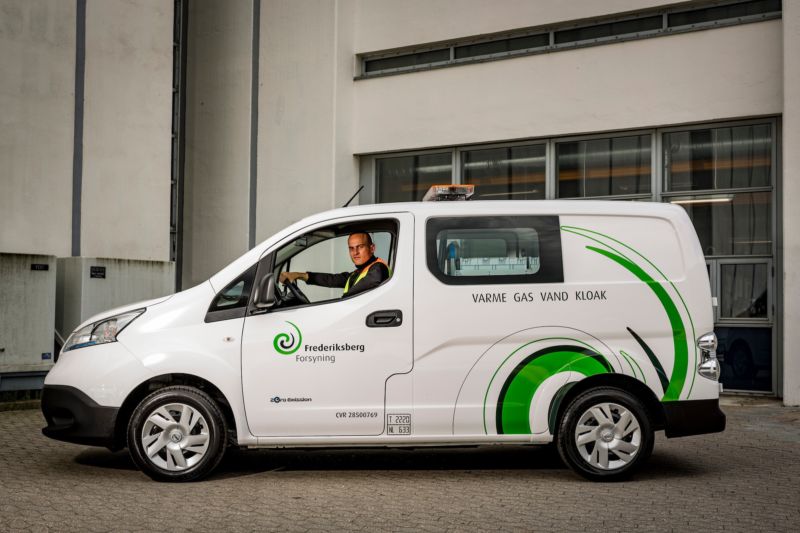 A year-long trial in Denmark is showing that utilities can use parked electric vehicles (EVs) as spare batteries, and those EVs can earn quite a bit of money for their owners from the utilities.
In an interview with Bloomberg New Energy Finance, Nissan Europe's director of energy services, Francisco Carranza, said that a fleet of 10 Nissan e-NV200 vans has earned €1,300 ($1,530) over the year.
Electricity grids around the world are facing an era of rapid change as more electric vehicles hit the road and as grid supply changes. For grid managers, sometimes small amounts of power are necessary to regulate current frequency and keep the grid working. At the same time, if a lot of electric vehicles draw power from the grid concurrently (for example, when they're parked at home at night, or when they're parked at work during the day), that threatens to change how grid operators plan to meet demand, as well.
Researchers and grid managers have theorized that vehicle-to-grid connections could help solve some of these problems. By installing two-way connections where an EV could charge its battery and send power back to the grid when it's needed, an electric car battery increases its value and makes electricity infrastructure more stable.
Research has been done on vehicle-to-grid connections for years. In 2010, East Coast grid manager PJM worked with the University of Delaware to test communication control and logic between an electric vehicle and a grid. More recently, Ford and GM have tried similar tests, working especially to synchronize charge and discharge cycles so that the owner of the EV always has enough juice to get in the car and go when necessary.
The latest Danish trial was started last August as a project between Japanese automaker Nissan and the Italian energy company Enel. Essentially, 10 Nissan e-NV200 vans were hooked to a two-way grid connection during the day on the lot of the Danish utility Frederiksberg Forsyning (much like the GM trial mentioned above, utility employees were the beneficiaries of the trial here). The two-way grid connection would allow the cars to draw electricity when their batteries are low and send electricity back to the grid if necessary.
The total capacity of the Nissan fleet when they're all connected to chargers is 10kW. The platform that the chargers use to intelligently send power between the grid and the cars, incidentally, was provided by a California company called Nuvve, which commercialized technology that was developed by the University of Delaware.
Although vehicle-to-grid systems are in their infancy and real results won't be achieved until large numbers of EVs are connected to grids, trial runs need to start happening now. "If you [blindly] deploy in the market a massive number of electric cars without any visibility or control over the way they impact the electricity grid, you might create new problems," Carranza told Bloomberg New Energy Finance.
Utility Dive:  Is the future finally here for utility-scale solar-plus-storage?
8minutenergy's Carl Stills, Vice President of Storage Integration, and Steve McKenery, Vice President of Storage Solutions discuss the future of solar-plus-storage.
By Carl Stills, Steve McKenery, 16 Aug 2017
The following is a viewpoint from Carl Stills, Vice President Storage Integration; and Steve McKenery, Vice President Storage Solutions from 8minutenergy.
America's energy storage market just had its biggest first quarter in history, and is growing exponentially with GTM Research projecting it to reach roughly 2.6 gigawatts (GW) in 2022 – almost 12 times total 2016 market size, with surging deployment in the utility-scale storage projects.
This growth opens up tremendous opportunity for storage developers worth $3.2 billion in 2022 and $11 billion cumulatively from 2017-2022, according to GTM Research, while also opening up incredible opportunity for utilities seeking to integrate renewables, smooth ramping requirements, and optimize their system to boost grid reliability.
Today, most utility-scale storage projects are in the 10-megawatt (MW) and greater range, but that's changing fast. Innovative new designs and technologies have made storage – especially when paired with solar photovoltaics (PV) – fully dispatchable and cheaper than building a new natural gas-fired peaker plant, today. Navigant Research forecasts hybrid energy storage system (combined storage and generation) capacity will grow from 78.6 megawatts in 2017 to 2.1 GW in 2026, meaning for utilities, the storage future is here.
EV innovations began storage price declines; project innovations will keep costs falling
Developers don't need subsidies and incentives to do solar and storage, although the current 30 percent ITC helps improve project economics. Lithium-ion battery costs have fallen nearly in half since 2014. This reduction in cost is largely due to the proliferation of electric vehicles; companies developing new EV batteries are unlocking price and efficiency breakthroughs that are being applied to power generation.
Forward pricing curves to 2020 do not show as dramatic a decline, but as the energy storage business expands and EVs gain traction globally, we'll probably see more declines in the energy storage price. Combining solar and storage makes sense for electric grid reliability, on cost. Developing solar and storage together allows for generation output to be smoothed, shaped, and fully dispatched; and it provides economies of scale and reduced project pricing. Developers can also optimize the system design process to lower costs, integrating storage equipment within actual PV arrays to unlock more efficient inverter use.
Currently, lithium-ion batteries are the predominant bankable technology and are used on more than 95 percent of energy storage projects. Potential solutions such as flow batteries or flywheels may make sense down the line in individual projects or as technologies evolve. Our test center in Northern California is experimenting with emerging technologies to see where the next improvement will come from to utilize any reliable and cost-effective solution that truly makes it over the crest.
Software is the final piece of the innovative project design and a storage control system is complicated. It requires algorithms that interface with a utility's energy management system and the battery energy storage system's (BESS) battery management system, optimizing when the project charges and discharges. Developers are working to optimize an integrated design of the four major solar-plus-storage system components– the PV array, battery, inverters, and the power control system.
Back in the early days of solar development, people just mounted panels on fixed structures and aimed them south. The solar industry reduced project costs with design innovations like single access tracking, higher efficiency modules, or other approaches that improved project efficiency and performance. Leading project developers and EPCs are taking the same approach today with hybrid designs to optimize system efficiency and distribute batteries within solar arrays to lower prices on top of declining manufacturing costs.
Multiple applications and benefits for utilities dealing with the duck curve
Energy storage is kind of like an SUV: You can use it to drive alone and commute to work, you can pile in all the kids to get them to soccer, or you can pull a trailer. Battery storage is similarly a versatile, multi-use product that provides multi-stacked value to the utility, to the residential and commercial consumer, and to the grid operator. It shifts energy, it stabilizes the grid, and it enhances the operability of variable renewables.
Storage has become a natural complement to solar PV power, and solar-plus-storage presents a number of use cases, starting with the duck curve. We've all heard of the duck curve in California – during the day when the sun is out we have a lot of solar power available, but peak utility demand is in the early evening, creating a supply and demand mismatch. While solar PV delivers very clean, very economical power, its delivery curve is typically up to four hours earlier than when the power has its highest value and your load starts to drop.
But a solar-plus-storage system obviates the duck curve's large generation ramping requirements. By charging batteries during the day, utilities can then discharge them into the early evening, shifting solar power delivery and smoothing out the ramp. This benefit is huge, because not only can you now provide dispatchable solar power in the evening when it has the highest value, but you can also provide other transmission and grid benefits.
California utilities have pioneered these applications, with SCE, PG&E, SDG&E, IID, and LADWP all implementing projects and actively exploring bringing on more capacity, but they're not alone. Utilities and regulators in states like Arizona, New Mexico, Texas, and Florida are all exploring the inherent advantages of being able to store energy and move it around to stabilize their grid.
Don't forget about renewables integration and grid optimization
Beyond smoothing out ramping requirements, solar-plus-storage also allows utilities and grid operators to integrate renewables across their systems. Solar and wind have proliferated across the country as technology costs have come down, with utility-scale solar prices recently falling below $1/watt for the first time, but creating a need to shift delivery of power to when utilities and customers need it the most.
Utilities, especially balancing authorities, have wrestled with their ability to integrate intermittent renewables, creating reliability concerns. For instance, as cloud cover makes solar drop off or the wind slows and wind turbines stop spinning, grid operators face large swings on their Area Control Error (ACE) calculations, which is measuring VARS across the interties. On transmission grids, the Automatic Generation Control (AGC), which dispatches generation to maintain a balanced generation/load system, generally is in minutes per megawatt-hour change versus milliseconds per load variability. However, battery storage is much faster and can provide instantaneous balancing to changes in the load and smooths out the ACE calculation.
While renewables continue improving their value proposition relative to the other resources such as natural gas and existing coal, they've been somewhat limited by their intermittent nature – but now energy storage creates a natural coupling with solar. In fact, we have proposed solar-plus-storage projects to major utilities at the 100-MW scale that are able to supply fully dispatchable energy from anywhere between one to four-hours or longer at any time of the day besides the hours required to charge the batteries. These solar and battery storage systems can supply energy at less than the average cost of a new natural gas turbine peaker plant.
This dispatchability of solar-plus-storage also improves the ability and speed with which utilities and grid operators can conduct frequency regulation. Utilities, from a regulatory standpoint, are responsible for managing a tremendously important electrical grid, which requires that generation follows the continually changing load. Operating the transmission grid reliably and in accordance with North American Electric Reliability Corporation (NERC) requirements requires generators to constantly move up or down match the load. The faster ramping capability can regulate the frequency, the better. Operators want generators coming on line that are quick enough to maintain the system frequency and maintain their transmission system; solar-plus-storage is fast and has the ability satisfy this condition and to prevent NERC violations for compliance standards violations.
Finally, solar-plus-storage empowers utilities and grid operators to optimize their transmission system. Many utilities cluster renewables around transmission to accommodate a large amount of potential solar resources in one area. Solar plus storage enables the utility to shift the solar energy by dispatching it at a time when transmission capacity is available.  This shifting approach maximizes the use of that transmission, obviating the need to build expensive new transmission lines. From an economics standpoint, it creates significant benefits.
Energy storage an exciting opportunity for utilities
Utilities across America are starting to learn storage through pilot projects, and as they install batteries, they realize operational benefits as well as economic benefits from avoided costs across their systems. Once these benefits become apparent, they want to add more storage and create a beneficial cycle of positive outcomes begetting more projects, which creates larger benefits and so on.
In the coming years, utilities across the country will be adding larger and larger storage projects at lower and lower costs. Storage installations can be solar-plus-storage, or they can be stand-alone, but either way they open up exciting new opportunities for utilities and grid operators.