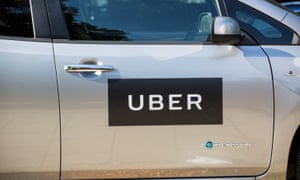 Uber drivers will be banned from using vehicles that are not a hybrid or fully electric in London from 2020, as part of a plan to help tackle illegal levels of air pollution in the capital.
While hybrids such as the Toyota Prius have become synonymous with the ride-hailing service, today just under half of its London UberX drivers have an electrified vehicle. The firm said that must rise to 100% by 2020.
Diesel-powered cars on the app's other services, such as UberXL for larger cars, will also be banned from 2020 in the capital.
For other UK cities blighted by dirty air, where fewer UberX cars are electrified already, the 100% hybrid and electric deadline is 2022.
In the longer term, the US company said that by 2025 all of its cars in London must be fully electric or a plug-in hybrid, on which the battery typically lasts about 40 miles before switching to petrol.
Jaguar Land Rover followed Volvo this week by promising to no longer launch new models that are not electrified to some degree, though it will continue selling existing petrol and diesel models.
Uber said it was prioritising London, where dirty air causes nearly 9,500 deaths a year, because the city had a particular severe problem with particulate pollution and toxic gases from vehicles.
Fred Jones, Uber's head of UK cities, said: "Air pollution is a growing problem and we're determined to play our part in tackling it with this bold plan."
Uber's 40,000 licensed drivers in London will also be given financial assistance to switch to a new car, with grants of up to £5,000 towards a hybrid or fully electric car.
The grants will be funded with £2m from the company but users of the app will also pay for the switchover, through a 35p surcharge imposed on all London trips from October. Uber has already added 100 Nissan Leafs, the world's most popular electric car, to its London fleet earlier this year.
Uber will attempt to lure the drivers of London's oldest, dirtiest cars to ditch them and use its service instead, by offering drivers of pre-2005 cars a "scrappage" voucher of £1,500 to use Uber rides instead.
Campaigners welcomed the company's initiatives. Chris Large, of the sustainability charity Global Action Plan, said: "The speed of Uber's commitment to move away from diesel reflects the urgency of action to address our air pollution health crisis."
The company's announcement ramps up what is shaping up to be a green taxi war in the UK, centred on London.
In July, the company that makes black cabs unveiled its new, low emissions taxi, which runs for about 70 miles off a battery before switching to a petrol engine. Under Transport for London rules, all new black cabs from 1 January 2018 will need to be electric.