The U.S. regulates its greenhouse gas emissions on the basis of an automaker's average fuel efficiency across its entire catalog, rather than setting hard caps on the allowable emissions for individual automobile models. In practice, that means that every electric vehicle that GM introduces will give it a little more room to release a high-polluting vehicle that could erase the climate gains of the brand's "green" offerings — and if last year's record-setting truck and SUV sales are any indication, consumers are far more likely to go for the gas-guzzler.
https://usa.streetsblog.org/2020/10/02/study-we-cant-fix-transportation-related-climate-emissions-with-evs-alone/ — GM is drawing the public and policy focus from the quick carbon-cutting solutions that experts say we need most urgently right now.
Here are four reminders about why EVs are a harm reduction strategy rather than a real cure for our climate crisis — and why G.M., in particular, doesn't deserve a standing ovation just yet.
1. Offering EVs allows automakers to sell more gas guzzlers
Even if every automaker introduced a range of electric vehicles to dealerships tomorrow, it might not make our total vehicle fleet any greener. That's because car makers can complement those green new offerings by producing more gas-guzzlers — just like they've done for decades.
Many consumer don't realize that the U.S. regulates its greenhouse gas emissions on the basis of an automaker's average fuel efficiency across its entire catalog, rather than setting hard caps on the allowable emissions for individual automobile models. In practice, that means that every electric vehicle that GM introduces will give it a little more room to release a high-polluting vehicle that could erase the climate gains of the brand's "green" offerings — and if last year's record-setting truck and SUV sales are any indication, consumers are far more likely to go for the gas-guzzler.
Put another way: the ostensibly net-zero electric Hummer could give GM legal license to sell an even dirtier original-recipe Hummer for the next 14 years if it wanted to.
If you look at the entire auto industry, that doomsday scenario isn't just theoretical. Researchers have already found small increases in fleet-average emissions thanks to the way we structure our emissions standards — and if EVs had never entered the mix, under our current messed-up rules, our net emissions would actually be lower than they are today.
Biden has already committed to restoring the tougher Obama-era fuel rules that then-President Trump rolled back. But environmental researcher John DeCicco noted in the Conversation that General Motors has been "notably silent" on strengthening those standards, which could signal that it probably won't pump the brakes on its biggest gas guzzlers right away as it crawls towards becoming a fully electric brand.
"Adopting clean-car standards that grow progressively more stringent each year and require automakers to cut CO2 emissions from all the vehicles they sell would ensure that technological promises translate to actual emission reductions," DeCicco wrote.
So would investing in non-driving modes.
2. There will still be a lot of gas-powered cars on the road
Praising an automaker for giving consumers an electric option is one thing. But actually getting drivers to trade in cars that run on fossil fuels is another — and even the most enthusiastic proponents of EVs recognize that there's no way we can decarbonize driving fast enough to curb climate change while still putting the same number of vehicle miles on our roads.
The most recent Long Term Electric Vehicle Outlook report projected that five years after GM electrifies its entire fleet, a respectable 58 percent of new cars sold will run on grid power, assuming that EVs cost about the same as gas-powered cars by 2030 worldwide, and 2022 in Europe. But even in that arguably optimistic scenario, 69 percent of the vehicle fleet would still be made up of older, gas-powered cars — and they'll still be driven for more miles than clean vehicles.
And even that 58 percent doesn't sound quite so respectable when you consider that a recent study found that EVs would need to represent 90 percent of the U.S. vehicle fleet by 2050 in order to meet our national transportation emissions goals, if we keep driving as much as we do right now. Researchers noted that absent a massive, global, and near-compulsory cash-for-clunkers program the likes of which the world has never seen, that would be pretty much impossible, and emphasized that shifting away from driving and to greener modes is a climate must.
3. We have almost nowhere to charge EVs — and not enough clean energy to fuel them
Electric vehicles have struggled to get a foothold in the U.S. partly because owners struggle to find places to plug them in. At last count, there were only 28,000 charging stations in the entire country, and about three times as many charging outlets — but a third of them were in the state of California alone. The state of North Dakota had only 36. In addition, a good chunk of chargers are only usable by customers of Tesla, which has developed a proprietary "supercharging" technology.
Biden has vowed to build 500,000 new charging stations by 2030, but there are few details available about how his administration will accomplish that feat. To date, most chargers have been installed by a hodgepodge of municipalities, private companies, and EV owners themselves; there is no single government body responsible for standardizing the new technology, or making thoughtful plans about how stations should be distributed throughout our communities.
"There's a chicken-and-egg problem here," said UC Davis researcher Hermant Bhargava explained in a recent article. "Charging station providers will not invest huge amount of money in stations until there are enough cars on the road. But you won't have mass sales of cars until there are enough stations."https://platform.twitter.com/embed/index.html?dnt=true&embedId=twitter-widget-1&frame=false&hideCard=false&hideThread=false&id=1355982101154320386&lang=en&origin=https%3A%2F%2Fusa.streetsblog.org%2F2021%2F02%2F03%2Ffour-reasons-to-hold-your-applause-for-automakers-big-ev-promises%2F&theme=light&widgetsVersion=ed20a2b%3A1601588405575&width=500px
And then there's the problem of how to build a clean electric grid that could handle a massive influx of new EV drivers looking to fuel up. Experts think that it is possible to retrofit our existing grid to be cleaner, more powerful, and better at managing the unique, 24-hour energy demands of vehicle chargers. But it won't be easy, and will take a massive federal investment that no one has yet been able to calculate.
General Motors' big announcement mentioned that the company would work with charging company EVGo to bring 2,700 new fast chargers by the end of 2025, which is a modest start. But no automaker has yet stepped forward to help address the demands that electric vehicles would place on the grid if more Americans actually drove them.
We should absolutely still build out our national vehicle charging capacity, of course. But we simply can't afford to do it at the expense of investing in cheaper, greener modes that won't require us to retrofit the utility sector just to get off the ground.
4. Electric cars are still cars — and cars kill
It cannot be repeated enough that while electric cars are an important harm reduction strategy for our climate crisis, the effort will do absolutely nothing to slow the other global crisis that's killing over a million people every year: the traffic violence pandemic.
So yes: let's give General Motors some tentative praise for volunteering to electrify its fleet before the government forces them to do it, as some think it inevitably will. But never forget that when it does, GM will still be selling a product that was involved in the preventable deaths of over 38,000 U.S. residents in 2019 alone — and it will keep doing it until regulators force them to make cars safer for everyone, and until legislators adopt policies that make life without cars possible for more people.
** Streetsblog https://usa.streetsblog.org/2020/10/02/study-we-cant-fix-transportation-related-climate-emissions-with-evs-alone/
Study: We Can't Fix Transportation-Related Climate Emissions With EVs Alone
And a major shift to public transit and active modes is the only realistic answer.
By Kea Wilson,
The U.S. can't simply electrify its way out of the transportation-related carbon disaster — and thinking that it can might actually delay what really works: shifting people away from private vehicle ownership, and towards mass and active transportation, a new study finds.
In order to maintain our national car addiction and stay within a national transportation-related emissions "budget" that scientists agree is necessary to maintain the planet at temperatures our ecosystems can survive, the United States would need to replace a whopping 90 percent of gas-powered cars on the roads with zero-emissions electric vehicles by 2050, researchers at the University of Toronto found.
Right now, just 1.5 percent of new vehicle sales in the U.S. are electric cars, and roughly 99.7 percent of cars on the road today are powered by fossil fuels.
That conclusion provides a crucial reality check to the many politicians who have made vehicle electrification the near-exclusive focus of their climate-forward transportation policies. Democratic presidential nominee Joe Biden's energy plan puts a heavy emphasis on zero emission car adoption, though he does promise to devote an unspecified sum to sparking the "the second great railroad revolution" as well. President Trump has also publicly expressed support for electric cars, though he's attempted to end tax credit programs for Americans to buy them. He's also proposed cuts to rail programs like Amtrak, and successfully shifted major sources of public transportation funding to building and maintaining highways.
Why EVs can't get dirty to go 'green'
Even if the next administration somehow succeeds in incentivizing massive and unprecedented, EV adoption, it may not be enough. That's because the Toronto modelers also found that achieving the magic number of 90 percent electric cars could prove to be impossible — and for more than one reason.
Most important, rapidly electrifying the vehicle fleet would increase the United States' grid-powered energy consumption by 41 percent by midcentury — a massive surge in demand that would require us to build so many new power plants and so much new charging infrastructure that we'd be forced to burn an unknown — but scientists believe, an unconscionably large — amount of fossil fuel in the manufacturing process just to get the grid to meet the challenge of going "green."
Getting enough of the raw materials required to manufacture massive electric car batteries could prove equally self-defeating. As Streetsblog has reported, harvesting large amounts of crucial cobalt, lithium and nickel requires environmentally onerous — and for vulnerable low-income workers, highly dangerous — extraction processes that are already devastating regions of the Democratic Republic of Congo, Chile, Indonesia and more. Denuding these regions of their natural resources quickly enough to electrify every car in America — especially the huge cars that Americans prefer, which would require large batteries — would be deeply unsustainable, if not impossible.
The Toronto researchers warned that when drivers would be likely to charge their new electric cars could cause major problems, too. The U.S. grid is currently set up to handle high energy demand during the afternoons and early evenings when most Americans are likely to be awake — a demand curve that could be upended if the majority of U.S. households started plugging in their Teslas before they went to bed. Re-engineering our energy management systems to handle a major disruption like that would carry extensive costs.
Add all that together with the political untenability and likely necessity of massive cash-for-clunkers program to get Americans to give up their gas powered cars — not to mention the uncertain political future of government subsidies to accelerate the development of even more efficient and affordable EV technology or clean up the dirtier segments of the electrical grid — and betting the house on an electrified future increasingly looks like a bad wager. And counting on other nations like China to make up for America's climate shortcomings isn't wise either.
The study was careful to note that EVs are not a lost cause, and are, of course, "likely to reduce emissions in the United States when compared with conventional gasoline vehicles." But the researchers cautioned of the dangers of policies that over-focus on electric cars, especially if they come at the expense of investments in proven strategies for which we have the technology in place today to significantly curb emissions.
Those strategies include massive public transit adoption, mass construction of active transportation infrastructure, and fundamentally redesigning our cities to makes car-free or car-light living possible for more people.
"EVs really do reduce emissions, but they don't get us out of having to do the things we already know we need to do," Heather L.MacLean, one of the researchers on the study, told Phys.org. "We need to rethink our behaviors, the design of our cities, and even aspects of our culture." https://usa.streetsblog.org/2020/10/02/study-we-cant-fix-transportation-related-climate-emissions-with-evs-alone/
**
Advocacy Academy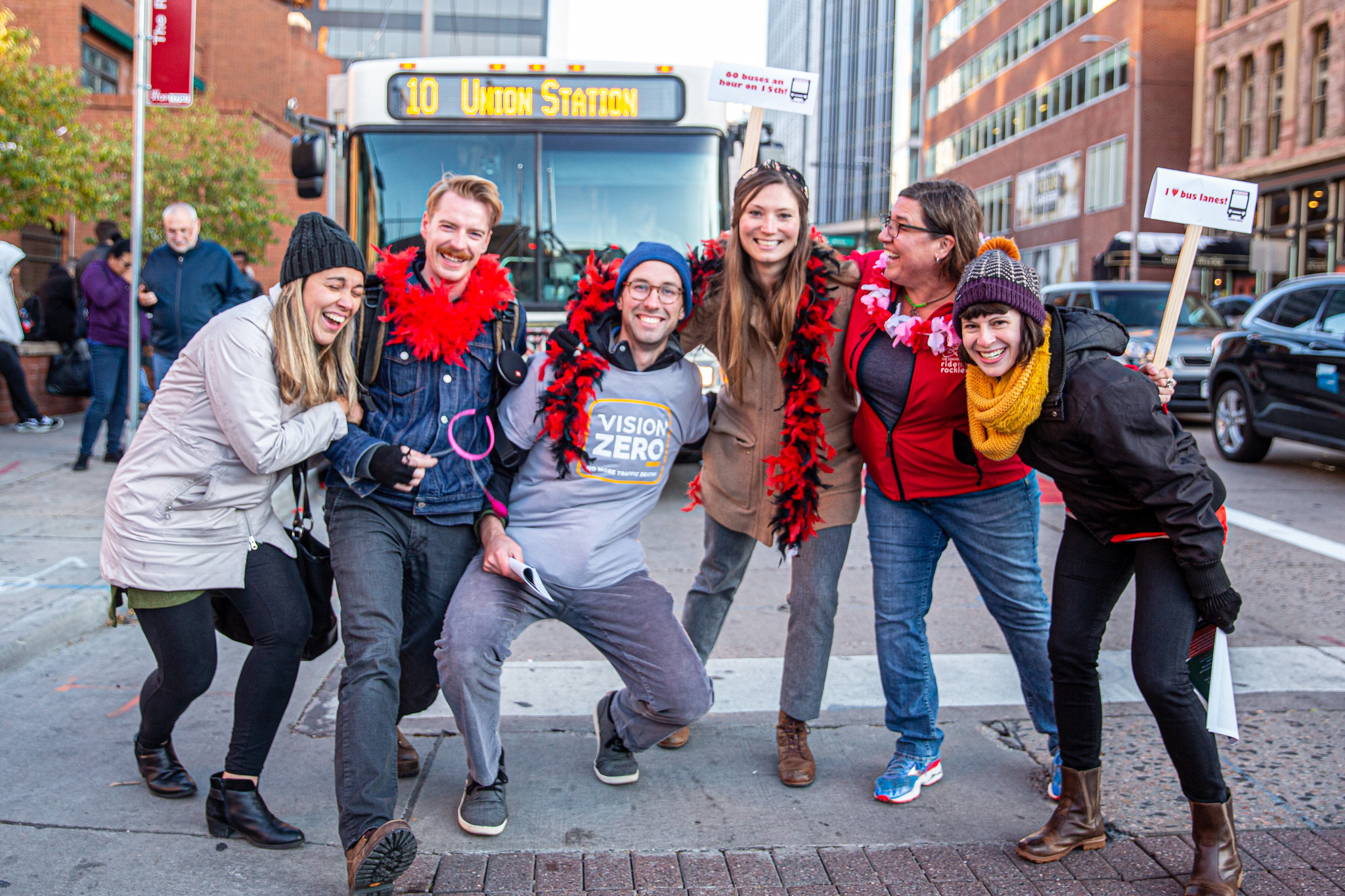 Next session:
February 15 – April 19, 2021
If you believe in an equitable and vibrant Denver that guarantees our public spaces are designed for people, ensuring everyone can walk, bike, roll and ride transit to where they want to go – we need you!
Join the Denver Streets Partnership's Advocacy Academy: a 10-week certificate program to give you the tools, expertise, experience, and connections to be a transit, walking, rolling, and biking leader into the future. All ages are welcome. (If you're under 18, ask your parent's or guardian's permission.)
The academy is a combination of online classes and in-the-field work, advocating around timely walking, biking, and transit decisions this winter and spring such as the Community Networks program, our 20isPlenty campaign, and the Reimagine RTD process.
Take the Community Networks program: Denver's new network of bikeways is an ambitious plan to build out 125 miles of interconnected bikeways that link our densest living areas and downtown in just 3 years. When bikeways are strategically designed to work together as a network that enhances the safety of riders and drivers alike, people finally have real choices about how to get around. That means more safety and less stress for everyone! Decisions are being made about Community Networks right now and it's time to raise our voices.
At our academy you will learn from the best – leaders from top advocacy groups like Bicycle Colorado, CoPIRG, the Colorado Cross-Disability Coalition, American Heart Association, Mile High Connects, and more.
Our curriculum is all about giving you the tools you need to make a difference in your neighborhood and in Colorado. And have fun. We have a lot of fun. You'll learn about the most effective strategies for improving the safety of our streets, how to cut through red tape to get better sidewalks and bike lanes in your neighborhood, the keys to affordable and accessible transit, and more. At the end of the 10 weeks, you'll receive an Advocacy Certificate from the Denver Streets Partnership.
Limited $1,000 stipends are available to ensure everyone can participate.
Application Process
We will review applications on a rolling basis (pun intended). After we receive your application, we'll get back to you within a week.
Last day to apply: February 10, 2021
If you're under age 18, be sure to ask your parent's or guardian's permission.
Time Commitment
Each week, participants should expect to dedicate three to five hours to the program.
Each week will start with an online class on Monday evening. If needed, we will offer the class at multiple times to fit into diverse schedules.
Every other week, participants will meet with a designated Denver Streets Partnership mentor.
Each week will include a tactical assignment designed to make a difference on a decision happening right now.
Curriculum Week by Week
February 15 – April 19, 2021
Week of Feb. 15: Introduction to People Friendly Streets
What are they, how to make change in Denver, and how you can be your own best advocate
Skill – Identifying and articulating a local transportation need through storytelling
Product – A video, blog or letter that you create that tells your personal transportation story
Week Feb. 22: History of Inequity
How we avoid past mistakes and bring equity forward
Skill – Understanding built in inequities
Product – Action plan for ways you can bring equity into your work
Week of March 1: Shining a Spotlight Through the Media
Traditional media and ways to generate stories that shine a spotlight on your community's needs
Skill – Generating media attention through events and opinion pieces
Product – Plan a media event
Week of March 8: Knock, Knock
How to lobby your elected official and work with the city officials that are at the heart of transportation decision making
Skill – Lobbying
Product – Setting up a meeting with your City Council member
Week of March 15: Get on the Social Media Bus
Why engaging in social media is important and how to do it effectively
Skill – Using social media channels to promote people friendly streets
Product – Series of social media posts and building a social media presence
Week of March 22: Not Everyone Thinks Like You: Persuade Your Community
How to understand where people are coming from and bring them to your side
Skill – Listening and understanding motivations
Product – Write and submit a letter-to-the-editor in your newspaper
Week of March 29: Coalition Building
From neighborhood associations to local businesses, building a group of groups that can work together
Skill – Building a coalition of groups and businesses
Product – Sign on letter
Week of April 5: Grassroots Pedal Power
How to demonstrate broad support for your community needs
Skill – Generating broad grassroots support via petitions and letters
Product – Letters from neighbors, friends, and family
Week of April 12: Who Ya Gonna Call? Your Neighbor!
How to run a phone bank
Skill – Phone banking
Product – Generate phone calls to local officials
Week of April 19: Transforming Transportation
A history of why we're here and how to get out of it
Skill – Seeing beyond your neighborhood to bigger changes needed across the system
Product – Photo petition or collage or video APPLY NOW