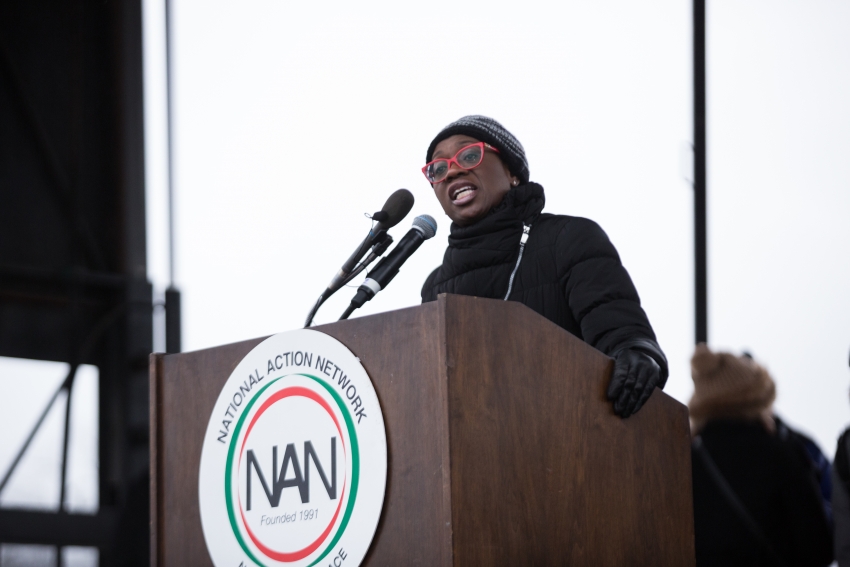 Welcome to Interviews for Resistance. Since election night 2016, the streets of the United States have rung with resistance. People all over the country have woken up with the conviction that they must do something to fight inequality in all its forms. But many are wondering what it is they can do. In this series, we'll be talking with experienced organizers, troublemaker, and thinkers who have been doing the hard work of fighting for a long time. They'll be sharing their insights on what works, what doesn't, what has changed and what is still the same.
Nina Turner: I am Nina Turner. I am a former state senator in the great state of Ohio and President of Our Revolution.
Sarah Jaffe: We are talking on a Friday. Nearly a week ago, a whole bunch of various white supremacist groups descended on Charlottesville, Va. What are your thoughts about what is going on? Can you weigh in on the national conversation about hwat has been happening since Charlottesville?
Nina: It is heavy. Lots of people are still very raw—and rightfully so. We saw white supremacists and neo-Nazis descend on Charlottesville, Va. First there was Friday night with the tiki torches. It just brought back all the ugliness in terms of the history of what the KKK-inspired type groups did in the late 1800s. The KKK was founded in 1865, right after the 13th Amendment to the Constitution, which set black folks free from slavery. These types of groups terrorized African Americans throughout the south. So, to come face to face with that kind of legacy in the 21st Century is haunting and disturbing. This is a heavy time for our country.
Sarah: I want to talk about building a really strong anti-racist left movement now, because it is obviously more important than ever when the president can't bring himself to denounce neo-Nazis. I would like to hear your thoughts about the work that Our Revolution is doing, the work that other folks are doing, to actually build an anti-racist left.
Nina: Yes, that is so important. In Our Revolution, we have always had a social, political, economic and environmental justice framework for our work. In all of the work that we do, we are looking towards forming that more perfect union, but it is even more necessary now in the face of such overt racism. And it is important for other groups, like Democracy for America, Democratic Socialists of America, National Nurses United, you name it. There are so many formal groups out there doing this work: Black Lives Matter, the Brennan Institute. But, there are everyday people out there, too, who are dismayed, disappointed and just as horrified that we would come face to face with this.
We are going to continue to do the things that we have always done, whether it is fighting for Medicare for All, standing up to increase the minimum wage in this country to $15 an hour or talking about the private prison industrial complex that makes a profit off of keeping folks in prison. We know that those people are disproportionately black, brown and poor.
But we are also going to have a deeper conversation about institutional racism in this country, probably in ways that we might not have touched upon so deeply. We have to talk about that, because we still have systemic racism in this country. It is very much a part of Our Revolution's work to change systems that promote discrimination and bigotry in ways that hurt communities of color, particularly African American communities.
When you look at wages, for example, people might not see the $15 minimum wage as a racial justice issue. But when you look at wages in this country, there is the fact that African-American women make about 63 cents on every dollar that a white man makes. Most African-American households are led by women. Then there is an economic, racial and social justice component to wanting to raise the wage.
Sarah: I wanted to talk a little bit about the idea of putting together a platform, a list of policies that we are going to push for.
Nina: It is important, because people need to see it. They need to be able to hold it in their hands if they want to, whether it is on a tablet or a piece of paper. It is the affirmation that we stand for this, that our value propositions will be expressed through public policy. That is really what the People's Platform is.
The beautiful thing about the People's Platform, and the coalition supporting the People's Platform, is that it is tangible—it is real. The "Education for All" bill has been introduced that will require the federal government to pay two-thirds of college. We know how important that is to make sure that we have a workforce that is highly educated and highly skilled. That is what this is about. It is about making that kind of investment.
"Medicare for All" was the signature of Senator Sanders campaign. It is the foundation of what we do, which is affirming that we, as a country, can have Medicare for All, we can create an environment that doesn't leave anybody behind, that is not attached to a job.
And what we are saying to the Congress, particularly to the Democratic Party, is: "Here it is. Your members introduced these pieces of legislation. Sign onto them and let us show the people of this country, the folks of this country that this is what we stand for, this is what we are fighting for." It is important to have all of these options, because for some people the environment might be the most important thing, to other people economic justice might be the thing, for other people racial justice. So we have something in the People's Platform for everybody.
Sarah: Let's talk about a couple of the other things on this platform. The EACH Woman Act, because this has been an issue of tension for a while, with Democrats saying that abortion is not a litmus test for the party. I would love for you to talk about that particular one and the importance of saying that this is, in fact, a foundational issue.
Nina: It is important. People want to call it a litmus test. It is really just a value statement that women in this country should have equal access to abortion coverage within their health insurance. It is something that we settled in this country and this should not be up for debate. It is a medical procedure—we want people to see it through that lens. Women should have the right to have an abortion. It should be safe, it should be legal, and they should be rare. I don't know many people jumping up and down saying, "Abortions for all!"
Somehow, we have lost ground on this debate, because we talk about it in ways that don't allow people on the other side to bend a little to fully understand this. It is a medical procedure and we have to protect women's access to that.
Sarah: The next thing on this list brings us back to issues related to Charlottesville. Let's talk about voting rights and the decimation of the Voting Rights Act. The attacks on the right to vote on all sorts of levels over the last several years helped put Donald Trump in the White House.
Nina: Oh my god, if people only knew. We should really use this as a teachable moment to go back through history—and not revisionist history. Let's tell the truth that African Americans were terrorized just because they wanted to vote, just because they were fighting for liberation and equal rights in this country. It is just as simple as that. That is the stain on America. It is not the "We hold these truths to be self-evident that all men are created equal." The founders were brilliant, but they didn't mean "all" when they wrote those words. But the fact that they wrote those words gives us leverage and gives us the opportunity in the 21st Century and every generation thereafter to leverage those words. That is what we do.
It is a travesty for anyone who is elected to office, who serves in an elective office, to engage in voter suppression. We need to expand the franchise. That is what the Automatic Voter Registration Act is: just a simple, eloquent piece of legislation that just requires every state to enroll every voter when they go get their driver's license. However, I would like to take that further—when people are born, let's go and register them! Let's get them registered there and then. How beautiful could that be?
Democracy is stronger, is better, is more robust when people participate. We should want to encourage that. In 2016, during the presidential election, too many people opted out. They decided that they weren't going to do it, for whatever reason. I think the voter suppression bill has something to do with it, gerrymandering has something to do with it. People don't believe that the system works on their behalf, and they don't trust politicians—whether they are Democrats or Republicans. They feel as though they have gotten a bad deal. And they are right. They are absolutely right.
Sarah: The one piece of the platform that is not actually an existing bill that has been introduced in Congress is the climate change bill. I would love for you to talk a little bit about some of the things you would like to see in such a bill.
Nina: My climate experts have said environmental justice is a bigger umbrella, but I know that Congresswoman Tulsi Gabbard is working on introducing that bill. Hopefully, it will be introduced this week. Global warming is a real threat to our communities, to everybody, to everything. What is our obligation to make sure that we secure Mother Earth for ourselves ad future generations?
The bill will address the need to reduce emissions and make sure that we have renewable energy. Overall, I want to see Our Revolution continue to push for the reduction of global warming.
When the president pulled out of the Paris Accord, what did that say to the world? Many of our Republican colleagues are just flat out ignoring the science. When the scientists get together and tell you that this is real, we ought to believe them. Just to flat out ignore that science puts us all in danger.
Water is a part of that, too. Flint, Michigan has been the canary in the coal mine for us, excuse the pun, in terms of us not having the types of infrastructure in this country that ensures that every village, township and city has access to clean water. We are going to keep pushing. Environmental justice is vitally important to the mission of Our Revolution.
Sarah: How can people find the People's Platform and get involved with this?
Nina: They can go to www.OurRevolution.com. When they go there, the People's Platform landing page pops right up. There is also summerforprogress.com. They can find it there, as well. Please, I want everybody to get involved. Take whatever part of the People's Platform that matters most to them and push for that. Collectively, if we are working towards this end, we are going to see things change in this country. I really do believe it. We can't do it without the people. Join us. We want them to join us.
Interviews for Resistance is a project of Sarah Jaffe, with assistance from Laura Feuillebois and support from the Nation Institute. It is also available as a podcast on iTunes. Not to be reprinted without permission.

SARAH JAFFE
Sarah Jaffe is a staff writer at In These Times and the co-host of Dissentmagazine's Belabored podcast