Friederike Otto, acting director of the Environmental Change Institute at the University of Oxford, tells the Times in an e-mail the study is important because it shows "climate change is really here and happening now and not something we can afford (in all meanings of that term) to continue to ignore." 
Every person on Earth should have access to reliable water supplies. Water is essential for sanitation, hygiene, and daily survival, but in some places, conflict over water is becoming more commonplace.
To recognize the importance of water for everything we do, we compiled seven graphics that explain the state of the world's vital water resources.
Human Activity is Changing Water Distribution
Half of the surface water in some countries has been depleted between 1984 and 2015, according to an analysis of satellite imagery from the European Commission Joint Research Center. However, about twice as much new surface water has been added during the same time period from dams and man-made reservoirs.
Most of the surface water loss happened in Central Asia and the Middle East. China's largest freshwater lake, Poyang Lake, is shrinking at a fast rate from upstream diversions of the Yangtze river. Some parts of it are now completely dry. Landsat images from 2000 and 2016 show how the lake has diminished in size.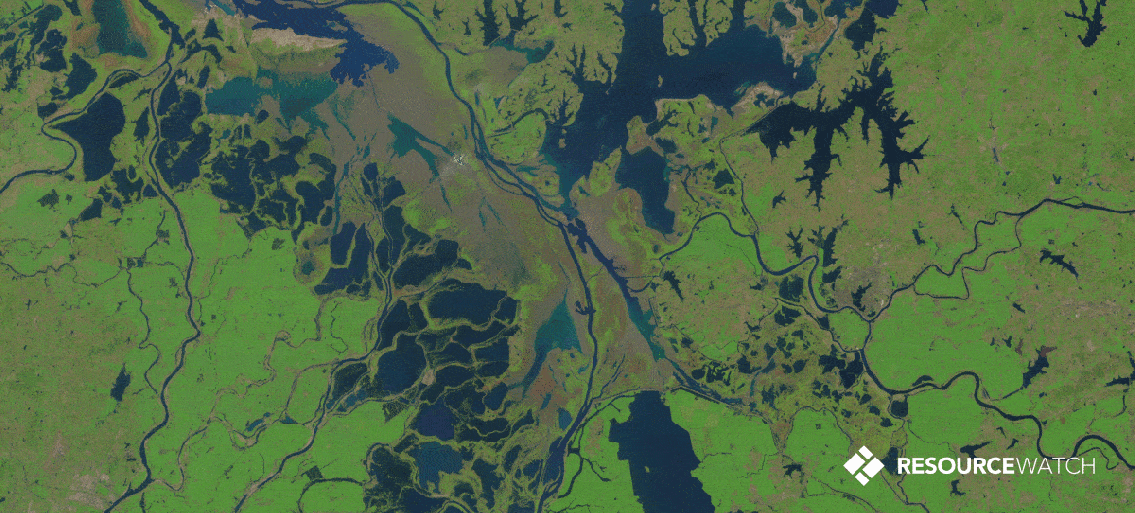 Poyang Lake in September 2016, from USGS LandsatLook. 
Resource Watch hosts data from this European Commission Joint Research Centre analysis of surface water changes from 1984 to 2015. Changes to the Aral Sea, which straddles Kazakhstan and Northern Uzbekistan, are shown on Resource Watch below.
Agriculture is the Thirstiest Sector
Irrigating crops and raising livestock require a lot of water. According to the United Nations' Food and Agriculture Organization (FAO), agriculture uses about 70 percent of water withdrawals on average. In some developing countries, that figure can be as high as 95 percent.
The World Health Organization estimates that a person needs at least 50 to 100 liters of water per day for consumption and basic hygiene. FAO estimates that between 2,000 and 5,000 liters of water are needed to produce a person's daily food. The graphic below shows FAO data on water withdrawals by sector.
Agriculture is also a major source of water pollution from fertilizers, chemical pesticides and other contaminants.
36 Countries Are Extremely Water-Stressed
World Resources Institute (WRI) has evaluated and mapped water risks around the world through the Aqueduct tool. One of Aqueduct's most-used indicators, baseline water stress, measures how much water is withdrawn versus supplied every year. High stress indicates more competition over water resources.
Mapping water stress across the world, the research found that 36 countries are experiencing "extremely high" water stress, where more than 80 percent of their available water is being used annually. Singapore, Jamaica, Malta, Qatar, Cyprus and Barbados are some of the many countries that top the list of most water-stressed countries.
Water Scarcity Threatens Power Plants
Water-dependent thermal power plants generate about 81 percent of the world's electricity. These plants use fuels such as coal, gas or nuclear sources to make heat, which is then converted into electrical energy.
The map below shows water stress and coal power plant locations. For most thermal plants, large volumes of water are a crucial part of the process, cooling high temperatures and powering turbines with steam. Using the Global Power Plant Database on Resource Watch, WRI research found that 47 percent of the world's thermal power plant capacity and 11 percent of hydroelectric capacity are located in highly water-stressed areas. High water stress occurs in areas where 40 percent or more of available water is withdrawn every year.
An earlier WRI analysis found that 40 percent of India's thermal power plant facilities are located in areas of high water stress. Water scarcity is already costing power utilities: Between 2013-2016, 14 of India's 20 largest thermal utilities experienced at least one shutdown due to water shortages, costing the companies $1.4 billion. 
A Growing Source of Conflict
Water is a growing source of global conflict. In 2017, water was a major factor in conflict in at least 45 countries. The Pacific Institute developed a database of conflicts involving water from 3000 BC to present, which is hosted on Resource Watch and updated annually.
The Water, Peace and Security partnership uses this database to trace the role of water in security and identify strategies to reduce the risk it poses to peace. 
Millions of People Don't Have Access to Clean Water
As of 2015, more than 800 million people lack even a basic drinking water source within 15 minutes of their home, and only 40 percent of the world population uses managed sanitation services, creating the conditions for diseases such as cholera, dysentery and typhoid to spread.
Data from the World Bank in the chart below shows the proportion of people in different countries with access to clean water. Only 40 percent of people in Papua New Guinea have access to an improved water source, defined as water sources protected from contamination from pollution and fecal matter. In Angola, Mozambique and Chad, only about half the population have access to clean water.
Water is the Most Valuable Resource
The world runs on water, and we should start treating its management as a top priority. Measuring how much water is available and how much is being used, as WRI's Aqueduct project has done, is just the first step. Building more efficient water systems, such as drip irrigation and water-friendly energy sources, are critical to alleviating increasing demands. We should also invest in green infrastructure improvements so that growing cities can better manage water, while saving money in the long run.
Find out how water-stressed your river basin is by using open source datasets on Resource Watch.
**
Scientists Find Human Link To Drought As Early As 1900
Published on May 6th, 2019 | by Steve Hanley in Clean Technica
A new study has used tree ring data records to measure drought conditions around the world. It finds a correlation between human activity and drought going back to the early 1900s. 
In a study entitled "Twentieth-century hydroclimate changes consistent with human influence" published recently in the journal Nature, scientists claim they have detected evidence that human activity has contributed to drought conditions in many parts of the world beginning as early as the early 1900s.
A common theme among climate scientists is that in a warming world, dry parts of the planet will become drier and wet parts of the planet will become wetter. Some of the areas identified as subject to increasing dryness are major agricultural zones. The implication is that more drought conditions could lead to famine in many parts of the world.
"Climate change isn't a new thing," Kate Marvel, a climate scientist at the NASA Goddard Institute for Space Studies and Columbia University, tells the New York Times. Marvel is the lead author of the report, which connects anthropogenic climate change to the history of drought events for the first time.
Using new computer modeling tools, the researchers took data derived from tree rings and correlated that information with long term patterns of moisture levels in soil in North America, Central America, Eurasia and the Mediterranean.  The tree ring data "give us a record of global drought going back centuries," Marvel says. 
Finding A Background Note In A Symphony
She is quick to point out that "we're not saying we're seeing a large effect" in the historical record. Instead, the research teases out the effect of human activity from the natural background variability of weather and climate, "a background note against a symphony of other sounds," she says. Benjamin Cook of the Goddard Institute and Columbia University and a co-author of the study, adds that "we're beginning to understand the fundamental processes and the basic impact of climate change on drought."
Many people confuse weather and climate. Weather is what is happening outside the window right now. Climate is what has happened outside the window for the past century or so. To tease that "background note" out of the data, the researchers focused on three regions — Australia, Mexico, and the Mediterranean.
They found they all exhibited evidence of drier soil at the same time even though they react very differently to weather phenomena like El Niño. "This means that it is harder for natural climate variability alone to produce, by chance, the simultaneous drying across all three regions identified in the fingerprint. The human consequences of this, particularly drying over large parts of North America and Eurasia, will likely be severe," the authors warn.
A Mid Century Anomaly
The research revealed some unexpected results. For the first half of the 20th century, the data suggests a strong correlation between drought and human activity. But from 1950 through 1975, there was a decrease in global drought. Then the trend toward drier conditions picked up again and has accelerated in the first part of the current century.
The scientists theorize that aerosol pollutants like oxides of sulfur that contribute to smog actually blocked some of the sun's light from reaching Earth, which had a corresponding effect on weather patterns. Once nations began taking such atmospheric pollution seriously and devised ways to lower the amount of pollution in the air, the trend toward drought conditions picked up speed.
"It was kind of an accidental geoengineering experiment in the middle of the 20th century," Dr. Cook says. That is not an endorsement of such geoengineering, however. Dirty air is dirty air. Human lungs prefer clean air. Filling the atmosphere with pollutants presents a Hobson's Choice that is really no choice at all. Far better to eliminate the pollution caused by burning fossil fuels in the first place rather than putting more junk into the air to mask the effects of the junk that is already there.
Friederike Otto, acting director of the Environmental Change Institute at the University of Oxford, tells the Times in an e-mail the study is important because it shows "climate change is really here and happening now and not something we can afford (in all meanings of that term) to continue to ignore."