The goal of Demos' Race-Class Narrative (RCN) project is to develop an empirically-tested narrative on race and class that resonates with all working people and offers an alternative to—and neutralizes the use of—dog-whistle racism. https://www.demos.org/campaign/race-class-narrative-project
ISSUES ECONOMIC JUSTICERACIAL WEALTH GAP
If we hope to block racially and economically divisive tactics that use racism as a strategy to divide working people and poor people from one another so that a few can gain, we must mobilize around a new narrative. This narrative must help people envision a multiracial country in which everyone has economic opportunity.
Demos is committed to developing tools and offering strategic support so that progressive initiatives nationwide can use this new Race-Class Narrative to mobilize and activate people of color, working-class people of all races, and women (who together comprise what we call the "New American Demos") to show up at the polls, run for office, and use compelling narratives and messages in their everyday conversations.
This is an ongoing project – please visit this page for updates.

Watch Race-Class Narratives In Action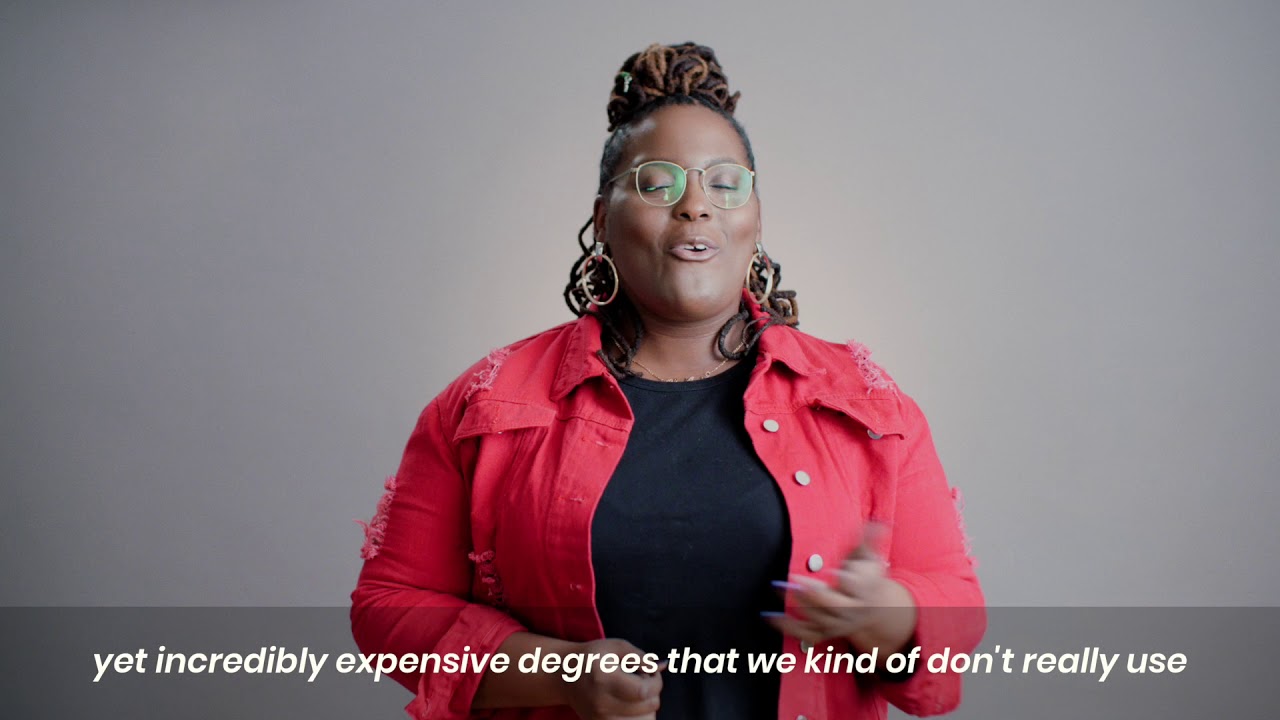 Race-Class Resources: State & National Findings
State Findings
As part of our quantitative research, the Race-Class Narrative project fielded online dial tests. The dial tests surveyed a representative sample of adults plus oversamples of targeted populations in the given region by asking a series of questions on issues of race and class.
California
Minnesota
Ohio
Indiana
**For Indiana, Minnesota, and Ohio state handouts, please visit www.demosaction.org
National Findings
Bring the Race-Class Narrative into the Field
We want to help people incorporate the RCN into campaigns, base-building efforts and communications with voters. Connect with RCN in the following ways:
Integrate the RCN findings and best practices into your trainings.
Work with us to tailor the narrative to your issue campaigns and strategic messaging, from door-knocking scripts to commercials.
Host a presentation or half-day workshop on RCN findings and best practices.
Contact us for technical assistance on your strategic messaging plans and material development.
**To access the 501(c)(4) findings of the RCN research, please visit DemosAction.org or contact RCN@demosaction.orgThe RCN Team
Project Principals
Research Team
RCN Advisory Committee
The RCN advisory committee was composed of over 60 national and state grassroots organizations and social change leaders.
RCN Partners
April 2019, NY Intelligencer:
the Washington Post asked voters, "Do you think the economic system in this country mainly works to benefit all people or mainly works to benefit those in power?" Sixty-percent of all respondents, and 66 percent of independent ones, said the latter. Critically, Democrats have a built-in advantage on this issue: Most voters believe their party is less beholden to the rich than the GOP is. In fact, the public is so deeply convinced of the Republican Party's fealty to the wealthy, only 17 percent believe that Donald Trump cut taxes on regular people like them (despite the fact that the president's signature law lowered the tax burdens of roughly 80 percent of Americans).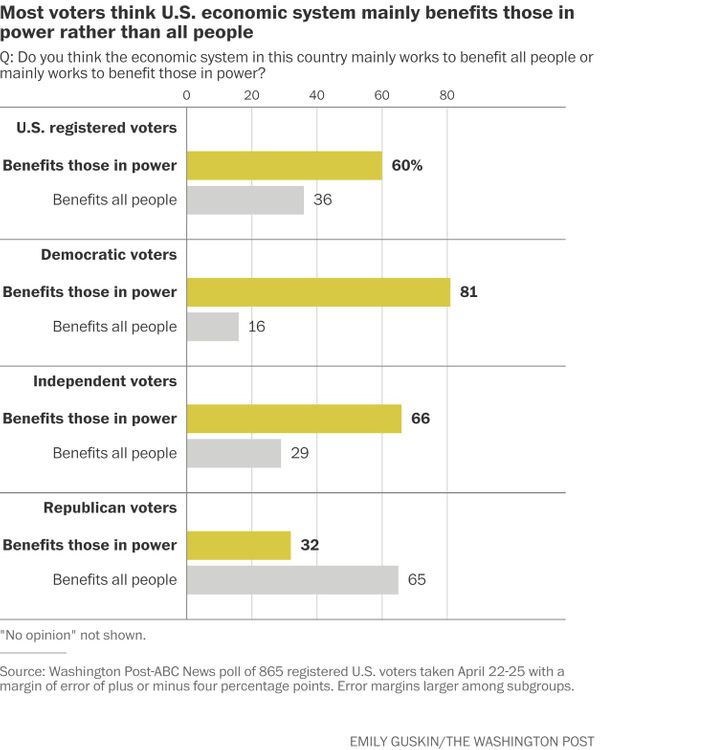 Meanwhile, polls keep confirming that a large majority of voters believe the government should guarantee universal health care to all citizens, and that at least a large plurality trusts the Democrats more than the Republicans on health-care issues more broadly. This week, an Associated Press–NORC Center for Public Affairs Research survey gave Team Blue a 17-point advantage on health care.
Americans are sure to remain discontented with the economic dominance of the powerful — and the exorbitant cost of health care — no matter how strong the next 19 months of economic growth prove to be. Short of triggering a nuclear apocalypse, there is nothing that Donald Trump could (or would) do in the next two years to significantly ameliorate income inequality. And the cost of health care is still rising faster than inflation; employers expect to spend 5 percent on their workers' insurance this year — and, in many cases, are responding by reducing the quality of benefits.
So, the broad strokes of the Democratic message are crystal clear. There might be room for some debate over the fine details. But the evidence suggests that the strongest version of Team Blue's message is the one that Third Way exists to discourage: a version that maximizes the salience of class identity and resentment of the rich by framing political conflict in unabashedly populist terms.
Due to America's deeply polarized political parties and insane system for electing presidents, the 2020 election will likely be decided by the tiny fraction of Americans who vote regularly but have no strong partisan allegiance — and live in Wisconsin, Michigan, or Pennsylvania. We know that this tiny subpopulation leans left on economic issues and tends to resent the rich. We also know it leans right on immigration and tends to resent "illegals." When Barack Obama and Mitt Romney agreed to make the 2012 election a referendum on whether rich business owners earned every penny they have, a critical mass of Midwestern swing voters broke for the Democrats. When Hillary Clinton and Donald Trump agreed to make 2016 about whether rapid demographic change was making America "Stronger Together" — or less great than it used to be — they broke right.
The trick then is to make class resentment as salient as possible. That doesn't necessarily mean embracing "socialism," or even a significantly more egalitarian economic agenda than Hillary Clinton's. But it probably does mean telling an "us versus them" story about class conflict in the U.S. Barack Obama did this in 2012. Bernie Sanders and Elizabeth Warren are doing it today. A maximally pragmatic Democratic nominee might wish to shed the left's talk about abolishing private insurance, breaking up Amazon, or letting prisoners vote. But "the rich have rigged our economic and political systems to their advantage" is an immensely popular message. If Democrats don't run on it in 2020, it won't be out of concern for alienating voters.
Now, none of this is to say that Democrats shouldn'tbe worried by the strength of the economy. There are limits to what optimal messaging can achieve; if there weren't, the correlation between economic growth and an incumbent party's electoral performance would not be so strong across time and place. A decent chunk of those aforementioned swing voters do not pay much attention to either party's messaging, and tend to move wherever the economic winds take them. Americans may believe that the economy and political system are rigged against them. But for many, that means they shouldn't trust anything a politico says; better to listen to the verdict of one's bank account than all those talking heads.
Thus, it's quite possible that Trump can leverage a strong economy into 270 Electoral College votes, no matter what Democrats choose to say. Team Blue will have a strong economic message in 2020 (if they're willing to use it). But what they really need is a well-timed recession.