Environmental Health News https://www.ehn.org/fracking-preterm-births–2646411428.html
NYTimes, July 23, 2020, https://ehp.niehs.nih.gov/doi/10.1289/EHP6394
Pregnant women who lived near areas where flaring is common had 50 percent greater odds of giving birth prematurely than those who did not. These births occurred before 37 weeks of gestation, when incomplete development raises a baby's chance of numerous disorders, even death.
Expectant mothers who lived near flaring sites had higher odds of giving birth prematurely than those who did not, researchers found. The adverse outcomes fell entirely on Hispanic women.
By Julia Rosen, Published July 22, 2020, Updated July 23, 2020
Across the United States, gas flares light the night skies over oil and gas fields — visible symbols of the country's energy boom. They also emit greenhouse gases, making them symbols of climate change that many environmental groups would like to see snuffed out.
Now, a new study points to another problem: Pregnant women who lived near areas where flaring is common had 50 percent greater odds of giving birth prematurely than those who did not. These births occurred before 37 weeks of gestation, when incomplete development raises a baby's chance of numerous disorders, even death.
"It's on par with the increased risk you see for women who smoke," said Lara Cushing, an assistant professor of environmental health sciences at the University of California, Los Angeles, and lead author of the study. Unlike smoking, however, "it's not really something you can do much about on an individual level," she said.
The analysis also found that the impacts of flaring fell entirely on Hispanic mothers, raising concerns about environmental injustice at a time when questions of racial inequality have gripped the nation.
Past research has shown that living near oil and gas wells increases the odds of adverse birth outcomes. The study, published last week in Environmental Health Perspectives, is the first to look specifically at flaring.
Oil and gas producers flare natural gas when it is too abundant to capture and sell, or when low prices make doing so unprofitable. Burning the gas prevents methane, a potent greenhouse gas, from escaping to the atmosphere, but it still releases planet-warming carbon dioxide and other harmful chemicals.
Dr. Cushing and her colleagues analyzed satellite images to track nightly flare activity across the Eagle Ford Shale in Texas, which can be seen from space as a crescent of twinkling lights between Laredo and San Antonio. In an earlier study, the researchers counted 43,000 flares between 2012 and 2016.
Over that same period, women in the region gave birth to 23,500 babies. The study found that the odds of preterm birth were 30 percent higher for mothers who lived within three miles of an oil and gas well compared with those who did not, and 50 percent higher for women who were exposed to 10 or more flares over the course of their pregnancies.
It can be hard to tease out cause and effect in retrospective studies such as this, said Dr. Heather Burris, a neonatologist at the University of Pennsylvania's Perelman School of Medicine who was not involved in the work. But Dr. Burris said the researchers did their best to rule out factors that might make some women prone to preterm birth, like age, smoking habits, socioeconomic status and access to prenatal care.
The Texas Oil and Gas Association took issue with the study. "The researchers used proximity as a surrogate for exposure," said Todd Staples, president of the association and a member of the Texas Methane and Flaring Coalition, in a statement. He added that "oil and natural gas companies continue to make great strides in environmental progress."
Scientists do not know exactly why some women give birth prematurely, Dr. Burris said. But the new study adds to growing evidence that environmental factors play an important role.
In the case of flaring, researchers say the mechanism may involve particulate matter, volatile organic compounds and other toxic substances. "It seems pretty plausible that it would have an effect on premature birth given that air pollution and preterm birth are well linked," said Elaine Hill, a health economist at the University of Rochester Medical Center who was not involved in the study.
The results highlight stark racial disparities in environmental health because the connection between flaring and preterm birth only emerged among Hispanic women, who made up a majority of the study population. Flaring did not increase the risk of preterm birth for non-Hispanic white women, who accounted for about a third of mothers in the study.
Dr. Cushing said there are several potential explanations. On average, Hispanic women experienced more flaring, and it's possible that the effects only manifest above a certain threshold of exposure. Other studies have also shown that women of color are more susceptible to pollution. That may be because their bodies are already worn down by longtime health problems, exposure to other contaminants or chronic stress caused by discrimination, Dr. Cushing said.
Although the study didn't address it, economics could also provide part of the answer, Dr. Hill said. If white women in the study were more likely to own land, and thus mineral rights, then the income bumps they received from oil and gas extraction could have offset negative health effects, she said.
Whatever the reason, Dr. Burris said the study suggests that flaring poses a danger to expectant mothers. "I wouldn't go as far as to say that it's safe for some women and not others," she said. "No way."
Flaring has increased in the U.S. in recent years, but there are efforts to curb the practice. Last week, a federal court blocked the Trump administration's attempt to roll back Obama-era regulations that discouraged flaring. The Texas Railroad Commission, which oversees the state's oil and gas industry, is also considering tightening flaring regulations.
Diana Lopez, executive director of the Southwest Workers Union in San Antonio, which advocates for environmental justice, said she hoped the study would bring new urgency to the issue by showing how vulnerable populations bear the collateral costs of fossil fuel extraction.
"That's just a classic example of environmental racism," she said.Despite Their Promises, Giant Energy Companies Burn Away Vast Amounts of Natural GasOct. 16, 2019A version of this article appears in print on July 23, 2020, Section A, Page 18 of the New York edition with the headline: New Study Ties Gas Flares To Risk of Premature Birth. Order Reprints | Today's Paper | Subscribe
**
Babies born near natural gas flaring are 50 percent more likely to be premature: Study
Researchers link air pollution from burning off excess natural gas to preterm births for babies, with the most pronounced impacts among Hispanic families.

Living near fracking operations that frequently engage in flaring—the process of burning off excess natural gas—makes expectant parents 50 percent more likely to have a preterm birth, according to a new study.
A birth is considered preterm when a baby arrives before 37 weeks (about eight and a half months) of pregnancy. Preterm births can result in underdeveloped lungs, difficulty regulating body temperature, poor feeding, and slow weight gain in babies.
Fracking, another name for hydraulic fracturing, is a process of extracting oil and gas from the Earth by drilling deep wells and injecting liquid at high pressure. While many studies have established links between living near fracking wells and numerous health effects, including preterm births, this is the first study to specifically investigate the health impacts of flaring.
Flaring is most commonly used when the primary goal of fracking is oil extraction, so it's cheaper to burn off the natural gas as a waste byproduct than it would be to capture, transport, and sell it. Flares can burn for weeks at a time, releasing combustion-generated pollutants like benzene, fine particulate matter pollution, carbon monoxide, nitrogen oxides, heavy metals and black carbon.
The study, published today in the journal Environmental Health Perspectives, looked at satellite data showing the location and duration of flares, and at hospital records from 23,487 births for parents living in the rural region of Eagle Ford, Texas between 2012 and 2015. In a previous study, the same researchers estimated that the Eagle Ford shale region, which is home to more than 7,000 fracking wells, had more than 43,000 flaring events between 2012 and 2016.
"We found that among mothers living within five kilometers (or about three miles) of a high amount of flaring activity during pregnancy, we saw 50 percent higher odds of preterm birth compared to mothers that had no exposure to flaring," Jill Johnston, one of the study's lead authors and an environmental health scientist at the Keck School of Medicine of the University of Southern California, told EHN.
A high amount of flaring was defined in the study as 10 or more nightly flare events within three miles of the pregnant parent's home. The researchers adjusted for the pregnancy risk of just living near oil and gas operations in general, and for other known risk factors for preterm birth including age, smoking, insurance status and access to prenatal care, to ensure that the increased risk they were seeing was just associated with flaring.
While looking at the density of wells, the researchers found that expectant parents who lived within three miles of a high number of oil and gas wells also had higher odds of a preterm birth than parents who did not live near wells, regardless of flaring. They also observed that babies born to parents who live near a high number of wells were smaller, weighing an average of about seven ounces less than babies born to parents who didn't live near fracking wells.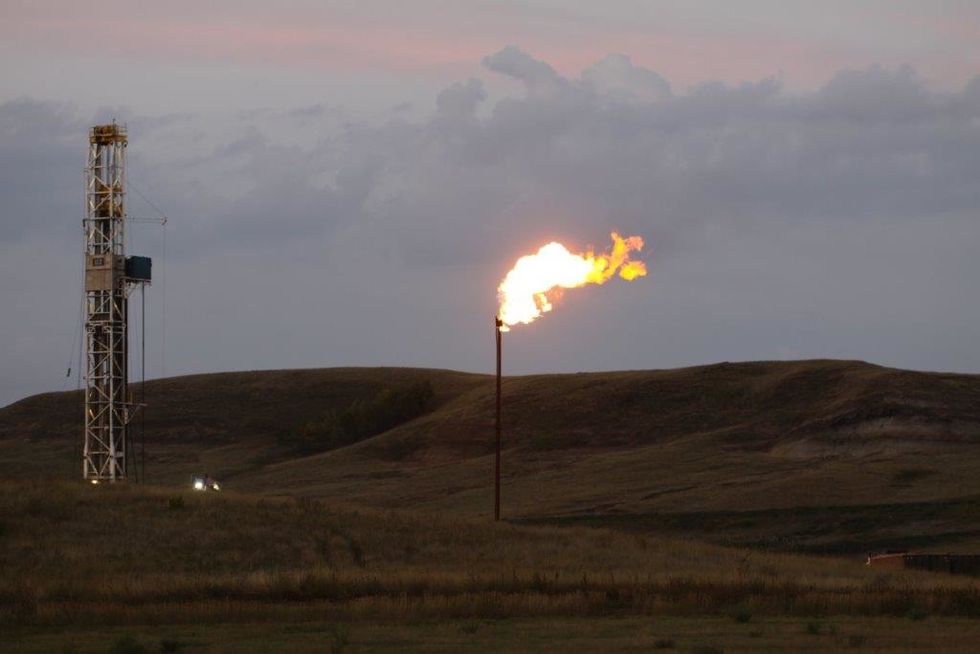 Flaring in the Bakken shale in North Dakota. (Credit: Trudy E. Bell)
Environmental injustice
Johnston and colleagues found that parents in the study who identified as Latina or Hispanic were exposed to more flaring, and were more likely than White parents to see an increased risk of preterm birth.
"I think that racial disparity is an important finding, and we need more research on the reasons behind it," Johnston said, noting that prior research has shown more vulnerability of women of color to effects of air pollution when looking at adverse birth outcomes.
"It's possible that a lifetime of discrimination and social stressors are driving factors here. It could also be that Hispanic families are spending more time outside and being more exposed to pollution from flares," Johnston added.
Hispanic communities in the region are exposed to more frequent flaring than White communities, Johnston said, which could also mean that even among the "high-flare group" in their study, Hispanic parents were being exposed to a higher number of flares every night than White counterparts.
"Historically, much of the waste disposal in the U.S. is concentrated in communities of color," Johnston added. "One theory is that we're seeing the same pattern with flaring, which is essentially another type of waste disposal. Infrastructure investments can be made to capture excess natural gas rather than burning it off, and where those funds are invested to minimize flaring often seems to depend on the characteristics of the communities nearby."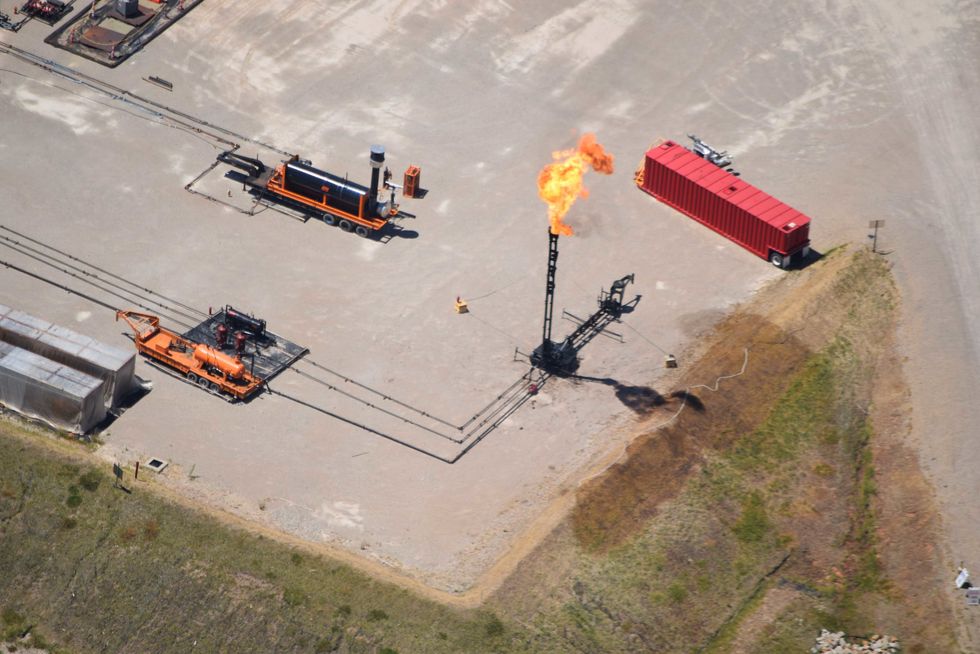 Flaring on an Ohio well pad in 2016. (Credit: Ted Auch, FracTracker Alliance)
A lack of health-protective regulations
It's estimated that globally, more than 139 billion cubic meters, or about 4.6 percent of all natural gas production, is flared every year.
Following the fracking boom that started in the U.S. around 2006, the U.S. became responsible for the highest number of flares of any single country, burning an estimated 13.2 billion cubic feet of natural gas in 2018.
In a previous study, Johnston and her research team estimated that about 80 percent of U.S. flaring is occurring in the Texas and in North Dakota shale plays, where much of the country's oil-extractive fracking occurs. In places like Pennsylvania, where fracking companies primarily extract natural gas, some flaring occurs, but it's less common since most of the gas is captured and sold.
Despite the high level of flaring that's occurring in the U.S. and in Texas, there are few federal or state regulations on the practice, and most of the data on flares is sporadically self-reported by the industry.
"It would have been really difficult to do this assessment if we didn't have satellite data and had to try to sort through the spotty state-level data that was available," Johnston said. She pointed to the Energy Policy Act of 2005, which prompted deregulation of the oil and gas industry nationwide, as a likely cause for the lack of regulations and data on flaring. In the last four years, the Trump Administration has been working to further reduce the number of regulations on the industry.
If expectant parents notice flaring activity nearby, Johnston recommended reducing exposure to airborne pollutants as much as possible by staying indoors, keeping the windows closed to reduce the amount of outdoor air that gets into the house, and using an air filter to purify indoor air.
"Our study indicates that there are serious public health concerns associated with living near flaring," Johnston said. "I believe that regulatory efforts to reduce and eliminate the amount of flaring that's occurring would be beneficial to communities nearby."
Banner photo credit: skalekar1992/Pixabay