Justin Gillis, the former NYT environment reporter, has written an opinion piece for the paper noting that the six US states where policies have been adopted requiring the elimination of CO2 emissions from power grids happen to be ones where the Democrats have taken full control of state government: "I think the trend holds important lessons for the Democratic Party. At the national level, the Democrats need to start running hard on climate and energy, instead of paying the issue lip service. Signs abound that the American public is ready for a serious discussion about our energy options. But how to discuss the subject? For that we should look not just to states like Colorado but, interestingly enough, also to a state under complete Republican control: South Carolina." Gillis cites the example of how the solar industry has achieved a surprising success in the state. "Tyler Norris, who helped craft the bill on behalf of South Carolina's solar industry association, told me that the focus was on the direct benefits to the people of the state. 'I don't know that the terms 'climate change' or 'global warming' were ever uttered in the entire year and a half of advocacy and debate around this,' Mr. Norris said. The final vote in the South Carolina Senate was 46-0, and in the House, 103-0. You read that right…The polls have told us, over and over, that right below the surface in this country lurks a powerful consensus to go all out on the energy transition. That unanimous measure in South Carolina tells you that for the right policies advocated in the right language, the votes are there."
Separately, the Economist carries a feature about how "floods and storms are altering American attitudes to climate change". It says: "Ever more voters can see what is happening first-hand. Older polling, by Pew, had suggested that coast-dwellers were more alarmed by climate change than those living 300 miles or more inland. But inlanders' views seem to be shifting, too. A survey published this year by the Energy Policy Institute, part of the University of Chicago, found that 70% of Americans believe climate change is real. Nearly half are also more persuaded by warnings from climate scientists than they were five years earlier. Many said that witnessing extreme weather events—like the tornadoes, storms and floods battering the Midwest —did most to form their views."
Meanwhile, the Conversation carries a piece by two professors of linguistics who argue that "we may have reached 'peak negativity', where the news is so full of serious crises that people are increasingly avoiding it". They conclude: "Constructive journalism should take a solution-focused approach that covers problems with the appropriate seriousness, but also answers the inevitable 'what now?', by describing how similar problems have been addressed elsewhere in the world. Awareness of climate change is high and growing, but the potential solutions need more attention."
Sea-level rise could be even worse than we've been led to expect (WaPo) An editorial in the Washington Post expresses concern about the latest projections for sea-level rise: "As with many effects of human-forced planetary warming, the precise nature of some consequences will be known only after they occur, when it is too late. It is this sort of uncertainty that opponents of addressing global warming have played up to argue against action…As scientists have continued to refine their understanding of Earth systems, the distribution of the scenarios that seem probable has tended to move in the wrong direction. President Trump and those in his administration ignore scientists' increasingly dire warnings to the peril of their children, grandchildren and the rest of humanity."
Recent warming of landfalling atmospheric rivers along the west coast of the US  Journal of Geophysical Research Atmospheric river storms are well known for their ability to accumulate snowpack, provide drought relief, and generate extreme precipitation and flooding along the US West Coast. Atmospheric river temperature is an important variable for determining the ratio of rain to snow delivered by an individual storm. As a result, changes in atmospheric river temperature have implications for both water storage and flood risk. This study finds substantial warming in atmospheric rivers. The most robust warming occurs in November and March, which has important implications for increased regional flood risk and decreased water storage.
Beliefs about climate change in the aftermath of extreme flooding Climatic Change A key component of a community's ability to learn from disaster is how community members perceive the causes of extreme flood events and whether there is risk of future similar events. Using data collected from two rounds of public surveys across six Colorado communities flooded in 2013, this study investigated whether there is variation across causal understanding of flooding – and whether this variation can be linked to differences in proximity of damages experienced. The findings suggest that the extent of damage experienced at the neighbourhood and community levels can have a significant effect on the perceptions of climate change held by the public. In turn, these beliefs about climate change are positively associated with perceptions of risks of future flooding.
US just had its wettest 12 months on record E360 DIGEST MAY 30, 2019 The continental United States just experienced its wettest 12 months on record, receiving 6.25 inches of rainfall above the mean, according to a new report by NASA's Earth Observatory. The finding comes amid weeks of record-setting floods throughout much of the central United States.
From May 1, 2018 to April 30, 2019, the contiguous U.S. averaged 36.20 inches of precipitation ― more than half an inch higher than the previous record-setting year (April 2015 to March 2016) and the most in 124 years of modern record-keeping. Ten U.S. states had their wettest 12 months on record, with the highest precipitation rates in the Mid-Atlantic and Midwest regions. According to the U.S. Drought Monitor, just 2.33 percent of the continental U.S. was in drought at the end of April, compared to nearly 30 percent at the same time last year.
"I do not have an explanation for the weather systems that caused the heavy precipitation, but sea surface temperatures in the western Atlantic and Gulf of Mexico have been generally well above normal over the past year," climatologist Ken Kunkel said in a statement . "This has surely added to the atmospheric water vapor content available to the precipitating weather systems."
Over the past two weeks, flooding along the Arkansas, Missouri, and Mississippi rivers has inundated riverside communities throughout the central U.S. Flood watches and warnings have been issued in at least 7 states, and Arkansas Governor Asa Hutchinson has declared a state of emergency amid hundreds of evacuationsand at least one death.
This month's heavy rainfall has already broken eight local records for May precipitation and threatens to break records for any single month in areas of Arkansas, Kansas, Missouri, and Oklahoma.
While this year's historic flooding seems "somewhat of a random occurrence," meteorologist Jason Samenow wrote in the Washington Post, it has also "occurred against a longer-term backdrop of climate warming and increasing precipitation extremes. In other words, climate change probably intensified the rain and increased the chance it would become a record breaker."
— Noah Goodman 
Tackling Climate Change? Governor Jay Inslee Has a Plan for That By ELIZABETH KOLBERT
https://tonko.house.gov/uploadedfiles/tonko_-_climate_principles_116th.pdf
"Middle-of-the-Road" Climate Plans From Centrist Democrats Won't Save Us, Warns AOC at Green New Deal Rally
"I will be damned if the same politicians who refused to act then are going to try and come back today and say we need a middle-of-the-road approach to save our lives."
Rep. Alexandria Ocasio-Cortez issued a rebuke on Monday to longtime members of Congress and presidential candidates who claim incremental measures will solve the climate crisis and vowed not to allow Republicans or centrist Democrats to hamstring the push for a Green New Deal.
At a Washington, D.C. rally closing out a nationwide Green New Deal advocacy tour by the Sunrise Movement, Ocasio-Cortez told attendees she plans to fight against "middle ground" approaches favored by politicians like 2020 candidate Joe Biden and House Speaker Nancy Pelosi.
The New York Democrat noted that many of the Green New Deal's critics were in office decades ago and held on to their seats as carbon emissions skyrocketed and NASA scientists began warning that the climate was changing as a result.
"I will be damned if the same politicians who refused to act then are going to try and come back today and say we need a middle-of-the-road approach to save our lives," Ocasio-Cortez said.
Ocasio-Cortez is a co-sponsor along with Sen. Ed Markey (D-Mass.), of Green New Deal legislation which the pair introduced in February. The bill calls for a "national mobilization" to create green jobs and a new energy infrastructure using 100 percent renewable sources like wind and solar power by 2030. The plan has the support of 72 percent of Democratic according to a Morning Consult poll released in February.
At the Monday rally, Sanders also condemned powerful centrists, many of whom he said enable fossil fuel companies.
Oil, gas, and coal executives "lie and lie and lie and spend hundreds of millions of dollars to buy out politicians who also tell their lies," said Sanders. "This is a corrupt system."
"What is too much for me is the fact that in 1989, the year that I was born, that politicians were first informed by NASA that climate change was going to threaten my life and everyone's life here, and they did nothing."
—Rep. Alexandria Ocasio-Cortez (D-N.Y.)Instead of endorsing the Green New Deal, Pelosi has pushed in recent weeks for a vote on re-entering the Paris climate agreement, which President Donald Trump left in 2017.
Ocasio-Cortez welcomed such a vote, but toldBloomberg News, "The idea that we can just reintroduce 2009 policies is not reflective of action that is necessary for now in the world of today."
A recent Reuters report said Biden, if elected president, would seek a "middle ground" policy on combating the climate crisis. The former vice president is reportedly planning to deliver a speech outlining his climate policy agenda by the end of May.
In fresh comments on Tuesday, Biden responded to criticisms of his reported "middle road" approach by claiming, "I've never been middle of the road on the environment."
Biden asked critics to look at his record. "You'll find that nobody has been more consistent about taking on the environment and the green revolution."
The Sunrise Movement says it is eager to hear Biden's plans and hopeful that he'll align himself with the national grassroots campaign, presidential candidates including Sens. Bernie Sanders and Elizabeth Warren, and 104 members of Congress who have pledged to back the Green New Deal.
"We're nervous about where he stands," spokesperson Stephen O'Hanlon told CNN on Monday, "but there's time for him to do the right thing."
The Sunrise Movement's nationwide tour is over, but the group says it is continuing to push for the Green New Deal through the work of local chapters all over the country.
"Over the next few months," co-founder Varshini Prakash said in a statement, "we'll be mobilizing our chapters around the country to make sure that every candidate knows that if they want our energy, if they want our votes, if they want our passion, they need to support the Green New Deal."
Our work is licensed under a Creative Commons Attribution-Share Alike 3.0 License. Feel free to republish and share widely.
Power Plant Securitization: Coming to a State Capitol Near You
As clean energy advocates urge retirement of fossil fuel power plants, securitization has become a billion-dollar word with huge implications for who will pay for and who will own the clean energy future.
Already, securitization has shown up in several state clean energy laws. Colorado legislators have been refining a power plant securitization bill (HB 1037) several times this session. In New Mexico, the "Energy Transition Act" signed in April 2019 includes securitization of retiring Public Service Company power plants. In Florida, Duke Energy has cut the costs of paying off retired power plantswith securitization powers enacted over a decade ago. The Colorado bill sponsor is "'actively talking' to colleagues in Minnesota, Utah and Montana about the proposal."
So, what is securitization, and how does it play a role in a clean energy transition?
Update 5/21/19: an expert reader got in touch to suggest my estimated utility cost of capital (5 to 6 percent) was too low because I underestimated the utility's borrowing rate and ignored how tax liability increases costs. The text has been corrected to 8 to 9 percent. For more on this calculation, see page 55 of RAP's Electricity Regulation in the US: A Guide (Second Edition).
Refinancing to Lower Costs
Securitization is a fancy term for loan refinancing. It works much like mortgage or student-loan refinancing does, addressing both the outstanding principal owed and the interest rate. If done right, it can lower costs for utility customers and encourage early retirement of coal or other fossil fuel power plants.
Securitization works because utilities tend to have a high costs. An investor-owned utility in good financial health can raise money from shareholders and banks for a combined interest rate of about 8 to 9 percent. Although securitization methods differ, they often involve substituting customer-backed or government-backed dollars for utility equity and debt, with interest rates closer to 3 or 4 percent.
The following graphic from the Sierra Club (annotated by ILSR), shows potentially significant savings by using securitization to retire costly fossil fuel power plants and finance new renewable energy resources.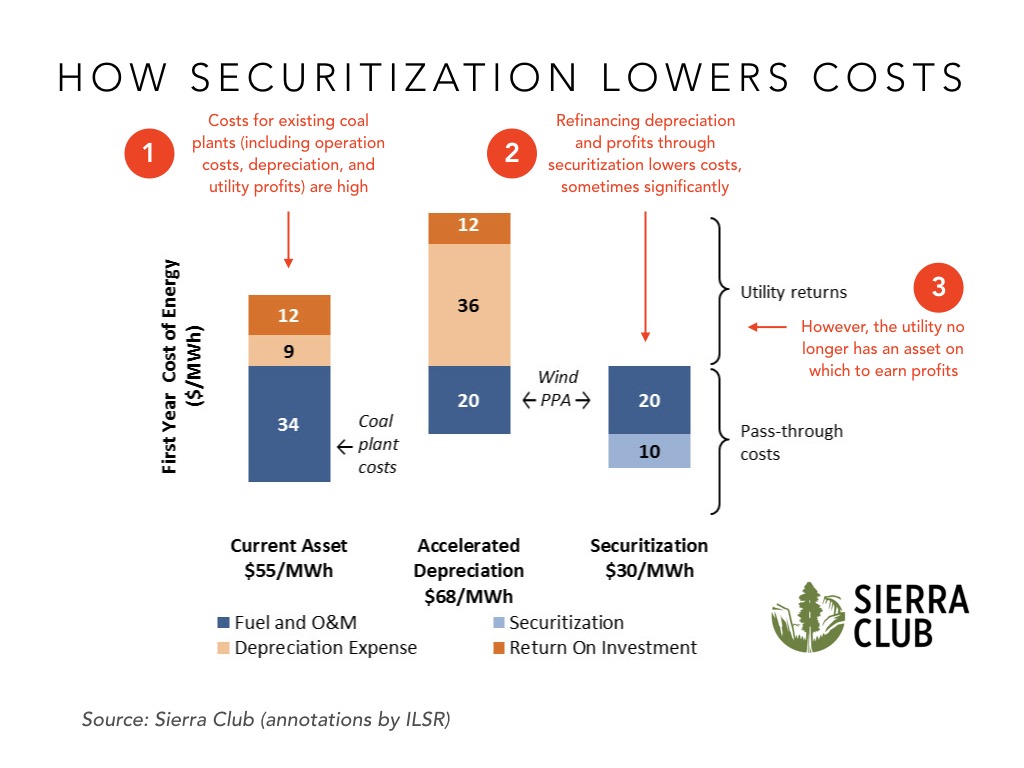 The savings are more than theoretical. "An analysis by [the Rocky Mountain Institute's Uday] Varadarajan of possible Minnesota coal plant closures found that using the standard accounting tools of accelerated depreciation over five years and a regulatory asset would cost $29 a megawatt-hour (MWh), while securitized 20-year bonds would cost $5 a MWh—a savings of $45 million."
In some cases––like the Colorado bill mentioned earlier––savings aren't just passed through to customers. Colorado's law would set aside funds to smooth the transition for power plant communities that lose a major employer. Writing for Greentech Media, Justin Gerdes explains that, "Under the bill, 15 percent of the net present value of savings generated by the closure of a power plant — such as fuel not burned, as well as avoided maintenance and operating costs — would be directed to a new seven-member, governor-appointed body, the Colorado Energy Impact Assistance Authority, to be used for transition assistance for workers and communities."
How Much to Pay Utilities for Past Investment?
While few disagree with the notion of lowering interest payments with customer- or government-backed bonds, a major concern is how much principal––how much of the remaining value of a power plant––to refinance. In other words, how much are aging coal power plants worth?
The size and timing of power plant improvements complicates this calculation. Unlike a house, where adding a deck might change the value but the mortgage stays the same, utilities effectively take out a new mortgage on every improvement they make. Since a plant opened, utilities likely have replaced turbines, installed pollution controls, or made efficiency upgrades. Each time, as shown in the following chart, it sets a new schedule for retiring debt that may extend for years or decades beyond the present day.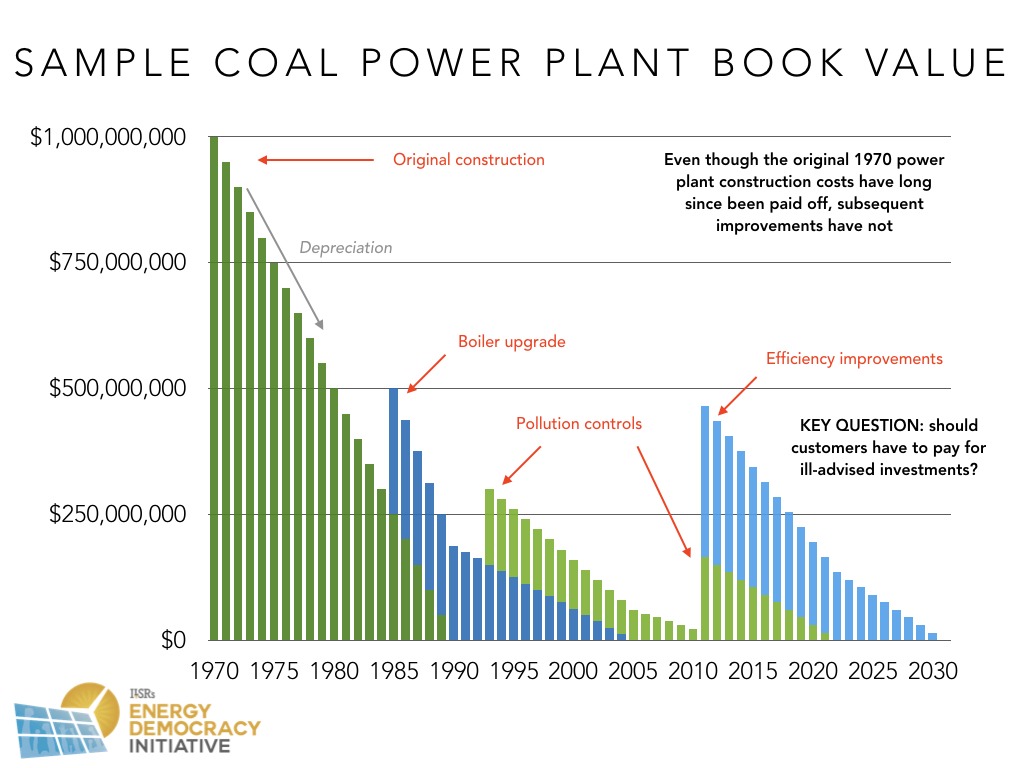 The key question is, in utility regulator speak, "prudency."  Should customers have to pay for ill-advised or imprudent investments? The law obligates customers to pay the cost of grid infrastructure built by monopoly utilities only if it can be shown to be a wise investment.
For example, was it a wise investment for Xcel Energy to pour nearly $1.2 billion into pollution controls and a new generating unit at its Comanche coal-fired power plant in 2010? With the energy market evolving rapidly at the time, how much of the $200 million that Xcel utility executives chose to spend on the aging units should be paid for by customers, and how much should be chalked up to a poor investment decision?
Securitization may allow for "socialized risk." Whereas most entrepreneurs or companies making a business decision take on the risk that their investment will fail, most utilities being considered for securitization refinancing are government-regulated monopolies. If regulators allow, utility shareholders can push the cost of poor utility investment decisions onto utility customers by asking for customers to pay for the full value of bad investments.
Critics of the New Mexico Energy Transition Act have highlighted this very issue. New Energy Economy called the securitization deal that the state passed into law in March 2019, a "blank check," noting that it provided the utility 100% recovery of the remaining value of all their assets, including profits for shareholders. Securitization laws in other states allow state regulators to review the amount of reimbursement utilities receive. The New Mexico law strips regulators of that oversight role.
Do Utilities Deserve a Profit Guarantee?
In securitization discussions, lobbyists for investor-owned utilities frequently request special treatment. Namely, they want guaranteed utility ownership of any power plant built to replace the refinanced and retiring power plants. Remember the third note from the chart illustrating how securitization works? Retirement of costly power plants saves customers money, but it means "the utility no longer has an asset on which to earn profits."
An ownership guarantee means profits for utility shareholders, but it can come at a hefty price premium for electricity customers. Mariel Nanasi of New Energy Economy shared analysis with New Mexico legislators suggesting that utility-owned replacement renewable energy will cost customers 50 percent more than competitively bid power. Despite this warning, legislators allowed the company to own all of the necessary replacement power for retiring coal power plants.
---
Listen to John Farrell's interview with Mariel Nanasi of New Energy Economy about the New Mexico Energy Transition Act
---
In Colorado, legislators have drawn up a compromise. In his coverage for Greentech Media, Gerdes writes, "As a sweetener for the utility to give up the equity in a rate-based power plant, HB 1037 permits utilities to own at least some of the replacement generating capacity." Specifically, it sets a range of permissible amounts. At a maximum, the utility can own energy generation equal to the size of the retiring power plant, sometimes called its "nameplate capacity." If a 700-megawatt power plant was retired, the utility can at most own up to 700 megawatts. The minimum ownership amount is then based on the capacity of the refinanced part of the power plant. So, if the principal owned on a 700-megawatt power plant was equal to 1/7th of its original cost, the utility would be allowed to own 100 megawatts of replacement power. The following chart illustrates.
Unless securitization legislation also changes the utility business model, shareholders of any utility covered under this statute––or in the similar 30 states with regulated monopolies––will likely earn a 9 to 10 percent rate of return on any of its capital spent on that replacement power. Under this model, shareholder-owned utilities stand to make a lot of money even if they are less expensive options to expand clean energy.
Where Securitization is Up
With a dubious securitization bill passed in New Mexico and a more nuanced one in Colorado, where else is this policy on the table?
Twenty states already have laws on the books. EUCI reports that power plant securitization laws have been used in several ways in recent years. "Entergy Louisiana and Entergy Gulf States, for example, sold $1.65 billion in bonds to cover storm costs in the last few years. Duke Energy used $1.3 billion in utility cost-recovery bonds to retire its Crystal River Unit 3 nuclear plant in Florida. Michigan Consumers Energy used $390 million in securitized bonds to retire a 950-megawatt coal-fired plant."
Analysis is underway of how securitization might work for a power plant owned by Minnesota Power in Minnesota. Bills are pending in Kansas and Missouri, but not expected to pass. But with millions of dollars in stranded costs at soon-to-retire fossil fuel plants and millions more to be made in developing their renewable energy replacements, expect securitization to be heard at a state capitol near you.
Further Reading
This article originally posted at ilsr.org. For timely updates, follow John Farrell or Marie Donahue on Twitter or get the Energy Democracy weekly update. Also check out over 70 episodes of the Local Energy Rules podcast!