Solutionary Rail proposes overhead rail electrification, powered by renewable energy accomplished in conjunction with track modernization. This infrastructural investment will bring to the United States the reliable, electrified, higher-speed service now common on public railroads in Europe, Asia and elsewhere.
Such service can draw significant portions of freight and passenger service lost to highways and aviation back to the tracks. Increased speeds and efficiency will allow the restoration of rail service that will revitalize rural communities along the tracks: Farmers will be able to ship their crops to market in a timely manner, public health problems caused by diesel exhaust will be greatly reduced and (eventually) coal dust will be eliminated in rural and urban communities alike. Meanwhile freeways, less burdened by the toll of long-haul trucking, will become safer.
Higher speed freight and passenger rail capacity, with top speeds of 80mph/120mph respectively, will draw higher value, more profitable freight off of trucks and planes and back onto the rails. Over time, this new business model serving new customers will displace slow moving, low value coal or dangerous crude oil. Passengers and freight will not be chronically delayed behind bulk coal and oil trains. Clogging the tracks with will become less profitable and eventually a liability rather than the foundation of railroads' current business model. The narrowly averted human and environmental tragedy in Mosier, the costly tragedy in Lac–Mégantic, and the constant endangerment of communities along the tracks will no longer be consider an acceptable risk and cost of doing business.
Electrified rail can be an engine for moving the economy as a whole beyond reliance on fossil fuels. The electrification infrastructure above the tracks will pass through diverse weather systems and countless rural power cooperative, municipal and tribal utility service areas. Currently, utilities like Yakama Power are stifled in their ability to build additional generation capacity, because access to finance requires a customer for surplus electrons generated during peak production. The rail electrification infrastructure would serve as that customer and in so doing unlock stranded renewable energy resources all along rail corridors.
Owned by the customers they serve, there are two kinds of electric cooperatives in the United States—distribution and generation and transmission (G&T). Currently, 840 Distribution and 65 G&T energy cooperatives serve an estimated 42 million people in 47 states. (Image: NRECA)
Stacking efficient high-voltage transmission lines above the catenary lines for the trains will serve as superhighways for electrons, moving energy from remote wind and solar sources to metropolitan markets. Combined, these will unleash the massive untapped generation potential of distributed renewable energy.
Accessing renewable energy generation across diverse geographies makes overall supply more predictable and reliable. This will in large part provide a solution to the variability of solar and wind sources, the most persistent impediment to transitioning off of fossil fuels.
Electrifying the Northern Transcon
The Solutionary Rail team proposes jump-starting U.S. rail electrification with a demonstration from the Great Lakes to the Salish Sea, principally on BNSF's Northern Transcon. The Northern Transcon and 
connecting branches, often referred to as the northern corridor, total around 4,400 track miles. Our priority would be to electrify the major 2,200-mile intermodal portion of this corridor, carrying containers between the Northwest and Midwest. This nationally important freight transport route, crosses diverse weather patterns and regional economies, offering the perfect opportunity to successfully demonstrate rail electrification's potential to deliver renewed vitality for U.S. railroads and the economy they serve.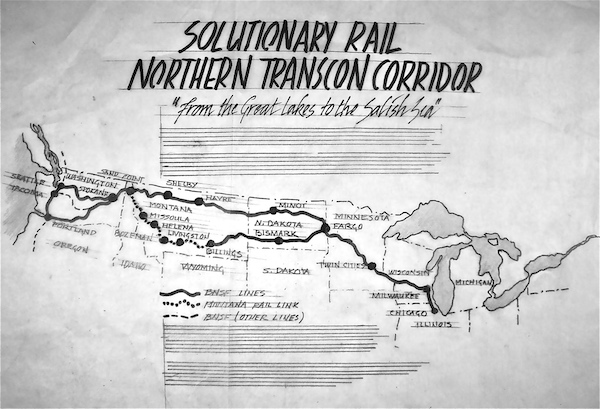 The Northern Transcon route, extending from the Illinois to Washington state, is the most northerly railroad route in the western United States. (Illustration: J. Craig Thorpe)
Indeed, this is a major infrastructural transformation proposal that will require a larger investment than any railroad company would do on its own. We therefore propose that states along the lines jointly create what we are calling a Steel Interstate Development Authority (SIDA). The SIDA would be a not-for-profit corporation operating under a board appointed by participating states. It would be chartered with the authority to raise funds for infrastructure investment on both publicly and privately owned rights-of-way. The SIDA would leverage the ability of public agencies to issue bonds and provide low-interest capital to invest in rail electrification in partnership with railroads and oversee funding and construction of electrification infrastructure.
The electrification infrastructure and potentially some tracks would remain publicly owned. This would begin to restore our national infrastructure, our economy and society. It would mark a reversal in the trend of privatization that has robbed the public of the shared prosperity and accountability over recent decades.
A Solutionary Rail demonstration along the Northern Transcon will require a broad alliance, including BNSF and its owner, Warren Buffett. Governors and legislators of states along the route will need to be pressed into leadership by a coalition of stakeholders ranging from railroad workers to municipal governments, agricultural, tribes, ports and major industries along the route. Rail electrification will provide phenomenal benefits to BNSF and other railroad companies. In return, some key public benefits will must be part of the bargain. One of those is a fair deal for rail labor. This is an integral element of the Solutionary Rail vision.
Now is the time to advance projects and policies for a just transition for both rail and fossil fuel industry workers away from dependence on jobs in extreme extraction and transport and toward a sustainable, clean energy economy. As the United Steelworkers recently stated in their just transition resolution: "A clean energy job is any job that helps our nation achieve our goals of reducing greenhouse gas emissions and protecting our environment." Perhaps no other industry is better positioned to play a more pivotal role in the just transition to clean, renewable energy as the railroads.
All rail jobs can be clean energy jobs.
Rail enthusiasts and rails recall the time in American history when thriving railroads served as the circulatory system for vibrant communities with strong local economies. Solutionary Rail celebrates the tradition from which these workers hail, identifies a public interest in their well-being and the sustainability of their vocation.
Cities and towns on and near rail lines used to rely on rail service to access the world, to transport people and products to and from their regions. Much of the United States, in fact, grew on and around rail lines. Communities competed with one another to draw rail service, knowing their livelihoods depended on it. With Solutionary Rail, these days can return.
Solutionary Rail charts a path forward to revitalize this infrastructural treasure. For farmers, utilities, tribes and rail communities large and small, electrified and modernized railroads can be a source of renewal and vitality.
Together, we can build an unstoppable coalition to force dysfunctional elected leadership take unified action for a railroad infrastructure and transportation model that serves us all. Solutionary Rail helps the rail industry pivot from being part of the problem to become a fundamental source of economic, social and climate solutions in communities and a world that urgently need them.
For more information about the Backbone Campaign, and to join the Washington State Labor Council in support of Solutionary Rail click here. 
To find out how to make a contribution to the people-powered grassroots Solutionary Rail campaign click here.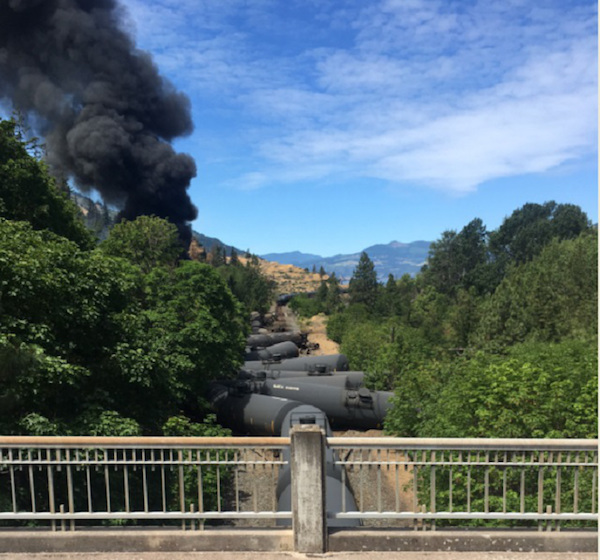 A plume of smoke rises on June 3, 2016 in Mosier, Ore. following oil train derailment. (Photo: DOT111.info)