LEX TALAMO Yakima Herald-Republic Jun 17, 2019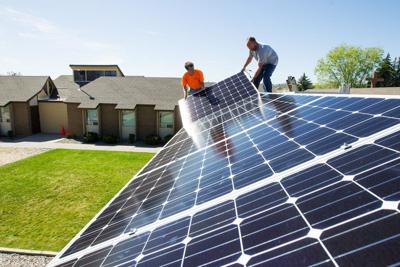 A new campaign encouraging adoption of solar-powered energy could soon be coming to Yakima.
A resolution on the Yakima City Council's Tuesday agenda authorizes an agreement with Spark Northwest, a Seattle-based nonprofit founded in 2001 that supports local efforts for residents in Washington and Oregon to invest in solar energy.
Under the terms of the agreement, Spark Northwest would provide training and technical assistance to a volunteer committee of residents, who would ultimately choose and purchase a solar contractor through a formal public bidding process.
The group purchase would reduce the often-high upfront cost of installing residential solar systems.
The "Solarize Yakima" campaign would involve little, if any, out-of-pocket expenses for the city, City Manager Cliff Moore wrote. A grant from the U.S. Department of Energy, and distributed by the Washington State Department of Commerce, would cover the cost for the campaign, estimated at between $25,000 and $30,000.
City staff would, however, need to invest a moderate amount of time to help with recruitment, promotion and reservation of meeting space for the campaign, Moore noted.
The agreement outlines the various roles and responsibilities for the agencies involved. Spark Northwest would act as the overall campaign manager. The nonprofit would provide status reports, help community volunteers draft a formal request for a proposal for the bidding process, develop the campaign's branding and website and work with the city of Yakima to market and distribute outreach materials.
The city would serve as the "face" of the campaign, helping to recruit volunteers to serve on the campaign committee, promoting the campaign through the city's social media and communications platforms and providing meeting space.
The solar installation company selected by the volunteer committee would manage all site evaluations, work contracts and solar system installations for residents and businesses, provide customer service and maintain and keep current data about resident participation in the project.
The resolution notes that Solarize campaigns typically last about nine months. The agreement, if adopted by the council, would begin in July.
Growing energy interest reflected in electrical co-op elections
Posted on June 16, 2019 by Allen Best
Cloudy skies are rare enough in Colorado's San Luis Valley to make this photo of this solar farm near Alamosa unusual. Photo/Allen Best
Co-op elections show strengthening interest in electrical transition
by Allen Best
EDWARDS, Colo. – Elections of directors of rural electrical co-operatives in Colorado this spring suggests a heightening interest in energy reform.
Larissa Reed
In the Vail area, Larissa Read's election to the board of directors of Holy Cross Energy was unusual in that she had to top three other candidates. She got 39 percent of the votes compared to 27 percent for the first runner up.
Elections of directors for Holy Cross and other rural electrical co-operatives have traditionally attracted little notice. This one was no exception in that only 6.9 percent of members voted. In co-ops, members are also customers.
But often there is no more than one candidate, and rarely more than two for any spot. That said, there were 4 candidates in one district in an election in 2018 and 5 candidates in another district in 2017.
However, in neither race was there as much paid advertising nor as many letters to the editor as there were in the Vail-area race this year, reports Jeanna Weatherred, communications director for Holy Cross.
It's reflective of the times. Across mountain valleys of Colorado, from La Plata Electric in the Durango-Pagosa Springs area to Yampa Valley Electric, the co-operative that serves the Steambaot Springs-Craig areas, elections of electrical co-op board members have had many contests this year.
San Luis Valley REC
The pathway of Tri-State Generation and Transmission was at issue in some co-op elections. Most of Colorado's electrical co-ops are members of Tri-State, including the San Luis Valley Electrical Cooperative.
There, Wade Lockhart made greater energy independence one of his campaign platforms. A resident of Crestone and former Outward Bound instructor, Lockhart also had a background in metallurgy but ultimately became a builder, with a focus on energy efficiency.
In his Facebook campaign page, Lockhart made the argument for more locally generated electricity in the San Luis Valley, which has some of the best solar resource in the United States.
San Luis Valley REC and other member co-operatives of Tri-State are allowed by their contracts with Tri-State to generate no more than 5 percent of their own electricity except of they pay additional transmission costs. That has been a sore point with many co-ops, including Durango-based La Plata Electric. It's also an element in the dispute between Delta-Montrose Electric and Tri-State.
Lockhart sees potential for the co-op to generate half of its own power. He also warned against seeing natural gas as the replacement for retiring coal plants. That is currently the baseline alternative in Tri-State's resource planning
Middle Park Electric
In the Fraser Valley, no stark differences were evident in the election of Mountain Parks Electric, also a member of Tri-State. The incumbent director, Peggy Smith, a former mayor of Fraser who sits on board of directors of the Winter Park Chamber of Commerce, the Winter Park Ski Education Foundation and the local Rotary club, favors expanded renewable energy.
Kristen Taddonio
But the successful challenger, Kristen Taddonio, brought both a boatload of credentials and also obvious passion. A Fraser resident since 2015, she had worked in Washington D.C. for both the Environmental Protection Agency and the Department of Energy in energy-related programs. she has a master's degree in science and technology policy from George Washington University.
In a profile published in the Sky-High News this week, the 35-year-old Taddonio was asked what sets her generation apart.
"A willingness to embrace new technologies, and an acceptance of the rapid pace of technology change: We grew up with computers and the Internet and saw them mature and evolve, as we, too, were maturing and evolving," she answered. "I think we might have an easier time adapting to technology change in today's world as a result."
Her passion for change was evident at a Beneficial Electrification conference Wednesday afternoon in Denver. From the audience, she asked a representative of Tri-State why Tri-State has been so sluggish in shifting from coal to renewables. He essentially said that Tri-State takes its direction from its 43 members, and as a director of those member co-operatives, she should push her advocacy there.
That same Tri-State representative, Myles Dennis, disclosed that in addition to the closing of one of the three coal-generating units at Craig, now scheduled to close in 2025, a second unit, Craig 2, would "more than likely close."
This week, Tri-State also announced it had issued a request for proposals for renewable energy. It seeks long-term power-purchase agreements that allow it to capture the federal tax benefits for wind and solar projects. It proposes to do this through power-purchase agreements with developers, who are qualified to capture the benefits that Tri-State, as a not-for-profit power supplier, cannot. Tri-State would like to see build-transfer proposals, in which it would gain ownership of the projects after the investment tax credits have been captured.
The new call for proposals asks for projects of 10 megawatts to 200 megawatts with terms of 15 to 25 years. Tri-State earlier this year committed to to a 100-megawatt solar project and a 104-megawatt wind project, both in eastern Colorado.
Holy Cross Energy
As for Holy Cross, which is not supplied by Tri-State, the four candidates this year may reflect the co-op's emerged prominence. It is briskly taking steps to decarbonize the electricity that it delivers to the Vail, Aspen, and other areas along Interstate 70 in western Colorado.
Adam Palmer, a director who has been on the board since 2009, suggests the greater awareness of the role of greenhouse gas emissions in causing climatic changes had a role in the number of candidates.
Too, a wildfire last summer at Basalt raised questions about resilience of delivery of electricity. The fire took out three transmission lines and very nearly eliminated a fourth transmission line. Had it done so, portions of Aspen and all of Snowmass would have been without power on the 4th of July weekend last year.
The co-op is also pushing ahead in the broader "beneficial electrification," to replace fossil fuels in transportation and ultimately in heating of buildings.
Read, a consultant who provides planning, facilitation, and project management services to environmental, non-profit, and governmental organizations, helped facilitate creation of the Climate Action Plan for Eagle County.
In response to questions from the Vail Daily, Read said she wanted to continue her service role and "help guide a leading regional utility into a low-carbon future."
Allen Best is a Colorado-based journalist. He publishes a subscription-based e-zine called Mountain Town News, portions of which are published on the website of the same name, and also writes for a variety of newspapers and magazines.