Building an efficient multi-modal transportation system with technology that is on-demand, integrated and autonomous: Is Ridecell a tool that will allow cities to manage, monitor, and optimize across both public and private modes of transportation, switching between on-demand and fixed route services?
Remember when the primary way we'd get music was to go to a store and buy a CD? After the shift to digital music, the rise of subscription music services has pretty much obliterated the need to own the actual media. If you always have access to whatever music you want to listen to, there's no reason to drive to the store and pay for an album that costs more than a month's subscription for unlimited music access. Now that we're in a world where we subscribe to Spotify or Apple Music, this seems obvious.
Transportation is changing: its going to be on-demand, integrated and autonomous.  The same thing is happening with transportation. In fact, we're on the brink of a revolution that's far bigger than the transition with music. How we get from one place to another is about to change forever. Uber has already shown us what it means to call a ride with the tap of a button. Why drive your car, hunt (and pay) for parking, walk to your final destination, and then repeat the whole thing on your way back? It's hands-down a better experience and, in some instances, cheaper too if you factor in the cost of parking in downtown SF.
Now imagine that the price for an Uber ride drops by 80%. Instead of $10 for a ride downtown, you'd pay $2.00 or maybe $2.50. It would be a no-brainer to use a service at that price.  
But how could the cost drop so much? Ride sharing drivers are already being squeezed with lower and lower rates. The answer is autonomous driving. It's estimated that over 90% of the cost of operating a ride sharing service is the cost of the driver. When we move to a world where cars drive themselves—and we're passengers riding around in self driving cars—the cost of transportation as a service will drop dramatically.  
http://publictransport.about.com/od/Transit_Vehicles/a/How-Much-Does-A-Bus-Cost-To-Purchase-And-Operate.htm
http://uberdriverdiaries.com/how-much-do-uber-drivers-really-make/
Transportation as a service is going to be key in driving revenue
What are the implications? With far fewer people buying music, subscription services are the businesses that are making the money in today's new music economy. If customers stop buying cars and switch to transportation as a service as their primary means of getting around, it will be the service providers who capture the revenue, not the car manufacturers. Which is why every car manufacturer has an initiative to become a mobility provider. That's where the profits will be in this new economy.
It's also probable that we'll need fewer car brands in the future. When I call an Uber or a Lyft and a Prius shows up, I don't give it a second thought as long as it's clean and on time. While I might never consider owning a Prius, the brand of the car I'm riding in is no longer something that reflects on my identity. Transportation as a service will be measured by cost, reliability, and the condition of the vehicle. Not the color or marquee of the car.
In the future, we'll pay a monthly subscription for all our transportation needs. With our subscription, we can be driven to work in a sedan, take a truck for that trip to Home Depot, and pack the kids into an SUV for a family weekend in the mountains. Each vehicle type would use up our subscription credits at a different rate. Want your subscription to take you more miles? Sign up to share the ride to work for those days when you don't need to be on the phone. Do you enjoy driving a convertible on a sunny day? Have one drive itself to your home or work, then switch it to manual driving mode and take it for a spin. Transportation as a service doesn't always have to be autonomous.  
Ready-made unified platform
As auto OEMs around the globe rush to capture the first mover advantage of launching car and ride sharing services, they need a ready-made unified platform to get to market as fast as possible. BMW is using the RideCell platform to power their on-demand car sharing service, called ReachNow, in Seattle and Portland.  RideCell offers a unified platform that lets auto OEMs transform their businesses from selling cars to providing services such as car sharing and ride sharing; the platform is industry proven, feature rich, and ready for use.  RideCell is also building an operating system that will allow OEMs to manage fleets of autonomous vehicles. It's not only the reason BMW chose to power their new service offering using RideCell, but also the reason they decided to invest in Ridecell.  RideCell has been developing a platform for Mobility as a Service since 2009—long before the most OEMs recognized the need. Now that autonomous is happening faster than anyone thought it would, the pressure to transition to a service model is full on. As car companies seek to build this new line of business, they have very few mature ride sharing platforms to choose from. (Uber has a great platform for their own service, but they prefer to keep it to themselves.) RideCell's platform is the industry-leading platform for powering multiple offerings from different companies (rental, car-sharing, ride-hailing). In fact, RideCell is already powering new mobility offerings for more than 15 customers and is poised to power leading auto OEMs as they embrace this global transition.
As the past meets the present
A report by the American Public Transportation Association corroborates this by showing people who depend most heavily on shared modes of transportation – including ride-hailing apps like Uber and Lyft, bike sharing, and car-sharing services like ReachNow, ZipCar and Car2Go – are also more likely to rely on public transit.
What this means is that Smart Cities of the future will need an "integrated multi-modal transportation system" that will allow cities to manage, monitor, and optimize across both public and private modes of transportation. And building an efficient multi-modal transportation system will require technology that is on-demand, integrated and autonomous. 
The solution therefore lies in building an integrated mobility ecosystem that can switch between on-demand and fixed route services
Role of on-demand in driving transit choices
Smart technology and changing consumer attitudes towards mobility is greatly impacting the way we commute. Already new mobility services like Uber and Lyft have made convenience, flexibility and efficiency key components in consumers' transit choices. Add to this the costs of running an on-demand vs fixed route service and the math begins to make sense. On-demand running costs are 1/5th – 1/10th of fixed route services costs (Cost of running a bus~$150/hr vs on-demand service~$15/hr)*. Organizations waste a lot of money when they run fixed routes with little to no passengers. On the other hand, on-demand services are more resource intensive. The solution therefore lies in building an integrated mobility ecosystem that can switch between on-demand and fixed route services.
RideCell's mobility platform helps administrators augment or replace low performing fixed routes with on-demand service that can cost less, and in turn create demand for fixed-route services. The technology can also direct riders to use fixed-route services instead of the more resource intensive on-demand options when the bus is close thereby enabling cities and communities to design their own unique transportation systems.
Creating a seamless travel experience
This brings us to the question: How does one create an integrated system that provides a real time view of public and private transportation services? The answer lies in a "unified mobility operating system" that can combine data from mobility apps, infrastructure operators, transit operators, and sensors into a unified view. RideCell's dynamic mobility analytics engine provides a real-time, unified and holistic view of the public and private transportation services that constitute the multi-modal transportation fabric of their city thereby allowing cities to make data driven policy, infrastructure, and technology decisions.
Preparing for the future: Autonomous Driving
And finally, investments in automation will undoubtedly be the single most critical factor driving the future of transportation.  Major players like Google, Tesla, Ford, Baidu and more are already making headways into the autonomous vehicles revolution and analysts predict that the transition to autonomous vehicles will take place in the next decade or so. It is important to note, though, that until now transportation software has required manual operation of dispatch, routing, scheduling, and other operational functions which could lead to an absurd world where a fleet of autonomous vehicles would have to be managed manually.
By building a platform that enables autonomous operations of transportation services, RideCell is building parity with autonomous driving. RideCell's proprietary "autonomous fleet operationsTM" technology automates end-to-end business operations from consumer apps to the day to day fleet management, demand and supply analytics, marketing, CRM, and payments. Its mobility software platform can automate some of the hardest operational tasks in running large transportation systems and can optimize and scale them without any human intervention.
The future of transportation is an important topic and creating an intelligent transportation system that improves connectivity, safety and mobility will depend upon how quickly cities and traditional transportation communities align with technology firms and with innovators on advancing transportation. However, this is not something to look forward to in the distant future but is recognized as a reality in present times.
*Sources:
http://publictransport.about.com/od/Transit_Vehicles/a/How-Much-Does-A-Bus-Cost-To-Purchase-And-Operate.htm
http://uberdriverdiaries.com/how-much-do-uber-drivers-really-make/
Car sharing has been defined as a model whereby different persons may drive a car, usually each for short periods of time – it seems the key characteristic of car sharing is that there is a multiplicity of potential drivers.
Ride sharing has been used to describe situations ranging from services such as Uber and Lyft, – where there is one driver who may own the car but shares its use with others, carrying passengers for fees (like a taxi) – to other situations which are like "car pooling" – several people riding in one vehicle (whether or not there is a fee involved).
Another example of ride sharing would be Chariot, which offers commuter ride share, utilizing 12-seat van-like "chariots" with employee drivers. Closely related to car sharing is "on-demand rentals" which would include the BMW ReachNow service as well as companies like Silver Car that offers a simplified mobile-based car rental system, which started at airports. RideCell's expertise also extends to traffic management and optimization for cities or other units, such as campuses. The company claims over 20 active customers, including: Santa Clara Valley Transportation Authority, University of California at Berkeley, and University of Southern California plus corporate clients like 3M.
Why do Millennials matter?
Born between the early 1980s and 2000, Millennials number 75 million and are now the largest generation in the U.S. According to Experian Marketing Services, as they grow older they increasingly influence consumer affairs such as fashion, media and transportation. Because their yearly average discretionary spend is $11,317, they are a hot target for retailers and marketers.
While economics still influences Millennial transportation decisions, technology and a preference for urban living are bigger factors. Millennials prefer multiple modes of transportation, often basing their preferences on the weather, social opportunities or the length of the trip. They may walk to a bus stop or bike to work and ride a subway home. The stereotype of a young person who only uses mass transit until they can afford a car is not true anymore.
According to a study by the American Public Transportation Association (APTA), "Millennials and Mobility" this generation ranks public transit and biking as much more preferable than owning a car. They want transportation optimized for family and work needs and demand the freedom to choose different options. Many believe these different modes of transportation help reduce their carbon footprint and are better for the environment. Since Millennials are now used to letting someone else do the driving,
40% of them stated that they like to work as they travel.
46% stated the need to save money as a factor that drove their transportation choices while
44% wanted exercise and
35% said they use multi-modal travel because it is convenient or they live in a public transportation friendly community.
Millennials are also the first generation to grow up with the hyper-connected world and embrace technology far more than any of the past generations.
The Experian Marketing Services article notes that over 50% of Millennials don't mind paying more for the latest technology or helping others learn it. This generation uses their love of technology and their willingness to be early adopters as they travel, often using smart–phone apps to help them get around better.
According to the APTA study, innovations in transportation must address the following trends.
Environmental issues
Share-based options, such as ride or bike shares
The ability for riders to work anywhere, at any time
Social connections, both in offline and online
The study notes that public transportation needs full technological optimization to gain an advantage with younger riders.  Because they are used to the latest innovations, Millennials don't want to wait for slow connections between different modes of transportation. Many forms of transportation in cities are uncoordinated. Riders have to study schedules and connections and hope they get where they are going on time. Millennials want to see the following transportation benefits in the next ten years: 
44% – more intuitive and user-friendly ways to travel
61% – increased reliability transit systems
55% – real-time updates
55% – WiFi or 3G/4G wherever they are
Clearly, taking full advantage of technology is going to be key to keeping Millennials multi-modal. Transportation of the future needs to be integrated, efficient and autonomous. As we see it high capacity and high speed public transportation will continue to serve as the backbone of the transportation system with on-demand and dynamic transit services serving to solve the first and last mile problem. Transit agencies and cities will need to work with private players to create an integrated system that will ensure a seamless travel experience for Millennials in the coming years.
Power of The Platform
RideCell's message is that the maximum utilization of vehicles can be obtained by providing multiple services from a common fleet. Thomas states, "The utilization rate drives profitability."  RideCell describes their platform as a "unified mobility operating system." It can gather data from numerous sources, including "mobility apps, infrastructure operators, transit operators, and sensors." Trivedi states that it can help balance supply and demand for transportation, within a single customer's fleet, or for an entire municipality.
He also describes its "robust fleet management" capability, pointing out that vehicle tracking is only a small part of the challenge. The company can customize the end user experience, depending on the desires of its client. The platform includes features such as assuring that the vehicle is available at the location specified, that it is fueled, that its navigation system is working, and others.  He states that they are working on further features, such as controlling lighting and temperature settings, checking tires and providing predictive maintenance features, which would signal taking the car for service during a period of anticipated low utilization.
The company states that it is in pilots with some OEMs. While it will not identify any of these companies, Thomas told us that the OEMs are experimenting with: Authentication (how to confirm the identity of the person entering the car); Algorithms for pooling and for route optimization.  Thomas states that their current business model is based primarily on revenue sharing of revenues collected by their various clients on services offered to customers.
Thomas says that while there is a sort of "consensus" that Uber type ride-sharing will lead into the era of self-driving cars, he describes this as a "fallacy," stating that the experience with car sharing is more relevant to the progress towards vehicle autonomy.  He explains that car sharing and autonomous vehicles both deal with an issue of maintaining a fleet of vehicles, whereas ride sharing is largely involved with managing vehicles and drivers. He asserts, "Car sharing is the best way to prepare for autonomy."
The Progression to Autonomous Cars
Its involvement in all of these areas makes it very well-positioned to understand how the transition to autonomous vehicles may occur. Trivedi envisions a future in which a vehicle may be used for one purpose in the morning – a single user or group commute – but be available for an on-demand rental for someone who is going to the theater in the evening.
Thomas believes that the future will not involve as high a degree of individual car ownership and that it will largely rest on subscriptions to "Transport as a Service." He muses that dealers may find themselves in the unfortunate position of Blockbuster store owners as Netflix and streaming have taken over.
RideCell believes they are helping to provide a pathway to the autonomous future. Trivedi points out that their cloud based platform permits OEMs to trial various services in a limited manner, without incurring heavy upfront expenses. Successful services can then be scaled up.
They foresee a number of changes in the fundamental philosophy of OEMs, many of whom they expect will embrace services as a key revenue growth source. Trivedi says that some OEMs already contemplate that services may constitute 30% of revenues within a few years.
Changes that RideCell expects include:
Some OEMs embracing a wide swathe of services, perhaps even across the spectrum of luxury and economy vehicles;
In some cases they expect alliances between luxury and economy brands to cover the market broadly;
Dealers may even be included in some services – e.g., suitable used vehicles on their lots could be used for car or ride sharing services.
The above listed use cases illustrate the need for business process experimentation by the automotive sector, but a platform the reduces the cost of implementation and appears to be ready now.
Issue of automobile utilization as the key driving factor for the industry in the future. (See: "Apple Titan: Are Cars The Ultimate Mobile Cloud Devices?" MCE 10/11/15.) The applicability of the concept of "Transformation" clearly needs to be tested in the MaaS (mobility as a service).  Visit their website: www.ridecell.com/autonomous.html
RideCell's technology that not only automates all operational tasks involved in running large transportation systems but their mobility platform can combine data from mobility apps, infrastructure operators, transit operators, and sensors into a unified view. For cities, RideCell's dynamic mobility analytics engine allows them to make data driven policy, infrastructure, and technology decisions by providing a real-time, holistic view of the public and private transportation services that constitute the multi-modal transportation fabric of their city. Click here to learn more about how RideCell can help you optimize your transportation service.
https://ridecellblog.tumblr.com/
(415) 429-3965
514 Bryant St, San Francisco, CA 94107
WEpods
WEpods are autonomous shuttles, carrying up to six passengers at a time from the towns of Wageningen and Ede in the province of Gelderland, in the Netherlands.  While this may seem like a small feat in comparison to the strides some of the giants in technology and the automotive industry are making when it comes to AVs, but it is a far cry from small potatoes.
How do they work? They take the greatest components from some of the biggest leaps in technology; GPS, 3D mapping, laser scanners, full 360o cameras, radar – the works. However, it is applied more efficiently and more focused on an urban commute.But that's not the best part: you can schedule a pickup via the WEpod app.
Testing In January of 2016, WEpod took to the streets in an unprecedented testing phase; the first of its kind. It successfully transported 6 people down a stretch of road 200m long.Its testing phase conditions stipulate that it shall not operate during rush hour traffic, inclement weather, or at night – but its success is looking more promising than most automobile giants in the industry.
EasyMile
A fully autonomous bus developed by the French firm EasyMile has been deployed at business parks and other smaller venues in Finland, France, Italy, Spain, and Switzerland. The electric EZ10 can accommodate up to 12 passengers. Its lithium-ion battery can be fully charged in eight hours, giving the EZ10 up to 12 hours of operation and a range of up to 50 miles. It has an average cruising speed of up to 12 miles per hour and a top speed of 25 miles per hour.
What problem does it solve? The EZ10 is designed for last-mile travel, such as between travel hubs and final destinations, or for looped routes within confined areas, like airports, city centers, and business parks. Unlike a tram or train, it does not require special infrastructure to travel on. Instead, a route or "virtual line" is created for the vehicle to follow, which can then repeat continually. A mix of localization navigation and obstacle detection/avoidance technologies are used to ensure the vehicle stays on course and negotiates hazards.
The EZ10 recently conducted a two-week trial at the Gardens by the Bay park in Singapore, and a full-scale rollout is expected in mid-2016. Another trial is slated to begin in mid-2016 at the Bishop Ranch business park in San Ramon, California.
DRU
Dominos Pizza recently unveiled plans for the first driverless delivery vehicle. Dubbed DRU, for Domino's Robotic Unit, the four-wheeled vehicle with pizza box-sized compartments has been designed for the pizza giant with help from Australian startup Marathon Robotics.  "This highlights what can happen when disruptive thinking is fostered — It turns into a commercially viable and revolutionary product," said Dominos Group CEO Donald Jeffrey Mei. "It allows Domino's to explore new concepts and push the boundaries of what is possible for our customers."
Map Wars, CNN Tech, 7 June 2017
"If you thought creating regular maps for Google was hard, creating self-driving maps is much, much harder," says Brian McClendon, Uber's former VP of maps who previously worked on Google Maps. "The amount of data involved is huge. The precision required is very hard as well."
A number of automakers, including General Motors (GM) and Volkswagen (VLKAF), have opted to lean more on third-party services to get their maps off the ground.
Mobileye, a self-driving car firm recently acquired by Intel for $15 billion, inked agreements with Volkswagen, BMW and Nissan (NSANF) for a mapping product in the first months of this year. The goal is to pool together mapping data from car manufacturers "to generate as much scale as possible," says Dan Galves, Mobileye's chief communications officer.
"You can spend the money, hire the people — assuming you can hire the right guys — but that will take years. That happens too late for this race," says James Wu, a veteran of the mapping teams at Google and Apple (AAPL, Tech30).
His startup, DeepMap, announced $32 million in funding last month that will provide a "full-stack mapping service" to companies. Other mapping startups like Civil Maps, backed by Ford, and Mapbox are also working with automakers.
Carmera, another startup, came out of stealth mode this week with $6.4 million in funding and plans to crowdsource "real-time" data for maps. That includes offering "pedestrian analytics" and a "real-time event feed" for construction and road closures.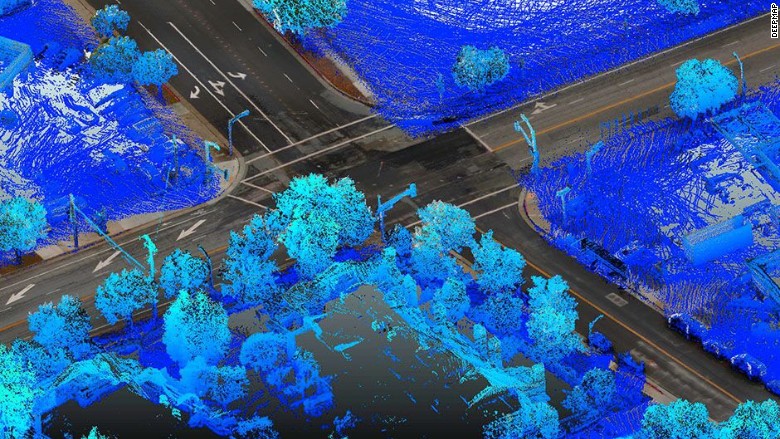 Google remains the obvious frontrunner. The company has deep pockets and a longer history investing in self-driving cars and mapping products like Street View and Google Earth.
Lars Rasmussen, co-creator of Google Maps, remembers Google founders Larry Page and Sergey Brin telling his team years ago that they'd "have to spend billions of dollars" on maps "and it's worth it."
"I think one of the reasons that [maps] excited Larry was that he had this idea of self-driving cars," says Rasmussen, who left Google for Facebook in 2010.
Related: 2016: A tipping point for excitement in self-driving cars
Google may have won the first online mapping battle (sorry Apple), but the HD maps market is still in its early days. The winner — or winners — is far from the finish line.
If you believe self-driving cars will eventually operate everywhere, then every city and street will need to be mapped out in granular detail. To put that in context, Uber's self-driving car team is currently mapping just one city, according to its website: Toronto.
"It's a green field," says Sravan Puttagunta, founder and CEO of CivilMaps. "No company has established a majority market share, and even the ones that have a couple cities are spending billions maintaining those maps."
As the race heats up, there is a lingering question in the industry about how useful these costly maps will be down the road. Some argue the cars will eventually get smart enough, with deep learning technology, not to need to rely on extensive maps.
"In the short term, I can see where it's vital, but that long term may not even be 10 years," says Rebecca Lindland, executive analyst with Kelley Blue Book. The "conundrum," she says, is just as comprehensive maps hit the market, car companies "don't need them anymore."
The team at Ford is "looking at the possibility" of developing algorithms for the car that don't require a prior map, according to McBride. But he's skeptical of ditching maps entirely.
"You'd still save the data that you took the first time you drove there," McBride says, "and use it for the second, third and tenth time to make it better."
Kymeta: At the Intersection of Wealth and Danger, by Roger Lanctot | Jan 25, 2017 at Strategy Analytics
That's how Kymeta's senior vice president for land mobile puts it. Kymeta's new satellite technology meets the needs of the civilian armored vehicle segment and will be coming to that market segment in Q2.
Moving vehicles will never be safe and secure until they can get closer to universal connectivity. By universal connectivity I mean ubiquitous connectivity with unlimited bandwidth.
Ubiquitous connectivity is necessary both for automatic crash response beyond the coverage of cellular networks and for cybersecurity attack detection and prevention. Without a connection that the vehicle operator can rely on there is no way to anticipate cyber attacks and, more importantly, without a software update path, no way to prevent them.
The only technology that comes close to delivering this level of connectivity is satellite. Satellite technology is prohibitively expensive from a transmission and a reception standpoint. But for the customer for whom price is no object Kymeta has a solution.
Kymeta is putting the first market transforming price/performance stake in the ground this week with its announced plans to work with Aurum Security to bring Kymeta mTenna high-throughput satellite connectivity to VIP and civilian armored vehicles (CAVs). CAV manufacturers and integrators will be able to deliver global connectivity, on the go, that their customers demand, without impacting the natural design lines of the vehicle.
Kymeta is targeting the 38,000 civilian armored VIP vehicles manufactured annually. Kymeta's longer term goal is to pursue the larger mass passenger vehicle market in partnership with IntelSat. This initial market step will set the stage for broader deployment in coming years.
In essence, Kymeta's technology will make the satellite antenna more or less invisible meaning anyone from VIPs, to government officials, to royalty, will have access to high bandwidth connectivity wherever they go that is secure, reliable and inobtrusive – even in remote places – the company says. Connectivity like this comes at a price – and that price is $39,500.
Kymeta says Aurum Security will use Kymeta's mTennau7 70cm terminal to access audio, data, and video communication. "The Kymeta mTennau7 mobile satellite terminal will provide continuous connectivity to our customers for their productivity and security benefits; furthermore, it is affordable, and does not draw unwanted attention," said Andre Uschakow, managing director, Aurum Security. "Terrestrial cellular networks are easily disrupted and hacked leaving the convoy blind and vulnerable. Satellite systems are notoriously difficult to compromise, and with Kymeta mTenna technology, we will be able to deliver secure, high-throughput, satellite-based internet access."
Kymeta's longer term goal is to collaborate with car companies, such as Toyota and others, to enable broadcast-based software updating capability. The essence of the Kymeta value proposition is to amortize the cost of the hardware and data transmission across a growing fleet and against the billions of dollars in warranty costs facing car companies.
The deal with Aurum Security opens a shorter path to market while the passenger car solutions are still in development. But the Aurum deal also reveals the direct relevance between connectivity and security – especially if your financial resources allow it.
Satellite technology remains an expensive silver bullet for vehicle connectivity, but the introduction of Ku band transmission to moving vehicles is a game changer. Car makers are slowly coming around to realize that they need a secure wireless means to connect to all of their cars wherever they are around the world.
Advanced cellular technologies such as 4.5G LTE and 5G will help, but satellite is now part of the connectivity mix – especially for transmissions requiring high bandwidth and security for urgent software updates and even for low bandwidth emergency transmissions. Kymeta mTenna satellite solutions for CAVs will become commercially available Q2 2017.
Posted by Mark Thomas in Autonomous Cars, Connected Mobility, Electric Cars Mar, 28 2017 1 Comment
Turning Scarce Resources into New Business Opportunities
The on-demand convenience of ridesharing and ride hailing services has already made a dramatic impact on the transportation landscape. Public transit ridership is down. Property sales in far-flung subway-less neighborhoods outside NYC are up. Manhattanites are choosing to share a Lyft with total strangers rather than walk a few blocks in the rain. The result? More urban area dwellers—especially millennials—are choosing to skip the car-owning experience altogether.
But ridesharing isn't for everyone. For those on limited income or traveling long distances on a regular basis, the cost of an Uber or a Lyft is out of reach. Because (let's face it) ridesharing is pretty inefficient. For every ride, you have an extra person—and that person needs to be paid. That's where car sharing comes in. What if you could offer the same flexibility and convenience at a much lower cost?
Car Sharing Innovators
Car sharing innovators are creating new value in the mobility space: making scarce resources more efficient. The station-based car sharing model best serves neighborhoods where people need to run errands and can easily return the car to the same location. Vehicles in these setups are typically used between 12 percent and 15
percent of the time, making them considerably more efficient than private vehicles, which have a 4 percent utilization rate. The free-floating car sharing model goes further, adding the convenience of one-way transport at a much more affordable cost than a ridesharing service. Utilization goes up as well: Free-floating cars are on the road between 15-to-18 percent of the time.
That's just the beginning. As car sharing attains critical mass, it's estimated that one vehicle can take between 7 to 11 vehicles out of a metro area. (Imagine Los Angeles with less than 1 million cars instead of 6 million.)
More Environmental Benefits
The car sharing model offers an additional environmental benefit. Drivers can choose the lowest-impact vehicle for each trip. They can drive a fuel-efficient compact around town—and still take an SUV for the once-a-year camping trip or drive a pickup to Home Depot. And because car sharing fleets will always be newer and better maintained than the average privately owned car (and more likely to be electric), the impact of any of those vehicles will be lighter on the planet.
Of course, the greatest efficiencies will be realized when one car can do both car sharing and ridesharing. A model where the vehicle is available for car sharing during the day, switches to ridesharing in the evening (after cocktails), and goes on delivery errands at night (when there's no traffic) would offer transformational utilization rates. In fact, in a perfect world, the car might be busy day and night.
But the true revolution will come when we get to autonomous vehicles. Consumers will enjoy the best of both ride/car sharing. By taking the driver out of the equation, they'll have the privacy and low cost of car sharing and the door-to-door service of ridesharing—without ever having to take the wheel or interact with a driver. Autonomous car sharing will also drive the design of new types of cars: vehicles that provide carpooling strangers with a degree of privacy, vehicles that carry passengers by day and transport goods by night, and the right-size car for every transport need.