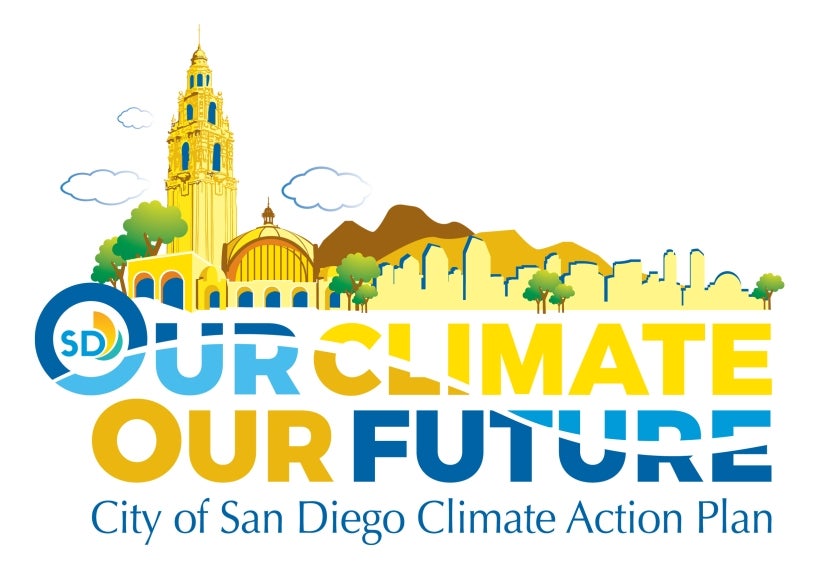 The Climate Action Plan draft is now out: Climate Action Plan Draft The City of San Diego's new Climate Action Plan establishes a community-wide goal of net zero by 2035, committing San Diego to an accelerated trajectory for greenhouse gas reductions. PDF: https://www.sandiego.gov/sites/default/files/climate_action_plan_draft.pdf or read and comment online at: https://sdclimateaction.konveio.com/strategies-reduce-greenhouse-gas-emissions https://sdclimateaction.konveio.com/plan-overview
Related to building electrification it has: Strategy 1: Decarbonization of the Built Environment
Measure 1.1: Decarbonize Existing Buildings

2030 Target: Phase out 45% of natural gas from existing buildings
2035 Target: Phase out 90% of natural gas from existing buildings

Measure 1.2: Decarbonize New Building Development

2030 Target: All-electric reach code starting 2023 at new residential and commercial development (see map of all CA reach codes further down – table with links also available)

Measure 1.3: Decarbonize City Facilities

2030 Target: Phase out natural gas 50% in municipal facilities
2035 Target: Phase out natural gas 100% in municipal facilities
It appears to have elements that address just transition and equity considerations. VOSD, UT Website: https://www.sdbec.org, Facebook: https://www.facebook.com/sdbecoalition, Twitter: https://twitter.com/sdbecoalition
Mobility/funding/focus: Plans and investments have not adequately responded to the City's mobility needs, particularly in Communities of Concern, reinforcing inequitable land use patterns and contributing to disparate health and economic impacts. In the San Diego region, only 7% of low income residents have access to fast and frequent transit service due to a car centric transportation system.
https://sdclimateaction.konveio.com/strategies-reduce-greenhouse-gas-emissions (see p. 15, Mobility & Land Use) Vehicle emissions from residents, passenger and freight transportation, employees and visitors account for more than 50% of all local GHG emissions. Historic land use patterns have led to more of this and decreased quality of life with longer time spent in cars and fewer opportunities to safely and enjoyably travel to work, school, shopping, services, or to visit friends and family. Previous LU decisions included suburban development that resulted in longer commutes and less efficient delivery of infrastructure, neighborhoods without fresh and healthy food access or safe and enjoyable public spaces, the bisection of walkable communities with freeways, limited space for efficient transit service, and a loack of local and regional walking and cycling infrastructure. Therefore, changing the City's approach to land use planning and infrastructure is one of the most important and exciting ways the City can address climate change. This shift starts with prioritizing and protecting the most vulnerable modes such as walking and biking and enhancing public transit for improved efficiency and performance…The City will reduce vehicle miles traveled for trips through transportation infrastructure and technology improvements, transport demand management programs and land use changes.
The City is improving internal processes to prioritize infrastructure projects that support sustainable mode choices such as walking, bicycling and transit use. The Safe and Sustainable Transportation for All Ages and Abilities Team (STAT) will be responsible for the design and installation of approximately nine miles of new or upgraded bicycle facilities throughout the City per year. This work includes quick-build projects, detectors and other signal enhancements, and layout and installation of bicycle and pedestrian facilities.
The General Plan Mobility Element, along with the Bicycle Master Plan (2013), Pedestrian Master Plan (2013) and community plans all provide a vision and guidance for planning and enhancing neighborhood quality and mobility options with bicycle and pedestrian improvements. The master plans as well as the community plans identify projects, policies and programs that improve active transportation and recreational opportunities for pedestrians and and cyclists. The Bicycle Master Plan envisions a comprehensive bikeway network, locally and regionally, ensuring bicycling is a safe and viable travel choice, particularly for trips shorter than five miles. Pedestrian mobility is largely an outcome of urban design, land use and connectivity. Pedestrian safety, ADA accessibility and connectivity are the guiding principles of the Pedestrian Master Plan. In 2015, with funding provided by the County of San Diego Health and Human Services Agency, the City updated the Pedestrian Priority Model and Bicycle Demand Models and developed new multimodal mobility analysis methods, all of which have been used for subsequent community plan updates.
In 2019, the Mobility Action Plan (MAP) summarized mobility policies and programs currently in place and outlined priorities for the future. The MAP set out associated goals, some of which have since been initiated, such as creating a
City of San Diego Mobility Department (now paired with Sustainability) to work across departments and with other agencies to facilitate the delivery of safe and convenient mobility options, and to be the champion for mobility innovation and implementation in the City.
Also moving forward is the City's first Mobility Master Plan, prioritized to support the implementation of the CAP mobility measures and create action where needed to repurpose existing public rights of way for more sustainable and safe mobility options. The Mobility Master Plan will not only create new processes and tools — using input from our residents and existing data on regional connectivity, priorities, and infrastructure — but will also create actionable
steps for the City to take. These steps include installing infrastructure needed to increase efficiency and connections to transit, establishing a regional bike network for commuters and families, and completing accessible sidewalks and crossings to get residents where they need to go, all in an effort to reduce our need for cars. The Mobility Master Plan will ensure that citywide mobility initiatives support implementation of the CAP, prioritize investments for residents in Communities of Concern and reduce barriers for pedestrians, cyclists and transit riders.
As a first step to developing the Mobility Master Plan, staff created a draft order of priority for how people move around the city to support the CAP. Staff are seeking input on this order during the draft review of the CAP and will continue to refine as the Mobility Master Plan is developed. This framework is a general understanding of those types of transportation that can both reduce GHG emissions and meet the travel needs of families across the city. We will develop a process inclusive of community voices, shared decision making and thoughtful data analysis to ensure the Mobility Master Plan is responsive and supportive of the neighborhoods across San Diego.
LAND USE AND COMMUNITY PLANNING
Strategic land use planning is critical to reducing Citywide vehicle emissions that result from vehicular travel. When people live near where they work and play, with safe, convenient, and enjoyable options for reaching their destination as pedestrians or by biking, or using transit, there is less overall travel by car in the City. This not only lets our residents get back time otherwise spent behind the wheel while providing investments that make our communities safer and more enjoyable, but also reduces Citywide GHG emissions.
On an ongoing basis, the City pursues updates to community plans, zoning codes and policies aimed at improving our neighborhoods, increasing affordable housing and reducing our reliance on costly personal vehicles. These updates are designed to bring a better jobs-housing balance and convenient access to amenities through smart land use planning supported by balanced transportation networks with greater emphasis on pedestrians, cyclists, and transit.
The City is developing Blueprint SD which is a new approach for the City's General Plan and community planning efforts that will center climate and housing goals and promote sustainable growth. Specifically, it is anticipated that
Blueprint SD will provide a comprehensive framework for strategic land use planning to achieve the City's housing, climate, equity and conservation goals. It is anticipated that this framework will guide future community planning so the City achieves these important goals while ensuring equitable engagement from the community.
Several focused, corridor-specific plans and studies have been proposed to improve land use and zoning for better integration with active transportation and increased access to transit, and to create more complete street networks in specific areas of the City. These include…
In 2020, the City Council adopted Complete Communities: Housing Solutions and Mobility Choices. These initiatives are intended to increase housing production in areas located closest to transit, and to provide more pedestrian, cyclist, and transit investments, particularly in areas with the greatest needs, and where such investments would serve the most people. These investments in the areas that would serve the most people also result in the greatest potential to increase the amount of people that are able to safely and enjoyable walk, roll, bike or use transit, resulting in critical GHG emissions reductions. The City also amended parking requirements in Transit Priority Areas (TPAs) in 2019, with the following goals in mind: increasing housing affordability and supply, creating communities as places to live and work, and reducing individuals' reliance on cars, which not only reduces the vehicle generated GHG emissions, but also further reduces vehicular congestion on the surrounding roadway for all residents. The amendments to the Municipal Code not only resulted in zero parking minimums and unbundled parking requirements citywide within Transit Priority Areas (TPAs), but it also required transportation amenities, such as on-site bicycle or micro-mobility fleets, secure storage for grocery deliveries, on-site shuttle services, or other amenities to support a reduced reliance on cars.
Measure: Safe and Enjoyable Routes for Pedestrians and Cyclists
Core benefits: Jobs & Economy, Resilience, Air Quality, Public Health, Mobility, Equity
2030 Target: 19% walking and 7% cycling mode share of all San Diego residents trips
2035 Target 25% walking and 10% cycling mode share of all San Diego residents' trips
Main actions:
Develop Safe Routes to Schools safety plans; start a San Diego Safe Routes to Schools program focusing on Communities of Concern and underperforming schools.
Implement safe routes to school projects/programs where pedestrian and accessibility needs are identified to be the greatest for school attendance.
Implement the City's Bicycle Master Plan and community plan bicycle networks with an emphasis on separated bikeways.
Review and improve micro-mobility policies/shared use mobility programs, especially focused in Communities of Concern and first mile/last mile applications.
Partner with microbility operators to optimize the number of scooters available in mobility hubs and/or near transit.
Update Bicycle Master Plan with current best practices for facility designation, reflecting recent community plan updates and proposed regional connections. Also describing existing constraints, opportunities, and implementation strategies.
Develop a Mobility Master Plan to reduce mobile sources emissions and further a shift in mode.
Supporting Actions
Update street planning and design process with a focus on community input from Communities of Concern to prioritize pedestrians, bicyclists, and transit.
Engage communities during the community plan updates and other multimodal corridors and active transportation planning processes to better accommodate all users of the right-of-way with an emphasis on improving safety for vulnerable users.
Amend Council Policy 800-14 to prioritize CAP implementation with a greater investment in Communities of Concern, repurposing of the public right of way to include Class IV bikeways, and improved accessibility for pedestrians of all ages and abilities.
Incorporate trees and additional cooling features such as innovative shade designs, and cooling centers at parks, with a concentration in Communities of Concern.
Installation of pedestrian orientated streetlights for increased safety and comfort in Communities of Concern.
Amend the code and street design manual to include standards for pedestrian orientated street lighting in neighborhoods and alleyways.
Partner with public safety to review and reform education programs and enforcement policies related to pedestrian and traffic safety.
Update City special events permits to to prioritize transit, walking, and bicycling.
Complete and implement the Mobility Master Plan to ensure City infrastructure can adequately support the goals of the Climate Action Plan.
Increase number of trash and recycling receptacles in pedestrian corridors/Transit Prior Areas
Explore fee structure/incentive program to increase cost savings for shared transportation network company (TNC) trips relative to private TNC trips.
Ensure that Capital Improvement Projects comply with all applicable landscape requirements in the Land Development Code.
Include as a condition of new development that shade structures be included on building frontages in pedestrian thoroughfares, with preference given to natural shade up to five feet.
Include audible pedestrian signals at all signal-controlled crosswalks.
Install audible wayfinding beacons at complicated intersections and sign locations.
Measure: Increase Safe, Convenient, and Enjoyable Transit Use
Core benefits: Jobs & Economy, Resilience, Air Quality, Public Health, Mobility, Equity
Actions
Work with SANDAG and MTS to develop dedicated bus lanes or shared bus and bike lanes as part of Community Plan Updates to increase transit efficiency and on-time performance, focusing on routes supporting residents within underserved communities and high-frequency connections for riders going to schools, universities, and jobs.
2030 Target: 10% transit mode share of all San Diego residents trips, 2030 GHG Reduction (MT CO2e) 181,205
2035 Target: 15% transit mode share of all San Diego residents trips, 2035 GHG Reduction (MT CO2e) 242,177
Strategize and Implement a street furniture program that reduces heat exposure, provides cool transit stops, and improves access to restrooms in high transit use areas/pedestrian corridors prioritizing Communities of Concern.
Transit shelters: Ensure every high-volume transit stop has access to shade structures and benches; establish standard for bus shelters in the city (minimum accommodations) with a priority on Communities of Concern.
Expand free youth transit pass program to more residents, prioritizing students of all ages and residents in Communities of Concern.
Supporting Actions
Prioritize and assist MTS with siting and design of complete transit stops in Communities of Concern, including shade trees, lighting, trash bins.
Create programs and incentives for transit passes bundled with all new major developments within one mile of a major transit stop.
Partner with MTS for priority right of way for buses and trolley.
Support MTS, SANDAG, and Caltrans in the creation of transit right-of-way for regional transit connections.
Measure: Increase Telecommuting
Actions
Amend the Land Development Code to include mandatory transportation demand management (TDM) regulations – Citywide.
Develop a City employee TDM policy.
Establish a team and roadmap to support actions that require connectivity and close the digital divide.
Supporting Actions
Stand up public WiFi access at City libraries, recreation facilities and various public areas in Low-to-Moderate Income (LMI) areas.
Formalize a regional device refurbishment and distribution program.
Build a program to loan mobile hotspots and personal computers to residents.
Create a Digital Navigator support line to assist with basic technology issues and provide guidance on low income technology options.
Create a Digital Literacy program to educate residents, particularly in low-to-moderate income (LMI) areas.
Work with local organizations to distribute refurbished devices previously used by the City to residents at low or no costs.
Improve data gathering and outreach to understand which residents need the most assistance and why and advertise to them technology options.
Measure: Reduce Traffic Congestion to Improve Air Quality and Trip Length
Actions
Deploy dynamic speed management efforts such as signal retiming on City streets.
Install traffic circles and roundabouts.
Retime traffic signals to reduce vehicle fuel consumption through improving the flow of traffic.
Supporting Actions
Work with the Port District, SANDAG, and Caltrans to prepare a feasibility study to identify the best truck route to Tenth Avenue Marine Terminal and diversion, traffic calming and appropriate signage as included in the APCD's Community Emission Reduction Plan (CERP).
Measure: Climate-Focused Land Use
Actions
Focus new development in areas that will allow residents, employees, and visitors to safely, conveniently, and enjoyable travel as a pedestrian or by biking, or transit, such as in Transit Priority Areas (TPAs), and areas of the City with the lowest amount of vehicular travel.
Plan for land uses that will allow existing residents, employees and visitors to more safely, conveniently and enjoyably travel as a pedestrian, by biking or transit.
2030 Target: 8% VMT (commuter and non-commuter) reduction per capita
2030 GHG Reduction (MT CO2e) 341,724
2035 Target: 15% VMT (commuter and non-commuter) reduction per capita
2035 GHG Reduction (MT CO2e) 605,185
Supporting Actions
Focus on delivering new mixed-use development on sites, including vacant and underutilized lots, located near transit, such as in TPAs and areas of the City with the lowest amount of vehicular travel.
Implement active transportation in lieu fees to fund pedestrian, cyclist, and transit investments where the greatest GHG emissions reductions will result, in accordance with Complete Communities: Mobility Choices.
Amend local regulations and policies to allow for wider sidewalks and the use of setbacks for public spaces and place making.
Implement temporary and permanent car-free zones/zero emission zones.
Maximize new development in areas located with safe, convenient, and enjoyable access to transit.
Support urban greening along streets to encourage outdoor activity, walking, and increase pedestrian access to park in Communities of Concern.
Amend the General Plan Mobility Element to include a Complete Streets policy to enable safe, attractive and comfortable access so that pedestrians, bicyclists, motorists and transit users of all ages and abilities can safely travel within the public right-of-way.
Amend land development code regulations to require more efficient pedestrian access between existing and new development (e.g., between adjacent lots).
Measure: Vehicle Management
Actions
Optimize use of curb space including management of on-street parking in TPAs.
Amend the land development code to eliminate parking minimum requirements.
Amend the land development code to establish parking maximum requirements for use types and locations where appropriate.
Amend the land development code to prohibit new auto-oriented land uses that would create conflicts with walking and bicycling within TPAs.
More than 3,300 San Diegans shared their needs, concerns and priorities in the development of this plan. The City is advancing your vision for climate action by charting a path to decarbonize San Diego's buildings and support the re-envisioning of San Diego's transportation landscape. The City will lead by example by modernizing our operations and mitigating our impacts to the fullest extent.
To learn more, review the draft materials and provide your comments, visit the Online Open House.
You can also share your comments on the Climate Action Plan draft by emailing Sustainability@sandiego.gov.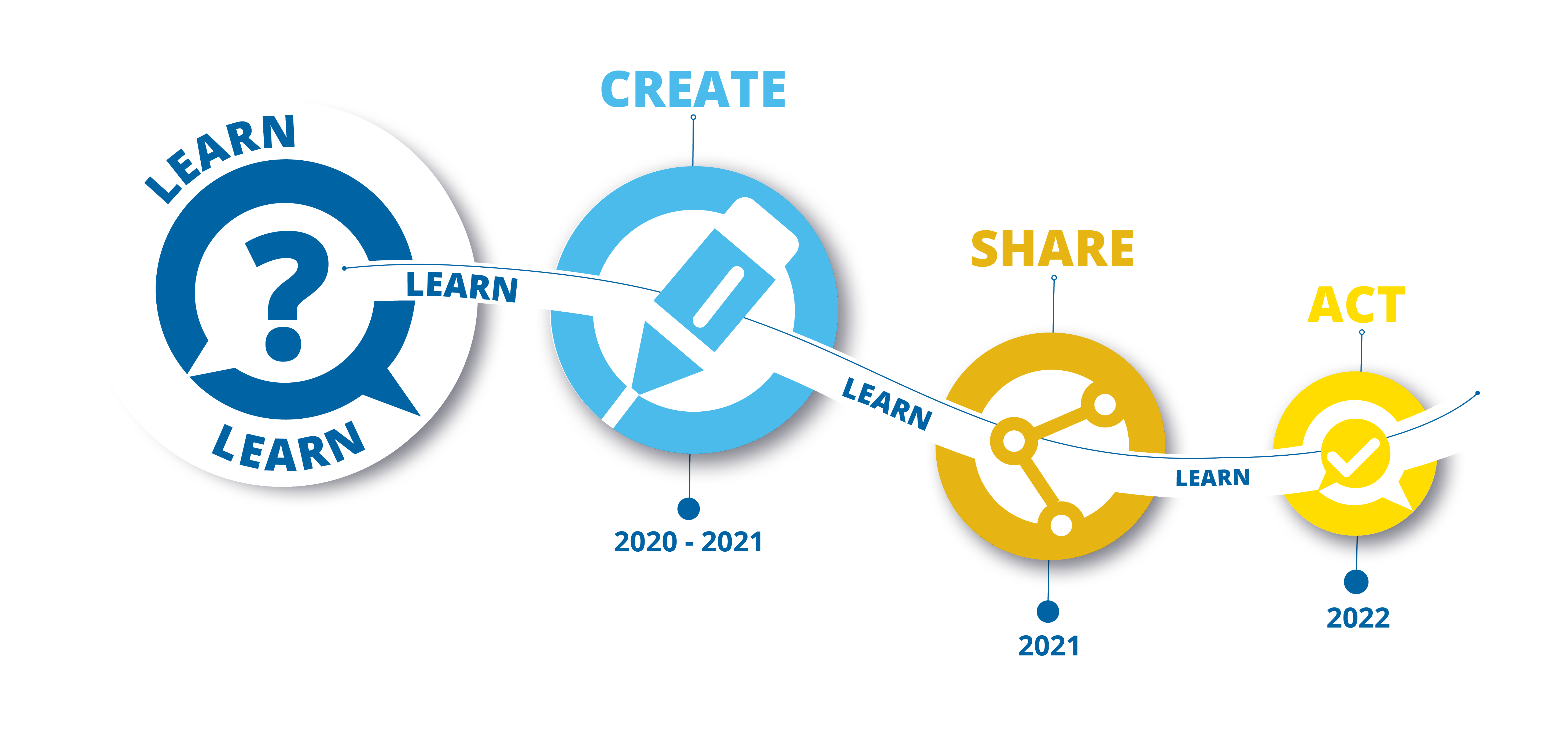 Request Virtual Presentation
Email us at sustainability@sandiego.gov to have our team present to your community group. The Sustainability Department is offering presentations to community groups who would like to learn about Our Climate, Our Future and provide feedback.
Our Climate, Our Future Activity Book
In partnership with the San Diego Public Library, we created an activity book for youth to get inspired about the future of San Diego. Share your creations with us at sustainability@sandiego.gov.
Past Forums
In 2020, we hosted ten forums including one in each council district. Watch the video of our first public forum. In Feb. 2021, we hosted a virtual forum focused on the business community. Watch that recording here.
How Did We Get Here?
This helpful video sums up the main strategies of the Climate Action Plan. Meet five San Diego residents who are helping the City achieve its goals: youtu.be/DrJGpTSXOdg.
CreateThe Climate Action Plan draft is now out for public review.
ShareReview and submit your comments on the Climate Action Plan draft here. City staff will continue to refine and revise the draft based on public input throughout the process.
ActCheck back here for updates on when the Our Climate, Our Future – City of San Diego Climate Action Plan will go in front of the City Council.
Background
The Climate Action Plan update builds upon the 2015 Climate Action Plan, setting forth aggressive goals to reduce greenhouse gas emissions. View documents related to the 2015 Climate Action Plan here:
Climate Action Plan and Related Documents
Climate Action Plan Implementation
**
Also of potential interest:
Zurich (pop 1.5M) bans gas/oil heating in new buildings 2025 and prohibit installing in existing buildings by 2035. https://www.swissinfo.ch/eng/zurich-voters-approve-ban-on-oil-and-gas-heaters/47140666
Tejon Ranch will build 19,300 "zero emission" homes – Los Angeles Times (latimes.com) Dec 1, 2021
One of Southern California's longest running development battles ended after two decades Wednesday when an environmental group agreed to the construction of a massive "net-zero" greenhouse gas community of 19,300 homes just off Interstate 5 on the southern flanks of the Tehachapi Mountains. The pact between the Tejon Ranch Co. and the nonprofit Climate Resolve comes amid a severe housing crunch across California and removes perhaps the largest roadblock remaining for the 6,700-acre Centennial project bordering Kern County, about 70 miles north of Los Angeles. The project had been stalled repeatedly by environmental and economic challenges, even as other large developments won approval in one of the last undeveloped sections of Los Angeles County. The proposal had won final certification two years ago from the L.A. County Board of Supervisors, and the company declared that it had been vindicated. But earlier this year, Superior Court Judge Mitchell Beckloff rejected the county's approval of the developer's environmental impact report, effectively blocking construction. Specifically, the judge cited aspects of the environmental review concerning wildfire risk and additional greenhouse gases generated by vehicles. Under terms of the deal expected to be presented to Beckloff later Wednesday, Climate Resolve has agreed to dismiss its legal claim that L.A. County violated the California Environmental Quality Act when it approved Centennial in 2019. The new development will not include natural gas hookups. The agreement calls for the installation of nearly 30,000 electric vehicle chargers at residences and commercial businesses. In addition, the plan will include other incentives to support the purchase of 10,500 electric vehicles, school buses and trucks. Centennial's original plans required that all residential units and a percentage of commercial buildings be powered by solar energy.
The compromise also requires funding for fire protection and prevention measures, including fire-resilient planning and vegetation management strategies that would also benefit neighboring communities. It also directs the creation of an organization empowered to produce annual progress reports. "We're proud of this agreement — it took a lot to hang in there and get it done," said Bryn Lindblad, deputy director of Climate Resolve. "Now, we're hoping that it gets people excited about being part of a net-zero carbon community north of downtown." Barry Zoeller, spokesman for Tejon Ranch, said some of the costs for the additions to the normal infrastructure for such a project "will have to be passed on to the customer, otherwise it doesn't make the community economically viable." For two decades, Tejon Ranch has pursued development of the proposed community of 57,000 people and 10.1 million square feet of commercial and industrial space.
With that goal in mind, the company brokered an agreement with several major environmental organizations in 2008 to conserve 240,000 acres of undeveloped mountains, grasslands and twisted oaks that are home to such species as California condors and mountain lions. In exchange, the groups agreed not to oppose the company's development plans. Beckloff's ruling earlier this year found that the company's environmental review failed to buttress its conclusion that the project would not significantly increase the risk of wildfires in a region prone to them. Although the judge found the developer's on-site analysis to be "sufficient," he found discussion of surrounding off-site impacts, such as wind-driven embers, to be "problematic."
The ruling denied 20 of the 23 claims raised in separate lawsuits filed against Tejon Ranch Co. under the California Environmental Quality Act by Climate Resolve, the Center for Biological Diversity and the California Native Plant Society. The plaintiffs were not among the original coalition of environmental groups who agreed to set aside legal action in exchange for land preservation. Beckloff dismissed all the claims raised by the center and the Native Plant Society.
But the prevailing issues in Climate Resolve's lawsuit were rare wins among more than a dozen legal actions filed against Tejon Ranch Co. since 2003 to delay or block development on the remaining 30,000 acres of its holdings.
In addition to Centennial, the company's proposed developments include Grapevine, a master-planned community in southern Kern County, and Mountain Village, which would include spas, boutique hotels, commercial space and estate homes in southern Kern County. If approved by Beckloff, Centennial will join the massive Newhall Ranch project in northern Los Angeles County as the most environmentally friendly suburban developments ever planned in California.
After negotiations with environmental groups, the developer of the 21,500-home Newhall Ranch project committed to provide $25 million for conservation efforts. That project also will include 10,000 solar installations and electric vehicle recharging stations in every home, plus more in the surrounding community. "More than ever, the state desperately needs the 19,333 housing units Centennial will provide, including nearly 3,500 affordable units," said Gregory Bielli, president and chief executive of Tejon Ranch Co. "At the same time, California needs to achieve its climate goals."
**
See 1984 law article – Energy Bar Association on the impact of indoor air quality on the gas industry. The gas industry was researching indoor air pollution in the 1970s, so they knew for the last 50 years. There is a subtle warning to utilities providing weatherization services that sealing up homes causes increased air pollution levels indoors and they may want to consider warning residents about the dangers of gas stoves as part of weatherization services – two generations of kids without taking out the gas stoves.
**
The City of Berkeley recently released an RFP for climate equity programs that provide building decarbonization, electric mobility, and/or community access to resilience measures & electrification engagement for low-income Berkeley residents. These programs will support implementation of Berkeley's Existing Building Electrification Strategy (approved by Berkeley City Council on Nov 30) and the Berkeley Electric Mobility Roadmap. Full detail on the Pilot Climate Equity Fund Program RFP below. Specification No. 22-11488-C for Pilot Climate Equity Fund Programs. https://www.cityofberkeley.info/RFP/
**
RMI just released the report How Air Agencies Can Help End Fossil Fuel Pollution from Buildings.The report describes the significant outdoor air pollution emitted by fossil fuel appliances like gas furnaces, which cause major health harms that fall disproportionately on communities of color. It also gives recommendations for how air agencies can address this pollution and help lead an equitable transition to a zero-emission buildings future.
The key points of the report are:
Fossil fuel appliances emit 425,000 tons of harmful nitrogen oxide pollution in the US each year—more than oil refineries or gas-fired power plants.
Fossil fuel appliance pollution causes serious health harms, including 6,000 premature deaths and thousands of heart attacks, asthma attacks, and hospitalizations each year. The social costs of the health and climate harms from appliance pollution are over $70 billion per year.
People of color are exposed to twice as much outdoor particle pollution from residential gas appliances as whites.
Electrification of new appliances represents a major opportunity to reduce building pollution. Air agencies can help catalyze an equitable transition to pollution-free buildings by:

Setting zero-emission standards for new appliances in collaboration with impacted communities.
Creating the conditions for equitable implementation of these standards through collaboration, investments, and thoughtful standard design.

These actions should ensure affordable upfront costs, affordable energy costs, renter protections, and pre-electrification housing upgrades where needed before the zero-emission standards are implemented.
See Denver in info graphic below (link to report with three standalone graphics)
Wholesale prices – $2000 delivery of Ephoca PTHP, $2600-$3600 with installation. Induction stoves are further down (all thanks to Sean Armstrong!)
Coliseum Place by RCD in Oakland. Nearly completed construction.
Sorrel Place by Danco Communities in Arcata. Nearly completed construction.
1717 University in Berkeley by a private developer. Construction half complete.
Nyle has announced its Retrofit-Ready (120V, 900W) model, called the E8, is ready for market in a couple of months. It is a small box with a heat pump in it that attaches to the wall, and from it flows hot water to one's existing storage tank.
Installed in 144 units in Fresno in 2020.
Here's a lower cost, split heat pump water heater–purchase price is $2500 for 8,000 BTUs/hr, instead of purchase price of $4,000 for 15,400 BTUs/hr for a Sanden. Nyle has just released it, but it's not actually deliverable for a couple of months. AND it's 120V, 900W RETROFIT READY!!!! 🙂
a 24″ induction stove, Empava (HQ in Industrial City in the Bay Area) makes one!
For high-end, you have to search for "60cm freestanding induction" (60cm=23.6″) and you'll find a bunch of Eurasian products, like the Bertazonni and Siemens induction stove below.
Then there's high-end 24″ electric resistance ranges that would be almost as good as induction. 🙂
And there are definitely a bunch of 24″ countertop models out there you could adapt into that space, with a stand-alone oven below. That's how my kitchen works, with a metal rack to hold the range above and the oven below.
In CA, the CPUC is stopping financing and subsidizing new gas connections!