The smaller cities in America's industrial heartland have a unique set of challenges, according to a new study—but they also have advantages.
When you think "Rust Belt," you might see shuttered factories, hollowed-out downtowns, and the usual elegiac images of vanished industrial luster. Maybe Billy Joel's "Allentown" starts autoplaying in your mind. But the oft-used term blurs a key distinction: The cities and towns of the vast manufacturing heartland of the Northeast and Midwest each have a unique set of challenges, determined by history and geography. The stories of the smaller cities, in particular, are often eclipsed by the headline-grabbing declines of places like Detroit and Cleveland. But modest-sized legacy cities—from Muncie, Indiana, to, yes, Allentown, Pennsylvania—can also have key advantages over their bigger brethren.

A new study from the Lincoln Institute of Land Policy puts some science behind these distinctions by studying a diverse collection of smaller legacy cities. The study's authors, Torey Hollingsworth and Allison Goebel of the Greater Ohio Policy Center, track the struggles and successes of 24 towns to paint a more nuanced picture of America's legacy cities.
"The important thing about this report is that it puts a focus on a different set of cities than the ones we hear the most about," says Armando Carbonell, chair of the Department of Planning and Urban Form at the Lincoln Institute of Land Policy. "It recognizes that they have very particular challenges and may need a specialized approach in order to have success."

Indeed, the problems that small and mid-sized legacy cities face don't just differentiate them from larger cities—they also make them distinct from one another. "I'll underscore the idea of place" says Carbonell. "We really have to think of these as individual places, and not a cookie-cutter set of problems."

The need for this analysis is strong. As CityLab's Richard Florida recently explored, the narrative of the "Rust Belt revival" is a complicated one. Even after the Great Recession, when most of the country was bouncing back from persistent unemployment, small and mid-sized legacy cities maintained an average jobless rate of 7.7 percent in 2015 (2.5 percentage points above the national level). Furthermore, the poverty rate in these places grew from 21 percent in 2000 to 30 percent in 2015—a 43 percent increase, compared to 25 percent nationally.

The study's authors used American Community Survey and U.S. Census data to track demographic, economic, and housing-market changes in 24 cities over 15 years between 2000 and 2015. Each of the places they studied had between 30,000 and 200,000 residents, and were built around traditional manufacturing economies. None of them are primarily college towns, or suburbs of a larger city.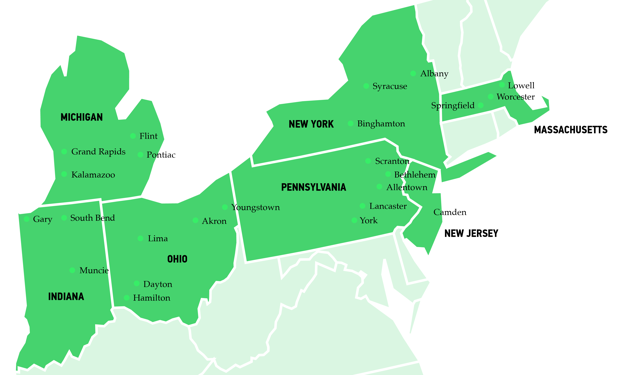 While deindustrialization, economic decline, and population loss have plagued all Rust Belt cities over the past 15 years, smaller ones face certain size and location-specific hurdles. Without the critical mass of assets that larger cities have, they rely heavily on anchor institutions like hospitals and local corporate headquarters for economic stability. With downsizing and corporate consolidation, however, such institutions have become increasingly rare: Between 1960 and 2015, all but four of the 24 studied cities were home to at least one Fortune 500 headquarters. Some were home to five or more. Today, only half of these cities host even one Fortune 500 headquarters.
But these smaller cities also have certain structural advantages, compared to bigger peers. "If you're living in a larger city it may be hard to gather the right people to solve a problem, if you're not in a position of authority" says Torey Hollingsworth, one of the study's authors. "But there's a lot of opportunity to do that in these smaller places that I think is actually pretty exciting."

Hollingsworth and Goebel sorted the 24 studied cities into high, medium, and low-performing categories.

According to the study, geography was the strongest predictor of performance: Cities in the Northeast typically fared better than their peers in the Midwest. This even holds true from state to state. Residents of Ohio towns, for example, have struggled more than their neighbors in Pennsylvania, especially since the recession. Many low-performing cities, like Pontiac, Michigan, or Gary, Indiana, have few in-state neighbors with robust enough economies to have a spill-over effect. "Smaller cities are very much at mercy of the economy around them," says Carbonell.
Proximity to larger and more economically robust urban hubs was a critical ingredient in top performing cities. Grand Rapids is just 70 miles from Lansing. Worcester is about an hour from Boston, and an estimated 1,300 people commute from Worcester to Boston every day. Joel's Allentown is an easy bus ride from New York City.
The economies of these towns are no longer dominated by manufacturing. As factory jobs have faded, education, healthcare, and social assistance work in particular area have stepped in as growing sources of employment. However, these are often low-skilled, low-wage jobs.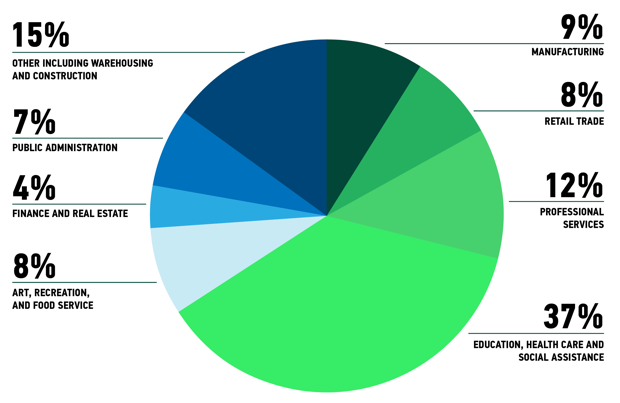 Only seven cities in the study saw growth in the number of employed people, and all of them are considered high-performing, except for Camden, New Jersey.
Population decline remains an obstacle for smaller legacy cities as well. About half of the cities in the study continued to lose population between 2000 and 2015; the other half remained approximately stable, or even grew. Youngstown, Ohio, and Flint, Michigan, which have both lost nearly 50 percent of their population since 2000, are amongst the lowest performing of the studied cities.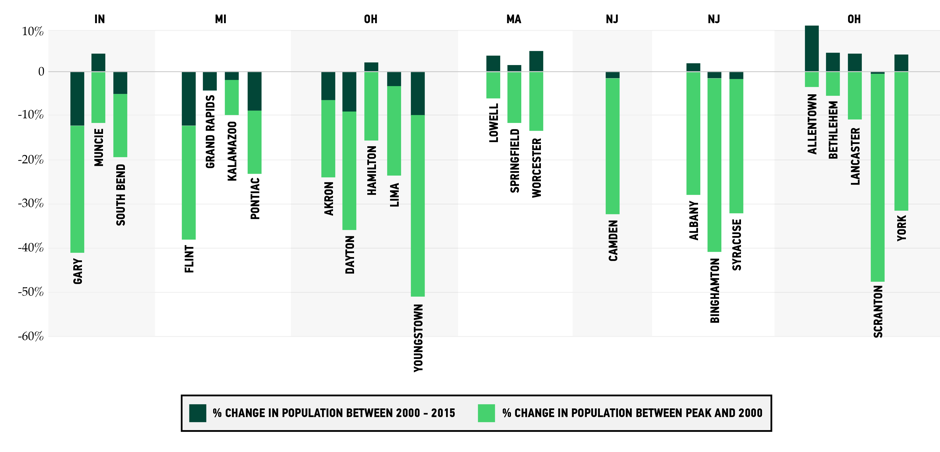 Most of the high-performing legacy towns, on the other hand, have seen population growth over the same timeframe. In Pennsylvania, the cities of Lancaster and Bethlehem, for example, have managed to grow by about five percent since 2000. New immigrants can account for a significant portion of population recovery. The majority of small legacy cities saw their immigrant populations grow between 2000 and 2015. More than one in five residents of Worcester and Lowell were born outside of the U.S., while Allentown's 10 percent population growth has been fueled in part by a significant increase in Latino residents over the past ten years.
Some of these high-performing cities, the study observes, managed to capitalize on their discarded industrial infrastructure.
The struggling mill town of Lowell was too poor to undergo "urban renewal" in the 1950s and 1960s, so its downtown buildings and historic textile factories were intact and ready to be reused as apartment housing and artist's spaces today. In Bethlehem, Pennsylvania, a closed steel plant has been converted into the striking 
SteelStacks Arts and Cultural Campus
—a draw for both residents and visitors from New York City and Philadelphia.
Perhaps the most important common factor that many high-performing legacy cities share is an eye toward the future. Instead of trying to revive the industries that built them, the most successful cities are finding creative ways to reinvent themselves.
The study details eight strategies to jump-start this process, but the first two on their list are the most critical, the authors say:  holding on to local talent to help build civic capacity, and enlisting the region's private-sector leaders in revitalization efforts. On the first front, the researchers cite such initiatives as the Russell P. Price Fellowship Program in Hamilton, Ohio, which trains locals for careers in city management.
Overall, each strategy empowers local decision makers to take advantage of existing assets, rather than dwelling on the industrial capital that was a boon for success in the past.
"These are still viable places," says Hollingsworth. "People are working really hard in a lot of cases to try and figure out what the future looks like for them."
Returning to the Rust Belt, RICHARD FLORIDA