22 other California cities and counties that followed Berkeley's lead, including San Jose, the country's 10th-largest city, have done so with building codes that encourage electric wiring and appliances
February 12, 2020  |  By RMI Sneha Ayyagari, Cara Carmichael, Greg Hopkins, Jacob Corvidae, Laurie Stone
As we embark on a new decade, we are reflecting on the many exciting advancements in the building industry. One highlight from last year was the Getting to Zero Forum held in October in Oakland California. This event brought together over 600 leading policymakers, building owners, architects, designers, system manufacturers, technology companies and construction professionals to discuss how to transform the building industry toward net-zero carbon emissions.
Rocky Mountain Institute (RMI) and New Buildings Institute (NBI) organized an inaugural zLab to bring together industry leaders to brainstorm solutions and develop action plans around three topics: building electrification for decarbonization, advanced decarbonization policies for existing buildings, and unlocking new value through grid-interactive buildings. RMI has synthesized three write-ups that highlight more detailed findings from the zLab, available on the RMI website.
While we summarized the sessions in an earlier blog post, here are some additional insights that are explained further within the write-ups:
Building Electrification for Decarbonization
One of the solutions described in the report highlights an opportunity to lower cost with a rate-based design:
For example: A contractor would install a high-efficiency heat pump with demand response capability in a home. Through a demand response program, the utility could serve as a platform through which contractors receive incentives and consumers can get installations of highly efficient heat pumps at lower costs as shown below.
Other action items (detailed further in the writeup) included:
Working with health professionals and institutes to inform people about health benefits
Developing low-power specifications for utilities and manufacturers
Increasing contractor capacity through workforce development
Offering contractor incentives
Advanced Decarbonization Policies for Existing Buildings
City policymakers—many representing cities participating in the American Cities Climate Challenge—developed action plans to accelerate broader adoption of performance standards for existing buildings. The group developed a framework for stakeholder engagement to encourage inclusion of diverse perspectives and weighed the merits of various metrics in setting performance thresholds for different building types.
The group developed solutions in a variety of areas including:
Measurement and Metrics: Including selecting energy versus carbon emissions metrics, setting performance thresholds for different building types, and ensuring adequate data for measuring compliance and tracking progress over time.
Equity and Workforce Development: Including ensuring requirements are not overly burdensome on building owners and/or renters (especially lower-income) or disproportionately affect any particular population, design strategies to support affordability, and workforce training and inclusion.
Incentives and Triggers: Including encouraging early adoption and compliance, phasing compliance deadlines versus transactional triggers (e.g., time of sale or rental), and financial strategies to offset or spread costs to building owners.
Stakeholder Engagement: Including planning for likely concerns or pushback from various stakeholder groups, framing messaging to communicate the policy to affected groups, developing value propositions, and sequencing the stakeholder engagement process
Unlocking New Value through Grid-Interactive Buildings
In addition to identifying key market barriers and value propositions to building owners, the group developed a set of short-, medium-, and long-term goals to achieve decarbonization through grid-interactive buildings.
Today, buildings account for nearly 40 percent of greenhouse gas emissions. Thus, transforming the building stock is essential to ensure a decarbonized energy system and to keep global temperature rise below 2°C. That's what nearly 600 leading policymakers, design professionals, building owners, and systems manufacturers were discussing at the Getting to Zero Forum in Oakland, California, last week.
This year at the forum (as California's largest utility cut off power to more than 800,000 customers), Rocky Mountain Institute (RMI) and the New Buildings Institute launched an inaugural event, zLab, that brought together a select group of industry leaders to tackle market barriers, brainstorm solutions, and develop action plans to cost-effectively accelerate the transition to a zero-carbon future. The zLab participants divided up into three groups for half-day sessions focused on building electrification, grid-integrated buildings, and advanced building policy.zLab brought together a select group of industry leaders to tackle market barriers, brainstorm solutions, and develop action plans to cost-effectively accelerate the transition to a zero-carbon future.Tweet
While it is impossible to capture the outcomes of the zLab sessions in a single blog post, here is a snapshot of the results.
Building Electrification for Decarbonization
More than 70 million US homes and businesses burn natural gas, oil, or propane on-site, generating almost 14 percent of the country's greenhouse gas emissions (not including methane leaks). Thus, building electrification is a key strategy for decarbonization. This zLab group focused on three critical issues:
Getting consumers to demand electric heat pumps and stoves from their contractors
Expanding contractor capacity to deliver electrification solutions
Making low-power solutions available and "retrofit-ready"
After addressing the barriers to each issue, the group came up with five basic solution sets to tackle the three issues:
Work with health professionals and institutes to inform people about health benefits
To increase consumer demand for all-electric homes, the group focused on gas stoves as a key barrier and an entry point for raising awareness about the benefits of electrification. Gas stoves present an immediate health threat for people with asthma or other respiratory concerns. Many people aren't aware of the health dangers of cooking with gas. By working to inform air pollution agencies, health providers, low-income housing agencies, insurance companies, hospitals, and environmental justice organizations of these dangers, they can help reach the people most at risk via trusted sources of information.
Lower costs with a rate-based design
A contractor would install a high-efficiency heat pump with demand response capability in a home. The utility company would pay for a basic heat pump and would bill the customer a rate-based payment. The customer would have the option of paying an incremental cost for a higher-efficiency heat pump. Thus, the customer gets the heat pump for a lower cost and has lower monthly bill payments. This would also position the utility to further offset costs with carbon credits, health credits, or other ways to support this package. This might not be a permanent rate, but could last a specific amount of time (e.g., 10 years) and then ramp down.
Develop low-power specifications for utilities and manufacturers
It is crucial to develop specifications for electric appliances that are low-power, retrofit-ready, and would not require a house to invest in an electrical panel upgrade. Then utility companies and manufacturers can develop and/or import these appliances. The group developed basic specifications for electric panels, water heaters, stoves, and fireplaces/firepits.
Increase contractor capacity through workforce development
Contractor capacity can be increased through standardized trainings by integrating electrification skills into existing relevant workforce training. This electrification focus could include trainings for heat pump installations and create industry apprenticeships and training materials. The group also felt that HVAC tradespeople might benefit from a rebranding, perhaps as "clean energy technicians" or something similar, to draw more people into the field and refocus the emphasis of their work onto electrification.
Offer contractor incentives
Utilities and manufacturers can create funding sources for contractors prioritizing heat pumps. Contractor incentives could include training incentives (e.g., the contractor could be a government-preferred contractor after having gone through the training) and performance-based incentives (the cost of the training could be refunded after selling a certain number of units).
Unlocking New Value Through Grid Integration
Grid-interactive buildings are intelligent, responsive buildings that interact with the grid and can deliver new opportunities to save costs for building owners, occupants, and utilities. As responsive assets, grid-interactive buildings can ramp energy use up or down depending on the cost or carbon intensity of the utility generation source.
Aiming for a goal of 50 percent of the US building stock being grid-integrated in the next five years, this zLab group explored the perspective of different stakeholders—public, private, multifamily building owners, and commercial developers—to outline how to unlock new economic value and incentivize investments.
Public Portfolio Owners
Many owners of public buildings are risk averse. Add to that the inherent need to keep costs low while ensuring high tenant satisfaction, and successful management of publicly owned buildings becomes a tightrope act. Grid-interactive buildings are appealing due to the large amount of savings that can be realized. For example, a recent RMI report details how the largest landlord in the United States, the General Services Administration, could unlock $50 million in annual cost savings—approximately 30 percent cost savings on a per-project basis—and $70 million in value to grid users by incorporating grid-integrated efficient buildings into its portfolio.
Private Corporate Owners
Private corporate owners are not in the business of managing their buildings' energy use; profitably running their companies is priority number one. However, savvy owners understand that building performance is closely tied to employee productivity and satisfaction—and keeping employee turnover low is critical in a competitive job market. A grid-integrated program offers a way to keep costs low while optimizing performance, ensuring resilience, and bolstering brand.
Commercial Developers
Developers of commercial buildings are looking for three things when evaluating build-out: to maximize profit, to ensure tenants are "sticky," and long-term resiliency. As more developers explore net-zero buildings and grid integration, some are discovering an enormous gain in all three. For example, a northern California developer spent $1.6 million to retrofit one of his buildings to be net-zero energy, and within five years realized $6 million in value. How? By nearly eliminating the energy bill for the tenant (a manufacturer) he could raise the yearly rent while still ensuring a very sticky tenant that can tout adherence to sustainability in its brand, a huge competitive advantage in the market.
Multifamily Building Owners
With no roadmap for creating a grid-integrated building, owners of multifamily buildings are faced with two primary challenges: split incentives between tenants and owner, and a lack of technologies and options from manufacturers and the utility. Like corporate owners and commercial developers, multifamily building owners are keen to also keep tenants, but most residential renters are not focused on energy when they sign a lease.
The group coalesced around several solutions including:
Raising awareness about the risks and market opportunities for grid-interactive buildings that would lead to an understanding of how to value decarbonization
To reduce the hassle factor and complexity for all flavors of building owners, the market needs to offer new energy-as-a-service programs. This would require an intermediary—beyond distributed energy resource aggregators and energy service companies—that would work with both the day-to-day operations of the building and the utility, saving owners money and avoiding carbon.
Rate structure changes to incent behavior and increase the speed of change
Advanced technologies that would ease implementation
New policies that advance behavior change and open new markets
Advanced Decarbonization Policies for Existing Buildings
The third zLab group consisted largely of city policymakers—many representing cities participating in the American Cities Climate Challenge—working to develop solutions to accelerate broader adoption of performance standards for existing buildings. In order to achieve long-term emissions targets, substantial reductions are needed from the existing commercial and residential building stock. In contrast to new construction, policies to require building efficiency and electrification retrofits have been rare to date but are becoming increasingly critical to drive progress at the pace and scale needed.
After hearing firsthand about successful policy development and implementation considerations from Washington state; Washington, D.C.; and Los Angeles, the group of cities and policy-expert partners jointly identified high-priority barriers and developed solutions within four core focus areas:
Measurements and metrics
One of the more challenging elements of designing these policies is setting appropriate performance thresholds for a range of building types, including selecting the most relevant metrics (whether energy- and/or carbon-based), determining pathways for owners to comply, and ensuring adequate data to measure and track performance over time. Solutions put forth by the group included leveraging benchmarking policies and data, designing prescriptive pathways for smaller buildings, customizing compliance to specific use types, and collaborating with utilities to unlock data access.
Equity and workforce development
There is a need to ensure that performance requirements are not overly burdensome for owners and that costs are not unfairly passed on to tenants (particularly in affordable and multifamily housing), to design policy with low-to-moderate income considerations in mind, and to develop, train, and diversify the workforce. Solution concepts involved strategies such as proactively reaching out to impacted communities through trusted conveners, creating a technical assistance resource center, and developing stronger partnerships between cities/sustainability offices and labor unions (including by solidifying a value proposition for labor that is more attractive than the one currently offered by the fossil fuel industry).
Incentives and triggers
Policymakers must align with incentives and financing options to reduce friction and market resistance, and ensure that requirements are phased in in a manageable way. Solutions included conducting pilot projects to inform policy development (particularly around expected costs) and guide implementation, educating both consumers and the real estate sector using simplified nontechnical messaging, engaging with utilities to shape and secure incentives that are most appropriate for the work expected, and recognizing early adopters.
Stakeholder engagement
Key challenges under this topic included equitably identifying stakeholder groups that need support and engagement the most, developing core messaging, and tailoring the engagement process to resonate with stakeholders and follow through on equitable policy design. To address these, the group proposed several strategies including leveraging data analysis to determine which stakeholders cause the biggest impacts and are the most impacted, developing value propositions specific to different audiences and keeping messaging simple, and putting adequate financial and other resources into the design and execution of the stakeholder engagement process to ensure broad and diverse coverage with trained facilitation.
What's Next?
After zLab, the results were reported out to the entire Getting to Zero Forum, and participants were invited to add their ideas, feedback, and the commitments they were going to make to drive the building revolution forward. We will also be providing more in-depth reports on each of the three zLab sessions. The next Getting to Zero Forum will be held in March of 2021 in New York City, where we will discuss the actions that were taken, the impacts of those actions, and how we can do even more to accelerate the transition to a zero-carbon future.
As a result of this workshop, we will take the findings and create a work plan that will guide our work over the next year. Specifically, RMI and NBI are focused on advancing grid-interactive programs, policies, research, and pilot projects. What can you do? First, continue telling the story, emphasizing the importance of grid-interactive strategies and affirming the value that grid-interactive buildings can provide to both building owners and utilities. Second, investigate opportunities in your work to leverage grid-interactive building strategies. Understand rate structure alternatives, favoring time-based and demand-based rates wherever possible. Consider measures that build load flexibility.
What's Next?
RMI and NBI would like to thank all those who set aside time to join us and lend us their brainpower for the afternoon. These write-ups serve as the beginning of an ongoing action and dialogue around these solutions. Decarbonizing buildings is an ongoing effort for RMI and many others. As a result of this workshop, we will integrate these ideas as appropriate into our work plans over the next year. We will also follow-up on the resolutions made by individual organizations at the event to support the advancement of these ideas. We encourage everyone to join us at the 2021 Getting to Zero Forum, March 15–17, 2021, in New York City. These great ideas and passion will help lead us into the future!
**
DENIAL OF RESPONSIBILITY!
ALL RIGHTS OF THIS PICTURE RESERVED TO HTTPS://WWW.NYTIMES.COM/
TO REMOVE THIS PHOTO WRITE US ABUSE@THEWORLDNEWS.NET
When Berkeley, Calif., became the first city in the country to ban natural gas hookups in new construction last July, no one knew the effects would ripple out so far and so fast.
The Berkeley ban was part of an effort to wean developers off buildings that consume fossil fuels, a cause of global warming, and promote cleaner electric power. And it spurred other communities in the state to enact ordinances to encourage all-electric construction.
The effort has spread to other parts of the country. The Massachusetts town of Brookline passed a prohibition on new gas connections, and municipalities near it are poised to do the same.
Now major cities, including Los Angeles, San Francisco and Seattle, are in various stages of considering pro-electric legislation as part of the "electrify everything" movement.
As interest quickly blossoms, real estate and construction industries are scrambling to keep up. Some national organizations that represent builders and developers have yet to formulate a position.
Their members are not of one mind, however. Some developers and builders are already heading down the all-electric path in an effort to meet their own goals for reducing carbon dioxide emissions, even if not legally required to do so. But others are balking at the fast rollout, saying they want to retain the option of using gas or simply believe the new rules are being put into action too quickly.
"Builders call up asking: 'Is this legal? What are the costs? What do I have to do?'" said Robert Raymer, technical director of the California Building Industry Association, a trade group with 3,100 members.
And for residential developers, there's the question of whether the homes they build will appeal to buyers if they are not equipped with gas stoves. In the Southeast, nearly 45 percent of homes use only electricity, according to the federal Energy Information Administration, so people there are accustomed to electric stoves. But in many parts of the country, Americans have a choice, and more of them prefer cooking with gas, according to recent data from the National Multifamily Housing Council.
"It's a major sticking point," said Aaron Fairchild, the chief executive of Green Canopy, which installs induction stoves, which are high-tech ranges that use magnetic waves for cooking, in the all-electric houses it builds in Seattle and Portland, Ore. Mr. Fairchild has hired chefs to do cooking demonstrations at open houses to introduce the appliances.
The emergence of legislation that bans natural gas hookups or promotes all-electric construction is not hard to understand. In the absence of a federal commitment to addressing climate change, states and local communities have adopted their own carbon goals, which often cannot be reached unless emissions decline in the building sector.
Globally, buildings generate nearly 40 percent of greenhouse gas emissions, but in densely developed American cities, the rate can be substantially higher.
For years, natural gas has been promoted as a cleaner alternative to coal-fired electricity, and its use has surged. But carbon emissions from natural gas use have also grown.
The Global Carbon Project, a climate science group, estimates that carbon dioxide emissions added nearly 37 billion metric tons of emissions to the atmosphere last year, driven by increased use of oil and natural gas.
Experts say gas must be phased out and electric power increased in development, especially now that the electric power system, known as the grid, is becoming cleaner, thanks to the addition of renewable energy such as wind and solar power.
Kate Harrison, the councilwoman who introduced the Berkeley ban, said that dozens of public officials from around the country had contacted her for advice about how to enact similar legislation.
The 22 other California cities and counties that followed Berkeley's lead, including San Jose, the country's 10th-largest city, have done so with building codes that encourage electric wiring and appliances rather than ban gas outright.
Brookline's ban, which applies to new construction and gut renovations but makes some exemptions for buildings like research laboratories, awaits review by the Massachusetts attorney general before it can become law.
In nearby Cambridge, Mass., city officials have already held hearings on an ordinance that would block natural gas connections in new buildings and those being substantially renovated.
But the ordinances are facing some pushback.
The Massachusetts chapter of NAIOP, a commercial real estate association, for instance, has joined groups that represent the gas and restaurant industries in opposing the measure. Tamara Small, the organization's chief executive, said the new legislation was premature, and she predicted that the Cambridge ban would be challenged in court if it was passed because of conflicts with state legislation.
"We're not saying it's not possible at some point," she added. "But we're moving too quickly."
Some real estate companies, however, are already experimenting with all-electric construction, prompted by their own environmental goals or goaded by investors who "want to know what they are doing to address climate risk in their portfolios," said Billy Grayson, executive director of the Center for Sustainability and Economic Performance at the Urban Land Institute, a real estate think tank.
Kilroy Realty, a large commercial developer in Los Angeles, has a portfolio that includes 17 percent all-electric buildings, said Sara Neff, the company's senior vice president for sustainability. Ms. Neff expects that figure to grow.
"We want to reduce the carbon footprint of our portfolio," she said, "and we recognize that, especially as the grid gets cleaner, moving toward all-electric is an impactful way to get there."
Prominent all-electric projects are in the works:
Adobe, the software company, is erecting an 18-story all-electric office building at its headquarters in San Jose, Calif.
Alloy Development plans to break ground this summer on a 38-story all-electric mixed-use tower as part of a five-building project in Downtown Brooklyn.
And a massive development under review in Toronto was proposed by Sidewalks Labs, an Alphabet company, and Waterfront Toronto, a public agency. It will be an all-electric project, averting the need for any gas infrastructure.
"In Toronto, it makes sense to design for electricity because the grid is so green, from hydro and nuclear power," said Charlotte Matthews, director of sustainability for Sidewalk Labs. "The trick is how to do it and not increase utility costs, and part of this is educating the market and showing that it can be done affordably."
Members of the real estate industry are not the only ones stunned by how rapidly the all-electric movement has caught on.
Even environmentalists are surprised, said Rob Jackson, a professor at Stanford University who leads the Global Carbon Project. He said that "dozens for sure, likely hundreds" of jurisdictions would pass gas bans and pro-electric legislation this year, though lawsuits challenging them may also proliferate.
And at any rate, keeping gas out of new building construction is one thing; dealing with the 70 million structures already standing in the United States is quite another, said Bruce Nilles, director of the building electrification program at the Rocky Mountain Institute, an energy research organization.
"We've barely started," Mr. Nilles said.
**
A million solar roofs. Are a million batteries next? By Sammy Roth in the LA Times
DEC. 12, 2019
For Clovis Unified School District outside Fresno, the economics of solar power have been too good to pass up.
And for the solar industry, the district's investments in sun-generated electricity have helped fuel a milestone 14 years in the making.
Clovis Unified has installed solar systems covering parking lots and play areas at 47 of the 52 school sites it operates — and more installations are planned. Five high schools also have lithium-ion batteries, which store energy for use after the sun goes down.
Michael Johnston, Clovis Unified's associate superintendent of administrative services, said the district was avoiding $4 million a year in costs through lower energy bills. The solar panels also provide much-needed shade and help to reduce air pollution in the smoggy San Joaquin Valley.
"If we're going to use the dollars we have wisely and be good stewards of public dollars," Johnston said, "then this is something we can't ignore."
The solar panels and energy storage system at Buchanan High School in Clovis provided the backdrop Thursday for a gathering of clean energy advocates and elected officials. They were celebrating a landmark that California reached this summer: 1 million small-scale solar systems.
The event featured former Gov. Arnold Schwarzenegger, who in 2005 set a statewide target of 1 million solar installations and launched a program that would ultimately set aside more than $3 billion for solar rebates. In an interview, Schwarzenegger credited those rebates with growing the market.
"Exactly what we predicted would happen did happen, which is that the price of solar came down. So now we don't need any more subsidies," he said.

Even as they celebrated, clean energy advocates were talking about what would come next — and warning that climate change demands faster action.
Schwarzenegger's successor, former Gov. Jerry Brown, warned that rising global temperatures posed a serious threat to California. He listed rising seas, the spread of disease-carrying insects and an increase in cross-border migration as a few of the many climate change effects relevant to the Golden State.
"We're in big trouble," Brown said at the event. "And if we don't do something, things will get a lot worse."
Now that California has reached 1 million solar roofs, some activists are looking at battery storage as the next frontier for lawmakers.
Dan Jacobson, director of Environment California, thinks the state should aim to install 1 million batteries by 2025. Those systems could store solar power for use in the evening — and help homes keep the lights on when utility companies intentionally shut off power to reduce the risk of wildfire ignitions.
Jacobson said state policies could help spur the nascent battery storage market in much the same way they did for rooftop solar power.
"A rebate program would create the incentive that we need to drive down prices and increase the numbers," Jacobson said.
Austin Perea, a senior analyst at the energy research firm Wood Mackenzie, said 1 million batteries by 2025 would be difficult but not impossible.
The rooftop solar market is already growing fast, with Wood Mackenzie reporting Thursday that California was one of 15 states to install record amounts of residential solar in the third quarter of 2019. The firm attributed the surge in part to the growing use of "public safety power shut-offs" by Pacific Gas & Electric and other utilities, with installers reporting that as many as 40% of new customers want to pair energy storage with their solar panels, Perea said.
CLIMATE & ENVIRONMENTCalifornia power outages: Here's how you can keep the lights on next timeOct. 28, 2019
State subsidies could help reduce battery prices in much the same way they helped drive down solar costs by growing demand, Perea said.
"Costs only came down because [California] provided sufficient financial incentive for those manufacturers to scale up," he said.
But Perea cautioned that several factors outside Sacramento's control would affect the home storage market.
One of those factors is the federal investment tax credit, which is scheduled to gradually drop from 30% in 2019 to zero in 2022 for residential solar-plus-storage projects. The solar industry has been lobbying for an extension, with House Democrats unveiling legislation last month that would extend the tax credit an additional five years.
Another policy that has fueled the growth of rooftop solar is net energy metering, which requires investor-owned utilities to compensate rooftop solar customers at retail rates for the electricity they export to the grid.
The California Public Utilities Commission maintained net metering over the objections of PG&E, Southern California Edison and San Diego Gas & Electric in 2016. But the agency is expected to begin reconsidering the rate structure next year.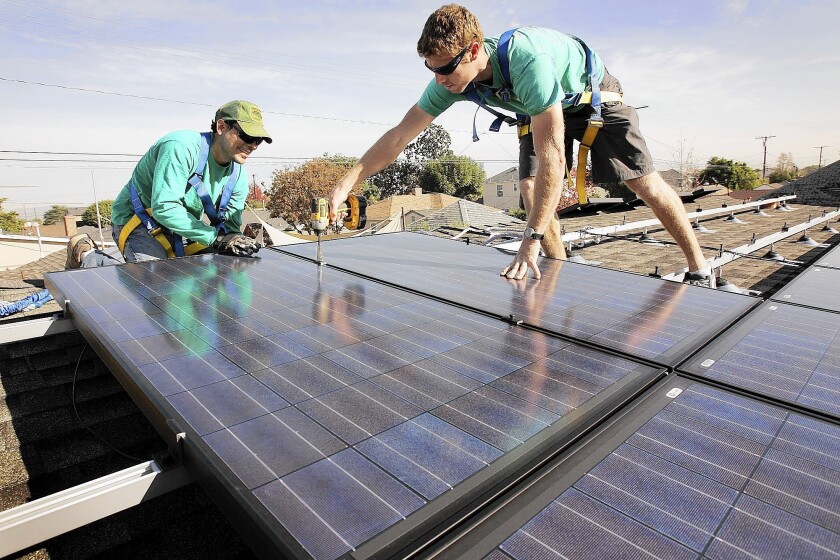 CLIMATE & ENVIRONMENTCalifornia will still require rooftop solar panels on new homes — at least for nowNov. 13, 2019
Some experts say the costs of net metering and other policies that promote rooftop solar and storage may outweigh the benefits.
James Bushnell, an energy economist at UC Davis, said solar-friendly electricity rate structures had allowed rooftop solar customers to avoid paying their fair share of the costs of maintaining the bulk power grid. If state officials continue requiring utilities to offer net metering, those power grid costs will increasingly be shouldered by homes and businesses that don't have solar panels — especially if solar customers also add batteries, Bushnell said.
For Bushnell, public support for rooftop solar and home batteries makes little sense when large-scale solar farms and storage systems are cheaper.
"From a societal perspective, that's a tremendous waste of resources," he said.
Rooftop solar advocates disagree. They say distributed energy resources reduce the need for polluting power plants and costly grid investments.
California's millionth solar system was a long time coming for Bernadette Del Chiaro, who lobbied the Legislature to approve Schwarzenegger's Million Solar Roofs initiative in 2006. She said the decision to hold Thursday's event at a Central Valley high school showed how mainstream solar had become.
"It defies all stereotypes that people tend to think about solar. Certainly this was true in 2006," said Del Chiaro, who now serves as executive director of the California Solar and Storage Assn., in an interview before the event. "My most quoted quote back then was, 'People think solar's just for backwoods hippies and Malibu millionaires, but it's not. And we're going to make it more mainstream through this program.' And it has absolutely come true."
Data collected by the state back up that claim.
Of the 950,000 solar projects in a database covering most of California, nearly 400,000 are located in inland counties. And although the vast majority of those solar projects are on residential rooftops, about a third of the overall power capacity is installed at businesses, schools and government properties.
Around 6.6% of utility customers in California have installed solar, according to additional data collected by the California Solar and Storage Assn.
There are big differences across the state. For instance, 150,000 of the 1.4 million homes and businesses served by San Diego Gas & Electric have gone solar, compared with just 34,000 customers of the Los Angeles Department of Water and Power, which has roughly the same number of accounts as SDG&E.
An average rooftop solar system in California costs $3.50 to $4 per watt, Del Chiaro said, which at the high end comes out to $20,000 for a five-kilowatt system. Homes typically see a "payback period" of six to seven years, after which cumulative energy-bill savings surpass the up-front costs of the panels.
"We're just at the beginning stages of developing that market and getting batteries tied to every solar panel," Del Chiaro said. "It's going to take the same level of commitment by the state to make that happen."
---