Boyle Heights, a heavily Latino area in Los Angeles, has one of the highest pollution scores in California
By Darryl Fears, NYT — decades of transportation investment and funding discrimination too!
Decades of federal housing discrimination did not only depress home values, lower job opportunities and spur poverty in communities deemed undesirable because of race. It's why 45 million Americans are breathing dirtier air today, according to a landmark study released Wednesday.
The practice known as redlining was outlawed more than a half-century ago, but it continues to impact people who live in neighborhoods that government mortgage officers shunned for 30 years because people of color and immigrants lived in them.
The analysis, published in the journal Environmental Science and Technology Letters, found that, compared with White people, Black and Latino Americans live with more smog and fine particulate matter from cars, trucks, buses, coal plants and other nearbyindustrial sources in areas that were redlined. Those pollutants inflame human airways, reduce lung function, trigger asthma attacks and can damage the heart and cause strokes.https://99f3cd5939072cba064085eaccff6af7.safeframe.googlesyndication.com/safeframe/1-0-38/html/container.html
"Of course, we've known about redlining and its other unequal impacts, but air pollution is one of the most important environmental health issues in the U.S.," said Joshua Apte, a co-author of the study and an assistant professor in the School of Public Health at the University of California at Berkeley.
"If you just look at the number of people that get killed by air pollution, it's arguably the most important environmental health issue in the country," Apte said.
The federal Home Owners' Loan Corporation (HOLC) marked areas across the United States as unworthy of loans because of an "infiltration of foreign-born, Negro, or lower grade population," and shaded them in red starting in the 1930s. This made it harder for home buyers of color to get mortgages; the corporation awarded A grades for solidly White areas and D's for largely non-White areas that lenders were advised to shun.
Redlining was banned 50 years ago. It's still hurting minorities today.
Throughout redlining'shistory, local zoning officials worked with businesses to place polluting operations such as industrial plants, major roadways and shipping ports in and around neighborhoods that the federal government marginalized.
The researchers analyzed air quality data in 202 cities where communities were redlined and found a consistent disparity in the level of nitrogen dioxide, which forms smog, and PM2.5 pollution, the small particles than can become embedded in people's lungs and arteries.
Redlining's fingerprint lingers in the nation's air
Levels of nitrogen dioxide pollution in 2010 tended to be worse in areas graded C or D than areas graded A or B on government mortgage maps dating to the 1930s.
A "Best"
-5 parts
per billion
0
+5
2M people
Less NO2 pollution
than city average
More NO2 pollution
than city average
1M
0
B "Still Desirable"
2M people
1M
0
C "Definitely Declining"
2M people
1M
0
D "Hazardous"
2M people
Most residents of D-graded areas breathed dirtier air than their city's average in 2010
1M
0
Note: City averages are population-weighted mean values calculated for HOLC-graded blocks only.
Source: Lane et al., 2022
JOHN MUYSKENS/THE WASHINGTON POST
With nitrogen dioxide, pollutionlevels were higher in 80 percent of communities given D grades and lower in 84 percent of communities given A grades. That trend held regardless of whether a city was as large as Los Angeles or Chicago, or as small as Macon, Ga., or Albany.
Haley Lane, a graduate student in the civil and environmental engineering department at UC-Berkeley and the study'slead author, said the team embarked on the researchto show that a "widespread, federally backed, and well documented" practice like redlining was indelibly linked to air pollution. The research took about two years.
"These maps allowed us to analyze conditions in cities across the country, and the consistency we found shows us how many of the pollution problems we have today are tied to patterns that were present in cities more than 80 years ago," Lane said.
While air quality has improved in the United States overall, several recent studies — including the one released Wednesday — show thatpeople of color, especially African Americans and Latinos, are still disproportionately affected by pollution.
A large body of research has already shown that redlined communities experience other environmental challenges, including excessiveurban heat, sparse tree canopy and few green spaces. The new analysis, according to the authors, is the first look nationwide at how redlining leads to disparitieswithin different cities.
"This groundbreaking study builds on the solid empirical evidence that systemic racism is killing and making people of color sick, it's just that simple," said Robert D. Bullard, a distinguished professor of urban planning and environmental policy at Texas Southern University and the author of "Dumping in Dixie: Race, Class and Environmental Quality."
Bullard, who was not involved in the study, said that it "makes clear the elevated air pollution disparities we see today between Black Americans and White Americans have their roots in systemic racism endorsed, practiced and legitimated by the federal Home Owners' Loan Corporation some eight decades ago."
'This is environmental racism': How a protest in a North Carolina farming town sparked a national movement
During the early days of the coronavirus pandemic, public health officials said underlying diseases suffered by people of color as a result of air pollution and other conditions in marginalized communities contributed to their disproportionate hospitalization and death from covid-19.
President Biden addressed that concern after taking office by signing an executive order to help marginalized communities that are overburdened by pollution. Heestablished the Justice40 Initiative to direct 40 percent of federal resources to those communities and established the White House Environmental Justice Advisory Council to help guide the administration's decisions.
Beverly Wright, the founder and executive director of the Deep South Center for Environmental Justice, said the research confirms what she and other activists have said for decades:Redlining led to zoning decisions that exposed people of color to pollution.
"Any time we can get a study that takes the anecdotal stories of communities and we end up having scientific findings to support those anecdotal stories, that's a good thing," said Wright, who, like Bullard, sits on the White House Environmental Justice Advisory Council. "It supports community claims on the ground."https://99f3cd5939072cba064085eaccff6af7.safeframe.googlesyndication.com/safeframe/1-0-38/html/container.html
Julian D. Marshall, a professor of civil and environmental engineering at the University of Washington and one of the study's co-authors, said the research provides the kind of information that helps societies move toward solutions.
"One way is to document that the disparities we see today have a long history," Marshall said. "The decisions and the actions we're talking about were made by people who are no longer alive, and yet we're suffering the consequences of this structural, race-based planning."
Racial inequality is so baked into redlined communities that even when it shouldn't matter, it did, the study said. Black and Latino Americans who live within the very same HOLC grade as White people still breathe dirtier air because of their closer proximity to pollution.
"This point is really key," said Lane, the lead author. "People of color can be living in the same cities, and even in neighborhoods with the same redlining grade as nearby White residents, and they will still tend to experience worse pollution on average."
The finding suggests that redlining added to inequities that developed from long-standingracial discrimination, Lane said. "Racist segregation was always essential to redlining, but there is a long history and a wide range of factors contributing to the disparities we see today. We can't point to any single decision or program which brought about current conditions because the problem is systemic."
Deadly air pollutant 'systematically and disproportionately' harms Americans of color, study finds
The disproportionate impact of smog and particulate matter is more pronounced in four major metropolitan areas: Los Angeles, Atlanta, Chicago and Essex County/Newark, said Rachel Morello-Frosch, a co-author who is a professor of environmental and community health sciences at UC-Berkeley.https://99f3cd5939072cba064085eaccff6af7.safeframe.googlesyndication.com/safeframe/1-0-38/html/container.html
In Boyle Heights, a community just east of downtown Los Angeles, federalmap drawers ostracized the people who lived there before marginalizing their community in the late 1930s.
"It is seriously doubted whether there is a single block in the area which does not contain detrimental racial elements," they wrote, "and there are very few districts which are not hopelessly heterogeneous in type of improvement and quality of maintenance."
Following its designation as one of the city's least desirable communities for investment, Boyle Heights was encircledby four major freeways — Interstates 5, 10, 710 and 110 — in a city with some of the heaviest automobile traffic in the world.
CalEnviroScreen, a mapping tool that tracks state pollution by census tracts, gives large parts of Boyle Heights the highest pollution burden score available, 100 percent. More than 86,000 people live there, most of them Latino.
"It's not like one part of Los Angeles is considered, you know, necessarily less polluted than another," said Cyrus Rangan, director of the toxics epidemiology program for the Los Angeles County Department of Public Health. "We have these air quality problems all over."
But areas that hug freeways, such as Boyle Heights, get the worst of around-the-clock diesel truck traffic that spews fine particulate matter. "When it comes to the ports and the ways our freeways are situated, in the way we kind of squeezed in a lot of residential areas in and around all of those economic developments, that's what's created a major issue," Rangan said.
Government planning and zoning officials gravitate toward Boyle Heights and underprivileged communities where inexpensive real estate is easier to purchase for freeway projectsor site-polluting industries that wealthier residents would manage to resist.
"The land and housing tends to be cheaper, so people who tend to live there tend to be people of lower-cost origins," Rangan said.
Whites are mainly to blame for pollution, but Black and Latino residents bear the burden
Paul Simon, the Los Angeles health department's chief science officer, said Long Beach and San Pedro, where mostly Latino and Black residents live near major shipping ports, have pollution levels similar to Boyle Heights.
Simon praised the redlining study, calling it something he's never seen. "It … highlights the challenges moving forward in trying to address these disparities and inequities to change the pattern of land use and transportation planning to sort of alter the built environment," Simon said.
"The agency that concocted the racist grading system itself deserved an F grade," Bullard said.
It discriminated against mostly Black and Latino families, robbed them of the wealth their homes could have generated, he said, "and created pollution magnets that threatens the health, well-being and quality of life of families who settle in formerly redlined neighborhoods."
**
Making Homeownership Work Better
Programs that help households of color buy homes haven't made much of a dent in the racial wealth gap. But some strategies could generate better outcomes for buyers.By Brittany Hutson and Miriam Axel-Lute -March 15, 2022data:image/gif;base64,R0lGODlhAQABAAAAACH5BAEKAAEALAAAAAABAAEAAAICTAEAOw==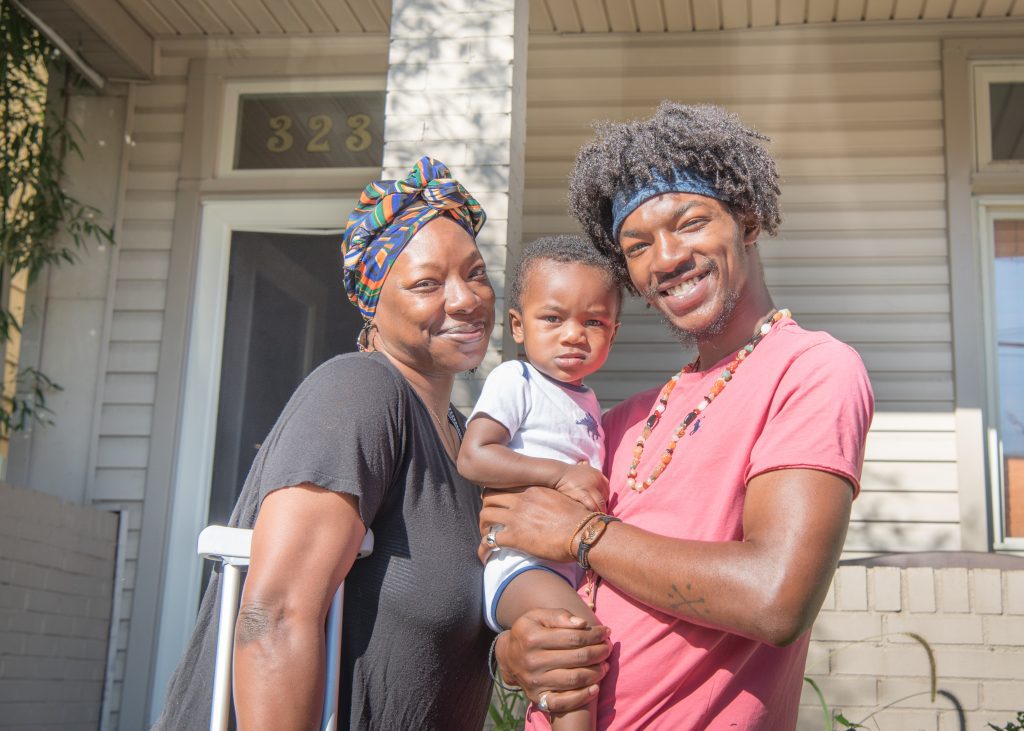 Homeownership remains one of the most common tools employed to try to help Black families build intergenerational wealth. However, for reasons authors in this series have detailed, simply achieving the dream of buying a house often does not generate the results that it generates for white families. Households of color tend to own homes of lower value and have a higher percent of their assets in home equity, feeding into the disproportionately low share of wealth held by Black and Latinx households.
Housing advocates say that without significant policy and practice changes, both the racial homeownership gap and the racial wealth gap will remain wide for decades to come.
Race-Conscious Programs
One step is to actually target specific groups for support, rather than assuming that programs targeting low-income homebuyers will be sufficient. "When you are a policymaker, you are thinking about things that are good for all … but we didn't get here because of policies that were good for all," stated Chrystal Kornegay, executive director of MassHousing, during a webcast in December 2021 hosted by the Urban Institute. MassHousing is an independent, quasi-public agency that lends over a billion dollars annually to produce and preserve affordable rental housing and to create homeownership opportunities for low- and moderate-income borrowers.
"You can't have a race-conscious solution that doesn't actually include race in it," she added.
Although programs to help people of color get into homes have been around for decades, Laurie Benner, associate vice president of programs at the National Fair Housing Alliance, says the racial homeownership gap is still prevalent because "none of the programs have been racially explicit."
There's an idea out there that "because of fair housing laws . . . you can't say 'This program is for this category of people,'" Benner adds, "but in fact, lenders can do it. They can create a loan program just for Black people, or Latino people, or for AAPIs, Indigenous people, and so on."

Through the Equal Credit Opportunity Act, financial institutions are permitted to develop special purpose credit programs (SPCPs) to meet special social needs and benefit disadvantaged groups. When properly designed, SPCPs can play a crucial role in promoting equity and inclusion, building wealth, and removing barriers that have contributed to housing instability and residential segregation.
So the resistance isn't legal, it's optics—a throwback to colorblind ideals. "We've seen lending programs for people with disabilities, and no one is outraged by that," explains Benner, "but if a lender were to introduce a mortgage program specifically for Black or Latino people, it would almost certainly be subject to legal challenge."
Benner adds that some banks have homeownership programs targeting economically disadvantaged groups, but the programs are place-based and "operating very quietly."
"We need some of the big banks to just start doing it" more openly, says Benner. "Once [the big banks] cross [that] hurdle, smaller community lenders and CDFIs can do these kinds of programs. We just need a couple of people to jump first."
Income as Well as Appreciation
Besides calling on the banking system to change its policies, housing groups are also adjusting their homeownership programs to go beyond just getting people into houses. For example, New Orleans Habitat for Humanity has launched a pilot program that will allow a family to purchase a multifamily property and use the rental income to help them qualify for one of Habitat's zero-interest loans.
When Marguerite Oestreicher, executive director, presented the idea to the Habitat board, one of the members told a personal story. "She shared how her family moved from being wage earners to having true wealth, and the first step of that journey was her dad purchasing and renovating a double, which became the first of many investments," recalls Oestreicher.
Durham Community Land Trustees (DCLT) in Durham, North Carolina, is also introducing second units into the mix. Initially the idea came from the difficulty of purchasing land to create affordable rental units in this market, says Sherry Taylor, DCLT's asset manager, so they looked at their own portfolio. But they realized the additional cash flow could also be a way to support the land trust homeowners. So far the CLT Plus One program is still in its planning phases, but DCLT intends to provide property management services for the rental units, at least for the first several years, passing most of the rental income on to the homeowner. "Our new homeowners won't be out there by themselves," says Taylor.
Flexible Grants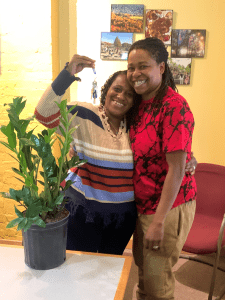 In Pittsburgh, Pennsylvania, the Oakland Planning and Development Corporation (OPDC) is a community development corporation that produces homes for sale through its community land trust. The homes are offered at a rate that is deemed affordable for people who are at 80 percent or below of the area median income. However, executive director Wanda Wilson says, the organization wants to expand who they can help.
"We're specifically finding that with Black families in our community, many are renting," Wilson explains, "but there's been a lot of rising rents. We applied for funding specifically to provide grants to Black and Indigenous people of color to be able to buy a home from the community land trust."
Wilson explains that the BIPOC buyers OPDC works with are generally lower-wage workers who cannot qualify for the full cost of a mortgage and therefore need additional gap funding. OPDC has also found that BIPOC buyers have less savings and are therefore concerned about home maintenance should something need to be repaired.
There have been many, many downpayment assistance programs, but what's different about the program OPDC has created is that the cash assistance is flexible, meaning it can be applied in many different ways to support a given household. Depending on their income, participants receive between $21,000 and $31,000. This amount is larger than the typical sum that downpayment assistance programs provide, which is around $7,500. There are several options for how families can use the funds beyond a downpayment, including building savings for housing repairs, paying down debt to improve their credit score, or covering closing costs not covered by other first-time homebuyer programs. It's individualized to the homebuyer's needs, but the menu of options focuses on challenges that tend to fall more heavily on BIPOC homebuyers.
The grant program is funded through the Pennsylvania Housing Finance Agency. It's in its early stages, is application based, and enrolled its first seven participants last fall.
According to Wilson, what OPDC's program does differently is specifically address systemic inequities experienced by Black and Indigenous people, and other people of color. "We basically want to be proactive, to make sure that BIPOC families can have the opportunity and it is not just white families that we are serving," she says. "Without a proactive approach to serving BIPOC, we run the risk of only serving white buyers."
Better Mortgages
The Indianapolis Neighborhood Housing Partnership (INHP), a housing development and nonprofit lender, is constantly looking at the data to see how it can help the homebuyers and borrowers it works with, most of whom are households of color, and advance racial equity. This has led to experimentation with a number of new products.
One of the most popular is called the mortgage accelerator. Very simply, it's a mortgage where the interest rate is so low (currently around 1.25 percent) that it can have a term of 20 years instead of 30 for the same monthly payments a homebuyer would be making on a typical 30-year mortgage. The mortgage is paid off faster, resulting in quicker building of equity in the home, and the homeowner saves many tens of thousands of dollars in interest payments. INHP is able to sell these loans on the secondary market to CRA-regulated banks despite their low interest rate. Because there's no downside to the homeowner, basically the only INHP borrowers who don't use the mortgage accelerator are those who are participating in a downpayment assistance program that requires a 30-year mortgage, says Joe Hanson, executive vice president for strategic initiatives at INHP.
Especially with prices rising, INHP also wanted to enable its borrowers to buy into higher value neighborhoods, so they built on the mortgage accelerator to create the market expander. With this product, there's the typical 20-year low-interest loan, and then a second, 10-year no-interest loan after it, giving homebuyers more buying power with the same monthly payment (in fact the payment drops a little for the last 10 years). The second mortgage relies on philanthropic investment and is held on INHP's books, so there is a limit to how many INHP can make, but the principal of giving families access to more neighborhoods is still exciting.
And finally, knowing—again from the data—that homeowners of color are both more likely to be given higher interest rates and less likely to refinance, INHP has launched a refinance product, hoping to stem some of the wealth extraction those high interest rates represent. "If people are paying more interest than they have to, what's our opportunity to lean into that disparity and effect change?" says Hanson.
Refinancing people out of overly high interest rates is mostly straightforward, but INHP's commitment to racial equity means they know they also need to think about appraisal bias as they launch this product. The organization hasn't figured out entirely how yet, but Hanson says they at least intend to replace standard full appraisals with alternative methods, possibly exterior-only evaluations. But, he notes, it is difficult to know what to do with the legacy of racism that actually has affected values in a neighborhood, as perceived by buyers, quite aside from bias from appraisers themselves. INHP hasn't figured out what, if anything, it can do about that yet, but is actively seeking solutions.
With all of these products it's a work in progress, says Hanson. "We're trying. We're listening. We're using data and research. It's OK if it doesn't hit right out of the gate. We continue to adjust."
Changing Underwriting
Changing underwriting standards is often seen as a strategy to help families of color increase access to homeownership because the standards affect the terms and size of loans. For the same reason, underwriting is also a factor in how well homeownership builds equity for homeowners of color.
The Federal Home Loan Bank of San Francisco and the Urban Institute recently launched a partnership called the Racial Equity Accelerator for Homeownership, which is looking at several ways to make homeownership work better for households of color. Along with removing historical bias from AI algorithms and developing ideas for products that will help homeowners get through short-term repair issues, the partners are also are looking at underwriting from two angles: ways to incorporate rental payments and utility payments into underwriting, and different ways to consider student debt when underwriting. Currently, "we're not looking at the full picture when assessing creditworthiness," says Teresa Bryce Bazemore, president and CEO of FHLBank San Francisco.
While there has been discussion for a while about how to bring rental payment history into credit scores themselves, which would be a significant improvement in racial equity, some organizations are not waiting. INHP looked at the HMDA data that showed that credit scores were the major factor keeping households of color out of homeownership, and in the summer of 2021 launched a rent-focused underwriting product, for which underwriters use rental history to establish a track record of regular payments. While they also do have other criteria, such as accounts in collection, the numerical credit score itself is not a factor in approvals for this product.
Interest in the product was high, says Hanson, and they got hundreds of inquiries. Interestingly, about 10 percent of those inquiries came from people who actually qualified for a conventional mortgage with INHP, but hadn't known it. "It was a perceived barrier," says Hanson. "And just the fact of advertising that we have creative solutions, allowed them to take the chance and explore it, [and] then they found they didn't need this special program, they could participate in the system as it's currently designed."
But others did need that product, and INHP now has about 50 families engaged in the process of working toward a mortgage through the rent-focused route. So far, it has not been an easily standardized approach. Establishing rental history when people have had roommates or paid in cash, for example, is complicated. INHP has been figuring it out on a case-by-case basis, and is now helping all of the participants work through other issues, such as judgments and accounts in collections, before the underwriters feel confident the borrowers will be able to safely sustain a mortgage. "It's called rent-focused underwriting, not rent-only underwriting," notes Hanson, who hopes that "the success of our program can be a demonstration that rental history can be a good proxy for successful conversion into homeownership that might generate more momentum in terms of creating system change."
Scaling Together
In the summer of 2021, the U.S. Department of Housing and Urban Development and a coalition of civil rights organizations and leaders launched an initiative called 3by30. The coalition is led by a steering committee made up of executives from the Mortgage Bankers Association, the NAACP, National Association of REALTORS, National Fair Housing Alliance, National Urban Institution, and the Urban League. The mission of 3by30 is to create 3 million new Black homeowners by 2030.
Along with helping more Black people become homeowners, however, the 3by30 plan also focuses on sustainability, aiming to ensure that current Black homeowners are not vulnerable to foreclosure. To do this, the collective will focus on providing adequate education to homeowners, especially those who are first-timers, so they can understand what's involved with homeownership before making a purchase. There are also plans to guide those homeowners away from predatory loan products and connect them with resources and emergency assistance funds in the event they do run into financial trouble.
"Nothing has been done on this scale before," says Benner. The National Fair Housing Alliance is one of approximately 100 stakeholders under the coalition. "Of course, communities have always had housing counseling and community development programs, and those groups are intimately familiar with the local challenges. They do a phenomenal job, especially considering that their funding sources are continually at risk.
"[The difference]," adds Benner, "is the Black Homeownership Collaborative (BHC) wants to focus on the big systemic issues to create a foundation of equity to build on." Some of the focus areas include:
Supporting more funding for downpayment assistance, particularly for first-generation buyers, and for fair housing enforcement;
Supporting racially explicit solutions;
Reevaluating the credit scoring system and exploring the use of alternative and non-traditional credit sources;
Exploring using rental housing payment data and housing payment shock data to assess borrower risk;
Removing bias from computer algorithms connected to lending and other housing-related decisions;
Analyzing and supporting efforts for inclusive zoning practices;
Reinvesting in historically redlined areas; and
Creating an infrastructure for smaller mortgage loans
"If we can remove some of the structural barriers, the local communities won't have a constant uphill struggle for properly resourced neighborhoods full of successful, healthy, financially secure individuals and families," says Benner.
A uniform voice on advocacy and public policy efforts is one of the biggest tenets of the BHC, she adds. "The value that the collaborative brings is the collective advocacy power of the organizations. We are taking the voices of state and local organizations to Congress; we are exerting influence on policymakers and corporate entities with a unified message. That's what it's going to take [to close the homeownership gap]."
Correction: The market expander product was misnamed in the first version of this article.