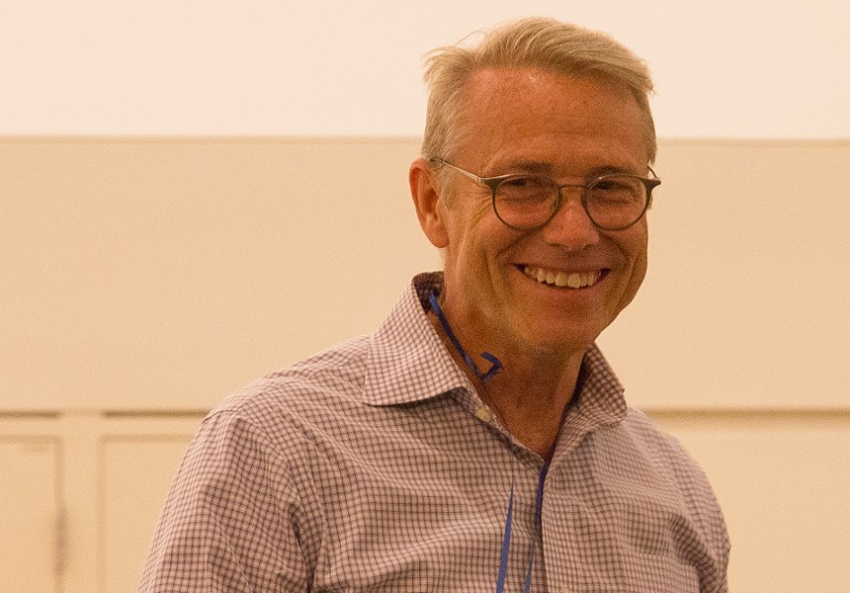 Raymond Dehn's progressive policies on criminal justice, housing and more are resonating across the city.
BY VALERIE VANDE PANNE, In These Times, 4 Nov 2017
Ray Dehn is not the kind of politician you meet every day. The Minneapolis mayoral candidate is calling for policies that would disarm and de-militarize the Minneapolis police force, work to eliminate systematic inequities and generate community wealth. He's running against establishment incumbent Betsy Hodges, who has made national headlines for her out-of-touch response to multiple Minneapolis police shootings, including the killings of Jamar Clark, Philando Castile and Justine Damond.
Dehn grew up working-class just north of Minneapolis. He experienced the criminal justice system first-hand when he was convicted of a felony for a burglary offense in 1976. This conviction meant he could not vote even after he was released, so in 1982, he asked for—and received—a full pardon so he could vote again. He went to architecture school, graduated in 1993 at the age of 39 (at 60, he's still paying off his student loans, according to his campaign website), and from there became president of the American Institute of Architecture Students, a "student-run organization dedicated to providing unmatched progressive programs … critical to architecture and the experience of education," where he learned grassroots organizing.
During the sub-prime mortgage crisis, as part of the Northside Community Reinvestment Coalition, he went door to door to hundreds of homes in Minneapolis neighborhoods with a high number of foreclosures, and helped people find the resources to keep their homes.
He later did volunteer work for Minnesota political legends Paul Wellstone and Keith Ellison.
Then, in 2012, he ran for state rep. And won.
Ever since, he's taken his experience and progressive ideas and injected them into Minnesota law, starting with the passing of his bill to Ban the Box, removing the question about criminal backgrounds from job applications.
"Every morning when I shave I see a white man who has privilege, who can do many things because I'm white," he tells In These Times over coffee at the Mall of America in late September. "The people I left behind in prison … that's why I run for office."
Now, he's using his platform to raise awareness of solutions to police brutality and gross inequality, among other issues.
"I don't believe all cops should carry guns all the time," he says. "One, it's not necessary. Maybe people in the community would be safer, and then maybe the officers would be safer. In no way should an unarmed person be shot. We have people in our community who won't call the cops because they are afraid, afraid for themselves and afraid for the person committing the crime."
Dehn points to the War on Drugs and how it changed policing. "Excess military hardware passed down to police. It's created a wall between officers and the community." Dehn doesn't expect local police to be enthusiastic about demilitarization, at least at first. Still, he says, "We have officers who are afraid to patrol their communities, and I don't think that's unique to Minneapolis." He says some officers do question the efficacy of their current strategies, and training will be key to rehabilitating community-police relationships and restoring trust in the police department—and to insuring no more unarmed citizens are shot by police.
Dehn's perspective and sincerity resonates in communities across Minneapolis and across color lines. Kelly Chatman, an African-American pastor at Redeemer Lutheran Church in North Minneapolis, says Dehn is "a conscientious representative of Minneapolis. I see him treat people with high regard regardless of social economic background. And he's been a strong advocate for restorative justice—an uncommon commitment in that regard."
Dehn is also passionate about generating community wealth. "I think of economic opportunity generally, how small employers can create more cooperatives, where the actual worker is given some power or say or is able to be engaged in the process of that business. I think of how in poor communities, money gets extracted by payday lending. But there are ways we can bank differently," he says, pointing to a soon-to-open black-owned credit union that he is looking forward to banking with.
"I believe that when people in the community do well, and the small businesses do well, it lifts the whole community, and those people stay in the community as it does better," he says. Their personal wealth, he says, rises with the community. "It keeps them in their homes," he says, and prevents displacement and gentrification.
For many accustomed to politics as usual, Dehn's campaign may seem unconventional—but he doesn't see it that way. To him, these ideas seem "like what elected officials should be fighting for," he says. "We have many people that struggle, and … the only way that we're gonna have an impact is actually to begin to address these issues at a systemic level, and be bold enough to say that we need to put resources where they're going to make a difference in people's lives. It's more about, what is an individual's need, and how can we begin to address that? That includes everything from housing to police accountability, and to considerations around issues related to climate change and environmental justice."
Dehn is endorsed by Our Revolution , and he received more delegate votes than any other candidate at the Democratic-Farmer-Labor (the state's Dems) convention last summer. That he received significantly more votes than incumbent Betsy Hodges gives Dehn a boost over his challengers and the incumbent, especially in the eyes of local political observers and the general public. He also did it with a campaign chest of just over $50,000, a paltry sum in today's dark money political landscape.
Dehn says he's being outraised around five to one, even more by some candidates. "My campaign has been leading all the way by raising and spending less than a fifth of what the other candidates have been spending. They're running traditional campaigns. We're knocking on peoples doors and we're having conversations … engaging them in a campaign that's about substance."
He'd rather talk about policy than about Hodges, or the other contenders for the office, including Hennepin Theater Trust leader Tom Hoch and city council member Jacob Frey. That's partly because the city's ranked-choice voting system—in which voters rank their picks by marking on a paper ballot their first, second and third choice—encourages campaigns to focus on the issues, says Dehn. Besides, Dehn's "not an attack kind of guy. You win with dignity by talking about your campaign," he says.
For many, talk like this might seem like just that: talk. But Chatman says with Dehn, it's more than that when looking at his record as a state representative. "What he says he's gonna do, he does," says Chatman. "He's a steady leader. He leads with integrity. That's how he's known in the community."
The election is Tuesday, November 7. 
Valerie Vande Panne is an award-winning freelance journalist. She is the former editor-in-chief of Detroit's altweekly, the Metro Times, and has covered Detroit's alternative economies for Bloomberg
**
The socialist city council candidate is running on a platform of rent control and reducing inequality—and she's massively outraising her opponents.
"
My campaign is focused on making Minneapolis affordable for all and building on the $15 campaign to make the city serve the interests of working people
."
In many ways, Ginger Jentzen's race for city council in Minneapolis' Third Ward encapsulates the current hopes of the political revolution, as well as the roadblocks it faces. The longtime organizer's campaign has brought together progressive unions, socialist organizations, grassroots volunteers and their allies across the city. Meanwhile, big business and the political establishment are openly mobilizing against Jentzen and the progressive agenda she's running on.
A former service worker and executive director of 15 Now—an organization dedicated to raising workers' wages—Jentzen, who is running on the Socialist Alternative ticket, has been endorsed by both her party and the Democratic Socialists of America (DSA). Socialist Alternative is a Trotskyist party that endorsed Jill Stein for president in 2016. In June, following years of organizing by groups including 15 Now, Minneapolis passed a $15 minimum wage, to be phased in over the next seven years.
Despite refusing to accept corporate money, Jentzen has outraised her three opponents—two Democrats and a Green Party candidate—by historic numbers, raking in over $140,000 as of mid-October, and is now the target of an outside spending spree by business interests. These corporate interests are seeking to combat her efforts to fight for affordable housing in a working-class district that in recent years has seen a dramatic shift from homeowners to renters.
In a fundraising e-mail, Steve Cramer, president of the Downtown Council, Jonathan Weinhagen, president of the Minneapolis Chamber of Commerce, and Kevin Lewis, president of the Building Owners and Managers Association, wrote, "If you thought it was impossible for a committed Socialist to run on a platform of rent control and establishing a municipal income tax to pay for social engineering … meet: Ginger Jentzen," who they described as a "leading candidate" in the Third Ward.
Ahead of the November 7 election, Jentzen talked with In These Times about the most important issues affecting voters in her district, how her race demonstrates the old-fashioned battle between capital and workers, and the new opportunities for socialists of different stripes to bridge movement and electoral work.
Duhalde: What inspired you to run?
Jentzen: I think my candidacy flows somewhat naturally from the 15 Now campaign and how we ended up winning. We built a really powerful movement and organized a coalition.
My campaign is focused on making Minneapolis affordable for all and building on the $15 campaign to make the city serve the interests of working people. My experience has been that movements haven't been welcomed by City Hall. I've seen hurdle after hurdle put forward by the political establishment here.
It was really a powerful experience to see what we could achieve through building a movement that was actually engaging communities all across Minneapolis. We've been identified as a city that has some of the starkest racial and economic inequalities in the country, with enormous wealth gaps between black and white residents.
I think if we had someone from the outset really laying down a marker, and using their position in the city council to continuously organize both inside and outside of City Hall for working communities to represent themselves, then I think we potentially could have won the $15 wage far sooner. I aim to put an eye on organizing City Hall, mobilizing around the issues we need to be solved in Minneapolis. Things like rent control, higher wages and putting pressure on developers to build affordable housing. We need all of these things, but they won't be achieved if we don't continuously organize and build a movement to win them.
Duhalde: Tell me about your district.
Jentzen: This is one of the oldest neighborhoods in the city of Minneapolis. It covers a lot of working and middle-class home-owners in the northern part of the ward. It's also becoming increasingly renter-based, and that's causing a bit of tension in the ward.
There's lots of development happening, and much of it is on the luxury end. There has been a lot of anger growing around the enormous influence of big developers on City Hall, pushing a profit-driven agenda. There aren't enough affordable housing units to ensure that people can continue to live and work in the city.
Duhalde: What are the main issues in your campaign?
Jentzen: I have made a public pledge not to accept corporate, executive or big developer money while running for office and through my tenure in City Hall. We've really been emphasizing the idea that my campaign is not for sale. Like Bernie Sanders, I think that you cannot serve two bosses. You cannot fully represent the needs of working people while you are accepting massive donations from big developers trying to profit off of our housing crisis.
At the core of this campaign is raising the demands—demands for tenant protections, for rent control, to tax big developers and to build more affordable housing. We have also discussed expanding public transit and social services for people in need, rather than keeping them in fear of deportation, homelessness and cuts to healthcare. We are trying to raise the question of what it would mean to actually have a city built around these issues.
Duhalde: Can you talk about the connection between movement and electoral work, and how Socialist Alternative and DSA are working together to support your campaign?
Jentzen: Seeing a candidate like Bernie Sanders raising the program that he did in the presidential election, and then having millions of people, especially young people, come out to support and build the political revolution against the billionaire class, I think it was an extremely exciting prospect for socialists across the country.
For Socialist Alternative and DSA, I think we have to continue to build that political revolution, raising demands like Medicare for All, and concretely organizing around them through outreach in working-class communities, wherever we have our chapters.
Members of DSA in the area have played an excellent role in raising the profile of the campaign and having bigger discussions around Medicare for All. People are very much concerned with what their healthcare is going to look like over the coming months and years. I think the best way to fight Trumpcare is to build a movement for Medicare for All.
I think these types of initiatives are extremely important to how we figure out the best way forward to combat the corporate agenda, the Trump agenda, and both win victories and also challenge the capitalist system as a whole. 
By David Duhalde, deputy director of the Democratic Socialists of America.