Brilliant and practical way of cutting the developers out of lining their pockets once public planning permission is granted. 
This policy
 captures what is now unearned income in the hands of private developers for a key public good – to radically increase the affordability of housing. Take a look. Not too complicated. Grounded in Commons sense. The article was written by 
Common Weal
 and original published at 
commonspace.scot.
Common Weal: Submission to Planning Bill stage 1 consultation
THE Scottish Government should change Planning laws so that the public-sector captures the uplift in land value that is derived from public investment in the land to finance a new generation of public housebuilding in Scotland, Common Weal has argued.
'Public Land Value Capture: A new model for housing development in Scotland' can be accessed in full here.
In a submission to the Scottish Government's consultation on stage 1 of its Planning Bill, which closes today, Common Weal proposes that: "Public authorities should have the legal means to purchase land at existing use value, so that the uplift in land value from planning permission for development of the land is captured for the public good. The effect of this will be to reduce the cost of land for development considerably, as planning permission can increase the value of land by one-hundred fold or more."
A similar idea was cited in The Guardian on Thursday (1 February) as being under consideration by the Labour party UK-wide, but it would be possible for the Scottish Parliament to amend the Planning Bill to introduce this now in Scotland.
The proposal would mean public authorities would identify simplified development zones which would be priority areas for public-led development, especially for housing. The land in these zones would be purchased at existing use value, rather than the current policy of purchasing the land at the anticipated future value once planning permission is granted (known as 'hope value').
Public authorities would borrow against the future uplift in land value from the granting of planning permission to develop the site. This borrowed sum could then be used to fund the master-planning, infrastructure and construction of public-rental housing, while some plots could be sold-off to the private sector at a profit. Either way, the reductions in land costs would eliminate land speculation in the development process and increase the affordability and quality of housing development. According to the ONS, the cost of land has risen enormously in the UK over the past 20 years, from £1.5 trillion in 1995 to £6.8 trillion in 2016.
A similar approach, cited in the paper, is currently utilised in the Netherlands and Germany, where the cost of housing is significantly cheaper than in Scotland. It was also used in the UK after the second world war, including to build Scotland's New Towns, but was repealed in 1959.
Robin McAlpine, Common Weal Director, said of the submission:
"The benefit that would come to Scotland from being able to build high-quality, affordable public rental housing by letting the public sector buy land at a fair price and not the crazily inflated prices of the out-of-control housing market would be enormous. Developers making huge profits from doing nothing more than buying land and then pocketing the value that public planning permission adds to that land has loaded extra cost on the mortgage of every homeowner in Scotland. It is time for the public to take back control."
Common Weal head of policy, stated:
"Unlocking land to make it work for the public good rather than to be speculated upon is the key to transforming the housing system in Scotland. To do this we only need to re-learn the lessons of the past, lessons that countries like Germany and the Netherlands have never forgotten – that the financial value contained in the granting of planning permission is a public good, one that the public should benefit from when it invests in the land.

"This simple idea was written into UK Government legislation after the second world war and made a major contribution to building a new generation of public housing in that era, including Scotland's New Towns like Cumbernauld and East Kilbride. Now, with land values more than tripling over the past 20 years, it is essential to introduce this public land value capture policy again, and it is within the Scottish Parliament's power to amend the Planning Bill to make this happen."
Labour plans to make landowners sell to state for fraction of value
Exclusive: party proposes raid on private land to cut cost of building new council houses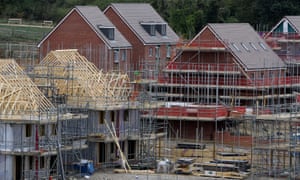 Labour is considering forcing landowners to give up sites for a fraction of their current price in an effort to slash the cost of council house building.
The proposal has been drawn up by John Healey, the shadow housing secretary, and would see a Jeremy Corbyn-led government change the law so landowners would have to sell sites to the state at knockdown prices.
Landowners currently sell at a price that factors in the dramatic increase in value when planning consent is granted. It means a hectare of agricultural land worth around £20,000 can sell for closer to £2m if it is zoned for housing.
Labour believes this is slowing down housebuilding by dramatically increasing costs. It is planning a new English Sovereign Land Trust with powers to buy sites at closer to the lower price.
This would be enabled by a change in the 1961 Land Compensation Act so the state could compulsorily purchase land at a price that excluded the potential for future planning consent.
Healey's analysis suggests that it would cut the cost of building 100,000 council houses a year by almost £10bn to around £16bn.
With the "hope value" removed from the price of land, the cost of building a two-bed flat in Wandsworth, south-west London, would be cut from £380,000 to £250,000, in Chelmsford it would fall from £210,000 to £130,000 and in Tamworth in the West Midlands, where land values are lower, it would drop from £150,000 to £130,000.
"Rather than letting private landowners benefit from this windfall gain – and making everyone else pay for it – enabling public acquisition of land at nearer pre-planning-permission value would mean cheaper land which could help fund cheaper housing," said Healey.
The proposal is expected to face strong opposition from landowners, including many pension fund investors, who would risk losing considerable sums on what they expected to receive. Savills, the property consultancy, warned that owners might launch legal challenges claiming the move infringed their property rights.
Companies known as strategic landowners make money for investors by buying agricultural land that may be needed for future housing at low prices, securing planning consent and selling it on for significant profits. They include Legal & General, which boasts "a strategic land portfolio of 3,550 acres stretching from Luton to Cardiff".
Sites with potential for 800,000 homes are at the preplanning stage, according to Savills. A third are owned by land promoters who often seek planning consent for agricultural land in order to generate a return for institutional investors. Another third are owned by developers and housebuilders and the rest by other parts of the private sector, the state and social landlords.
Labour's proposal comes amid signs of growing cross-party consensus that radical steps are needed to boost housebuilding, with the communities secretary, Sajid Javid, warning this week that he wants to take a more "muscular" approach to tackling land hoarding by developers.
A similar policy has been advocated by some leading Conservatives, including the former planning minister Nick Boles. In a sign of growing political consensus, he said the huge windfalls gained by some landowners were inequitable and that the current system of capturing the uplift in land value through section 106 agreements was "incredibly inefficient", because private developers could afford to outwit planners with expensive lawyers and consultants.
"There will be mass opposition, but there aren't that many landowners and they are not a huge voting block," Boles said. "Not all Conservatives would naturally feel comfortable with this but I have been struck by the positive reaction."
Speaking earlier this week Javid indicated he would like to change the system. He said: "I think it's right that the state takes a portion of that uplift to support local infrastructure and development."
Healey said: "The principle behind this idea is simple: the additional value of land publicly created by the granting of planning permission should flow to the local community rather than just as windfall profit to big developers, landowners and land agents."
It comes as council leaders warn that council homes are being sold off so fast under the right-to-buy system it has become a "fire sale". Since 2013, more than 55,000 council homes have been sold to private buyers with discounts set by central government averaging £60,000. Only 11,357 replacements have been started. Councils keep only a third of sale receipts, with the rest going to central government. They are arguing they should keep 100%.
"This loss of social rented housing risks pushing more families into the private rented sector, driving up housing benefit spending and rents and exacerbating our homelessness crisis," said Judith Blake, housing spokesperson for the Local Government Association. "This is particularly concerning as many of the homes sold through the scheme ended up being rented out privately at more expensive rates."