20 Sept 2017 By Steve Hanley.  First published on Gas2.
Los Angeles is ground zero for car culture in America. Its streets are choked with automobiles at all hours of the day. The freeways that lead to and away from it are more like parking lots than highways. For 50 years or more, the response to Los Angeles' traffic woes has been to add more roads with more lanes (something that has helped urban planning researchers to understand why more lanes don't lead to less traffic).
The problem is so bad, it inspired Elon Musk to dream up the Hyperloop one day while sitting in traffic on the way to the airport. Musk has since amended that vision somewhat. Now he wants to build a multi-tiered system of tunnels underground so some lucky motorists will be able to speed along beneath the vehicular chaos going on above.
The folks at Lyft have been pondering the congestion problem in Los Angeles and they think they have a better — and far less expensive — solution to LA's chronic traffic woes. They propose fewer but more efficient lanes that take advantage of autonomous driving technology. Lyft, in cooperation with General Motors, has been conducting trials of self-driving cars. Just this week, Alphabet, the parent company of Google, said it is ready to invest a $1 billion in Lyft.
Wilshire Boulevard is one of the more famous streets in Los Angeles. Currently, it is 10 lanes wide, but if it had twice as many, it would still suffer from congestion that slows traffic to a crawl. Working with engineers and designers at Perkins+Will and Nelson/Nygaard, it is developing a plan for what that iconic thoroughfare might be like in an era in which self-driving cars replace individually owned cars and public transportation options expand.
Today, Wilshire Boulevard is able to transport about 30,000 people an hour. Under the Lyft proposal, that number would soar to 77,000 per hour. Only three lanes would be used for general purpose driving. There would be a dedicated bus lane capable of serving 35,000 customer per hour, two dedicated bicycle lanes, wider sidewalks with more landscaping, and dedicated loading zones reserved for picking up and dropping off ridesharing passengers.
The idea is just a concept at the moment — more of a talking point, really — but Lyft is working with the Southern California Association of Governments on a plan to bring more intelligent streets to the area. Los Angeles itself is committed to becoming a sustainable city and supporting the goals of the Paris climate accords.
Although autonomous cars are still a novelty, there is no question that ridesharing and ride-hailing services will become an important part of how people get around in cities in coming years. Good for Lyft for thinking ahead. Now is the best time to begin thinking about the future.  Source: Engadget
This makes LA a great place to look at the Transportation Revolution underway in our country right now. Because as our co-founder, John, predicted last year, self-driving cars and ridesharing will soon all-but end private car ownership in cities. That means fewer cars on the road, more space to rebuild our cities around people — and, for our urban spaces, one of the most significant transformations in history.
We wanted to see just what this transformation might look like, so we teamed up with our friends at Perkins+Will and Nelson\Nygaard to take a look at the future. We're focusing on LA because it's one of the country's most notoriously car-centric cities. And by partnering with the Southern California Association of Governments on their 100 Hours Campaign, we're beginning to bring this vision into reality.
LA Today: Pavement, Traffic, and More Pavement
This is the intersection of Wilshire Boulevard and Veteran Avenue. It's six miles from the beach, and not far from UCLA. Beverly Hills is right down the street. And if you want to understand the problem with our cities right now, it's a good place to start.
Every day, an average of 110,000 cars pass through this intersection, making it one of the busiest in LA. But, as you can see, it's not just the traffic that's the problem. It's that we've devoted all this space to cars, crowding out people.
Take a look at this chart. It shows how many people are able to use Wilshire as it's currently designed every hour — and how.
At first, this doesn't look so bad. After all, more people could walk than drive along this corridor. But no one wants to walk in an environment like this, and the space dedicated to vehicles is used inefficiently. Almost 70% of those cars only have a single person in them, meaning the system is only able to transport a relatively small number of people. And LA Metro's buses have to sit in that traffic congestion as well, making LA Metro one of the most delayed transit systems in the country — roughly 1 in 4 transit vehicles are late. As a result, people choose not to ride public transit and choose to drive alone: creating more traffic and an endless cycle.
Every year, the average LA driver spends 104 hours in traffic — making the LA commute one of the worst in the world. That's more time than it took Apollo 11 to make it to the moon. For those of us here on Earth, it's enough time to binge-watch almost every episode of Game of Thrones and House of Cards combined, or drive all the way from LA to New York — and back. In large part, this is all because we're trying to cram too many cars, too inefficiently, onto our roads.
Unless we make changes, this problem is only going to get worse in the years to come, as urban populations explode across the country. The U.S. already has ten cities with more than a million people — and LA alone is projected to add almost a million people by 2040. By 2050, almost 100 million more people will move to cities across America.  If all of those people keep driving everywhere alone, on roads like this, our streets are going to become parking lots — full time.
Fortunately, government agencies are aware of this problem and are looking proactively at solutions from around the world. The 100 Hours Campaign, launched this summer by the Southern California Association of Governments (SCAG) is the start of a dialogue about a package of mobility solutions that can work for LA.  Lyft is proud to be partnering with SCAG to look at solutions that can get Los Angeles moving again. This fall, we'll be working together to explore new policies and infrastructure designs that help support safe and sustainable transportation options across LA. To start, we'll be working together to help promote carpooling through our Lyft Line service and reduce the single-occupant vehicle trips that contribute to endless LA traffic*.
Better Streets, Better Cities
In the past, LA — and cities across the country — have tried to solve the congestion problem by paving more streets and adding more lanes. But the traffic hasn't gotten better. By a number of measures, it's actually gotten worse. And in the process, we've wasted more and more of our city's finite space by building them around cars instead of people.
This is why it's time for cities to focus on policies and urban design that encourage people to drive alone less — and take broader advantage of things like public transit, carpooling, and biking.
As John wrote earlier this year, there are a number of policy options that could help achieve this — from smart lanes to congestion pricing. Cities like London, Milan, and Stockholm have already seen encouraging results by implementing congestion pricing — applying market-based pricing to travel in the most congested areas during the busiest times. Stockholm, for instance, reduced traffic by 22% in its city center.
Through its 100 Hours Campaign, SCAG is exploring whether a "Go Zone" concept, modeled in part on the successes in London and Stockholm, could be part of the solution for Los Angeles to encourage people to drive alone less.  We think it's time for Los Angeles to start exploring such policies, not only for the local traffic reductions and air quality improvements, but to demonstrate to other U.S. cities that these policies can really work.
When it comes to LA, the good news is that the city is already working on a plan to change the way people get around. Right now, nearly 70% of people in LA get where they're going by driving alone. But by 2035, LA wants half of trips to be made by public transit, walking, and biking and to reduce reliance on single-occupancy vehicles. In response, shared vehicles could fill in the gap — and our entire transportation ecosystem would become much more efficient.
If we achieve this, it won't just decrease traffic. It can actually change the face of the city itself.
Right now, every lane in every one of our streets represents precious space that we can't use for bike lanes, green space, wider sidewalks, or anything else that might make the street a more pleasant place. But as people begin to change the way they travel, the street itself could change, too.
Remember Wilshire and Veteran? If we achieve LA's vision of reshaping transportation, here's what it could look like by 2040:
This is what happens when you design a street for people and communities, not just cars. There's room for green spaces and public gathering spots. There are protected bike lanes and lively sidewalks. Over on the right you can see loading docks for shared autonomous vehicles — which riders can use to connect to a frequent and reliable transit network.
These changes would transform traffic patterns on the street. By using the space more efficiently, this won't just eliminate congestion. It will allow more than twice as many people to use the space every hour.
Better Streets, Healthier Future
This Transportation Revolution won't just impact heavily trafficked urban streets, either. By using the streets more efficiently, we'll be able to reclaim public space in our more suburban communities, too. We see this being done in partnership across the public and private sector: a mix of new streetscape designs and policies that put people first, as well as new mobility services that support efficient, high-occupancy vehicles. Together, the result will be stronger, greener, and healthier communities.
Los Angeles County is one of the most polluted regions in the nation, with vehicle exhaust emissions releasing high-levels of particulate pollutants. That air pollution is responsible for more than 2,000 premature deaths every year. Similarly tragic patterns persist across the country, where more than 53,000 premature deaths every year are linked to air pollution from cars and trucks.
This, too, would change if we could shift to policies that encourage a full ecosystem of transit options. The LA region has set a goal of reducing carbon emissions by 21% by 2040 — and scaling up public transportation, ridesharing, and other shared transportation options would also go a long way to helping it achieve that mission. In fact, our future plans for a ridesharing network of shared, autonomous, electric vehicles will play a central role in helping reduce air pollution. A recent report found that a fleet of autonomous vehicles like Lyft's, powered by electric powertrains, has the potential to reduce U.S. CO2 emissions by a gigatonne every year — the equivalent of all emissions from California and Texas combined. At the same time, it would reduce America's gasoline demand by up to 60% by 2035 — and save tens of thousands of lives every year.
This future is possible — but it's not guaranteed. Right now, we're at a crossroads where our country will decide whether to double down on the old infrastructure of the past — or reach for something better.
It's up to all of us to be catalysts for informed, intentional, and graceful change. Our country can strive to create places that prize beauty, resiliency, and sustainability — and we can start today. At Lyft, we're proud to stand behind a vision of the future that puts people first, and we look forward to continue exploring policies and urban planning principles that support this vision. 
Study: Air pollution causes 200,000 early deaths each year in the U.S.
New MIT study finds vehicle emissions are the biggest contributor to these premature deaths.
Jennifer Chu, MIT News Office
August 29, 2013
The group tracked ground-level emissions from sources such as industrial smokestacks, vehicle tailpipes, marine and rail operations, and commercial and residential heating throughout the United States, and found that such air pollution causes about 200,000 early deaths each year. Emissions from road transportation are the most significant contributor, causing 53,000 premature deaths, followed closely by power generation, with 52,000.
In a state-by-state analysis, the researchers found that California suffers the worst health impacts from air pollution, with about 21,000 early deaths annually, mostly attributed to road transportation and to commercial and residential emissions from heating and cooking.
The researchers also mapped local emissions in 5,695 U.S. cities, finding the highest emissions-related mortality rate in Baltimore, where 130 out of every 100,000 residents likely die in a given year due to long-term exposure to air pollution.
"In the past five to 10 years, the evidence linking air-pollution exposure to risk of early death has really solidified and gained scientific and political traction," says Steven Barrett, an assistant professor of aeronautics and astronautics at MIT. "There's a realization that air pollution is a major problem in any city, and there's a desire to do something about it."
Barrett and his colleagues have published their results in the journal Atmospheric Environment.
Data divided
Barrett says that a person who dies from an air pollution-related cause typically dies about a decade earlier than he or she otherwise might have. To determine the number of early deaths from air pollution, the team first obtained emissions data from the Environmental Protection Agency's National Emissions Inventory, a catalog of emissions sources nationwide. The researchers collected data from the year 2005, the most recent data available at the time of the study.
They then divided the data into six emissions sectors: electric power generation; industry; commercial and residential sources; road transportation; marine transportation; and rail transportation. Barrett's team fed the emissions data from all six sources into an air-quality simulation of the impact of emissions on particles and gases in the atmosphere.
To see where emissions had the greatest impact, they removed each sector of interest from the simulation and observed the difference in pollutant concentrations. The team then overlaid the resulting pollutant data on population-density maps of the United States to observe which populations were most exposed to pollution from each source.
Health impacts sector by sector
The greatest number of emissions-related premature deaths came from road transportation, with 53,000 early deaths per year attributed to exhaust from the tailpipes of cars and trucks.
"It was surprising to me just how significant road transportation was," Barrett observes, "especially when you imagine [that] coal-fired power stations are burning relatively dirty fuel."
One explanation may be that vehicles tend to travel in populated areas, increasing large populations' pollution exposure, whereas power plants are generally located far from most populations and their emissions are deposited at a higher altitude.
Pollution from electricity generation still accounted for 52,000 premature deaths annually. The largest impact was seen in the east-central United States and in the Midwest: Eastern power plants tend to use coal with higher sulfur content than Western plants.
Unsurprisingly, most premature deaths due to commercial and residential pollution sources, such as heating and cooking emissions, occurred in densely populated regions along the East and West coasts. Pollution from industrial activities was highest in the Midwest, roughly between Chicago and Detroit, as well as around Philadelphia, Atlanta and Los Angeles. Industrial emissions also peaked along the Gulf Coast region, possibly due to the proximity of the largest oil refineries in the United States.
Southern California saw the largest health impact from marine-derived pollution, such as from shipping and port activities, with 3,500 related early deaths. Emissions-related deaths from rail activities were comparatively slight, and spread uniformly across the east-central part of the country and the Midwest.
While the study is based on data from 2005, Barrett says the results are likely representative of today's pollution-related health risks.
Jonathan Levy, a professor of environmental health at Boston University, says Barrett's calculations for the overall number of premature deaths related to combustion emissions agree with similar conclusions by the Environmental Protection Agency. The group's results — particularly the breakdown of emissions by state — provide valuable data in setting future environmental policy, he says.
"A public-health burden of this magnitude clearly requires significant policy attention, especially since technologies are readily available to address a significant fraction of these emissions," says Levy, who was not involved in the research. "We have certainly invested significant societal resources to address far smaller impacts on public health."
Urban Land Institute – Remaking Greater Los Angeles as a Transit-Oriented Region
Several decades into a voter-approved transit focus, both the city and the county of Los Angeles are proudly showing off a growing list of transit-oriented development (TOD) projects. Supported by a new half-cent tax that could fund an estimated $120 billion worth of public transit improvements over the next 40 years, the region is ramping up the creation of TODs not only in downtown but also along transit lines further out. Private developers are planning and building dozens of TOD projects around transit stations, some of them joint developments with the Los Angeles County Metropolitan Transportation Authority (Metro), to create more comprehensive "transit-oriented communities" (TOCs).
Angelenos spend an average of 81 hours a year stuck in traffic, and only 5 percent take transit. With 10.2 million people in 88 cities, L.A. County is projected to expand by 2.4 million people in the next 40 years. To mitigate worsening traffic congestion and air pollution in this car-culture region, Metro will double the size of its rail system to better connect downtown L.A. to the county's edges.
L.A. County has voted for four half-cent sales taxes since 1980 to support transit improvements. Measure R, passed in 2008, raised $36 billion for rail, subway, and road projects. The funding expanded L.A. County's Metro Rail system from two to six lines, including two rapid-transit subway lines (the Red and Purple lines) and four light-rail lines (the Blue, Green, Gold, and Expo lines). The system now has 93 stations and 105 miles (169 km) of rail, as well as connections with the Metro Busway bus rapid transit (BRT) system (the Orange and Silver lines) and the Metrolink commuter rail system. Riders can travel from downtown to the San Fernando and San Gabriel valleys, LAX airport, East Los Angeles, and the beaches of Santa Monica and Long Beach to the west and south, respectively.
Last November, 71 percent of county voters passed Measure M to fund $120 billion worth of rail expansions, highway improvements, walking and biking infrastructure, and local street repairs. More than half of all revenues over the next 40 years will be spent on new construction, according to Metro, including five new transit lines and at least six extensions of lines that are already built or under construction, plus BRT line expansion. Measure M, through the city of Los Angeles, will fund $200 million for a future downtown streetcar.
With this shift to transit, Los Angeles and surrounding cities are addressing the need for taller, denser, walkable, and bikeable commercial and residential development along major boulevards and near transit lines to support the public investment in transportation infrastructure and to provide transit access for people. Taller and denser has already been happening in downtown, Hollywood, Koreatown, and other areas. Greenland USA's $1 billion Metropolis, with hotel, retail, and luxury residential towers rising to 56 stories, is under construction on a former parking lot at Eighth and Francisco streets, less than a half mile (0.8 km) from the Seventh Street/Metro Center Station in downtown.
In more suburban areas, TODs are bringing mixed uses and greater density. Metro Expo, the newest light-rail line, stretches from the downtown west to Santa Monica. One station stop is in Culver City, an independent "gateway" city that historically has been a center for the film and entertainment industry. The Metro Expo light-rail station, which opened in 2012, has helped accelerate redevelopment of the Hayden Tract area from run-down industrial buildings to a creative district for tech and film businesses, art galleries, home décor retailers, and architecture and design firms.
Ten years ago, the Runyon Group, a Culver City–based real estate brokerage firm, built the area's first mixed-use project. The firm later became the first to develop in the city's TOD area. In March 2016, Runyon opened Platform, the $150 million redevelopment of a former car dealership on five acres (2 ha) across from the light-rail station. Platform includes 50,000 square feet (4,600 sq m) of upscale retail and restaurants and 80,000 feet (7,400 sq m) of creative offices. Culver City's Abramson Teiger Architects designed four repurposed 1960s-era buildings and three edgier new ones, all between one and four stories. Five ground-floor restaurants and two more opening in the spring are clustered around a courtyard. Office tenants include the West Coast headquarters and a studio for SoulCycle indoor cycling and Paris-based Criteo online advertising and Technicolor digital effects and film editing. All the retail and office spaces are leased. Another office-above-retail building is due to break ground in October and be finished in two years.
"The big idea" was to create a place to showcase "independent and unique retailers from around the U.S. and world in a neighborhood like the Marais in Paris or South SoHo in New York," says Joseph Miller, Runyon cofounder and partner with David Fishbein. "We had the experience working with retail tenants and knew their needs, and there was nothing else like this in L.A." The firm purchased the property in 2010, he says, "to create a place that people want to come to. It's a very central place in the region, and by train, freeway, and bike is a very accessible part of L.A. As the city grows east and south, it becomes even more central."
"We're still in our infancy in understanding TOD, but that gives us an opportunity to do it with an innovative approach," says Mike Lowe, co-CEO of Lowe. "We're still learning as we go as a city. We're 30 or 40 years behind a city like Washington, D.C., where they get the infrastructure in, and people embrace the fact they need to be flexible around the transit nodes if they want to continue to grow as a city." Over time, Lowe says, "L.A. will get more comfortable with density, and we'll see more density around transit stops."
Until the 1960s, Los Angeles was well connected by streetcars, and Metro now owns many rights-of-way where rail was removed. Under its joint development program, Metro has partnered with private developers to provide long-term ground leases for more than 25 TOD projects that are completed, in process, or under review. Recognizing the importance of appropriate zoning, Metro developed the Toolkit for Transit-Supportive Planning, a web-based best practices guide. In 2011, Metro launched the TOD Planning Grant Program, which has awarded 36 grants totaling over $22 million to Los Angeles County jurisdictions to develop and approve land use plans that remove regulatory barriers to TOD. It recently began a pilot program that provides funding to cities to study the creation of tax increment financing districts around transit stations.
"Metro has committed to facilitating transit-oriented development in a holistic community context," which has become more challenging since redevelopment authorities were dissolved statewide in 2012, says Jenna Hornstock, Metro's joint development program manager and executive officer for transit-oriented communities. Metro's TOC planning approach expands the typical TOD focus on single development parcels to consider opportunities within a half-mile (0.8 ha) walk shed around a station and up to a three-mile (5 km) bike shed.
"The TOC vision is that L.A. orients its land use planning and community development goals around access to compact neighborhoods that are walkable and bikeable around transit," says Hornstock. "Single-family neighborhoods will remain, but adjacent to transit corridors, we're planning for communities accessible to households of all income levels." A joint development program goal is for 35 percent of housing in the portfolio to be built as affordable for households earning 60 percent or less of area median income (AMI). Metro considers discounts for joint development ground leases of up to 30 percent of fair market value for affordable housing.
Under a master plan being developed by Trammell Crow Company and a team including Los Angeles–based HKS Architects and RELM landscape architects and urban planners, the North Hollywood (NoHo) Station, located in the heart of L.A.'s NoHo Arts District, could become a transformative transit center and TOC model. The $1 billion joint development project, one of six Los Angeles TODs that Trammell Crow is developing, is also L.A.'s largest to date. Metro owns the 15.6-acre (6.3 ha) site, which includes the station and 957 transit parking spaces. As the terminus for the Red Line subway and the Orange Line BRT, the station is a major transit hub in the San Fernando Valley with over 24,000 daily boardings. Trammell Crow will build a new transit center that consolidates all bus connections for the Orange BRT line and local bus service.
The Cesar Chavez Foundation will build 20 percent of NoHo Station's 1,400 homes as affordable for households earning 60 and 40 percent of AMI. The project will also have 400,000 square feet (37,000 sq m) of office space, up to 150,000 square feet (13,900 sq m) of destination retail, 1,000 parking spaces, plus two or three acres (0.8 to 1.2 ha) of open space. Development guidelines created with the community balance historic preservation of the arts district with the height, density, and pedestrian environment needed for a successful TOD.
"This is a game-changer for connectivity in the region and especially to Union Station," says Brad Cox, Trammell Crow senior managing director. "This project has allowed us to think about the future of transit in L.A. and the shared economy as we move into this major investment in transit, and how people will live, work, and play in a very dense city."
After Measure M's passage, Mayor Eric Garcetti said that over 70 percent of the electorate agreed that "we are sick and tired of traffic and we're going to do something about it." He said the "car capital of the world" would soon be home to "a transit system that is the envy of the world." Measure M tax has no sunset clause, so funding could continue indefinitely. The federal government is responsible for about half of the funds, though, with the future of federal infrastructure funding as yet undetermined. Meanwhile, Metro, private developers, and some cities in L.A. County are moving ahead with TOD development that supports transportation alternatives to gridlock.
Kathleen McCormick, principal of Fountainhead Communications LLC in Boulder, Colorado, writes frequently about sustainable, healthy, and resilient communities.
By Tom Randall, Bloomberg April 2017 plus Michael L. September 2017 presentation
Wind and solar are about to become unstoppable, natural gas and oil production are approaching their peak, and electric cars and batteries for the grid are waiting to take over. This is the world Donald Trump inherited as U.S. president. And yet his energy plan is to cut regulations to resuscitate the one sector that's never coming back: coal.
Clean energy installations broke new records worldwide in 2016, and wind and solar are seeing twice as much funding as fossil fuels, according to new data released Tuesday by Bloomberg New Energy Finance (BNEF). That's largely because prices continue to fall. Solar power, for the first time, is becoming the cheapest form of new electricity in the world.
But with Trump's deregulations plans, what "we're going to see is the age of plenty—on steroids," BNEF founder Michael Liebreich said during a presentation in New York. "That's good news economically, except there's one fly in the ointment, and that's climate."  Here's what's shaping the future of power markets, in 15 charts from BNEF: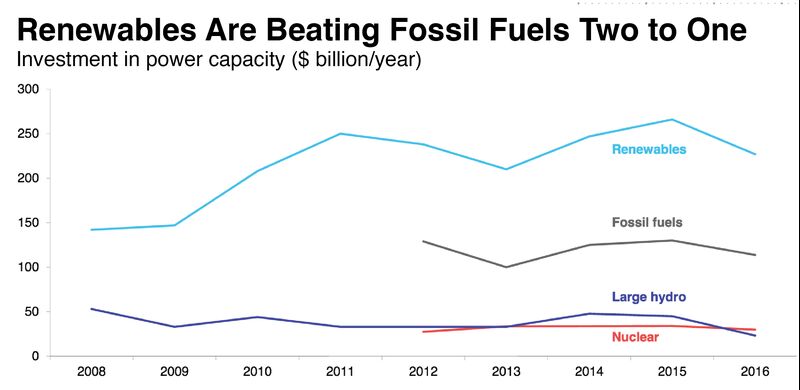 Government subsidies have helped wind and solar get a foothold in global power markets, but economies of scale are the true driver of falling prices. Unsubsidized wind and solar are beginning to outcompete coal and natural gas in an ever-widening circle of countries.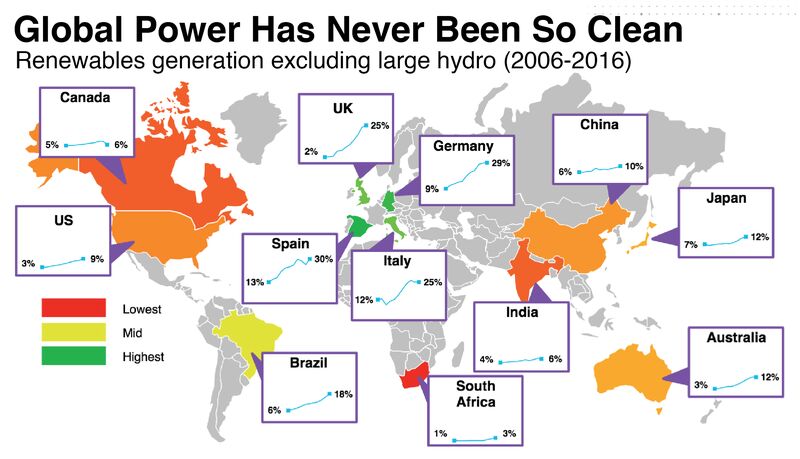 The U.S. may not be leading the world in renewables as a percentage of grid output, but a number of states are exceeding expectations.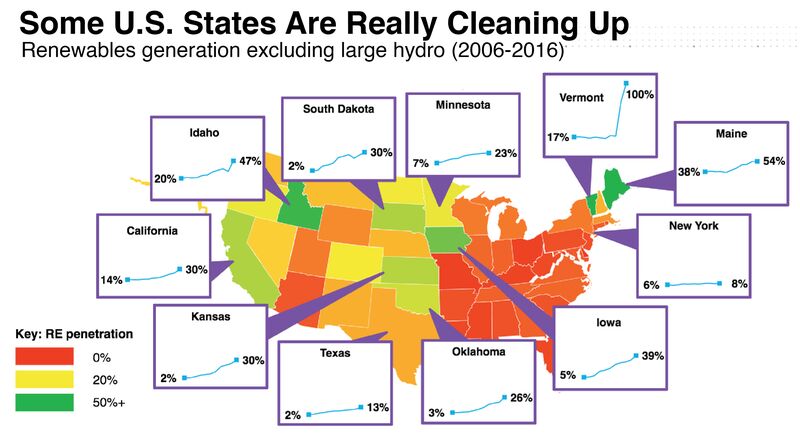 Wind and solar have taken off—so much so that grid operators in California are facing some of the same challenges of regulating the peaks and valleys of high-density renewables that have plagued Germany's energy revolution. The U.S. boom, while not the first, has been remarkable.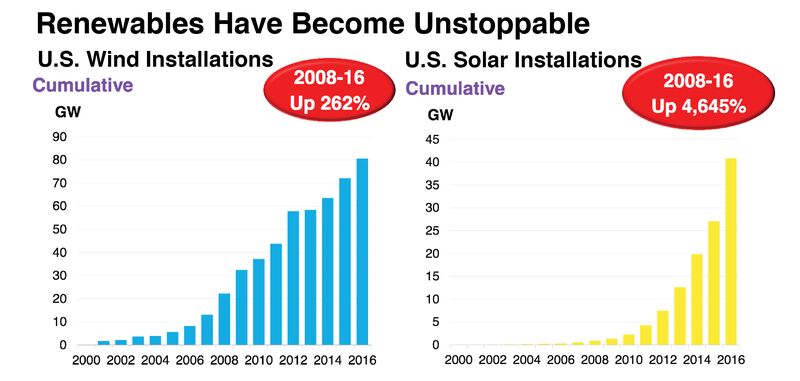 Electricity demand in the U.S. has been declining, largely due to increased energy efficiency in everything from light bulbs and TVs to heavy manufacturing. In such an environment, the most expensive fuel loses, and increasingly that's coal.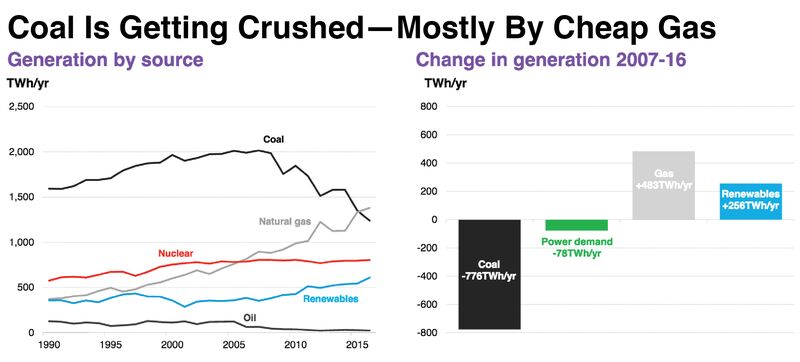 With renewables entering the mix, even the fossil-fuel plants still in operation are being used less often. When the wind is blowing and the sun is shining, the marginal cost of that electricity is essentially free, and free energy wins every time. That also means declining profits for fuel-burning power plants.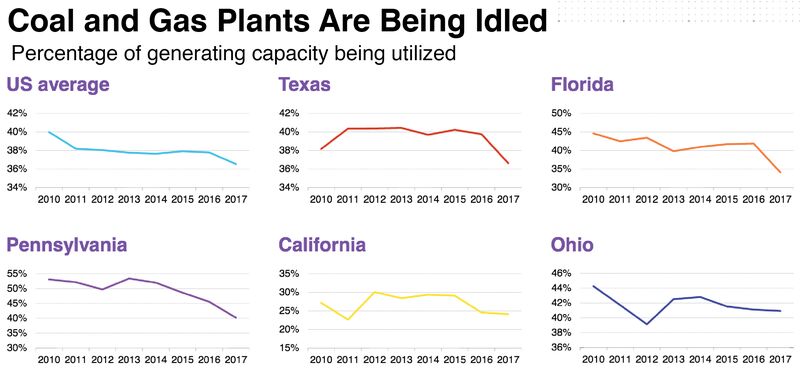 The bad news for coal miners gets even worse. U.S. mining equipment has gotten bigger, badder, and way more efficient. Perhaps the biggest killer of coal jobs is improved mining equipment. The state of California now employs more people in the solar industry than the entire country employs for coal.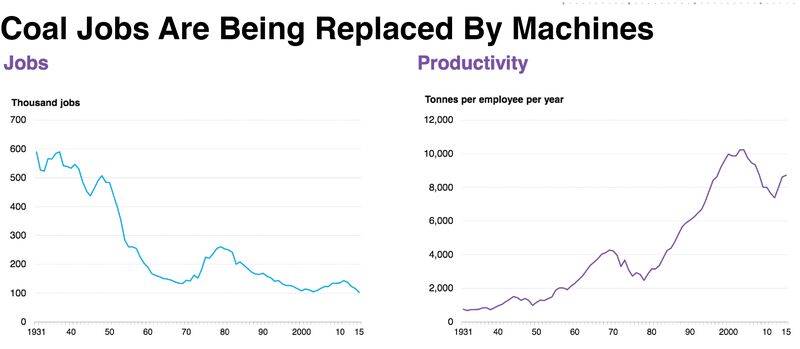 Historically, economic growth has gone hand-in-hand with increased energy consumption. Advances in efficiency are changing that, too. Call it the Great Decoupling.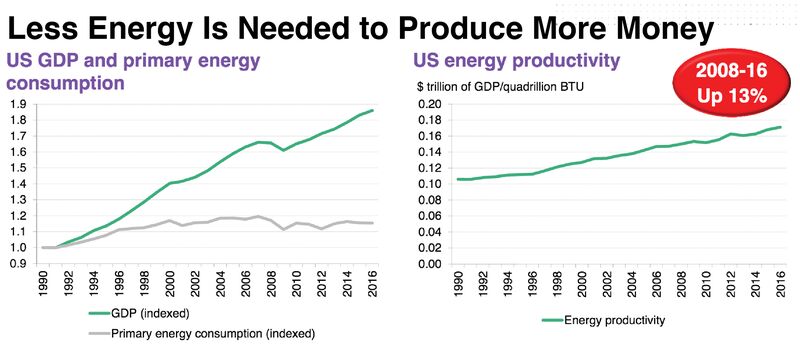 The sharpest change in U.S. energy has been driven by advances in oil and gas drilling through shale rock. This type of horizontal drilling has also seen enormous improvements in efficiency, deploying fewer workers, fewer rigs, and drilling fewer wells to produce ever-more fossil fuels. The natural gas that comes out of these wells is practically free.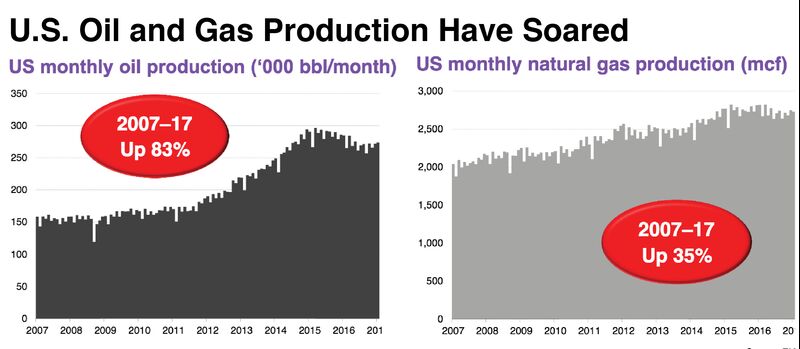 But demand for that oil and gas may not be long for this world. The world's cars are getting wildly more efficient.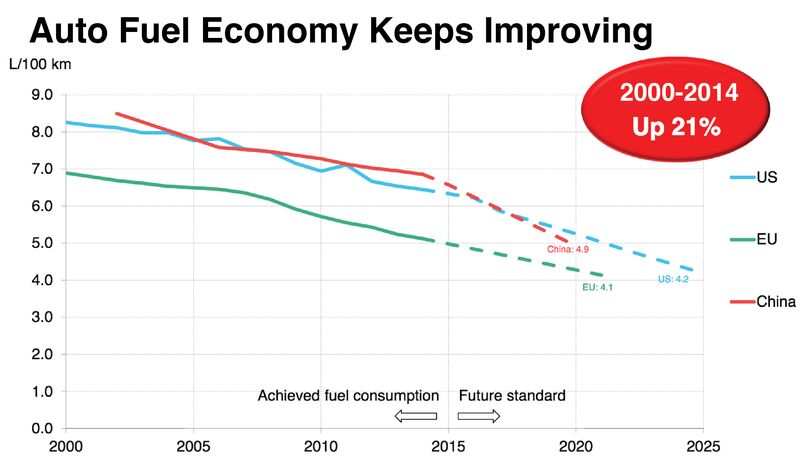 And the biggest threat to oil markets—electric cars—is just getting started. Joel Couse, the chief economist for Total SA, told the BNEF conference that EVs will make up 15 percent to 30 percent of new vehicles by 2030, after which fuel "demand will flatten out," Couse said. "Maybe even decline."
Couse's projection for electric cars is the highest yet by a major oil company and exceeds BNEF's own forecast.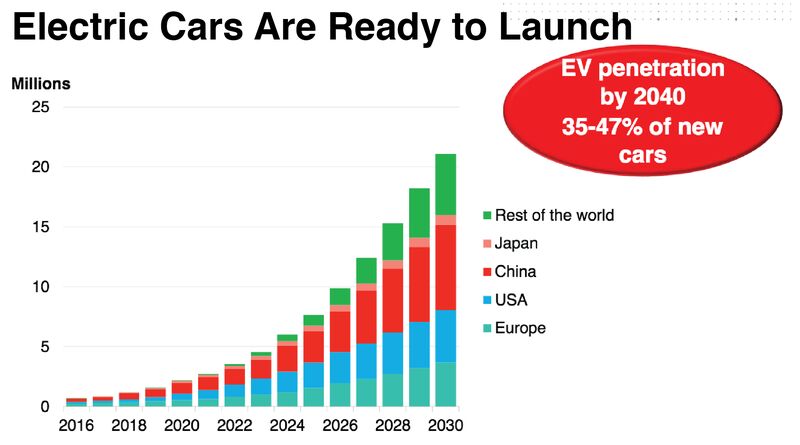 The outlook for electric cars—and for battery-backed wind and solar—is improving because the price of lithium-ion packs continues to tumble.

The shift to cleaner energy is ridding the air of local pollutants that cause heart disease, asthma, and cancer, as well as the greenhouse gas emissions responsible for climate change. Trump's Energy Secretary, Rick Perry, told the BNEF Summit that the U.S. should remain in the Paris climate accord, but should renegotiate it to draw out stronger pledges from European countries.
Meeting U.S. commitments made under President Barack Obama shouldn't be too difficult. America is already half way to meeting its 2025 goal.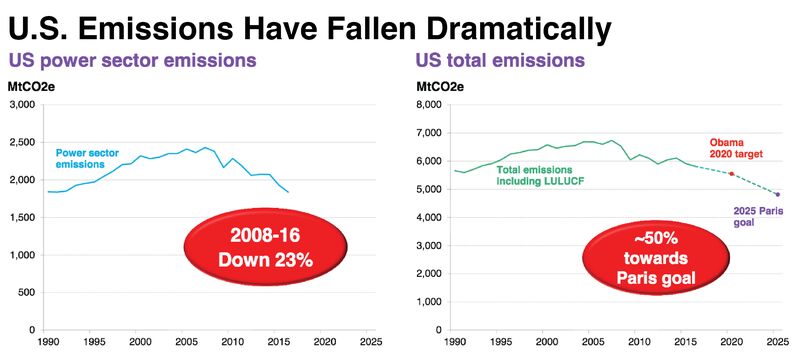 And cleaning up emissions hasn't exactly burdened consumers. Personal expenditures on electricity and fuels is down significantly.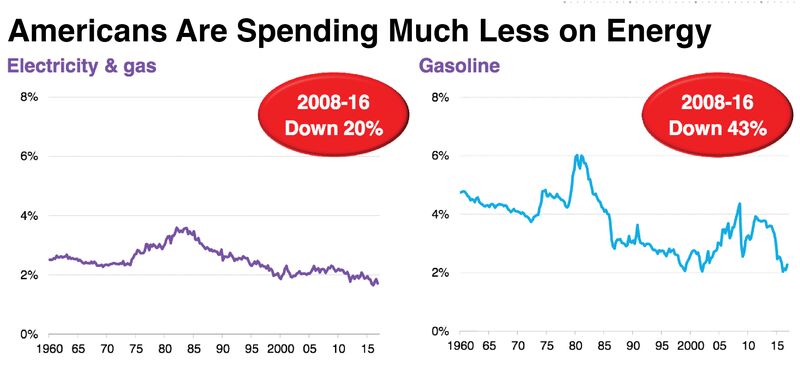 Just meeting the Paris goals for emissions reductions doesn't go far enough to fend off the catastrophe scientists anticipate from climate change. Eventually the economy will need to decarbonize completely—in energy, agriculture, construction, manufacturing, and land use. And solutions for some of the trickiest and most expensive parts of that equation are still decades away.
Fortunately, global energy markets at least seem headed in a cleaner direction.