Streetsblog, Oct 2020 Study: We Can't Fix Transportation-Related Climate Emissions With EVs Alone: And a major shift to public transit and active modes is the only realistic answer. By Kea Wilson
The U.S. can't simply electrify its way out of the transportation-related carbon disaster — and thinking that it can might actually delay what really works: shifting people away from private vehicle ownership, and towards mass and active transportation, a new study finds.
In order to maintain our national car addiction and stay within a national transportation-related emissions "budget" that scientists agree is necessary to maintain the planet at temperatures our ecosystems can survive, the United States would need to replace a whopping 90 percent of gas-powered cars on the roads with zero-emissions electric vehicles by 2050, researchers at the University of Toronto found.
Right now, just 1.5 percent of new vehicle sales in the U.S. are electric cars, and roughly 99.7 percent of cars on the road today are powered by fossil fuels.
That conclusion provides a crucial reality check to the many politicians who have made vehicle electrification the near-exclusive focus of their climate-forward transportation policies. Democratic presidential nominee Joe Biden's energy plan puts a heavy emphasis on zero emission car adoption, though he does promise to devote an unspecified sum to sparking the "the second great railroad revolution" as well. President Trump has also publicly expressed support for electric cars, though he's attempted to end tax credit programs for Americans to buy them. He's also proposed cuts to rail programs like Amtrak, and successfully shifted major sources of public transportation funding to building and maintaining highways.
Why EVs can't get dirty to go 'green'
Even if the next administration somehow succeeds in incentivizing massive and unprecedented, EV adoption, it may not be enough. That's because the Toronto modelers also found that achieving the magic number of 90 percent electric cars could prove to be impossible — and for more than one reason.
Most important, rapidly electrifying the vehicle fleet would increase the United States' grid-powered energy consumption by 41 percent by midcentury — a massive surge in demand that would require us to build so many new power plants and so much new charging infrastructure that we'd be forced to burn an unknown — but scientists believe, an unconscionably large — amount of fossil fuel in the manufacturing process just to get the grid to meet the challenge of going "green."
Getting enough of the raw materials required to manufacture massive electric car batteries could prove equally self-defeating. As Streetsblog has reported, harvesting large amounts of crucial cobalt, lithium and nickel requires environmentally onerous — and for vulnerable low-income workers, highly dangerous — extraction processes that are already devastating regions of the Democratic Republic of Congo, Chile, Indonesia and more. Denuding these regions of their natural resources quickly enough to electrify every car in America — especially the huge cars that Americans prefer, which would require large batteries — would be deeply unsustainable, if not impossible.
The Toronto researchers warned that when drivers would be likely to charge their new electric cars could cause major problems, too. The U.S. grid is currently set up to handle high energy demand during the afternoons and early evenings when most Americans are likely to be awake — a demand curve that could be upended if the majority of U.S. households started plugging in their Teslas before they went to bed. Re-engineering our energy management systems to handle a major disruption like that would carry extensive costs.
Add all that together with the political untenability and likely necessity of massive cash-for-clunkers program to get Americans to give up their gas powered cars — not to mention the uncertain political future of government subsidies to accelerate the development of even more efficient and affordable EV technology or clean up the dirtier segments of the electrical grid — and betting the house on an electrified future increasingly looks like a bad wager. And counting on other nations like China to make up for America's climate shortcomings isn't wise either.
The study was careful to note that EVs are not a lost cause, and are, of course, "likely to reduce emissions in the United States when compared with conventional gasoline vehicles." But the researchers cautioned of the dangers of policies that over-focus on electric cars, especially if they come at the expense of investments in proven strategies for which we have the technology in place today to significantly curb emissions.
Those strategies include massive public transit adoption, mass construction of active transportation infrastructure, and fundamentally redesigning our cities to makes car-free or car-light living possible for more people.
"EVs really do reduce emissions, but they don't get us out of having to do the things we already know we need to do," Heather L.MacLean, one of the researchers on the study, told Phys.org. "We need to rethink our behaviors, the design of our cities, and even aspects of our culture."
**
Forbes, Oct 2020, Covid-19 Is Not The 'Death Of The City' – It's The Rise Of The Neighborhood Center
Tiffany Chu Contributor TransportationI'm the CEO & co-founder of Remix (remix.com), a commissioner at San Francisco's Department of the Environment, and sit on the city's Congestion Pricing Policy Advisory Committee.
Transportation systems are often designed for peak commuters going downtown, which has plummeted since the pandemic. To not only recover but emerge improved, cities must invest in a travel pattern long neglected: the neighborhood trip.
This pandemic has caused widespread speculation on the future of cities. Will we all telework? Will everyone move to places where they have more space? Politico, Wall Street Journal, and other outlets have gone so far to announce that this could mark the death of cities, with commercial areas a dry husk of former commerce.
What these perspectives overlook is that not everyone has the means to leave, and that the pandemic may force cities to adapt in positive, sustainable ways. In January 2020, weeks before Covid-19 hit, Mayor Anne Hidalgo unveiled her plan to transform Paris into a "15-minute city." Itwould redistribute the city into a cluster of neighborhoods where Parisians have access to everything they need within 15-minutes of travel by bike or foot from their home. The plan calls for streets closed to cars, intersections into pedestrian plazas, gardens in parking spots, and more.
Recommended For You
Sound familiar? During quarantine, cities created ad hoc solutions intended to serve residents who needed to move—often in their neighborhood. We saw an iterative wave of quick changes including "slow streets," "streateries," and the prioritization of bike and pedestrian networks.
Transit agencies had to plan specifically for essential workers, typically off-peak commuters, low-income, female, black, indigenous, or people of color. If ridership equalizes throughout the day, maybe it no longer makes sense to double train or bus service during morning and evening commute peaks — and we should instead run steady, dependable headways for a longer day span. For those of us who have long fought for mobility of the car-less, of low-income BIPOC communities, this is not the death of the city—it's a refocusing on the needs of those underrepresented that will make our cities more resilient.
The Rise of Neighborhood Centers: A Different Kind of Commute
The cost of transportation serving primarily peak commuters is under-researched and thus not widely understood. Caroline Criado Perez, the author of Invisible Women: Data Bias in a World Designed for Men, highlights research in Sweden which examined snow plow route prioritization effects by gender. Plowing had always started with major roads and later got to smaller neighborhood streets. They found that men typically commuted via major roads, whereas women used local streets frequently to walk with kids in tow, care for family members, and more. By reversing the snow plow prioritization, the number of women admitted to the emergency room and subsequent health care costs actually dropped.
An increased focus on neighborhoods gives us the chance to plan for the non-peak commuter — such as parents taking kids to and from school, shift workers, caregivers, seniors — and the results could be tremendous for health and well-being, much akin to the promise of the 15-minute city.
Refocusing on Travel Patterns Long Neglected
Some city agencies and transportation departments are re-examining travel patterns and needs. Los Angeles released a report on pandemic commutes which specifically compared travel trends between low-income and affluent neighborhoods. They also surveyed transit riders and found that almost 50% are depending on transit to run essential errands.
In a recent webinar with the San Francisco Chamber of Commerce, SFMTA Director Jeffrey Tumlin, and myself, Tumlin described a notable change: transit ridership has shifted to local routes connecting neighborhood centers, rather than downtown routes primarily serving the financial district. Despite the pandemic, San Franciscans are still traveling between neighborhoods to access amenities and services. Urban activity is still very much alive, just more distributed. In response, SFMTA is providing more local route service, which has been a challenge: "It often takes a lot more staff time to do what is equitable rather than what is easy," Tumlin said, but he adds that doing so will help the city survive and recover.
Moving beyond "the peak commuter"
The pandemic has forced our cities to think about how to get folks in and around their neighborhood needs safely. As major cities seek to create an inclusive plan for the future of all of their residents, it's clear that this is not the death of the city, it's a push to serve the needs of residents who are not traditional "peak commuters." That refocusing has brought more right-of-way for cyclists and pedestrians, more street space for gathering outdoors, and more studies focused on those who have been underserved — investments that will surely lead to greater resilience and bring us closer to the promises of the 15-minute city.
Tiffany Chu is an environment commissioner for the City of San Francisco and the CEO of Remix. This piece was co-written by Rachel Zack and Janice Park.
**
Fast Company, 10-02-20 WORLD CHANGING IDEAS
How to redesign a neighborhood for zero emissions
"We have to be much more extreme in our experimentation."
MORE LIKE THISWe are approaching the fastest, deepest, most consequential technological disruption in historyLevi's wants your old jeans backDelivery workers and e-bikes are a perfect combination: This program is putting them togetherBY ADELE PETERS3 MINUTE READ
On the edge of Bergen, a city of 270,000 on the west coast of Norway, a sprawling dock is currently covered in stacked shipping containers and warehouses. But in a few years, as the port is relocated outside the city, the area will begin to be transformed into a zero-emissions neighborhood.
"We talk about it as the opportunity of the century," says Laura Ve, who is leading the city's development program for the district, called Dokken. "One important aspect of this development program is that the city actually owns a large part of the land within this area, and we think that it gives us a different opportunity to set high goals for what we want city development to be. Because we don't have to negotiate with private owners in this area."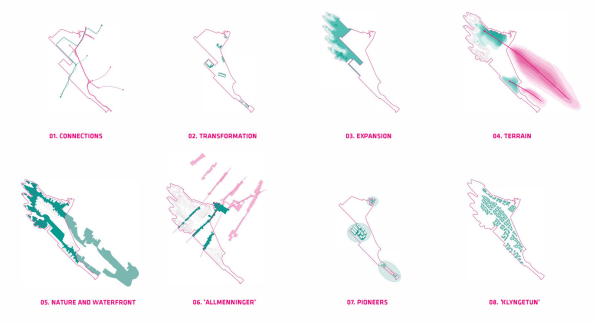 The project is still in the planning stages, as the city runs workshops to involve residents in the creation of the neighborhood. But a new proposal illustrates what the area, which will include affordable housing, businesses, and other services, might look like. Streets would be filled with people on foot and bikes. "The idea is that these urban spaces don't really have any cars in them, so we're completely noise-free—just human activity," says Flemming Rafn, a founding partner at Tredje Natur, the Copenhagen-based architecture firm that worked on the project with designers at Entasis, Matter by Brix, and MOE. "Everything is easily accessible based on low-impact mobility." The area will also connect to light rail and to ferries that already come to the dock.
The design aims to create a "regenerative" city, not just a sustainable one. "We have to be much more ambitious in terms of a feasible, livable, planetary future," says Rafn. "When you're talking about sustainability, you're talking about sustaining the situation, but the situation as it is currently is not really in a good condition."
[Photo: courtesy Tredje Natur]New green space along the waterfront would reconnect the public to the North Sea, with nature-based strategies used to protect the area from flooding caused by heavy storms, heat waves, and sea-level rise. As the district develops over the next few decades, the architects propose adding more land by repurposing concrete from a massive highway project happening in the country. "They're literally asking on their website, 'Who needs 10 million cubic meters of this material?'" Rafn says, arguing that rather than dumping the waste material elsewhere, it could be put to use to help the city grow.
It isn't yet possible to fully eliminate the environmental impact of the neighborhood, Rafn says. Common construction materials such as concrete are improving in terms of their footprint—some manufacturers are beginning to find alternatives to fossil fuels in production, capture emissions, and even incorporate emissions into the finished product. But there's still an environmental impact, and concrete poses other challenges, such as the impact of mining massive amounts of sand. Rafn says that as the city finalizes the design, it will need to carefully calculate the full life cycle impacts of each decision. It will also need to think about how to help the people living there make the best choices in everyday purchases—for example, by creating a sharing economy so people need to buy less.
"We have to be much more extreme in our experimentation and our documentation and really make the highest level of effort we can because the time window [to address climate change] is so short," Rafn says. At the same time, the new neighborhood can demonstrate how tackling environmental challenges can also improve the local quality of life. "We also show how the most livable quality can come out of this," he says. "So it's not just a technocratic [way to address] the carbon scenario, but actually turning it into something that is also progressing the vision of how we can live densely in the city."
Adele Peters is a staff writer at Fast Company who focuses on solutions to some of the world's largest problems, from climate change to homelessness. Previously, she worked with GOOD, BioLite, and the Sustainable Products and Solutions program at UC Berkeley, and contributed to the second edition of the bestselling book "Worldchanging: A User's Guide for the 21st Century."
**
Denver's 2020 ballot measures: The one about community oversight for the Department of Transportation and Infrastructure
It's 2D, the DOTI advisory board.
Kevin Beaty, Denverite, Oct 14, 2020
The Department of Parks and Recreation has a community advisory board that weighs in on all kinds of things, from how to spend money to which areas of the city might need new grass. It's a way to inject civilians into arcane government practices, said former Parks board president Leslie Twarogowski.
She felt so strongly about the impact of that board on the Parks department that she asked Councilwoman Debbie Ortega to see if voters might also like one for the city's new-ish Department of Transportation and Infrastructure.
"The reason I brought this forward is because I do believe the public has an influence," she said. As far as DOTI is concerned, she added: "I think that is missing right now."
Ortega made the ballot measure happen, so now it's up to you to decide if the folks who handle roads, sidewalks and sometimes cleanups of homeless encampments should have a regular opportunity to hear from residents.
What the ballot question says: Shall the charter of the City and County of Denver be amended to create the Board of Transportation and Infrastructure to advise the Manager with respect to the policy and operation of the Department and shall review and comment on the proposed annual budget for the Department?
What that means: The measure would create a board comprised of 19 representatives. That's one for each city council member and 6 representatives appointed by the mayor. The board will essentially cost nothing to run, as its members will all be volunteers.
Twarogowski said Parks and Rec's board regularly gets to offer ideas and critiques to department heads. Even though officials don't always agree with their community advisors, she said it's helpful that people like Parks' Executive Director Happy Haynes gets to hear from those living in the city she helps reshape every day. Twarogowski would like to see DOTI's Executive Director, Eulois Cleckley, interface with his constituents in a similar way.
Councilwoman Ortega said the advisory board could help create "continuity" for projects, values and goals that would last even as city leaders change. Something like the Colfax "rapid bus transit" project, which was imagined long ago and won't become a reality for years, could use some stable community input, she said: "It ensures you cant just sweep it under the rug and push it aside."
Election's coming — are you ready?
Our daily newsletter helps you vote smart.Enter your email here…SIGN ME UP!
Nancy Kuhn, DOTI's chief spokeswoman, said the department's day-to-day won't change too much if this measure is shot down. If that happens, she said the department will work on other ways to solicit feedback for projects.
Through his executive power, Mayor Hancock has already created Multimodal, Pedestrian and Bicycle Advisory committees. They have been advising the department, and they'd continue to do so in the absence of a DOTI-specific board. If the measure does pass, it's not clear if the mayor might try to turn these bodies into subcommittees under the new board, leave them alone or eliminate them altogether.
Who supports it:Councilwoman Ortega is the leading voice for this measure.
Who's against it: There is no formal opposition to the measure, and there aren't any written comments added to the official ballot summary for the measure.
We'll launch a comprehensive voter guide by the time your ballots come in through the mail.