Excerpt from In These Times, 8 Nov 2018
Alongside the push by social movements and progressive legislators for a more egalitarian politics, Democratic voters are moving decidedly left on issues ranging from immigration to race to economics. Republican policies like massive tax cuts for the rich, repealing Obamacare and cutting Social Security, meanwhile, are fantastically unpopular.
A third of Senate Democrats (the most ever) now support Sanders' Medicare for All bill, including other likely 2020 contenders. When it comes to the American public, a stunning 70 percent support the idea, including over 50 percent of Republicans. And over half of Democrats who ran in contested House races this year backed Medicare for All—a first in the party's history.
It's not just universal healthcare. Tuition-free college, another cornerstone of Sanders' 2016 campaign, now has majority support. The same goes for a $15 minimum wage. And when it comes to taxing the rich to fund social programs, three-quarters of Americans are on board. Over 70 percent of Americans now want to reduce mass incarceration and over 90 percent want to enact criminal justice reform, with a majority recognizing racial bias in the system.
A federal jobs guarantee, a policy that would disproportionately benefit marginalized communities including women and people of color, is now supported by a majority of Americans.
When it comes to the dire threat posed by climate change, the public is catching on: A poll this year found 52 percent of Americans, including 69 percent of Democrats, now believe the federal government "has a great deal of responsibility" to act urgently to mitigate climate change.
These policies didn't emerge from the mouths of Sanders and other progressive lawmakers—they were born of movements that demanded them. Whether it was nurses fighting to make sure their patients had the care they deserved, fast food workers fighting for a living wage, indigenous communities protecting their land or low-income Americans pressuring the wealthy to pay up, their demands are now mainstream.
And these demands should form the basis for what policies Democrats push now that they hold the majority in the House.
The path to 2020
The party has come a long way from the dark days of November 2016. But growing Democratic strength and wresting power from the GOP will require more than just resisting Trump or calling for a return to civility; or even to the Bill Clinton era.
It will mean rejecting the biddings of the Jonathan Cowans of the world and standing up to the corporate interests that have bankrolled the party establishment for decades. Americans, rightfully suspicious of corporate dominance, are embracing policies that challenge concentrated economic power.
They see that a class war has long been raging, but it's been waged on the part of the rich who are gobbling up nearly all of the nation's wealth. Trump is the latest manifestation of this class war, and, as the election results show, Americans are sick and tired of it.
The Democratic Party should welcome the class politics that are pumping life back into our democracy. Now that Democrats have regained power in Congress, their next step is clear: Pass legislation that will make life better for everyday Americans, and give them more control over the decisions that affect them.
Medicare for All, tax increases on the rich and a jobs guarantee wouldn't pass the GOP Senate—and certainly wouldn't be signed by President Trump—but pushing them in the House would show that Democrats stand on the side of working people, not the super rich.
The freshman class of democratic socialists in Congress is set to push just such an agenda—other Democrats should follow their lead or get out of the way.
Miles Kampf-Lassin, a graduate of New York University's Gallatin School in Deliberative Democracy and Globalization, is a Web Editor at In These Times. He is a Chicago based writer. miles@inthesetimes.com @MilesKLassin
By Kate Aranoff, In These Times, Nov 2018
Just 100 fossil fuel producers have been responsible for 71 percent of greenhouse gas emissions since 1988. Those companies' core business model, to dig up and burn as much coal, oil and gas as possible, is plainly incompatible with the future of anything we might recognize as human civilization.
That fact should carry a clear implication for Democratic politicians: they should be ashamed to take donations from the industry. Many of the people heading to Congress are already on board: 19 of the 54 Democrats newly elected to the House—some of whom had already fought and won uphill primary campaigns—signed the No Fossil Fuel Money pledge, committing "to not knowingly accept any contributions over $200 from the PACs, executives, or front groups of … companies whose primary business is the extraction, processing, distribution, or sale of oil, gas, or coal." Eleven of those 19 flipped their seats.
Those candidates know that there's an inherent contradiction in taking money from an industry that any reasonable climate legislation will need to greatly constrain, and that not doing so could condemn hundreds of millions of people to death. Real climate action means confronting the massive power of what may be the world's most powerful and entrenched industry. Calls for some mythical bipartisan compromise ignore that reality, and the fact that the GOP is now functionally the political arm of the fossil fuel industry. If we're to have a shot at curbing the climate crisis, any Democrat who doesn't swear off corporate sponsorship from coal, oil and gas companies should face a primary challenge by a candidate that will.
It's not as if dirty industries are all that fond of Democrats anyway. In fact, fossil fuel interests—including energy and utility companies—are among the most starkly partisan in their political donations of any industry in the country. Through this cycle alone, Republican Congressional candidates received $16.2 million in contributions from oil and gas interests, compared with just $3.2 million given to Democrats.
Democrats may object this money is put to good use, and that the party will need every dime it can get to beat Trump. So how would they fill that funding gap? They can look at their own party: While he fell short of taking Ted Cruz's Senate seat, Beto O'Rourke—who signed the No Fossil Fuel Money pledge—raised $32 million from small donors, meaning contributions of under $200. Democrats overall this cycle raised more than $300 million from small donors.
The reason to spurn the fossil fuel industry isn't just that they're choking the planet and the people who live on it—though that should be grounds enough. Fossil fuel companies are also a corrosive force on American democracy, degrading the integrity of our political system by pouring tens of millions of dollars into fighting whatever policies or candidates don't suit them. In Washington state, for instance, they spent some $31 million blanketing airwaves with ads urging voters to reject ballot Initiative I-631, a modest carbon tax that would have invested the revenue raised in renewable infrastructure, green jobs and more. They used similar tactics and even more money in Colorado to defeat Proposition 112, a rule to implement a 2,500 foot buffer zone between oil and gas drilling and homes, schools and other "vulnerable areas," where the health risks of extraction are most acute.
Prominent Democrats, meanwhile, are still talking about the climate crisis as if it's a fight without enemies. Pelosi, who just announced her bid to become Speaker of the House, has said she hopes the party will recreate an Obama-era committee "to prepare the way with evidence" for federal climate action. "Ms. Pelosi," the New York Times reported, "said it was clearly still needed to educate the public about the impact of more frequent extreme weather events," as if the reason the US hasn't acted on climate is a simple lack of information, rather than the colossal political might of multinational fossil fuel companies.
Reading the writing on the wall, oil and gas companies are now trying to present themselves as good-faith actors in climate policy debates, lauding the Paris Agreement and urging world leaders to tax carbon. Stateside, BP, ExxonMobil and others have joined a largely symbolic push to put a price on carbon that—conveniently—would also exempt them from regulations and climate liability lawsuits. As what just happened in Washington and Colorado shows, though, when there's an actual climate policy on the table not designed precisely to their liking, they'll do everything they can to take it down.
In the coming decades, temperature changes will dramatically transform every policy field from immigration to transportation to foreign policy and beyond. Done right, adapting to those changes and avoiding more dramatic ones can be a transformation for the better—raising standards of living across the board, creating more accessible and affordable cities, and decreasing the country's reliance on authoritarian petrostates. The alternative is distinctly dystopian, defined by massive displacement, more militarized borders and an overall hellish climate—physical, political and otherwise.
The first step to choosing that first path will mean transforming the Democratic Party into a body that's unafraid to pick fights with the industries quite literally fueling this crisis—and kicking anyone who isn't on board out of their ranks.
Kate Aronoff is a Brooklyn-based journalist covering climate and U.S. politics, and a contributing writer at The Intercept. Follow her on Twitter @katearonoff.
By David Dayen, In These Times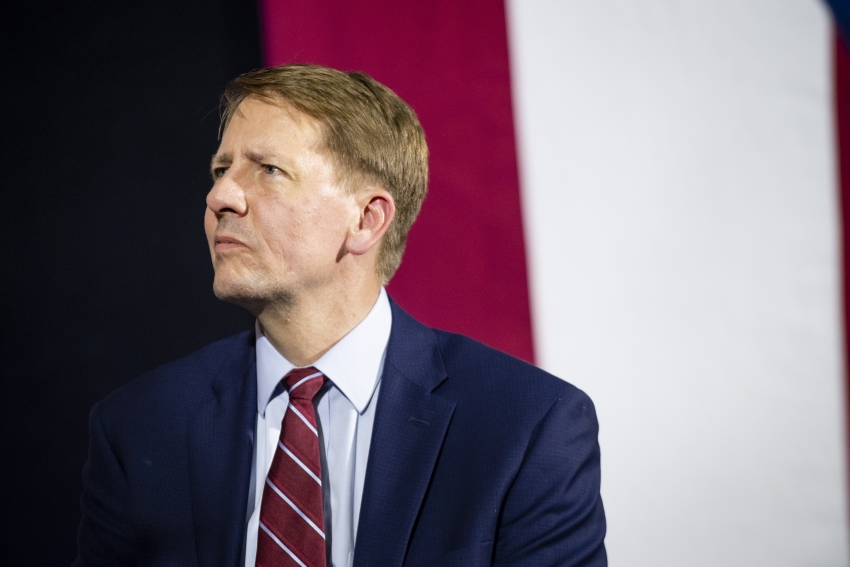 WEB ONLY / FEATURES » NOVEMBER 5, 2018
The Legacy of Foreclosure Fraud Could Help Decide Whether Ohio Turns Blue on Tuesday
Eight years ago, the Tea Party wave helped oust Democratic Attorney General Richard Cordray. Now he could take over the governor's mansion.
BY DAVID DAYEN
The facts are clear: When nobody would call out banks for their malfeasance, one public official stood up for the rule of law.
In 2010, two candidates battled one another in a low-profile race in Ohio. Republican Mike DeWine, who was ousted from the U.S. Senate in 2006 by Sherrod Brown, thought he could return the favor to state attorney general Richard Cordray.
This year DeWine and Cordray are facing each other again, in the race for governor of Ohio. But the circumstances of that 2010 contest reveal how much it matters who represents the public at critical moments, even in down-ballot seats.
Weeks before the 2010 election, the nation's leading banks were forced to come clean. They had mass-produced millions of pieces of false evidence in foreclosure cases, kicking people out of their homes by relying on dodgy documents. Americans were introduced to the term "robo-signing"—referring to individuals who signed thousands of affidavits attesting to the truthfulness of bank claims about foreclosures, without knowing anything about the underlying cases. One of these robo-signers was Jeffrey Stephan, an employee for GMAC Mortgage, initially the financing arm of General Motors which went on to become the nation's fifth-largest mortgage servicing company.
Stephan admitted in multiple depositions to signing 10,000 foreclosure affidavits a month, without verifying the amounts due, the chains of ownership, or anything else about the loans. Once a judge in Maine sanctioned GMAC for Stephan's practices and vacated a GMAC foreclosure judgment that September, the company suspended all its foreclosure cases in state courts.
In Ohio, Cordray saw the Stephan documents as instances of mass perjury, orchestrated by a major mortgage company to swindle millions of people out of their homes. Behind the robo-signed affidavits were a mess of false documents and foreclosure processes that threw into question the true owner of millions of properties. Demanding accountability around these cases could help to unfurl all of the mortgage industry's crimes.
Cordray filed a lawsuit in Ohio against GMAC and Stephan, citing the use of false documents "to increase… profits at the expense of Ohio consumers and Ohio's system of justice." The suit treated every false affidavit as a separate violation, subject to a fine of $25,000, plus additional restitution for wrongly foreclosed homeowners. Given the number of foreclosures filed in Ohio at the time, and the fact that robo-signing was a standard practice, the fines for the entire industry would total up to $11 billion in Ohio alone.
"We're at the beginning of this, not the middle or end," Cordray said on October 6, 2010, when he filed the lawsuit. "It is now becoming clear that fraud, deception, and an utter disregard for accuracy are in part to blame for our national foreclosure disaster." When challenged on whether the borrowers hadn't paid their mortgages, Cordray pushed back. "If we would file a case with an affidavit we know to be false, that is seen as a very serious matter by the court. I don't see why this should be taken any more lightly."
At the time, Cordray was the only state attorney general to have actually sued a bank over foreclosure fraud. But he had a problem: his re-election. Facing a tough political landscape for Democrats, one which recent research shows was exacerbated by mass foreclosures that significantly decreased voter turnout, Cordray lost by 48,686 votesout of more than 3.8 million cast.
Ohio v. GMAC passed into the hands of DeWine, and it never even got to trial. The case was set to turn on the question of whether mortgage servicers, which collect mortgage payments on behalf of loan owners, were subject to Ohio's consumer protection laws. But two days before a scheduled hearing, on February 6, 2012, DeWine notified the court that he had accepted a federal/state settlement on robo-signing and other issues with five mortgage companies, including GMAC. That national settlement included dismissing the claims in the GMAC case.
Private homeowners took over the case from DeWine, and it dragged on for years until the Ohio Supreme Court finally dismissed it in 2016. The dismissal did not rest upon whether GMAC filed false evidence in state courts, but whether the private homeowners were part of GMAC's 2012 bankruptcy proceedings and subsequently had standing to sue.
In 2013, Cordray became head of the Consumer Financial Protection Bureau, while DeWine served two terms as state attorney general. Their current race for Ohio governor has been largely focused on the opioid crisis and pre-existing health conditions, not foreclosure fraud. But I can't help but think that the experience of Ohio v. GMAC speaks volumes.
There's no guarantee that things would have turned out differently if Cordray had narrowly won his attorney general race, instead of narrowly losing. Democrats and Republicans, many of whom initially talked tough about foreclosure fraud, together accepted the weak national settlement and relinquished the prospect of real accountability. I even criticized Cordray's CFPB for inadequate punishment against mortgage servicers, and while the agency eventually rectified the situation, it came far too late.
But there's no question that DeWine didn't put up any kind of fight in the GMAC case. He quietly went along with the settlement and folded his fraud allegation in with it. Ohio v. GMAC was Cordray's brainchild; it's not implausible that he might have held out to achieve justice for fraud upon state courts, or continued to investigate the corrupt practices of other servicers, making a weak settlement politically impossible.
The facts are clear: When nobody would call out banks for their malfeasance, one public official stood up for the rule of law. But we never got to see his follow-through, and his replacement settled for a wrist-slap on the banks that infuriated the public and taught them the system is rigged. This unheralded Ohio attorney general's race eight years ago played a role, in my view, in the rise of Trump-style right-wing populism, as a snake-oil antidote to an era of no accountability.
So many out-of-the-spotlight races on Tuesday could have a similar impact. District attorney races could shape the future of criminal justice; school board seats will determine the survival of public education; ballot measures in Idaho, Nebraska, and Utah would expand Medicaid in those states, directly saving thousands of lives. Congressional and gubernatorial races are important, but the decisions buried deepest on the ballot are often the ones with the most direct bearing on people's lives. And you never know when something like the foreclosure crisis will thrust unknown public officials into the foreground.
Meanwhile, the lingering consequences of the demise of Ohio v. GMAC can be seen by how perpetrators of foreclosure fraud keep popping up in positions of power. Steven Mnuchin, the Treasury Secretary, chaired serial forecloser OneWest Bank; top bank regulator Joseph Otting was its CEO.
Kevin Stitt, the former CEO of Gateway Mortgage, is in a dogfight in his race for governor of Oklahoma, despite being a Republican in a red state. Gateway Mortgage's shady foreclosure practices were common for the industry. In fact, in 2010 the website 4closurefraud identified a prominent robo-signer penning documents on behalf of Gateway.
That robo-signer's name? Jeffrey Stephan.