How can a city re-envision chaotic, car-covered streets into activity-ladden, people-focused spaces? The New York Times combined the experience of residents enjoying the city's Open Streets with thoughts from WXY Urban Planner and Architect Clair Weisz into an interactive reveal of what pedestrianization looks like. Over 100 years ago, the dangerous "Jaywalking" campaign was created by automakers to put the blame of pedestrian deaths on people walking instead of a car-centric environment. Now, mobility justice advocates in Virginia are pushing to decriminalize the act to shut down the racially discriminatory practices in its policing.
How Bogotá Is Turning 7,000 Citizen Proposals into a Real Plan to Redesign a Major Thoroughfare by By Carlos Pardo    December 10, 2020   
Just before she took office in January 2020, Mayor Claudia López committed to redesigning a major artery of Bogotá into a "green corridor" for sustainable, active mobility. She also committed to a comprehensive participatory planning process – a potentially daunting task in a city of 9 million.
Known since the 16th century as Royal Street, Avenida Séptima is considered by many to be the most important road in Bogotá, covering 23 kilometers and crossing the eastern portion of the sprawling city. It is perhaps the only corridor that traverses every income level of the city, from the poorest to the extremely wealthy. It is also the most contested space in the city.
Over the last 70 years, Séptima has become a six-lane bottleneck, with cars creeping by at an average of 6 miles per hour. Public transit is not a priority, and what transit there is travels at the same speed despite an orange line painted to mark an ineffective preferential lane. Bicycles have only recently received a boost in safety and speed after the city reallocated right of way in implementing emergency bikeways in March 2020 as a response to the COVID-19 pandemic.
Seven attempts have been made to modernize and redesign Séptima since 2000, each only succeeding in further embittering relations between the city and residents along the avenue, who did not see their values and desires reflected in proposed designs. The last attempt culminated in a lawsuit by several parties against the city in late 2019 over lack of a sufficient process for community input.
When Mayor López announced the new green corridor project in early 2020, she promised it would be built on a comprehensive participatory process, one that directly solicited proposals from residents describing what changes they would like to see – with the caveat that priority would be given to "green" modes of transportation like walking, cycling and electric mobility. Historically, the voices of Séptima's wealthy, which tend to promote more access for drivers, had effectively drowned out the views of lower- and middle-income residents, who take 69% of all trips on the avenue using public transportation.
In October, the city launched Séptima Verde, or Green Séptima, a comprehensive campaign calling for written proposals to reimagine Séptima. Because priority would be given to more sustainable modes of transportation, proposals to redesign the avenue would need to reallocate existing street space, which created a challenge for community engagement. Without clear visual representation, it's difficult for residents to see what's possible in the space.
Enter Streetmix, an open-source online platform that allows anyone with an internet connection to easily create and edit existing streets using drag and drop tools and a menu of pre-configured mobility options. Launched in 2013 as a result of a Code for America exercise in civic programming, Streetmix has become an invaluable tool for users as diverse as experienced urban planners to community organizers and everyone in between. Over the past few years, NUMO, the New Urban Mobility alliance, has supported and worked with Streetmix to develop graphics to represent autonomous vehicles, a street capacity indicator (the maximum number of pedestrians that can travel in one hour along a sidewalk) and a machine-learning initiative to interpret the "joyfulness" of a street.
For two weeks in October 2020, the city of Bogotá partnered with NUMO to build a custom version of Streetmix (with help from programmers at TAK Colombia) to use in the participatory process for Séptima Verde. Using the platform, participants could easily create and submit their own proposals to indicate their vision for 15 key locations along the avenue, which were measured to scale and recreated online. This version of the platform also included life cycle emissions analysis from the International Transport Forum and capacity estimations from the Transformative Urban Mobility Initiative to estimate CO2 emissions of the proposed street changes.
Over those two weeks in October, nearly 7,000 proposals from 6,000 users flooded in, 91% of which met all requirements. Streetmix saves each proposal in code, which allowed NUMO to create a precise breakdown of what participants wanted to see on the redesigned Séptima – from public transit to cycling and walking. This analysis provided the city with actionable ideas from those who actually use Séptima.
Results showed that participants favored active and shared modes, creating streets that in aggregate allocated 56% more space to bicycles and skateboards and 74% more space to public transit than the status quo, while reducing space for private automobiles by 19%. Overall, proposals reduced emissions by an average of 6% for the avenue and up to 26% in one segment. Participants preferred increasing capacity through prioritizing active modes and public transit. Finally, 248 proposals integrated autonomous vehicles, indicating Bogotá's openness to change and innovation on this front.
Thanks to the custom Streetmix tool, more residents than ever took part in this latest attempt to redesign Séptima Verde. The city is now using the feedback, along with relevant input from engineering work performed the previous year, to prepare final designs for the avenue, which are expected to be made public by the end of 2020. As for the digital design platform, Streetmix has plans to merge the to-scale streets onto the existing platform, so that anyone who would like to continue redesigning and reimagining portions of Séptima can do so.
As cities rethink how to allocate space and design their built environments to create safer, more sustainable, more equitable and joyful environments for residents, Bogotá's experience can serve as a model for others. The success of this phase in the Séptima Verde redesign demonstrates that it is possible to better engage residents in reimagining urban spaces, to build the streets and cities people actually want to inhabit. And we can have some fun along the way, like the 235 proposals that included at least one magic carpet.
Carlos F. Pardo is Senior Advisor for NUMO, the New Urban Mobility alliance.
Tags: active transport, bike infrastructure, bike lanes, Bogota, Colombia, cycling, electric vehicles, green corridor, NUMO, open source, participatory planning, pedestrians, public space, public transportation, road safety, street design, Streetmix, sustainable mobility, walking
**
Transit agencies across the country are breathing a sigh of relief after the approval of the $900 billion COVID stimulus bill, which allots $14 billion for public transportation nationwide. Although the amount is less than half of the amount sought, it is a lifeline that will hopefully lead to more funds in the coming year.
Over 100 years ago, the dangerous "Jaywalking" campaign was created by automakers to put the blame of pedestrian deaths on people walking instead of a car-centric environment. Now, mobility justice advocates in Virginia are pushing to decriminalize the act to shut down the racially discriminatory practices in its policing.
Billing the startup as the "anti-Tech bro company in the Tech Broiest of industries," Candice Xie, co-founder and CEO of micromobility company Veo, sets the record straight on being the truly first profitable micromobility company—they have been since May—and on their expansion from a mobility underdog to "offering a vital sustainable transportation service."
The Seattle Times Traffic Lab team sits down with King County Metro General Manager Terry White to discuss the agency's rolling recovery plan to offer safe, reliable transit during the pandemic and the importance of responsive strategies for the transportation network to address equity and public health issues.
A new report from the Organization for Economic Cooperation and Development stresses the importance of reducing particulate matter (the matter propelled into the air from tire, brake, clutch, and roadway wear) because of the the damaging health impacts it poses and how the takeover of electric vehicles in transportation won't slow it down.
What can a bookseller do when online giants like Amazon can ship and deliver your read of choice at the push of a button? If becoming a travelling, cargo bike-riding salesperson was your answer then you were right. Read the story of one bookshop owner in Milan that took on tech-enabled e-commerce with two wheels and ingenuity in the Guardian.
Read an excerpt from author Diana Lind's book "Brave New Home: Our Future in Smarter, Simpler, Happier Housing" that points out the effects of single-family zoning on housing's affordability and sustainability and what works to create humanistic communities that heal.
Planetizen breaks down the harmful and financially devastating effects that automobile-dependence creates for people who have no affordable mobility options and the mechanisms at play that enable cities to force driving as the sole transportation system by design.
Automobile Dependency: An Unequal Burden
Automobile-dependent planning has changed automobiles from a luxury into a necessity. Excessive vehicle costs leave many households without money to purchase essential food, shelter and healthcare. They need more affordable transportation options.Todd Litman | December 15, 2020, 5am PST Share Tweet LINKEDIN EMAIL COMMENTS
Cars line up in a high school parking lot in April 2020 to receive emergency food aid from the Central Texas Food Bank.Vic HinterlangShutterstock
Entertainer Will Rogers once noted that, "The United States is the only country ever to go to the poorhouse in an automobile." This has become tragically true for many low- and moderate-income families.
For example, thousands of automobiles regularly line up to receive food bank packages, as illustrated in the photo above.
These are mostly nice SUVs, light trucks and vans, the types of vehicles owned by responsible families living in automobile-dependent communities. Automobile food bank lines are, to a large degree, a self-fulfilling prophesy: Because residents must drive everywhere, they have high transportation costs, leaving inadequate money for other essentials like food, shelter and healthcare, which forces them to depend on charity. Many of these families would not need food bank help if they could cut their vehicle expenses in half, saving $250-500 per month, but that is often infeasible because they lack affordable mobility options. This is one example of the inefficiencies and unfairness of an automobile-dependent transportation system.
For most of the last century, transportation planning has favored automobile transportation over slower but more affordable transportation options. The result is a community where it is easy to get around by car, but often difficult and sometimes dangerous to reach essential services and activities by other modes. This type of transportation system may satisfy the needs of affluent motorists but fails to serve people who cannot, should not, or prefer not to drive, and imposes unfair financial burdens on many lower-income households.
Consider the economics. Although lower-income motorists use various strategies to minimize their vehicle expenses, such as purchasing used vehicles, driving with minimal insurance, and performing their own maintenance when possible, it is difficult to spend less than about $5,000 per vehicle-year to legally operate an automobile. Some motorists spend less some years, but automobiles are prone to unpredictable and sometimes large expenses. For every low-income motorist that spends less than $3,000 to drive an efficient and reliable old car, two others spend thousands of dollars on vehicle payments and insurance premiums, plus occasional unplanned expenses due to mechanical failures, crashes, traffic citations, and fuel price spikes.
Most vehicle costs are fixed; motorists pay the same regardless of how much they drive (see graph below), so they have few opportunities to save money. For example, a motorist must continue making car and insurance payments, performing scheduled maintenance, and sometimes pay for residential parking, even if they lose their job, so their income and monthly mileage declines significantly. They are stuck.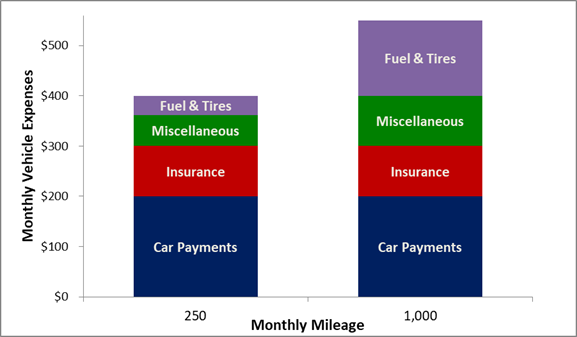 Most vehicle expenses are fixed. Motorists must pay the same car payments, insurance, scheduled maintenance and residential parking costs, whether they drive 250 or 1,000 miles per month.
These expenses are more than many households can afford. Experts define affordability as households being able to spend less than 45% of their total budgets on housing and transportation combined. According to the Bureau of Labor Statistic's Consumer Expenditure Survey, households in the first and second income quintiles (fifth of all households) spend more than 35% of their budgets on housing, so affordability requires that they spend less than 10% of their budgets on transportation.
The table below indicates the portion of total household budgets required to own one or two vehicles, by income quintile, assuming that each vehicle costs $5,000 per year. This indicates that for the first and second income quintiles owning one car is unaffordable, and owning two vehicles is unaffordable for most households.
| | | | | | |
| --- | --- | --- | --- | --- | --- |
| | First | Second | Third | Fourth | Fifth |
| Total average annual expenditures | $26,399 | $39,968 | $51,729 | $69,131 | $118,781 |
| One Vehicle ($5,000) | 19% | 13% | 10% | 7% | 4% |
| Two Vehicles ($10,000) | 38% | 25% | 19% | 14% | 8% |
This table shows the portion of household budgets typically required to own one or two vehicles. Bold indicates those that exceed the 10% affordability targets.
Described differently, typical lower-income households can afford housing expenses (rent or mortgage) or vehicle expenses, but not both, and owning two vehicles is financially stressful for most households. Of course, many households own more vehicles and spend more on transportation than is considered affordable. This leaves them vulnerable to financial shocks, such as a vehicle failure, traffic collision, or reduced income, which explains why so many families must drive to food banks or require other types of financial assistance.
For vulnerable households, a small vehicle problem can turn into a major financial and legal crisis. For example, a high-interest car loan for an unreliable vehicle, a vehicle crash, being caught driving unlicensed or uninsured, or an unpaid traffic citation can quickly expand to a morass of debt, injury, unemployment, legal strife, and sometimes jail. Default rates on high-risk, high-interest auto loans are increasing, leaving many low-income households with no vehicles, no money, and no credit.
Of course, I'm not blaming those households or ignoring the economic opportunities that owning a vehicle provides. There are certainly examples of disadvantaged households that can justify spending more than recommended on vehicles, for example, to access a better paying job or cheap housing. However, for each of these, you will find more examples of households that are severely harmed by our automobile-dependent transportation system, for example, non-drivers who suffer from inadequate mobility options, and low-income household that go into debt to purchase a vehicle that promptly fails or crashes, leaving them with neither money or mobility, plus injuries and bad credit ratings. The fact that some disadvantaged households succeed in an automobile-dependent community does not mean that it serves everybody.
Maslow's hierarchy of needs would surely rank food, shelter and healthcare above the added convenience and status of driving, but our planning practices give individuals little choice. Most jurisdictions invest far more in automobile infrastructure than in other modes. It is not generally possible to say, "Please don't invest any more on roads and parking facilities for me. Instead, spend my transportation dollars on sidewalks, bike paths, bus lanes and transit services so I have more affordable transportation options."There are many good reasons to favor multimodal transportation and affordable infill development. Residents of compact, walkable neighborhoods tend to own fewer vehicles, drive less, and rely more on active modes, and so:
Some people mistakenly argue that these problems justify even more subsidies for driving, to allow low-income households to access economic opportunities, but that is an inefficient solution. For example, researchers Michael Smart and Nicholas Klein's study, "A Longitudinal Analysis of Cars, Transit, and Employment Outcomes" found that low-income households that obtained a car were able to work more hours and earn approximately $2,300 more per year, which sounds great, but they spent an additional $4,100 annually on their vehicles, so they ended up with less time and less money overall. For many lower-income people, automobiles are an economic trap: they force people to work harder so they can earn more money so they can pay vehicle expenses to commute to their job, making them worse off overall.
It needn't be that way. We can reverse our planning priorities to favor affordable mode and multimodal neighborhood development, in order to create communities where it is easy to live without a car. An efficient, equitable and resilient transportation system must ensure that anybody, particularly those with mobility impairments or low incomes, can find suitable housing in a walkable, transit-oriented neighborhood where it is easy to access basic services and activities—education, jobs, shops and recreation—with affordable modes. This is sometimes called Transit Oriented Development or New Urbanism, and most recently a 15-minute neighborhood, but regardless of what it is called, it offers affordable and diverse transportation options, providing something for everybody, including people with disabilities, children, and anybody who cannot, should not, or prefers not to drive.
I can report from personal experience that by residing in a walkable urban neighborhood it is easy to live car-free and minimize our transportation expenditures: to access local services and activities we spend about a thousand dollars annually on shoes, bikes, bus, plus occasional taxi fares and car sharing.
This is a timely issue. Affordability is an important but often overlooked transportation planning goal. Conventional planning sometimes considers vehicle operating costs and transit fares, but seldom considers total transportation costs and therefore the potential savings provided by more multimodal planning that favors affordable transportation options.
A basic principle of good planning is to "hope for the best, but prepare for the worst." In most North American communities our transportation systems fail to reflect this principle; they favor expensive modes and people with abilities over slower but affordable modes, and therefore ignores the needs of people who are physically, economically, or socially disadvantaged. The box below identifies specific policies and planning practices that contribute to automobile dependency, and therefore higher transportation costs. Planners have a responsibility to identify the harms and inequities that result from these practices, and to identify reforms.
Ten Common Policies that Increase Automobile Dependency and SprawlTransportation planning that favors traffic speed over other goals (affordability, public health, social equity, community livability, environmental protection, etc.).Roadway design that gives little consideration to walking, bicycling and public transit travel demands.Zoning codes that limit density and compact housing types, such as townhouses and apartments.Development policies that favor urban expansion over compact infill.Parking minimums which mandate abundant parking supply.Public facilities (schools, post offices, courts, etc.) located to maximize automobile access.Dedicated roadway funding, which favors roadway spending over investments in other modes.Fuel production subsidies and low fuel taxes.Transportation planning that undercounts, overlooks and undervalues non-auto travel.Travel models that ignore induced travel impacts, which exaggerates roadway expansion benefits.
This is ultimately about opportunity and freedom. Conventional policies assume that everybody, or at least everybody who matters, wants to live a high-consumption, high-cost, automobile-dependent lifestyle. It ignores the demands of people who need more affordable housing and mobility options, due to low incomes or because they want to work less and devote more time to art, education or family. All we are saying is, give affordability a chance!
For More Information
Marlon G. Boarnet (2013), "The Declining Role of the Automobile and the Re-Emergence of Place in Urban Transportation: The Past will be Prologue," Regional Science Policy & Practice, Special Issue: The New Urban World – Opportunity Meets Challenge, Vol. 5/2, June, pp. 237–253 (DOI: 10.1111/rsp3.12007).
Ralph Buehler and Andrea Hamre (2015), "The Multimodal Majority? Driving, Walking, Cycling, and Public Transportation Use Among American Adults," Transportation, Vo. 42, pp. 1081–1101.
Govind Gopakumar (2020), Installing Automobility: Emerging Politics of Mobility and Streets in Indian Cities, MIT Press.
Stefan Gössling, Marcel Schröder, Philipp Späth and Tim Freytag (2016), "Urban Space Distribution and Sustainable Transport," Transport Reviews.
Susan Handy (2020), What California Gains from Reducing Car Dependence, National Center for Sustainable Transportation.
David Levinson (2019), The Automobile as Prison. The City as Freedom, The Transportist.
Todd Litman (2020), Transportation Affordability: Evaluation and Improvement Strategies, Victoria Transport Policy Institute.
Giulio Mattioli, et al. (2020), "The Political Economy of Car Dependence: A Systems of Provision Approach," Energy Research & Social Science, Vol. 66.
Peter Newman and Jeffrey Kenworthy (1999), Sustainability and Cities; Overcoming Automobile Dependency, Island Press.
Peter Samuel and Todd Litman (2000), "Optimal Level of Automobile Dependency; A TQ Point/Counterpoint Exchange with Peter Samual and Todd Litman," Transportation Quarterly, Vol. 55, No. 1, Winter 2000, pp. 5-32.
Gregory H. Shill (2019), "Americans Shouldn't Have to Drive, but the Law Insists on It; The Automobile Took Over Because the Legal System Helped Squeeze out the Alternatives," The Atlantic.
Gregory H. Shill (2020), "Should Law Subsidize Driving?" University 0f Iowa Legal Studies Research Paper No. 2019-03, New York University Law Review.
Ming Zhang (2006), "Travel Choice with No Alternative: Can Land Use Reduce Automobile Dependence?" Journal of Planning Education and Research, Vol. 25, No. 3, pp. 311-326.Todd LitmanTodd Litman is founder and executive director of the Victoria Transport Policy Institute, an independent research organization dedicated to developing innovative solutions to transport problems.
Move over congestion. Shorter-distance travel should be the real focus of restructuring transportation systems and neighborhoods, proposes the Brookings Institution—and they have a new "level of service" metric that reflects the built environment, as well as the social and economic goals of the surrounding communities.