MARCH 23, 2020 BY TONY JORDAN Parking Reform After Coronavirus
Obviously, in the middle of this crisis, with lockdowns in place and ICU beds filling up, parking policy (like most things) isn't important. We have much bigger fish to fry: maintaining a functioning health care system and supporting millions of people thrown off the payrolls are at the top of the list.
But we will make it through this, and when we do, the post-Coronavirus world is going to be very different. It's too soon to say exactly how. But there are a few good hunches we can work on that indicate parking policy and parking reforms will still be important on the other side of the tunnel.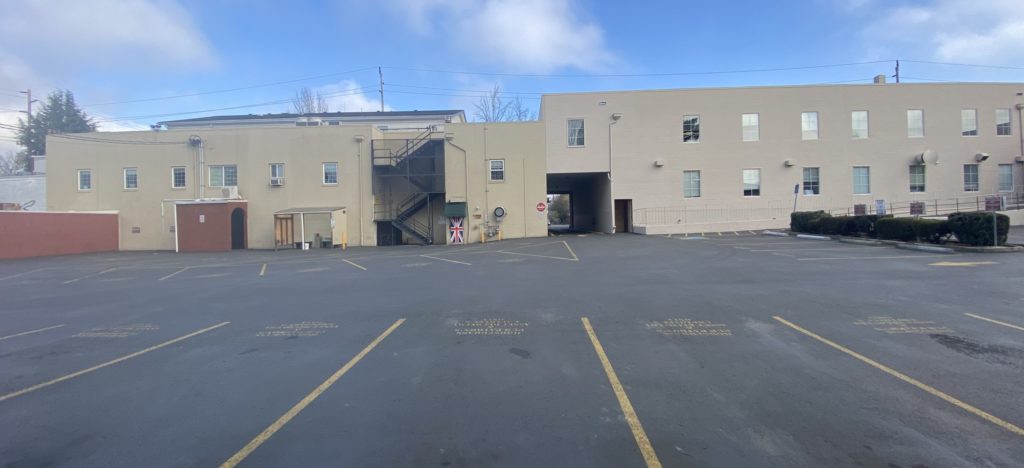 Cars aren't going away
Whatever degree of normalcy we return to, we can be certain that plenty of people will continue to drive. Given the likely concerns about personal space and contact, it's likely that people might choose to drive more. Even in walkable neighborhoods, people may choose to consolidate more trips to avoid going out as much, meaning that loading a car with groceries once a week might be preferable to making several trips on foot or by bicycle.
Curb management will be critical
While we can expect that many people will continue to drive, their behavior won't be the same as it was before. More people will be picking up or dropping off goods. Folks may linger less. Who knows when mass events, movies, and concerts will resume at previous frequencies.
Perhaps we will see more options for people to reserve business-district parking spaces. Some services might move toward appointment-only access to reduce mingling and waiting. Many restaurants are offering curb-side pickup; we have yet to see how cities will accommodate queues and high-turnover parking on restaurant rows.
Deliveries, deliveries, deliveries
Amazon and online grocery shopping are booming, accelerating trends we've seen for some time. Making space available for delivery trucks and other services will take on a renewed importance. Cities should consolidate and streamline delivery services however possible, perhaps by working with companies to create more cargo hubs and hygienic package pickup locations (think:generalized Amazon Lockers).
To charge or not to charge?
We've already seen some cities reducing parking rates and limiting enforcement. Some of this is just compassionate common sense. If a city's goal is to keep people inside, it is counterproductive to enforce non-safety-related parking restrictions. But there are different considerations when it comes to paid on-street parking and public garages.
Performance-based parking management means adjusting prices for demand. If demand is way down, due to a pandemic or a recession, then it makes sense for parking rates to fall as well. Unfortunately, most cities with demand based parking rates only adjust rates a few times a year. This is insufficient to manage demand in times of rapid change, like recession and recovery. Also, if there's no mechanism to raise rates again when/if demand resumes, then cities should be wary about reducing it in the first place.
While the crisis is on-going and we are asking people to practice social distancing, efforts to bring more customers to business districts would be counter-productive. One approach cities could take would be to allow a 15 minute grace period on metered streets while demand is very low to accommodate pick-up and drop-off, but otherwise maintain parking rates as normal.
Municipal parking structures won't pay for themselves. If they can't be repurposed into something more helpful or productive in these times, then they should be closed or continue to charge.
Repurposing the Right-of-Way
I hope cities are stocking up on green and red paint.
As cities focus on the needs of connecting essential workers to jobs, this may be an opportunity to repurpose the right-of-way for bike lanes and transit priority. If we want people to maintain safe spacing we will need to expand transit service (and this is worth the investment) and give more space to people biking on busy routes. Do it while no one's parked there!
Rethinking Commuting
Telecommuting is here to stay. Even if most office workers go back to work, the time and trouble companies will have invested in telecommuting and meeting won't go to waste. Once your employees know that they CAN sometimes work from home productively, it will be harder to prevent them from doing so.
Cities should consider the possibility of requiring a certain percentage of the workforce to telecommute, perhaps on certain days of the week, both to manage congestion and to justify good policies like parking cash-out, parking maximums and reduced parking minimums. Rapid shifts in mode split, needed years ago and finally here, should not be taken for granted. Every effort should be used to preserve the progress made. It's a potential silver lining to this tragedy.
Don't give up hope
These are scary times and the future is uncertain. Take care of yourselves and don't give up hope.
If parking reform is something that sparks joy for you, learn more about the Parking Reform Network. When the world starts moving again, we'll be ready to shape it in ways that provide for more equitable transportation, more affordable and abundant housing, and serious climate action.
FILED UNDER: CURB MANAGMENT, OPINION
PARKING REFORM NETWORK JUNE 19, 2020 BY NEIL HELLER with Cary Westerbeck Parking Requirements Gave Me a Haircut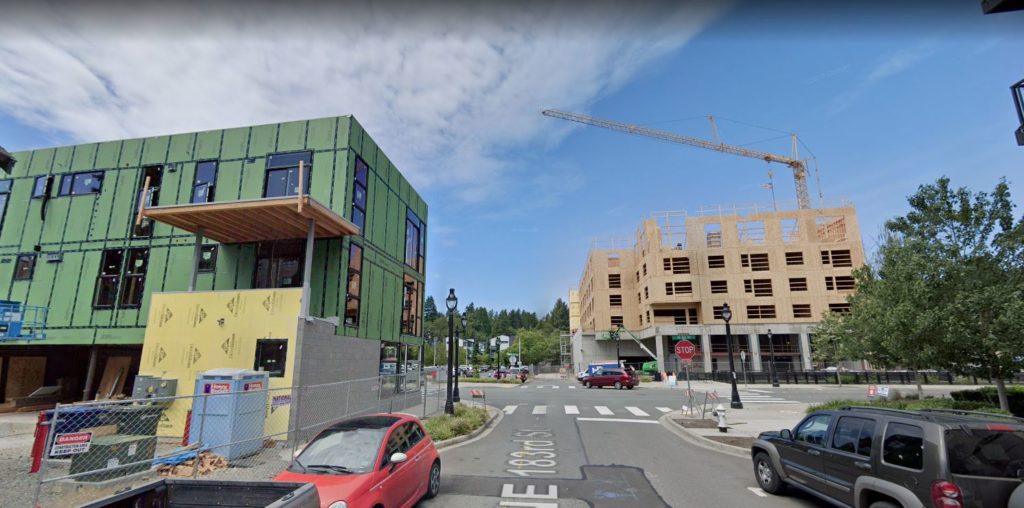 A Parking Conversation With Cary Westerbeck
I caught up with Inc Dev alum and fellow founding member of the Parking Reform Network, Cary Westerbeck, who recently completed a mixed-use 4-plex in Downtown Bothell, WA.
Having such similar interests with him, it's fun to talk shop and learn from his lived experience.
Cary:
Small Developers are needed in cities. We play a critical role. We are the ones who can utilize a small lot, an infill lot, a weird shaped lot, and all the lots that the large developers could never build on feasibly. We can build neighborhood-friendly sized apartments and businesses on these small sites. However, the minute we must provide required, on-site minimum parking for these sites they do not pencil out, they become physically and financially infeasible.
For example, I have a 2,500 square foot lot on which I just completed a mixed-use 4-plex. The entitlements allow me to build up to five stories in this downtown zone. I could have feasibly built 14-15 dwellings and a small retail space on this site had I not been required to use most of the site for parking. As a result of the onerous parking requirements, we squeezed in the five required parking spots for the four units.
We were prevented from using the site's "highest and best use" in both height and number of units. As I told the Development Director at my city, I could have provided an additional 12 desperately needed small apartments at my site if minimum parking requirements had not held me back. Because I could have put 16 units on the site rather than 4, the price of the land per unit would be spread over 16 units, not just four.
I have a barber on the ground floor of my building, but it was the mandated parking minimums that forced me to take a 75% haircut!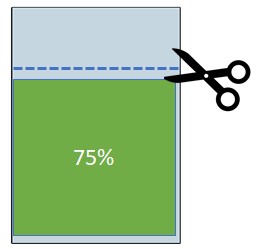 Today, "form follows parking" for small developers. Feasibility for a project must start with required on-site parking minimums, then we can see how much site is left over for productive uses. It's crazy, but true. As an architect and small developer, the first thing we do after reviewing zoning codes is figure out how many cars we'll have to park for our intended building's uses and how they will fit. Invariably – always – we can't build nearly as much productive building due to the constraints of required parking. It's the tail that wags the dog. It seems like something is broken when building design starts with cars, rather than people, but indeed it does.
Let's pause for a moment.
For context, Bothell is in a downtown construction boom. Giving the place credit, it is good to see so much downtown investment and willingness to accept higher densities for being an outer suburb. Not to mention, the downtown zoning standards look quite permissible.
Interestingly, there are a variety of parcel sizes in downtown Bothell that correspond to the sizes of the buildings being developed. Despite all this variety, one thing remains constant — the size of parking stalls does not adjust based on the size of the lot.
Cary built in the Downtown Neighborhood Zone (DN) so let's put ourselves in the shoes of a small developer and explore how this plays out.
The median lot size found in the DN zone is 7,500 square feet (see chart below).
A single 9×18 foot parking stall is 234 square feet when including the drive aisle.
This means that the median lot size in this zone can mathematically fit 32 surface parking spaces, but we want to house people, not just cars. Plus, in comparison to parking, housing is better for the municipal tax base and it is the humans who support the local businesses that in turn strengthen the local economy.
Also, the maximum height allowed in this DN zone is 5-stories. This means that the median lot size has the development potential for (32) 1,000 sf units. Great, 32 new homes! But let's say we want a portion of our ground floor as commercial space. This results in three less units but, hey, local business easily accessible by residents!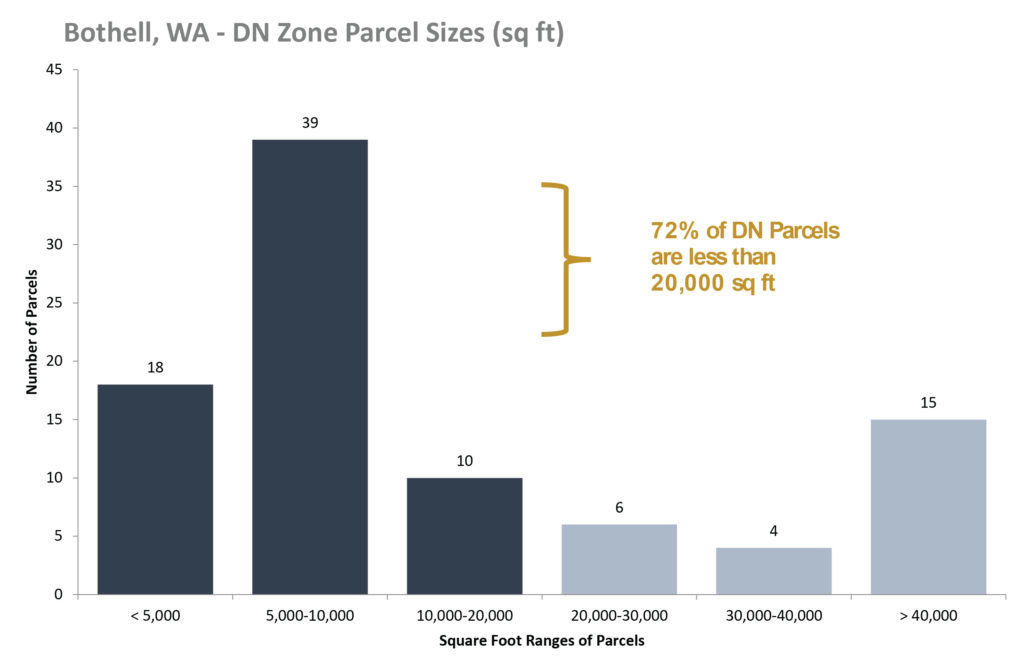 But what about the parking?
Each of our prospective units are 1,000 square feet (2-bedrooms).
Each residential unit requires 1.5 spaces per unit (234 square feet each, remember).
Our commercial unit requires 2.5 per 1,000 square feet. (234 square feet each, remember).
So, let's add this up:
29 residential units x 1.5 (43.5 subtotal)
+ 9 for our commercial space
= 53 parking spaces totaling 12,285 square feet.
But wait, we only have 7,500 square feet of lot area, so what gives?
It is often assumed that zoning is about buildings. It is not. Zoning assures neighbors that parking, setbacks, and landscaping requirements will be met and then whatever is left over is where a developer can build a building.
The starry-eyed planner might suggest putting all of our required parking underground so that we get all of our units and have good urban form, but, with a price tag of $1.5M this option forces rents to be an additional $500 more dollars per month, potentially out of reach for the local market. Even with the State of Washington's progressive minimum wage of $13.50/hour, that's an extra 37 hours of work.
The larger-scale developments may be able to absorb the additional cost of underground parking due to the larger number of units to share in that cost. So, while the total cost of underground parking will be more in comparison, the net cost to the renter will likely be less, therefore maintaining market feasibility. Smaller-scale projects are much more sensitive to price shocks due to the limited number of units to absorb additional development costs.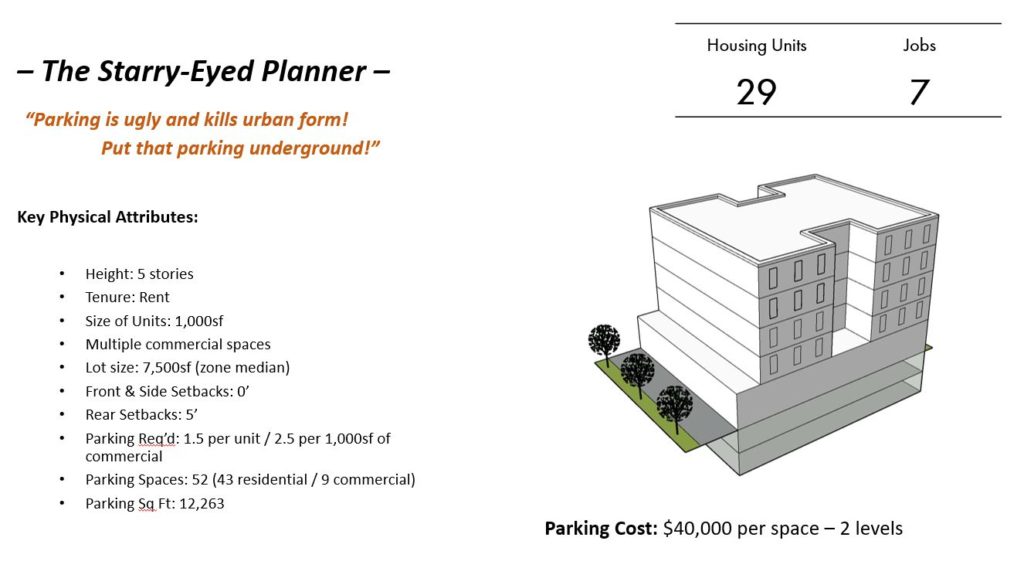 The thrifty developer might want to reduce the building size and surface park everything since that's the least expensive, but then more than 60% of the lot is paved over, also resulting in significantly less housing in the downtown area and municipal revenue for the city.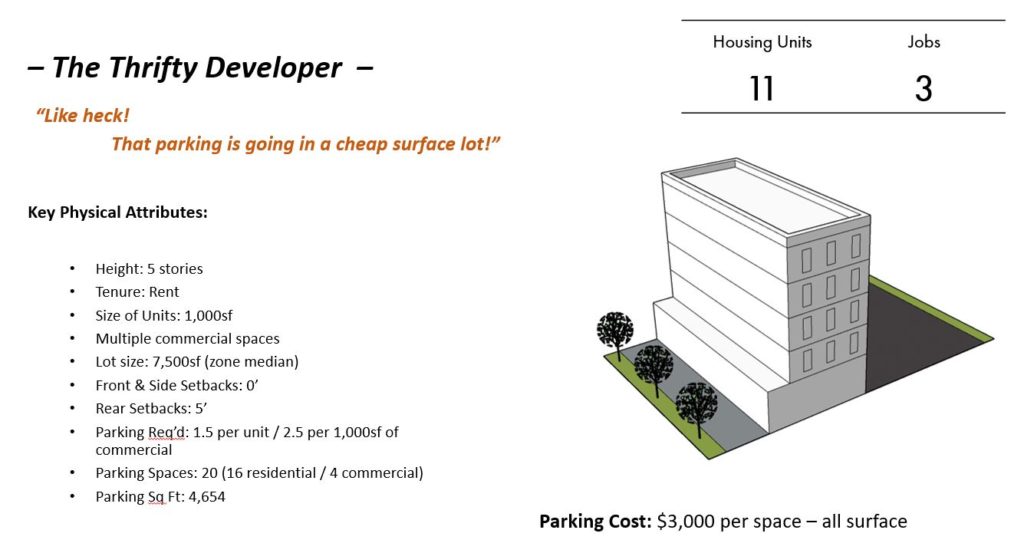 The purpose of this example was to run through the onerous and expensive outcomes that mandated parking requirements create, particularly for the small, local developer who is likely to be working on one of the 72% of lots that are below 20,000 square feet within this downtown zone.
A more sane and rational approach is to not require but allow parking in order to provide flexibility to a development project so that a workable solution can be found, allowing developers to obtain more of the parcel's legal development entitlements, otherwise known as 'highest and best use'. Recent studies have shown that most times, developers do build parking and averages around 0.5 spaces per unit. They do this because there is still market demand for parking spaces. This could change in the near future so having the flexibility to determine what is appropriate for the site and for the intended end-user is key to a reasonable and feasible development. The final example we can call, "the reasonable and feasible" is only made possible by applying this 0.5 spaces per unit amount. This does not mean that 0.5 is the magic number, just that having the flexibility to suit our needs creates an option that works for everyone.
Additionally, one option to make sure that those who do not want parking are not subsidizing their neighbor is to decouple any provided parking from the rents just like a building might for extra storage or laundry facilities. Just because coffee is on the ground floor of the building does not mean that everyone's rent should be higher in order to provide free coffee to the coffee drinkers.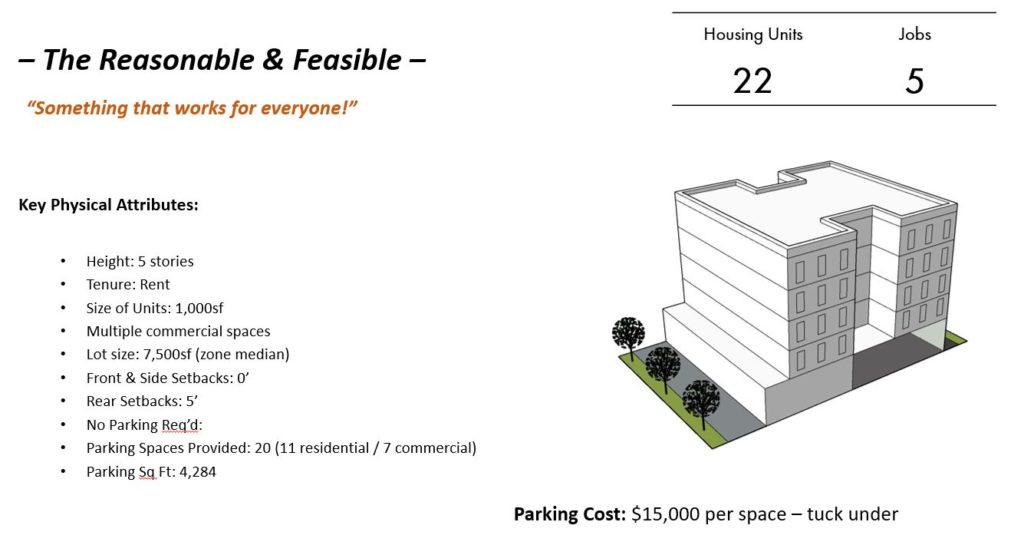 In closing, I felt like Cary cast a vision that is likely to resonate with what most of us want out of our downtowns and neighborhood centers. Does your city have reasonable and feasible parking policies? I'd love to hear of good examples.
Cary:
With less of each site devoted to the automobile, more of each site can be focused on humans and their needs. This will allow more homes and businesses to be accommodated within the same amount of space, increasing the feasibility of potential developments, and potentially lowering the price point of each home while supporting our increasingly important local economies.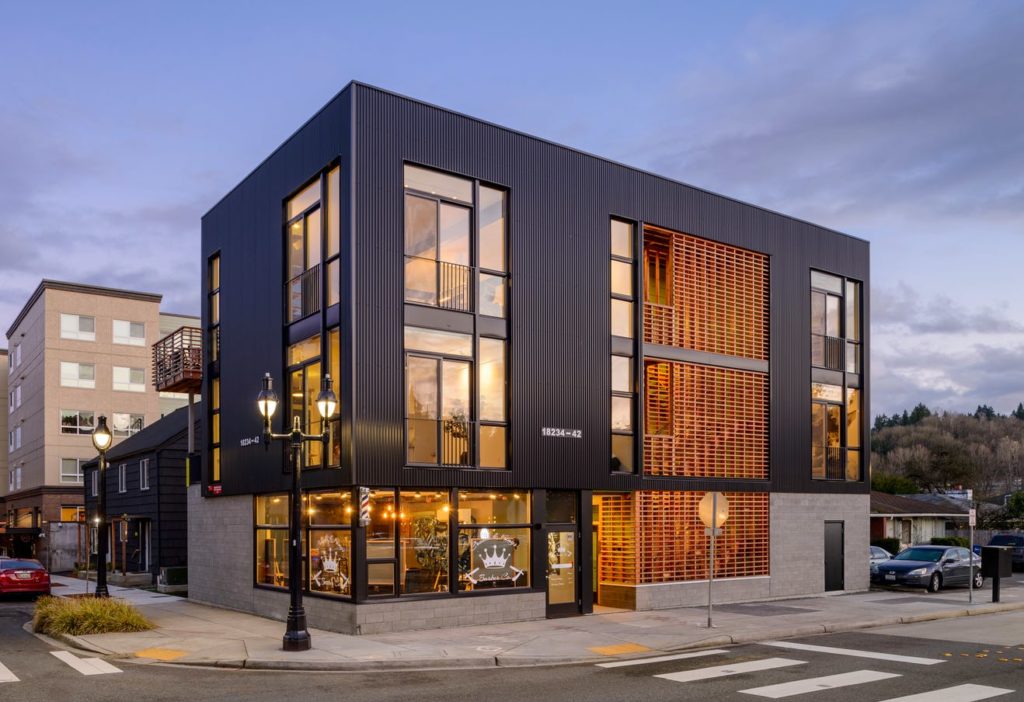 FILED UNDER: ECONOMICS, EQUITYTAGGED WITH: DEVELOPMENT, FEASIBILITY, REGULATIONS, REQUIREMENTS

parking10120
advocacy4
minimums3
research3
cities2
performance pricing2
AV1
Memphis1
Portland1
TDM1
Show moreParking Is Sexy Now. Thank Donald Shoup.
In an interview, the guru of progressive parking policy reflects on his decades of research and writing, which transformed how cities look at the curb.parking101Parking Toolbox from North Texasparking101researchAccess Magazine: Parking Benefit Districtsparking101benefit districtsParking basics: 'Performance-Based Parking Pricing'
San Francisco's SFPark trial has raised the profile of performance-based pricing for on-street parking (see a video on this at the end of t…parking101performance pricingEnd Parking Minimums
Waste of money. Waste of space.parking101minimumsPortlanders for Parking Reform
Advocating for progressive parking policy since 2015Portlandadvocacyparking101Reinventing Parking
Promoting better local parking policy all over the worldparking101researchadvocacyVictoria Transport Institute – Main Pageresearchparking101advocacyBetter Parking 101
Excellent example of handout for parking reform basics. Focused on Chicago.parking101advocacyParking? Lots! Archives
How obscure parking rules have misshaped our communities and opportunities for better options. [long] Garages and driveways are the primary entrance to this Tigard, OR apartment complex. Photo credit Brett VA. Parking rules buried in city land-use codes have surprisingly pernicious effects. Requirements that builders provide ample quotas of off-street parking spaces worsen traffic, multiply collisions, push up housing prices, dampen business profitability, amplify sprawl, and pollute both air and water. Parking rules are a surprisingly potent hidden force shaping—or misshaping—our communiti…parking101minimumsgaragestransitpark and ridehousing2018 Was the Year Parking Reform Went from Minor to Major League
Last week, San Francisco and Minneapolis struck down bans on car-free housing. What that could mean for cities in Washington and Oregon.citiesparking101minimumsFun Parking Facts
Parking requirements are the dark matter of the urban universe: they affect transport and land use in mysterious ways. These fun facts illustrate the costs and impacts of economically excessiveparking101Donald Shoup's Website
Personal website of UCLA Professor Emeritus Donald Shoupparking101peopleStop Giving Away Valuable Public Assets! A Fiduciary Obligation for
Cities significantly underprice their roads and parking facilities, forcing local taxpayers to subsidize out-of-town motorists. Municipal officials have an obligation to better manage these valuableparking101TDMperformance pricingDonald Shoup: Why Parking Reform Will Save The City
In light of the Downtown Memphis' Commission's review of downtown parking and ways to make it more effective and efficient, we are posting a commentary by retired UCLA economist Don Shoup, whose 2005 book, The High Cost of Free Parking, is considered the definitive authority on the subject. His recent book, Parking and the City, follows up: At the dawn of the automobile age, suppose Henry Ford and John D. Rockefeller had asked how city planners could increase the demand for cars and gasoline. Consider three options. First, divide the city into separate zones (housing here, jobs there, shopp…citiesMemphisparking101Smart Growth and Vehicle Travel Reductions
Many jurisdictions have vehicle travel reduction targets. Integrating Smart Growth policies can help achieve these reductions as well as other planning goals.parking101Parking Reform Will Save the City
Cities that require builders to provide off-street parking trigger more traffic, sprawl, and housing unaffordability. But we can break the vicious cycle.parking101opinionThe War on City Parking Just Got Serious
The White House deals a (symbolic) blow to neighborhoods hoping to keep precious spots all to themselves.parking101The worst thing about driving is about to change
Driverless cars will change more things than you know.parking101AVWhy free parking is bad for everyone
It seems like a boon. But it's a menace.parking101