Businesses include oil and gas drillers and coal mine operators, an analysis by Documented and the Guardian finds, Emily Holden in Washington, Tue 7 Jul 2020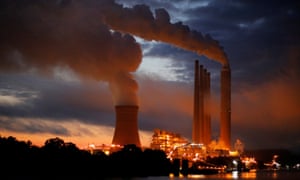 More than 5,600 companies in the fossil fuel industry have taken a minimum of $3bn in coronavirus aid from the US federal government, according to an analysis by Documented and the Guardian of newly released data. The businesses include oil and gas drillers and coal mine operators, as well as refiners, pipeline companies and firms that provide services to the industry. The Small Business Administration (SBA) on Monday released the data under pressure for further transparency, including from journalism outlets that had sued demanding the public records.
The $3bn figure is probably far less than the companies actually received. The SBA did not disclose the specific amounts of loans and instead listed ranges. On the high end, fossil fuel companies could have received up to $6.7bn. At least 475 fossil fuel companies received at least $2m, according to the data the SBA released that it collected from banks. This analysis only includes loans over $150,000, because the SBA did not disclose which companies received smaller loans.
Fossil fuel companies are not restricted from taking the forgivable Paycheck Protection Program (PPP) loans, designed to be used to keep paying employees and to cover recurring bills during the pandemic. But environmental advocates say that investing billions in an industry that is polluting the planet and causing the climate crisis is short-sighted and a bad use of public money.
"Federal aid should be going to help small businesses and frontline workers struggling as the result of the pandemic, not the corporate polluters whose struggles are a result of longstanding failing business practices," said Melinda Pierce, Sierra Club legislative director.
The Guardian attempted to contact all of the companies named in this story for comment and did not receive responses by deadline.
Several of the companies receiving loans of at least $5m reported having 500 employees, which is the upper end of what the government considers to be a small business. One was the Navajo Transitional Energy Company, which owns four mines including the one on Navajo nation territory that supplies coal to the large Four Corners coal plant. The plant is run by Arizona Public Service Co, which will close it in 2031 when its coal contract expires.
The eastern Ohio coal company CCU Coal and Construction, which reported having 148 employees, also took at least $5m. Last year, the company announced plans to cut half of its staff, or 205 jobs, because American Electric Power is closing a plant it provides coal to in Conesville.
The Sunflower Electric Power Corporation, which is owned by customers and not investors, also got at least $5m. It announced earlier this year that it would pull the plug on a long-delayed coal-power project in Kansas.
The list of recipients getting at least $5m also included oil drillers. Four were listed as top 10 drilling rig operators in Texas late last year: Independence Contract Drilling, Latshaw Drilling Company, NorAm Drilling Company and Scandrill.
Jesse Coleman, a researcher for Documented, said: "We should not be wasting taxpayer dollars on an industry that's in a tailspin of its own making, especially when it seems intent on bringing the whole planet down with it."
A separate review by the watchdog Accountable.US and the Guardian found that millions of dollars in coronavirus aid has also gone to companies with histories of significant environmental violations.
Pacific Ethanol, a California company that makes a biofuel that is blended into gasoline, took $9.9m. Multiple Pacific Ethanol facilities have been cited for breaking water and air pollution laws year after year, racking up $2.6m in environmental fines over the last five years, according to an Environmental Protection Agency (EPA) database.
In 2017, the Sierra Club sued the company, arguing its bioethanol plant in Pekin, Illinois, had "brazenly and consistently violated its water-pollution permit for years", releasing hot and polluted wastewater into the Illinois River.
Rob Weinstock, an environment lawyer who worked on the Illinois case against Pacific Ethanol, said the company repeatedly failed to correct problems with its Pekin plant and stalled regulators by requesting permission to conduct a study on the effects of releasing hotter water into the river and then delaying that study.
Paul Koehler, Pacific Ethanol's spokesman, contested the EPA data showing the company has been fined $2.6m, saying it has been fined less than half that amount and that many of the penalties were for problems it self-reported.
He said the company produces low-carbon renewable fuel and aims to lower emissions. Many environmental advocates argue, however, that growing corn to produce ethanol to blend into gasoline damages the environment and still results in air pollution.
Koehler said most of the company's violations over the last five years were in California and were from equipment failures that Pacific Ethanol self-reported while trying to fix.
A second company, Perma-Fix Environmental Services, a waste management company, took a $5.7m loan. It was fined $390,000 in the last five years, according to the EPA database. Perma-Fix in May saw revenues increase 112% to $24.9m, compared to the same period last year. That equaled about $1.2m for stockholders.
A third company, the chemical manufacturer LSB Industries, received $10m. LSB Industries incurred $236,000 in federal environmental fines since 2015, according to EPA. In 2014, the company and its subsidiaries paid $725,000 in penalties to settle alleged federal and state air quality violations at 10 nitric acid plants in four states, Oklahoma, Alabama, Arkansas and Texas.
In total, at least nine companies that were fined for environmental violations in the last five years have been awarded $35m. Those numbers are based on filings from publicly-traded companies in regulatory filings. The full total is probably far higher. There is no restriction against companies with environmental violations taking PPP loans, but accountability experts say the government should be thoroughly screening them before disbursing aid. "This all boils down to a question of financial responsibility," said Chris Saeger, director of strategic initiatives at Accountable.US.
"If you have proved yourself to be bad with money, if you have proved yourself to cost your shareholders and cost your company money through environmental violations, then you're probably not going to be responsible to us taxpayers."
Debbie Berkowitz, a program director at the National Employment Law Project, a pro-labor group, who previously headed the health-and-safety division of the United Food and Commercial Workers Union, told me that, thanks to the pandemic, 'the Chamber of Commerce is getting everything they always wanted.' An analysis of public records by her group found that, of the fifteen poultry plants granted waivers to increase line speeds in April, eight had covid-19 outbreaks at the time. 'If you're a worker in a plant bursting with covid-19, it's a shitshow for you,' Berkowitz said. 'The industry is getting away with murdering people.'" The New Yorker's excellent Jane Mayer on How Trump Is Helping Tycoons Exploit the Pandemic.
The estimated cost of closing Extraction's 1000 wells is $300 million.  This is based on Frack Trackers' estimate that the newer horizontal wells will cost about $300 thousand per well to close.  $300 million is about what the state was poised to give out in grants from the oil severance tax to rural interests, both public and private, through DOLA and CWCB this past session.  Extraction has racking up $ 1.8 billion in debt over less than a decade of operation.  In what is a common industry practice, it paid its crackerjack executives $6.7 million right before declaring bankruptcy to ensure that they could properly negotiate the bankruptcy proceedings.  When does this sort of self dealing rise to criminal behavior, demanding a grand jury investigation?  Where is the state's top lawyer in all this?  You remember he's the one who said he would be a lion for the people.  Give me Bert Lahr, please. p
350 Facilities Skip Reporting Water Pollution Under Temporary EPA Rule
More than 350 facilities nationwide have taken advantage of a temporary Environmental Protection Agency rule that lets companies forgo monitoring their water pollution during the pandemic, The Hill reports. A total of 352 facilities, including fossil fuel companies, water treatment plants, schools and even a Waffle House location, made use of the EPA's relaxation of Clean Water Act requirements.
(The Hill)
Mara Dolan – feminist GND
Russell – How do we begin to think collectively Post-Sanders?
Lukas – Living through the biggest robbery in plain sight. These conversations are already happening. What we do to be relevant.
Cheryl – Deeper alignment between the FF bailouts campaign / frontline-led organizing
Ben – how do we step out of the minutiae of lobbying – broader people not polluters? Opportunity to step back and see who is in the circle? Step back from Hill strategy to organizing strategy.
Colette, Cindy Weisner, we want to flank the movement going on more broadly, BLM, worker solidarity, bail-outs.
Anthony – give a lot more attention to local/state-based strategies and organizing, where we have more of an opportunity to move stuff.
Osprey – Change is happening because of tension points and people in the streets. Local strategy is very important. Indigenous women are happy I'm on these calls because — flanking them, supporting them with knowledge, they would throw down if there were a few key intervention points to call out the federal govt.
Transfer of Wealth – a few key areas – give them a lot of narrative space – how this is going to impact them directly. All of these dollars are going in the wrong direction. It's going to have an effect for a long time. This narrative is getting lost on the federal level. This level of theft and not hearing from the people about their response. It's so wrong – COVID, climate crisis, injustice to communities — something there should be done in addition to pivoting toward communities to get stuff done.
Osprey, Anthony – giving voice to frontlines
Jim – larger shared strategy, where we are building, who is taking which chunks, broadly – tactics we can do, briefings?, mobilizing community, engaging grassroots in that discussion.
Mahyar – BREATHE Act as an organizing vehicle – broad issues
Justice Jubilee – people have done a lot of deep thinking around these issues.
Create a way for people to really have those voices heard. Collectively create a strategy. They know best what they want to do, what they want constituencies to do, honor that work. Design from work they have been doing. Visibilize this work. We're not seeing as much visibility – of those who are/have been doing the work.
Buy them out, stop bailing them out, millionaires and billionaires getting bonuses as declaring bankruptcy and leaving a mess behind. Go on offense
Being choked by toxic emissions, toxic policies, toxic police brutality.
There might be pieces of BREATHE Act, Sanders/AOC
We're being polluted, targeted and other people are being rewarded for it.
a moment to advocate more collectively because there is an unprecedented transfer of wealth taking place right now, which will have long-term impacts. How does this transfer of wealth to the 1%/ favored industries impact different constituencies/communities ?
Build out more long term strategy
Midwest Academy Strategy Chart for campaigns – what do you use?
Who do we get to be a part of this and how do we get them?
Opportunity depending on capacity to do both. Moment is now.
narrative -meaning has more weight than truth
short-term we are trying to shift money from (FF) corp bailouts to rescue/invest in communities, this seems like a shared principle
++ coordinating with key progressive labor friends + coal communities is crucial. Lisa KY for Commonwealth
Cindy & Sunyoung (GGJ), Colette & Emma (GCCLP), Peggy at WEACT or NY Renew folks, Tara Houska
Oh oops
Going in notes now
From Osprey Orielle Lake to Everyone: 12:52 PM
Tara Houska Giniw Collective
Jacqui Patterson, NAACP
Where is support desired from the main greens?
Nicole
From Me to Everyone: 12:01 PM
I can't hear anyone so I may drop off and come back on. Can others hear?
From Cheryl Barnds to Everyone: 12:02 PM
notes doc https://docs.google.com/document/d/1x3oadSFGNU1oL8D7pYEun5FXiLwv0LPDrFKbE-ft00k/edit
From Me to Cheryl Barnds: (Privately) 12:02 PM
Can you hear? Did coming on and off make a difference?
From Cheryl Barnds to Me: (Privately) 12:02 PM
yes can hear you love
From Cheryl Barnds to Everyone: 12:03 PM
notes doc https://docs.google.com/document/d/1x3oadSFGNU1oL8D7pYEun5FXiLwv0LPDrFKbE-ft00k/edit
From Mara Dolan to Everyone: 12:10 PM
*
From russell greene he/him/his PDA/TCM to Everyone: 12:10 PM
*
From Nicole Ghio to Everyone: 12:11 PM
Sorry — Having tech issues. Had to reboot my system.
From Lukas to Everyone: 12:11 PM
stack
From Cheryl Barnds to Everyone: 12:13 PM
i like Ben's one liner, deeper alignment between the FF bailouts campaign / frontline-led organizing
From Ben Goloff to Everyone: 12:18 PM
+++
From Raquel (She/Her) to Everyone: 12:18 PM
All of this +++
From Jim Walsh to Everyone: 12:21 PM
Can someone share the notes doc with me?
From Nicole Ghio to Everyone: 12:21 PM
https://docs.google.com/document/d/1x3oadSFGNU1oL8D7pYEun5FXiLwv0LPDrFKbE-ft00k/edit
From Osprey Orielle Lake to Everyone: 12:22 PM
stack
From Mara Dolan to Everyone: 12:22 PM
And connect to the local & state led work happening right now on shifting state finances and budgets
From Cheryl Barnds to Everyone: 12:26 PM
can someone pls throw participant list in notes, if that hasn't been done
From Jim Walsh to Everyone: 12:27 PM
stack
From Mahyar Sorour to Everyone: 12:29 PM
stack
From Raquel (She/Her) to Everyone: 12:29 PM
Have to go, but looking forward to reading the notes!
From Osprey Orielle Lake to Everyone: 12:30 PM
stack
From Me to Everyone: 12:33 PM
Yes!
From Mara Dolan to Everyone: 12:34 PM
++
From Osprey Orielle Lake to Everyone: 12:34 PM
agreed
From Me to Osprey Orielle Lake: (Privately) 12:34 PM
Thanks for expressing that so well!
From Anthony Rogers-Wright to Everyone: 12:34 PM
https://www.nytimes.com/2020/07/12/climate/oil-fracking-bankruptcy-methane-executive-pay.html?action=click&module=Well&pgtype=Homepage&section=Climate%20and%20Environment
From Ben Goloff to Everyone: 12:35 PM
++++
From Osprey Orielle Lake to Everyone: 12:36 PM
exactly
From Lukas to Everyone: 12:36 PM
Marker bills are props. The target is what is actually happening.
From Mahyar Sorour to Everyone: 12:36 PM
+++
From russell greene he/him/his PDA/TCM to Everyone: 12:37 PM
like that ARW
buy out / not bail out
From Ben Goloff to Everyone: 12:37 PM
I agree — I think we have enough to go through this focused on building shared strategy for the next 6-8 weeks on that frame. Rather than fixating on specific bill proposals at the top level.
From russell greene he/him/his PDA/TCM to Everyone: 12:39 PM
++++
From Mahyar Sorour to Everyone: 12:39 PM
and the narrative building we can build to add on to this political moment
From Anthony Rogers-Wright to Everyone: 12:40 PM
YES to Mahyar, narrative -meaning has more weight than truth
From Jim Walsh to Everyone: 12:41 PM
stack
From Osprey Orielle Lake to Everyone: 12:41 PM
a moment to advocate more collectively because there is an unprecedented transfer of wealth taking place right now, which will have long-term impacts. How does this transfer of wealth to the 1%/ favored industries impact different constituencies/communities ?
From Ben Goloff to Everyone: 12:41 PM
+++ Osprey
From Osprey Orielle Lake to Everyone: 12:43 PM
stack
From russell greene he/him/his PDA/TCM to Everyone: 12:43 PM
*
From Cheryl Barnds to Everyone: 12:44 PM
short-term we are trying to shift money from (FF) corp bailouts to rescue/invest in communities, this seems like a shared principle
From Ben Goloff to Everyone: 12:47 PM
++ coordinating with key progressive labor friends + coal communities is crucial
From Nicole Ghio to Everyone: 12:47 PM
+++ Bailouts for FF workers are good, but bailouts for executives and corporations, not so much. And we need investment in communities
From Osprey Orielle Lake to Everyone: 12:48 PM
+++
From Me to Everyone: 12:49 PM
Lots of short videos from folks about how they feel about this theft? What is needed now? Themes from BREATHE, Sanders, Jubilee
From Osprey Orielle Lake to Everyone: 12:50 PM
Cindy Wiesner, Jacqui Patterson
From Mara Dolan to Everyone: 12:51 PM
Cindy & Sunyoung (GGJ), Colette & Emma (GCCLP), Peggy at WEACT or NY Renew folks, Tara Houska
Oh oops
Going in notes now
From Osprey Orielle Lake to Everyone: 12:52 PM
Tara Houska Giniw Collective
Jacqui Patterson, NAACP
From Nicole Ghio to Everyone: 12:54 PM
stack
From Osprey Orielle Lake to Everyone: 12:55 PM
++++
From Ben Goloff to Everyone: 12:55 PM
totally agree
From Osprey Orielle Lake to Everyone: 12:56 PM
stack
From Cheryl Barnds to Me: (Privately) 12:56 PM
i lost connection can you copy chat and sent it to me at the end? xox