Colonization is a "structure rather than an event" and federal policies, broken treaties and public attitudes exacerbate "economic distress and keep tribal people separate, unequal and exposed to predatory interests."
There's a Vanishing Resource We're Not Talking About, In These Times, Feb 1, 2019
"Capitalist economies that stress on nonstop economic growth … are paving the way to the homogenization of cultures and landscapes," warned 13 biologists and researchers in the journal Conservation & Society in 2009. Land grabs, efforts to "modernize" indigenous ways of life, consumerism and urbanization, among other forces, are driving a cultural die-off. One rough proxy is language: Of Earth's roughly 7,000 languages, one becomes extinct every other week. 
That loss threatens not only "the capacity of human systems to adapt to change," the Conservation & Society writers warn, but ecosystems as a whole. Numerous studies have linked linguistic diversity and biodiversity. Lose local languages, and you lose local species.
That is likely because the vanishing languages and cultures belong to indigenous peoples. "Land is revered and respected … in virtually every indigenous cosmovision," says ecosystem and sustainability researcher Víctor M. Toledo. 
"What ends up happening when we lose linguistic diversity is we lose a bunch of small groups with traditional economics," explains Professor Larry J. Gorenflo of Penn State University, who has studied the link between linguistic and biological diversity. "Indigenous languages tend to be replaced by those associated with a modern industrial economy accompanied by other changes such as the introduction of chain saws. In terms of biodiversity conservation, all bets are off."
Indigenous peoples have served as the Earth's staunchest environmental stewards in the face of 500 years of violent colonialist encroachment.  Global Witness documented more than 50 indigenous defenders of the land were murdered in 2017 alone. The 22 percent of the world's land indigenous people occupy holds 80 percent of its species, as well as swaths of forest that represent a last bulwark against climate change. 
To me, this suggests that rather than trust in individual cleverness to mitigate climate change, we might draw on our remaining cultural diversity and turn to indigenous peoples for leadership.
I'm not alone. The U.N. and even the World Bank have recommended centering indigenous peoples in climate planning. A 2016 report by the Obama administration's USDA suggested that the U.S. look to its 562 tribal nations: "It is detrimental for the federal government to exclude tribes in climate-change initiatives because long histories of adaptation in response to colonialism, genocide, forced relocation and climatic events have provided tribes with extensive experience with resistance, resilience and adaptation."
What's more, indigenous people can offer "an ethical framework for adaptation plans." The report quotes Terry Williams, of the Tulalip Tribes Natural Resources Department: "We were taught that we're the caretakers of the land. I tell our people that, if nothing else, we can set the example."
Or, as new U.S. Rep. Deb Haaland (D-N.M.), of the Laguna Pueblo, puts it: "Our cultural practices take into deep regard the harmony that must exist between people and the land—if we are to sustain ourselves and create such a path for future generations."
Jessica Stites is In These Times' Deputy Editor. Before joining ITT, she worked at Ms. magazine and George Lakoff's Rockridge Institute. Her writing has been published in the Los Angeles Review of Books, Ms., Bitch, Jezebel, The Advocate and AlterNet.
**
BY JUANPABLO RAMIREZ-FRANCO, In These Times, Dec 2019
Back in 2001, about 100 miles west of Kabul, in the Bamiyan Valley, the Taliban rigged two towering sandstone statues of Gautama Buddha with enough dynamite to wipe them clean from the cliff they were carved into during the sixth century. Despite an international outcry, the Taliban detonated the 1,700-year old statues. They were met with condemnation, outrage and headlines the world over.
In early 2015, videos started circulating showing Islamic State of Iraq and the Levant (ISIL) fighters taking jackhammers, drills and sledgehammers to ancient artifacts in the Mosul museum. Then ISIL took a bulldozer to the Mashki and Adad Gates of Nineveh, and all but toppled the 2nd-century city of Palmyra.
In the summer of 2016, members of the Battle Mountain Band of the Te-Moak Tribe of Western Shoshone Tribe mounted legal action against mining operations that endangered large portions of the Tosawihi Quarries—a 15,000-year-old tribal sacred tribal site in Nevada that includes ancient-stone gathering places and an ancestral healer's trail that qualified for the National Register of Historic Places. The mining company didn't wait for a final ruling to begin operations and irreparably damaged the Tosawihi Quarries.
Can we derive any common denominators from the events in the Bamiyan Valley, Mosul, Nineveh, Palmyra and the Tosawihi Quarries?
In her new book, American Apartheid: The Native Struggle for Self-Determination and Inclusion, Stephanie Woodard writes, "Demolition of irreplaceable ancient artifacts usually merits outrage, or at least notice." When it comes to how the media covers Native issues, we've been doing it all wrong.
Before the Trump administration's directives involving Standing Rock, Bears Ears, and Grand Staircase Escalante propelled Native affairs into national headlines, Woodard, who writes regularly for In These Times, spent  20 years reporting on Native issues—historically a blind spot for mainstream media outlets. In American Apartheid, Woodard argues that Indian country faces a crisis that extends beyond the events at Standing Rock, one that has not become part of the national conversation.
Despite the public interest in the fight against the Dakota Access Pipeline, Woodard writes that it remains "just one of many oil, gas, and electrical transmission lines, roads, railroads and other infrastructure projects that cross Native lands nationwide." The exploitation of Native people isn't a thing of the past; it's hardwired into our democracy and institutionalized at every level of government.
Patrick Wolfe, the late historian of colonialism, wrote that colonization is a "structure rather than an event."  Woodard's thesis is similarly grounded.  She maps the federal policies, broken treaties and public attitudes that exacerbate "economic distress and keep tribal people separate, unequal and exposed to predatory interests."
The most compelling and unnerving finds emerge when Woodard brings into sharp focus the casualties of the cozy relationship between private interests and government agencies. She writes about a Navajo family's fight for appropriate compensation in return for renewing the right-of-way grant of an oil pipeline that transports about 15,000 barrels of crude oil a day across their 160-acre plot of land. When all was said and done, Woodard writes, the family faced accepting a sum of "$6,656 for 20 additional years of access to their land, or about $333 per year." She continues, "The amount was to be split among nearly 50 people, for an average of a little more than six dollars per each year."
It turns out that the Bureau of Indian Affairs authorizes lease applicants, some but not all of which are oil companies, to set the price for the Native property they want. She writes, "This is business as usual in Indian country.
Overturning decades-old laws that discriminate against Native people is made more difficult when they are routinely shut out of the voting process. In an unlucky combination, "distance and poverty prevent tribal members from getting to white-majority towns and their courthouse polling places." For instance, Woodard writes, "In San Juan County, Navajo Nation residents who needed to or wanted to vote in person had to travel as many as 400 miles to do so." A round-trip distance like this would require a working car and gas money, resources that not everybody on reservations has access to.
Voting by mail, the next best alternative for reservation voters, manages to be similarly complicated. Getting a mail-ballot can also require steps that are daunting on isolated, impoverished reservations," she writes. "The prospective voter generally has to download instructions and a ballot application, photocopy the document along with identification, and get it all notarized before putting this packet in the mail." Keep in mind, a computer, internet access, a photocopier and a printer are unlikely to be available at the same place and the same time on any reservation. An attorney from a voting-rights group, who already had the advantage of a laptop, tested the mail-in process and had to travel across state lines to find a photocopier and a printer.
The police powers of the state are also arrayed against Native people. A 2016 study by Jean Schroedel and Roger Chin of Claremont Graduate University found that in "Mississippi, South Dakota, Idaho, Washington, Alaska and North Dakota, the death rates for Native Americans caused by the police ranged from 1.19 down to .27 per 10,000. All six were higher than the highest rate for African Americans—in California, at .19 deaths per 10,000."
Life on the reservation is clearly viciously difficult. For Native youth living at the intersection of so much generational pain, the consequences are heartbreaking. Woodard writes, "The suicide rate for of Natives aged 15 to 24 was not only the highest in the nation, it had climbed steadily over the 15 years between 1999 and 2014." The latest figures from the Suicide Prevention Resource Center report that in 2016 the suicide rate among American Indians/Alaskan Natives was 21.39 per 100,000, compared to the national average of 13.5 per 100,000 in the same year.
American Apartheid suggests that if nobody knows, nobody can care. Woodard is also deeply aware that those who do know about the oppression of Native people are actively benefiting from it. Better media coverage may not stop this human rights crisis—but documenting the structural racism that Native people experience is the first step. It makes us confront the predatory political and economic apparatus that benefits from the oppression of the first Americans and the exploitation of the natural resources still under their control.
Woodard's lasting message, however, is that while the challenges are many, Native cultural resilience ensures that the tribes will survive. "The situation in Indian country is not, and has never been hopeless. During visits to Native communities around the country, I have seen that culture is a shield that has persisted, indeed thrived, despite all efforts to stamp, starve and regulate it out of existence," she writes. "The ongoing hum of tradition underlies the cacophony of problems that tribal members are constantly fighting to resolve."
Juanpablo Ramirez-Franco is an editorial intern for In These Times and Documenter at City Bureau.
Digital Smoke Signals in the 2018 Midterms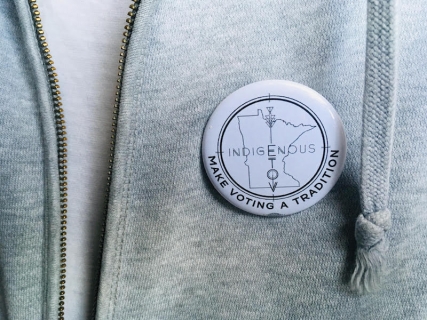 Silicon Valley met Indian country in Minneapolis. Over two days in early-October, longtime software developer Deepak Puri taught tribal representatives—from Leech Lake, Red Lake, Menominee, Rosebud, Sisseton-Wahpeton, Crow Creek, Lower Brule, Navajo and more—to use cheap, fast, off-the-shelf technology to supercharge voter access to the polls in Indian country.
As Puri explained the steps, attendees dug into their cellphones and laptops and quickly created a succession of bots, videos, coded maps and other high-tech tools. The results looked to be effective weapons against the continual and extreme suppression of the Native vote, covered by In These Times and by Rural America In These Times, including here, here, here, and here.
"It's the 21st-century moccasin path," says Judith LeBlanc, Caddo Nation director of the Native Organizers Alliance, a nationwide forum for grassroots tribal groups that sponsored the workshop. OJ Semans agrees. He is the Rosebud Sioux codirector of Four Directions, a civil-rights group and the event's cosponsor. "You have all been taught by your grandparents," Semans tells the attendees. "Now you can use those lessons in the 21st century."
The technology tools explored in the meeting are intended for reservations' use during the 2018 midterm elections, which are perceived as critical for the nation as a whole as well as for Indian country. The tools may be particularly helpful for the scores of Native candidates who have declared this year for offices ranging from governor of Idaho and lieutenant governor of Minnesota to congressional representative from New Mexico.
By 2020, the complete range of tech tools should be fully operational and universally available for Native communities. According to Semans, some tools work better on certain reservations, while others may be most effective elsewhere. "We will learn as we go and customize as needed," he says.
Learning to create short, vivid, crowd-sourced videos, and share them locally and with the press was one of the goals of the training by Puri, who is a director of Democracy Labs, a nonprofit he founded following the 2016 election. The group's tagline is "New Ways to Win: We deliver technology and storytelling innovation to progressives," and its trainings are pro-bono.
"This country has given us so much, but what is happening is not right," says Puri. After he and his wife participated in the January 2017 Women's March in Washington, D.C., he says they asked themselves, "What can we do to make a difference?"
Another training goal at the Minneapolis workshop was to come up with real-time solutions for election-related problems, such as a voter needing a ride to a registration office or the polls, unusually long lines at a polling place, or voter harassment. A voter or election observer could use voice or text to transmit the problems to a coordinator, who would snap them onward to individuals assigned to deal with the issue. For example, a get-out-the-vote driver would be dispatched to pick up the voter, or a lawyer would be sent to check on the excessive lines or harassment.
"You don't need a call center with 50 people," Puri says. "You can do all of this with one administrator and a laptop." The simplicity and convenience of the technology tools makes them powerful. He calls them great equalizers in a country where money—really big money—monopolizes the conversation in politics.
Puri notes that the Native culture of storytelling is another advantage. "This means compelling narratives for videos they make," he says, and this, in turn, enhances tribal members' ability to get their message out.
LeBlanc calls Election Day a transitional moment—one that, with planning and work, can lead to a new kind of influence for Native communities. "Election Day is an exclamation point, the end of one stage and the beginning of another, when we bring people we have elected into our communities to understand our priorities. We can make the Native vote visible. We will ensure that we can show what we want done."