As California burned, Hurricane Laura pounded the Louisiana coast with 150-mile-an-hour winds, killing at least 25 people; it was the 12th named storm to form by that point in 2020, another record. Phoenix, meanwhile, endured 53 days of 110-degree heat — 20 more days than the previous record.
Half of Americans now rank climate as a top political priority, up from roughly one-third in 2016, and three out of four now describe climate change as either "a crisis" or "a major problem." This year, Democratic caucusgoers in Iowa, where tens of thousands of acres of farmland flooded in 2019, ranked climate second only to health care as an issue. A poll by researchers at Yale and George Mason Universities found that even Republicans' views are shifting: One in three Republicans now think climate change should be declared a national emergency.
**
APRIL 16, 2020
U.S. concern about climate change is rising, but mainly among Democrats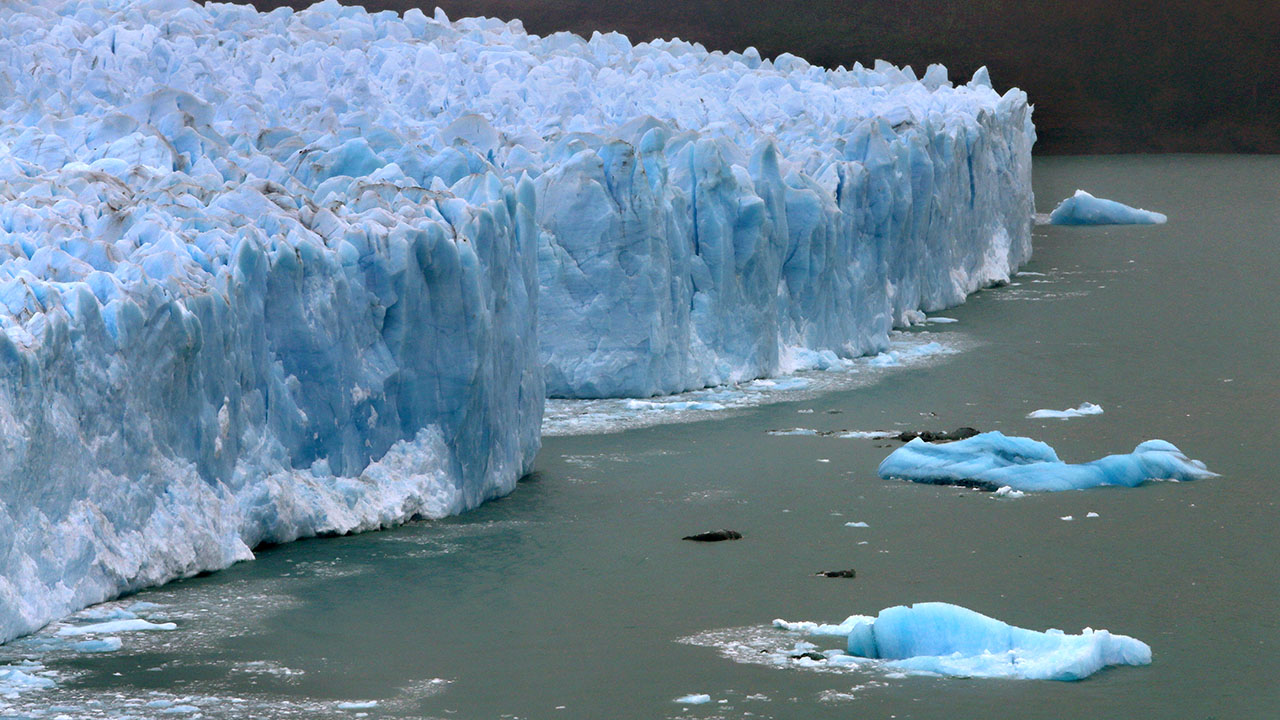 The share of Americans who say global climate change is a major threat to the well-being of the United States has grown from 44% in 2009 to 60% this year. But the rise in concern has largely come from Democrats. Opinions among Republicans on this issue remain largely unchanged.
About nine-in-ten Democrats (88%, including independents who lean to the party) now consider climate change a major threat to the nation, according to a Pew Research Center survey conducted March 3-29. That's up 27 percentage points from a 2009 survey. Concern about climate change has increased among both liberal Democrats and moderate or conservative Democrats (rising 20 and 27 points, respectively).
By contrast, the 6 percentage point increase among Republicans and Republican-leaning independents since 2009 is not statistically significant. In the new survey, about three-in-ten Republicans (31%) consider climate change a major threat, while 45% say it is a minor threat and 24% say it is not a threat to the nation.How we did this
The latest survey was fielded amid growing concern in the U.S. about the outbreak of the coronavirus. Respondents who took the survey in the latter part of the month – after the March 13 declaration of a national emergency due to the virus – were about equally concerned about climate change as those interviewed earlier in the month. Around six-in-ten (63%) of those interviewed March 13 to 29 called climate change a major threat, as did 55% of those surveyed March 3 to 12. (This 8-point difference is not statistically significant at the 95% confidence level.)
In recent years, the public has become more supportive of policy action related to climate change. In another Center survey conducted Jan. 8 to 13, more Americans said dealing with global climate change should be a top priority for Congress and the president than said this in early 2015 (52%, up from 34%). But again, the increased emphasis on climate policy has come among Democrats, not Republicans.
Some 78% of Democrats (and independents who lean to the Democratic Party), including 87% of liberal Democrats, said this year that dealing with global climate change should be a top priority for the president and Congress. In 2015, 46% of Democrats said this.
In contrast, only 21% of Republicans and GOP-leaning independents said this year that climate change should be a top priority – a virtually identical share as in 2015 (19%).
Climate change policy is among the issues taking center stage for Democrats heading into the November general election. In surveys conducted by the Center in late 2019 and early 2020, 88% of Democratic registered voters said stricter environmental laws and regulations are worth the cost. Only around four-in-ten Republican registered voters (37%) said the same. A 61% majority of GOP voters said such environmental laws cost too many jobs and hurt the economy.
Brian Kennedy is a senior researcher focusing on science and society research at Pew Research Center.
**
Next president could declare climate emergency, GOP fears
Scott Waldman, E&E News reporterPublished: Friday, January 11, 2019
President Trump addressed the nation Tuesday. Kevin Dietsch/Picture Alliance/Consolidated/Newscom
Republicans are increasingly concerned that President Trump's threat to build a border wall by declaring a national emergency might be repeated by a future president who sees climate change as an existential danger to the United States.
A number of Republicans, including Sens. John Thune of South Dakota and Marco Rubio of Florida, expressed dismay at the potential reverberations of issuing an emergency order to achieve a political victory.
"We have to be careful about endorsing broad uses of executive power," Rubio said Wednesday on CNBC. "If today the national emergency is border security, tomorrow the national emergency might be climate change."
Democrats and Republicans have been clashing for three weeks — the length of the partial government shutdown — over Trump's demand for $5.7 billion in wall funding. Neither side is showing signs of a compromise, prompting Trump to intensify his rhetoric about violence along the U.S.-Mexico border while pushing closer to an emergency declaration that would empower him to build a wall using the military.
"If this doesn't work out, probably I will do it," Trump said yesterday of declaring a disaster, before flying to Texas for publicized meetings along the border. "I would almost say definitely."
Even some conservative pundits who support building a wall worry that Trump's actions on immigration could be harnessed by a future president for climate action.
"If the President declares a national emergency and starts using eminent domain and reprogrammed dollars to build a wall, it is only a matter of time before a progressive President declares climate change a national emergency and uses eminent domain to shutter coal plants, etc.," Erick Erickson tweeted this week.
Former Democratic Sen. Claire McCaskill of Missouri warned Republicans yesterday that climate change is exactly the type of issue that a future president could address by bypassing Congress.
"This is a reminder to my R friends that the Pentagon, Congress, and this administration have all said climate change is a serious threat to national security," she wrote on Twitter. "Will the next President bypass Congress and declare an emergency? This door can swing both ways."
Democrats won't publicly admit that global warming rises to the level of declaring a national emergency or shuttering the government. More than a dozen Democratic lawmakers in the House and Senate said they would not shut down the government over any issue, including climate change.
Rep. Jan Schakowsky (D-Ill.) said Democrats would be able to get support for climate policy though traditional avenues.
"[Climate change] really is an existential issue for human beings on this planet [and] for the security of our country, and we're definitely going to do it," she said of addressing climate change. "But it's not about trading these essential issues, that's why we have a democracy, that's why we have order to get things like this done. We just have this intransigent and crazy president, I think a very, very sick man, in the White House who has no capacity to understand issues as important as climate."
Sen. Ben Cardin (D-Md.) said that enough Republicans are concerned about rising temperatures to make a shutdown unnecessary.
"You don't shut the government down," he said. "We have Republicans who want to join us on climate change issues; we can win on this issue and have the American people with us and have the global community with us."
Rep. Paul Tonko (D-N.Y.) said Democrats believe in government, not in shutting it down.
"We're about keeping the government open, we're about dialogue, and that's what we need here," he said. "My focus this session is bringing us into working order on a plan to address carbon pollution, which is a worldwide crisis. It's based on science and evidence that requires us to respond with a degree of urgency."
Trump spent his nine-minute Oval Office address Tuesday pressuring Democrats to approve billions of dollars for a border wall. Some say that kind of pressure is needed to marshal funding and policies to tackle rising seas and other climate threats.
"It strains public resources and drives down jobs and wages," Trump said of illegal immigration, a claim that experts immediately disputed. "Among those hardest hit are African-Americans and Hispanic-Americans."
Apply that to climate change, and those words ring true.
Poor and minority communities are the most vulnerable to climate impacts, like sea-level rise and heat waves. Public infrastructure is being destroyed by disasters exacerbated by climate change.
In the coming years, global warming stands to kill more Americans, destroy more property and damage the economy, according to two major climate reports released last year.
Trump said congressional Democrats "refused to acknowledge the crisis" of border security. The same claim can be applied to Republicans who ignore and criticize climate science.
"Thousands more lives will be lost if we don't act right now," Trump said in the Oval Office. "This is a humanitarian crisis. A crisis of the heart and a crisis of the soul."
The economic costs of disasters that are sharpened by rising temperatures continue to mount, even as the Trump administration rolls back environmental protections that restrict greenhouse gases. The National Flood Insurance Program is $20 billion in debt, a number driven upward by hurricanes and other extreme weather events, which climate scientists say will be more damaging in the future.
The irony to some experts is that Trump's concerns about immigration are connected to the changing climate. More refugees stand to flee their homeland in Central America and other regions as food insecurity grows and economies suffer.
"The reason we care about the changing climate is because it is a threat multiplier," said Katharine Hayhoe, an atmospheric scientist and a political science professor at Texas Tech University. "If you think immigration is a problem now, just wait. If you think international competitiveness, or agriculture or water shortages, or the extreme amount of money that is being spent to help cities and regions recover after disasters, if you think any of that is a problem right now, just wait."
The threat from climate change needs an Oval Office address to communicate its seriousness, said Bob Inglis, a former Republican congressman from South Carolina who once rejected climate science but now tries to engage conservatives on the issue.
He said neither immigration nor climate change requires a national emergency declaration. Instead, a Republican president could use the backdrop of the Oval Office to explain that America is prepared to lead the world on climate action. He said he envisions a grand speech that echoes President Kennedy in 1961 at Rice University, where he marshaled the nation's best science for a race to the moon.
"Climate change is this huge challenge, it's a worldwide challenge, it's just a call for American greatness to solve the challenge," Inglis said. "The rest of the world can't solve it. It does warrant that level of attention from a president, and of course that's not what we're getting now."Twitter: @scottpwaldmanEmail: swaldman@eenews.net
**
On October 9, 2017, a wildfire blazed through the suburban blue-collar neighborhood of Coffey Park in Santa Rosa, Calif., virtually in my own backyard. I awoke to learn that more than 1,800 buildings were reduced to ashes, less than 35 miles from where I slept. Inchlong cinders had piled on my windowsills like falling snow.
The Tubbs Fire, as it was called, shouldn't have been possible. Coffey Park is surrounded not by vegetation but by concrete and malls and freeways. So insurers had rated it as "basically zero risk," according to Kevin Van Leer, then a risk modeler from the global insurance liability firm Risk Management Solutions. (He now does similar work for Cape Analytics.) But Van Leer, who had spent seven years picking through the debris left by disasters to understand how insurers could anticipate — and price — the risk of their happening again, had begun to see other "impossible" fires. After a 2016 fire tornado ripped through northern Canada and a firestorm consumed Gatlinburg, Tenn., he said, "alarm bells started going off" for the insurance industry.
What Van Leer saw when he walked through Coffey Park a week after the Tubbs Fire changed the way he would model and project fire risk forever. Typically, fire would spread along the ground, burning maybe 50 percent of structures. In Santa Rosa, more than 90 percent had been leveled. "The destruction was complete," he told me. Van Leer determined that the fire had jumped through the forest canopy, spawning 70-mile-per-hour winds that kicked a storm of embers into the modest homes of Coffey Park, which burned at an acre a second as homes ignited spontaneously from the radiant heat. It was the kind of thing that might never have been possible if California's autumn winds weren't getting fiercer and drier every year, colliding with intensifying, climate-driven heat and ever-expanding development. "It's hard to forecast something you've never seen before," he said.
For me, the awakening to imminent climate risk came with California's rolling power blackouts last fall — an effort to pre-emptively avoid the risk of a live wire sparking a fire — which showed me that all my notional perspective about climate risk and my own life choices were on a collision course. After the first one, all the food in our refrigerator was lost. When power was interrupted six more times in three weeks, we stopped trying to keep it stocked. All around us, small fires burned. Thick smoke produced fits of coughing. Then, as now, I packed an ax and a go-bag in my car, ready to evacuate. As former Gov. Jerry Brown said, it was beginning to feel like the "new abnormal."