How US cities are scrambling to protect people from extreme heat
With cities facing both rapid growth and radical, permanent climate change, urban authorities are faced with an increasingly vulnerable populationCities is supported byAbout this content
Oliver Milman in New York, Emily Holden in Washington DC, Tom Dart in Houston Tue 20 Aug 2019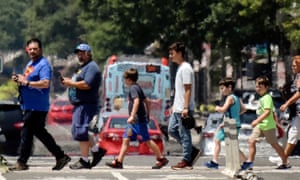 On a sweltering summer day in Washington, DC, Judy Williams pulls up to a homeless day center to fill her van with bottled water.
The homeless outreach coordinatoris headed to the spots where she knows she'll find people who are living outside.
"I'll make sure they're not lying down on the ground, and tap their feet for a response," Williams said.
Inside the center, a few dozen people hide from the heat in a windowless room with cafeteria-style tables and loud televisions. Two nearby men's shelters are also open around-the-clock instead of just at night because of a city-wide heat alert.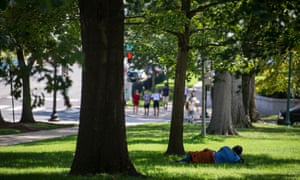 There's free lunch, as well as computers for job searching, laundry machines and showers – but managers say people also visit just to get out of the sun.
The center is in the middle of warehouses and near a highway, and all the concrete radiates heat. Matthew King, a 44-year-old who works in a tire shop but is between homes, said he visits regularly, "especially when it's hot."Q&A
Why is heat an issue in US cities?
Show
"This is the hottest I've ever seen in July," said King at the center, which is just a few miles from the White House rose garden where President Trump said in 2017 that the US will leave the Paris climate change accord.
Residents of the US capital are regularly baked in heatwaves and endure stiflingly thick humidit.
But much like many cities around the world, Washington DC is being slowly cooked by the human-driven climate crisis to the extent its entire character will be transformed.
By 2080, researchers recently found, Washington DC's climate will resemble what northern Mississippi or Dallas is like currently.
Unless drastic action is taken to slash greenhouse gases, global heating will transform the climates of almost every community in the US by the time today's children are entering retirement. Outdoors in Philadelphia will feel more like Memphis; New York City is set to morph into northeastern Arkansas; Houston and Miami have no US comparison, leaping instead deep into climates currently found in Mexico.
"Every city gets warmer, none get cooler," said Matt Fitzpatrick, a University of Maryland academic who formulated the climate projections for US cities, based on a range of heat and rainfall scenarios.
In the lifetime of children today, a lot of these cities are going to be dramatically transformedMatt Fitzpatrick, University of Maryland
Its research shows how 540 North American urban areas will by 2080 become, on average, "most like the contemporary climate of locations about 500 miles (805kms) away and mainly to the south."
The average temperature in US cities will rise by a blistering 9F (5C) by the end of the century, compared to the period of 1960-1990, if greenhouse gas emissions aren't curbed. Some cities will be outliers – Fairbanks, Alaska, for example, is in danger of heating up by a sweltering 11.8F (6.6C).
"Cities have built infrastructure for a climate that will no longer be there," Fitzpatrick said. "They will have to live with more heat and, if they are on the coast, flooding too. In the lifetime of children today, a lot of these places are going to be dramatically transformed."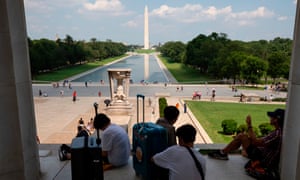 This new reality of searing heat is an existential one for those most vulnerable – the sick, the elderly and, in particular, the homeless. Washington officials estimate 6,521 people were experiencing homelessness this year, down 6% from 2018. In the broader metropolitan area, about 9,794 people are without homes.
Laura Zeilinger, director of the Department of Human Services, said as the city heats up, her goal stays the same – to get people into homes. Zeilinger said she isn't aware of any heat-related deaths in the city, although she does review any hypothermia-related deaths at the end of each winter.
"It's when people don't have housing that the elements become life threatening," Zeilinger said.
City will become '70% wetter'
It doesn't take much of a temperature increase to permanently shift the expected climate of a city. Fitzpatrick found that a 9.8F (5.5C) average temperature increase during Washington DC's winter would plunge it into what the deep south is like today. This scenario, possible if emissions aren't curbed, would also make DC around 70% wetter.
"When people hear about a few degrees in temperature rise they can think 'that doesn't sound too bad.' This shows it can really have a big impact," said Fitzpatrick, who has started to ponder the altered state of Cumberland, Maryland – the town he lives in. "It's going to look more like southern Kentucky, more of a subtropical climate," he said. "We get a fair amount of snow now but that's all going to change. It's going to be very different."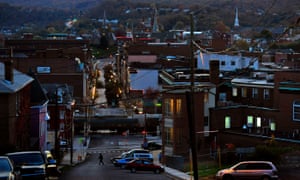 Washington DC has been given a recent glimpse into its future – a 92F (33C) burst of heat last May saw the city break a 105-year-old record for high temperatures. Sitting on the banks of two tidal rivers – the Potomac and the Anacostia – Washington DC is also essentially a delta city at growing risk of flooding as bursts of rainfall become more intense.
It won't just be uncomfortable, it will be a life or death challenge for many peopleJessica Grannis, Georgetown Climate Center
City leaders have attempted to identify the threat and counter it. A climate resilience plan, released in April, states that DC's temperature has already risen by 2F (1.1C) over the past 50 years, with a further 4.5F (2.5C) increase to come within 30 years.
The number of "heat emergency days" in DC, where the heat index tops 95F (35C), is expected to occur on more than 50 days a year as the century draws to a close. "That means that, in 2080, our summer will be one long heat emergency," the DC resilience document warns.
This scorching new climate is set to heavily burden DC's growing population, many of them low-income and struggling with housing affordability. Vulnerable people will likely suffer dehydration or heatstroke, with increasing use of air conditioning placing a strain on the electrical grid.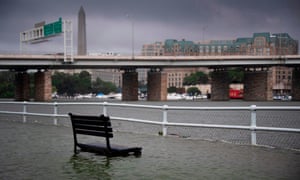 Power outages will probably start to spike.
"It will affect how people live, work and get around in the city," said Jessica Grannis, adaptation program manager at the Georgetown Climate Center. "It won't just be uncomfortable, it will be a life or death challenge for many people. Once it starts getting very hot at night, people without air conditioning are going to be at serious risk if they can't cool down properly."
Buildings may need removing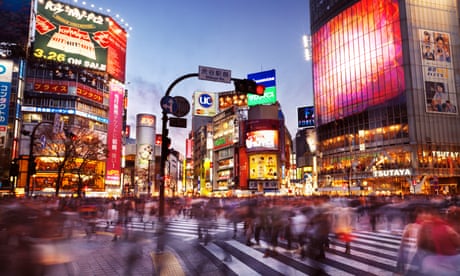 Read more
Kevin Bush, DC's chief resilience officer, has pledged to "make the city's immune system stronger" to cope with this threat, comparing it to how cities in California prepare for the ructions of an earthquake.
Under the resilience plan, all DC buildings must be retrofitted to cope with rising heat and flooding threats by 2050, with all new buildings adhering to stricter codes within 13 years. The most at-risk buildings may even be removed.
There's a plan to add more greenery to DC by planting more trees, which will provide shade, and other vegetation that will help soak up stormwater from heavy downpours. The curbsides of several major streets are already getting a makeover, with new plants being bedded in to help cool down the city.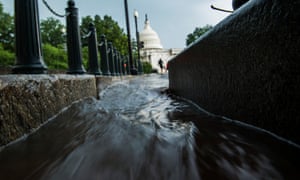 "If walk along the streets in DC at the moment you'll see a lot of pavements being taken out in favour of plantings," Grannis said. DC is, she added, "one of the most climate prepared cities in the US. Unfortunately it's not quite the same everywhere."
Dallas, which has a climate that Washington DC is moving towards, is currently trying to muster its own response to the rising heat. By 2080, according to the University of Maryland research, Dallas is set to become more like New Orleans – nearly 9F (5C) hotter and nearly three times as wet.
"We had a storm event a few weeks ago where 350,000 people lost power, trees were knocked over. People started to think we maybe aren't as resilient as we thought, even when it's not a Hurricane Harvey sort of event," said James McGuire, director of environmental quality at the City of Dallas.
Urban heat island
Dallas' situation is exacerbated by the vast sprawl of concrete at its heart. A third of its surface is made up of rooftops, parking lots, highways and other impervious surfaces that soak up heat. This gives Dallas one of the highest "urban heat island" effects in the US, with the city up to 15F warmer than nearby rural areas. Some areas of the city average peak temperatures of 101F for five months of the year.
Of all US cities, only Phoenix is heating up quicker than Dallas, found a 2017 report from the Texas Trees Foundation, which recommended the city plant 250,000 trees to alleviate the sweltering conditions.
We are getting diseases like Zika and West Nile that Texans never really used to worry about beforeJames McGuire, City of Dallas
McGuire said the city hasn't decided whether to adopt this goal but admitted Dallas needs "a lot more trees." A recent giveaway of saplings to residents proved popular but more robust action will need to be undertaken without much state or federal support. McGuire said that officials in Dallas talk to their counterparts in Houston and San Antonio about heat but they may have to wait for a time when "impacts are so severe everyone will have to do something."
Dallas's summer is set to double in length by the end of the century if radical climate action isn't taken, according to a major US government assessment released last year. The city will also be prone to the whiplash of prolonged droughts interspersed by the drumbeat of heavier rainfall.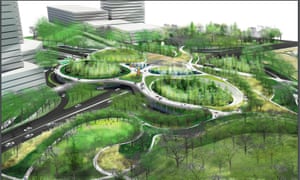 Property on the banks of Trinity river, that runs through Dallas, has long received billions of dollars of flooding protection but there is less preparation for fresher challenges, such as protecting people working outdoors who risk keeling over in the heat.
In January, Dallas City Council kickstarted an attempt to address this manifold problem by passing its first climate resolution. Most of its adaption plans, however, have yet to be formed or funded.
"It's the worst of all potential worlds, really," McGuire said. "We are getting more asthma problems. We are getting more drought. We are getting diseases like Zika and West Nile that Texans never really used to worry about before. We just hope the most dire projections won't happen."
On another hot day in Washington, Tariq Daniels – who is currently between homes – ate lunch and charged his phone at a local grocery store.
Daniels said the city has plenty of services, including the day centers, as well as free recreation centers and libraries. Daniels splits his time between the public spaces, his mosque and the grocery store, where he savors the quiet as a contrast to the noise of the shelter in which he currently sleeps.
"You've got everything that you need," Daniels said. "A lot of people have just given up. They're doing drugs to the point where they're numb to the outside temperature."
**
Texas heat wave exposes energy grid challenges
US News & World Report | Alan Neuhauser Twice in one week this August, and for the first time in five years, the owners of power lines and distribution networks across Texas found themselves in an electric game of chance as sweltering, near-record temperatures prompted an energy emergency. As the temperatures climbed, demand from air conditioners soared and winds slowed, the state's grid operator found itself with a shrinking margin of reserve power. And when the amount of spare capacity dipped below a tripwire of 2,300 megawatts (less than 3% of the state's energy needs) on Aug. 13 and again Aug. 15, the Electric Reliability Council of Texas, or ERCOT, was forced to take action. Power plants rushed to ramp up their outputs to take advantage of prices that briefly soared past a state mandated cap of $9,000 per megawatt-hour – up from about only $19 hours earlier. The companies that own transmission and distribution systems, meanwhile, hurried to reduce consumption by their customers, knowing that the rates the companies will pay next year are based on when demand is highest. […] As recently as January 2018, power providers Texas were warning that the state's supply of spare electricity capacity was in peril, leaving millions of customers – from households to offices to hospitals – vulnerable to blackouts. And while some experts painted the actions taken this week as a sign of progress – an example of how market mechanisms and advanced technology worked in concert to respond to sudden shifts in supply and consumption – the emergencies also underscored how electric grids across the U.S. are being impacted by climate change, just as they're being radically reshaped by greener energy options like wind, solar and cheap natural gas. "Climate change is only going to make this kind of thing worse," Rhodes says. "If we have large, coincident high temperatures across vast areas and grids, that will introduce stress into the system. The same goes the other way: We've seen more polar vortexes escaping from the Arctic region driven by climate change. So we're seeing it in both summer and winter."
**
Energy Transitions: 5 utility trends shaping electricity's future
E&E News | Jeffrey Tomich and Rod Kuckro The next decade's electric utility is taking shape today in the form of plans, sometimes thousands of pages, plopped into the laps of state regulators nationwide. […] What many of the plans do is highlight an accelerating transition to cleaner, more flexible energy resources. They also expose tensions created by that shift, especially in states with new 100% clean energy targets and in those phasing out their coal fleets. […] To be sure, integrated resource plans can only offer a foggy view of the future. The documents are typically based on estimates of fuel prices, technology costs, regional economic growth forecasts and myriad other variables that are plugged into computer models under various scenarios. The projections in these long-range plans are certain to miss what has always proved to be a moving target — one perhaps never more so than today. "I still think the IRP process is useful, because it is an opportunity for the utility and its stakeholders to get on the same page regarding the future direction of their power system," said Peter Larsen, deputy group leader of the Electricity Markets and Policy Group at Lawrence Berkeley National Laboratory. Here are five electricity trends to watch based on an IRP review: (1) Sluggish demand; (2) The EV Wildcard; (3) Coal, gas and renewables; (4) Battery boom? (5) Weighing all sources.
Trump's rollback of auto pollution rules shows signs of disarray
The New York Times | Coral Davenport and Hiroko Tabuchi The White House, blindsided by a pact between California and four automakers to oppose President Trump's auto emissions rollbacks, has mounted an effort to prevent any more companies from joining the other side. Toyota, Fiat Chrysler and General Motors were all summoned by a senior Trump adviser to a White House meeting last month where he pressed them to stand by the president's own initiative, according to four people familiar with the talks. But even as the White House was working to do this, it was losing ground. Yet another company, Mercedes-Benz, is preparing to join the four automakers already in the California agreement — Honda, Ford, Volkswagen and BMW — according to two people familiar with the German company's plans. Mr. Trump, described by three people as enraged by California's deal, has demanded that his staff members step up the pace to complete his plan. His proposal, however, is directly at odds with the wishes of many automakers, which fear that the aggressive rollbacks will spark a legal battle between California and the federal government that could split the United States car market. The administration's efforts to weaken the Obama-era pollution rules could be rendered irrelevant if too many automakers join California before the Trump plan can be put into effect. That could imperil one of Mr. Trump's most far-reaching rollbacks of climate-change policies. The proposal would significantly weaken the 2012 vehicle pollution standards put in place by President Barack Obama, which remain the single largest policy enacted by the United States to reduce planet-warming carbon dioxide emissions. The Obama-era rules require automakers to nearly double the average fuel economy of new cars and trucks to 54.5 miles per gallon by 2025, cutting carbon dioxide pollution by about six billion tons over the lifetime of all the cars affected by the regulations, about the same amount the United States produces in a year. […] Together, the six manufacturers who so far plan not to adhere to the new Trump rules account for more than 40 percent of all cars sold in the United States. […] Mr. Trump has billed his plan, which would freeze the standards at about 37 miles per gallon, as a deregulatory win for automakers that will keep down car prices for American consumers. Mr. Trump's plan would also revoke the legal authority of California and other states to impose their own emissions standards. In an extraordinary move, automakers have balked at Mr. Trump's proposal, mainly because California and 13 other states plan to continue enforcing their current, stricter rules, and to sue the Trump administration. That could lead to a nightmare situation for automakers: Years of regulatory uncertainty and a United States auto market that effectively split. […] Late last month, in the days immediately after the deal between California and the four automakers was announced, White House discussions ranged widely about how to respond. At one White House meeting, Mr. Trump went so far as to propose scrapping his own rollback plan and keeping the Obama regulations, while still revoking California's legal authority to set its own standards, according to the three people familiar with the meeting. The president framed it as a way to retaliate against both California and the four automakers in California's camp, those people said.
**
Climate change will shrink 'virtually all' economies around the globe by 2100, study warns
Fox News | Chris Ciaccia While there may have been some hope that certain countries could escape the brunt of the impact, a new study suggests that "virtually all" nations will be negatively affected by climate change by 2100. The study, circulated by the National Bureau of Economic Research, suggests that countries that are warm, cold, rich or poor will all see a significant loss of income if they do not abide by the 2015 Paris Agreement. "Using a panel data set of 174 countries over the years 1960 to 2014, we find that per-capita real output growth is adversely affected by persistent changes in the temperature above or below its historical norm […] Our counterfactual analysis suggests that a persistent increase in average global temperature by 0.04°C per year, in the absence of mitigation policies, reduces world real GDP per capita by 7.22 percent by 2100." The impact on the U.S. — which accounted for much of the research's focus to compare economic activity in hot or wet areas — would be even greater, a loss of 10.5 percent of its GDP by 2100, according to the researchers. "Whether cold snaps or heat waves, droughts, floods or natural disasters, all deviations of climate conditions from their historical norms have adverse economic effects," said Dr. Kamiar Mohaddes, a co-author of the study from Cambridge's Faculty of Economics, in a statement. The researchers looked at ten different sectors, including manufacturing, services, retail and wholesale trade across the contiguous 48 states and found that all of them suffered from at least one aspect of climate change — heat, flood, drought or freeze. […] "Without mitigation and adaptation policies, many countries are likely to experience sustained temperature increases relative to historical norms and suffer major income losses as a result," Mohaddes said. […] Although the report may seem dour about the prospects of the global economy, not all hope is lost, especially if countries abide by the 2015 Paris Agreement on climate change. Abiding by the non-binding agreement would limit the temperature increase to just 0.01 degrees Celsius, which would only cut world real GDP per capita by 1.07 percent.