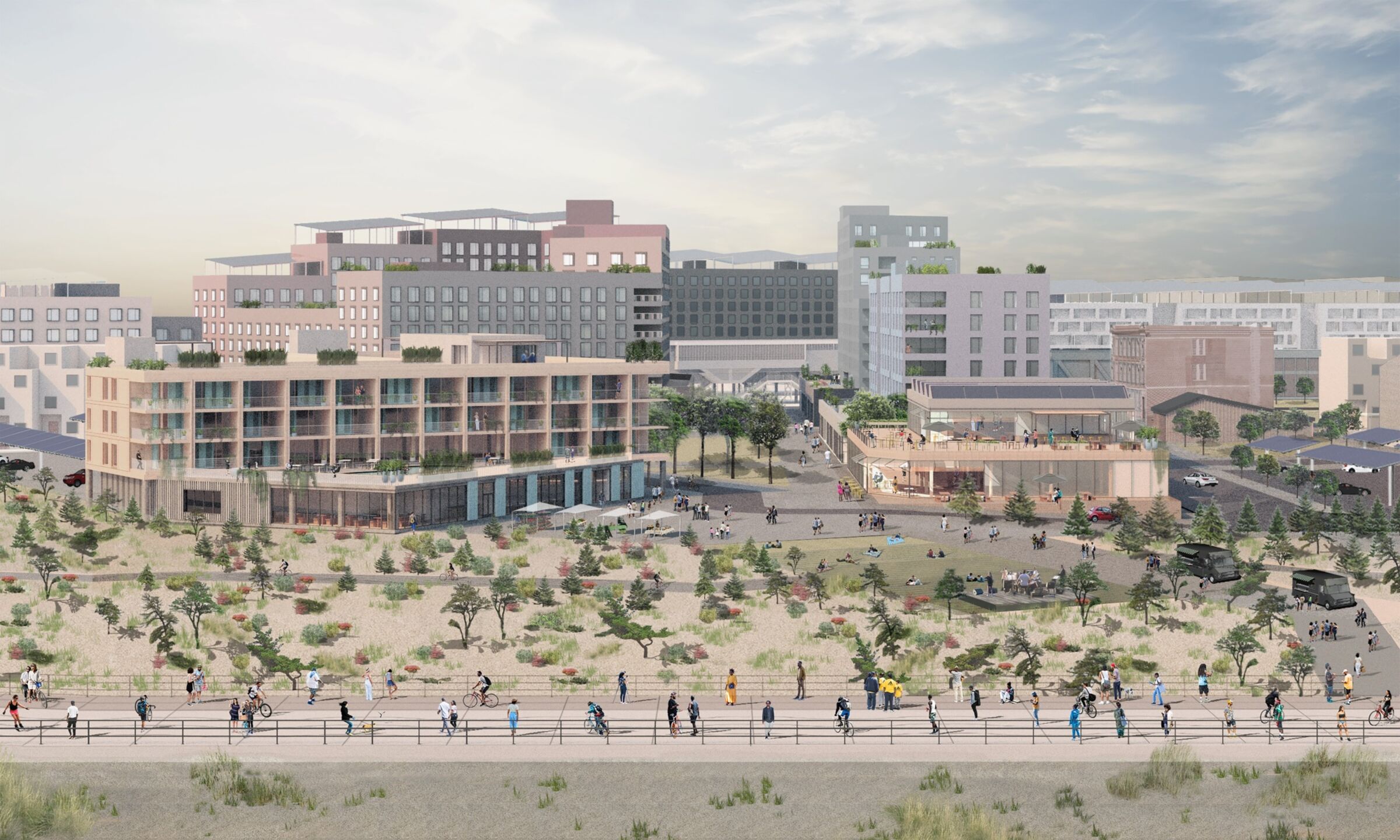 CityLab, NYC's First Net Zero Community Brings Housing to Storm-Ravaged Neighborhood
A swath of oceanfront land in the Rockaways will become a test bed for climate and economic policies, promising affordable housing and other amenities to a region hard-hit by Hurricane Sandy. By Aysha Diallo, March 4, 2022
Along 116 acres of vacant oceanfront land, development has begun on what could become New York City's first and largest community to reach a goal of net zero carbon emissions.
The roughly $1 billion project on the Rockaway peninsula in Queens could be a proving ground for a host of climate and economic policies. The development will incorporate geothermal heating, passive house design to optimize energy efficiency, and a plan to raise the storm surge elevation, given the land's vulnerability to flooding. 
The project could also be a turning point for the Arverne and Edgemere neighborhoods — geographically isolated communities whose residents feel they've been left behind by city officials as well as their posher vacation-home neighbors on the west side of the peninsula, but worry that any new development could drive up property costs in the area.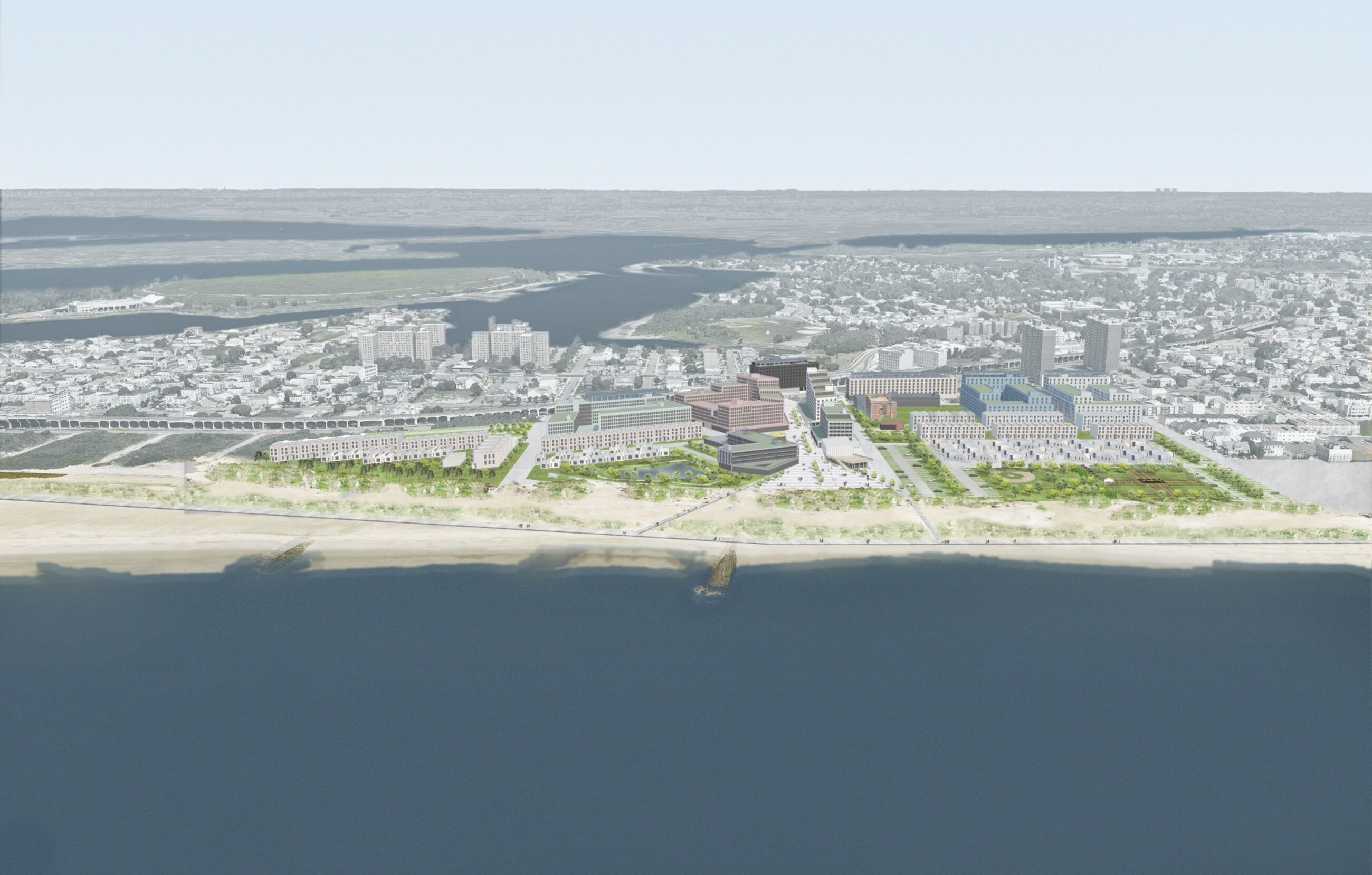 "We've arrived at a project that instead of the baby steps of building by building, we can now step neighborhood by neighborhood toward getting a national agenda to address climate change," said Walter Meyer, principal urban designer at Local Office Landscape & Urban Design. "If we can make it work in New York City — net zero neighborhoods — we can make them work in many neighborhoods around the world." 
The site, named Arverne East, is expected to have 1,650 units of housing, 1,320 of which are designated as affordable for formerly homeless, low, moderate and middle-income households. The design incorporates a range of green spaces, including a 35-acre nature preserve and an urban farm. The oceanfront community, lined by a boardwalk on the south side, would also feature many higher-end amenities including several hundred thousand square feet of retail space, a hotel, coworking space and brewery. Phase 1 of the project has begun after a series of roadblocks spanning over a decade, including the 2008 financial crisis and Hurricane Sandy in 2012.
Beachfront Location
The new community will run along the Atlantic coast of the Rockaway peninsula, on the southeast edge of Queens.
The development will no doubt mean change for the Arverne and Edgemere neighborhoods that it runs through. Compared to the west side of the peninsula, which has long been a summer getaway spot for middle- to upper-class city residents, these neighborhoods have larger minority populations and have historically fallen behind.
"There's a lot of racial and socioeconomic divide here in the peninsula," said Jeanne DuPont, who moved to eastern Rockaway in 2003 and founded Rockaway Initiative for Sustainability and Equity (RISE) in 2005 to enhance civic engagement and youth development in the area. "So, when you say, 'is it a different place in the summer?' it sure is — on the west end, but not on the east end."
The west side is accessible via the Rockaway Ferry, but residents on the east side often face long commutes to other boroughs for work or school, says DuPont. She says beaches on the east end are left without concessions and lifeguards for long stretches.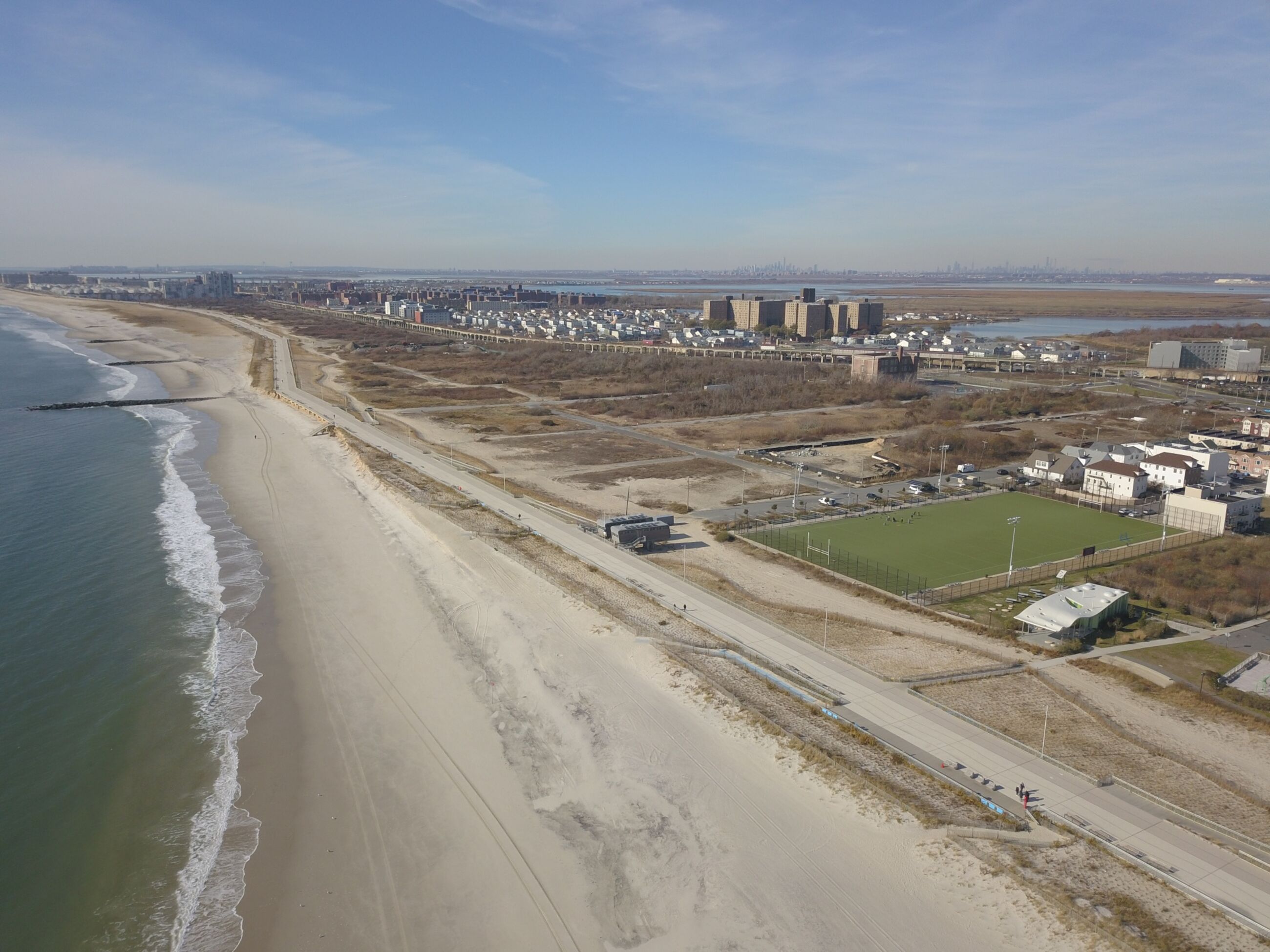 DuPont, whose group has now committed to operate the welcome center and plant nursery at Arverne East, has heard the opposition to the project from residents on both sides of the peninsula.
"Some of it is the NIMBY factor of 'not in my neighborhood'," said DuPont on objections from residents on the western end. Residents of the eastern end are worried that the development will bring in middle to upper class residents that will drive up property values, making it harder to afford the cost of living in the Rockaways. 
But Brandon Jeffries,the director of youth programs at Queens Defenders, a legal aid organization, who has been working with the Rockaways community for over a decade, says that everyone in the peninsula — whether in the west or the east — "wants more. Where there's contrast, there are also similarities," he said. "They both want jobs, they both want more merchant and retail space to be able to make the peninsula a more attractive place."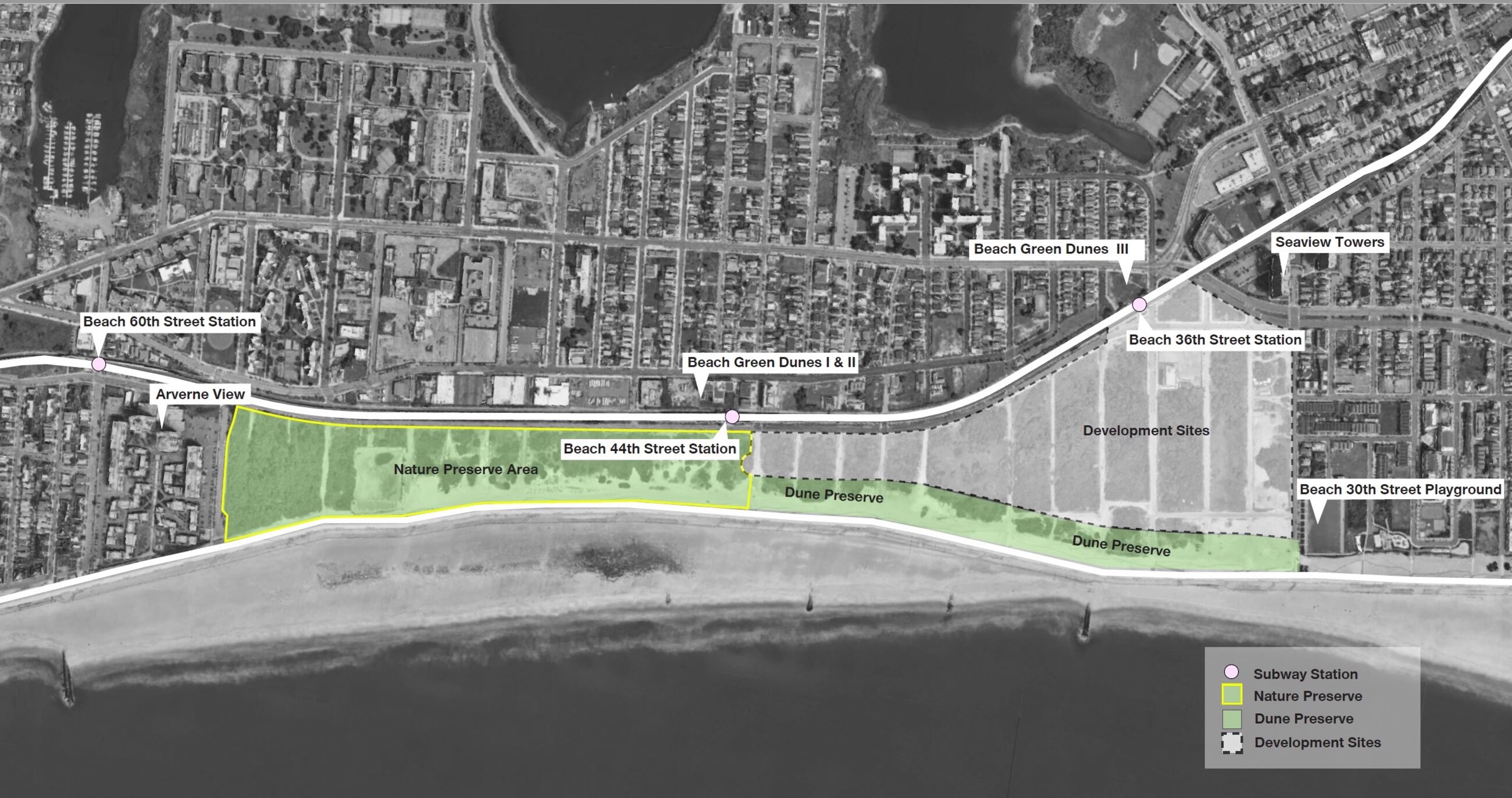 Like many residents, DuPont said she was initially cautious of the proposed development. Her main concern was the peninsula's vulnerability to another disaster like Hurricane Sandy hitting the region, particularly given her perception that the area was a low priority for resources during the Sandy recovery. But when she heard of the developer's plans to raise the storm surge elevation, she thought that this was the only way for the east end of the Rockaway peninsula to gain resilience.
"Sandy was definitely a wakeup call," said Meyer.
The developers plan to elevate the land between three and eight feet, depending on location, so that ground floor spaces across the property are elevated by a total of 16 feet or more — higher than Hurricane Sandy's storm surge of 14 feet.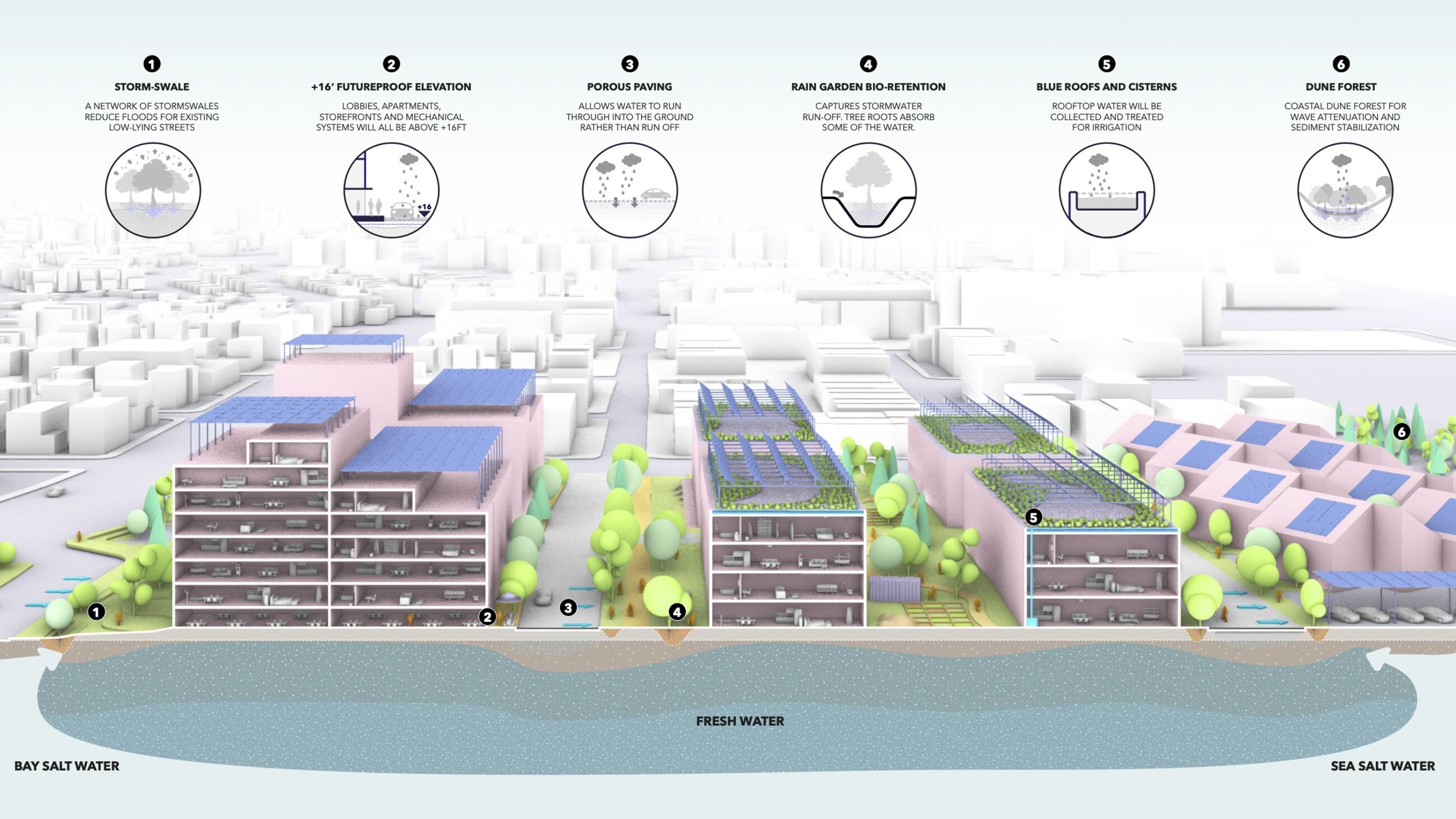 Sara Levenson, senior director for L+M Development Partners, which is leading the project with the Bluestone Organization and Triangle Equities, said she recognizes that different stakeholders will have different objections to the plan. "But from a glass-half-full perspective, there is something for everybody here and there's something that everybody can get behind," she said.
DuPont is optimistic about the project bringing in improved access to educational resources and programming that she says the community lacks, such as more education around climate and storm resilience. But she sees the net zero goal of the community as a big statement and a challenge that her organization and Rockaway residents will need to lean on L+M to execute.
"When I see that this is going to be the number one net zero waste development in New York City, do I believe that? I don't know," she said. "I really don't know, and that's an awful lot of pressure."
In Pursuit of Net Zero
To achieve net zero, the development will incorporate a range of strategies, including solar roof gardens and passive house, a design method that involves airtight insulation. But a substantial portion of the project will rely on the use of geothermal energy, which uses heat stored in the Earth's core to heat and cool all buildings in the development and provide hot water. The project would be the first major development in New York City to rely on the technology.
"This whole system is a big heat battery," said Spencer Orkus, executive vice president and partner at L+M Development Partners. Extra heat from air conditioner units running in the summer will be stored in the ground and once it's winter, that same heat will be extracted to provide hot water and heat throughout the buildings.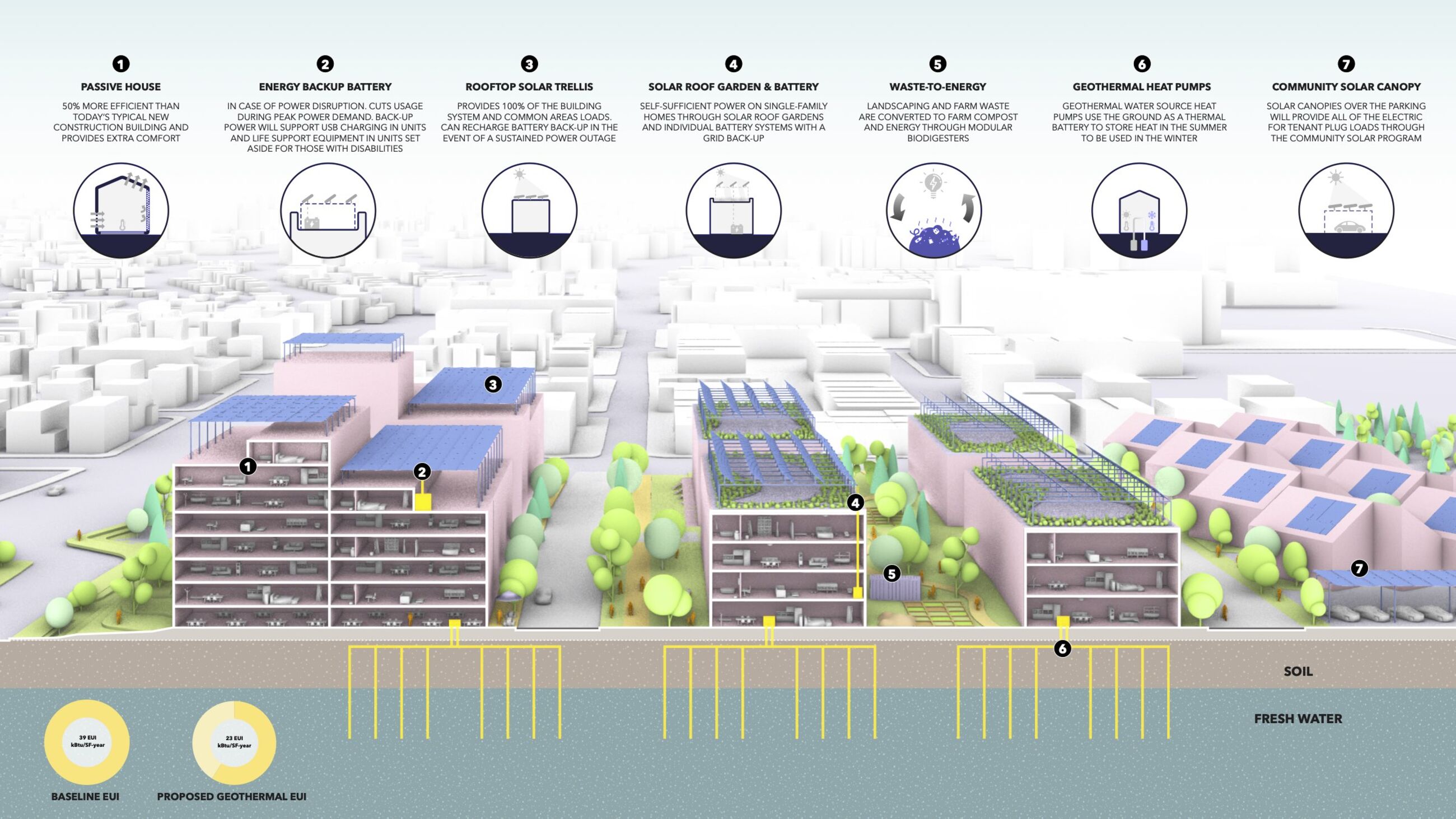 Installing geothermal energy is an intensive, costly and potentially disruptive process, particularly in urban areas. To be able to extract heat from the Earth, builders will need to drill about 450 feet into the Earth's crust and insert a pipe system that will connect ambient loop bores to heat pumps that tenants and others will be able to control above ground.
Urban areas can face greater challenges, according to Dr. Teresa Jordan, a geologist and professor in the college of engineering at Cornell University. "You're making holes where probably, in a populated city, there are already lots of other facilities using the area under the ground," she said. "They've already buried all sorts of stuff under the sidewalks, under buildings. To go in and just start digging, is a huge organizational challenge."
This challenge is more pronounced for built structures that would require some form of retrofitting, so the use of geothermal energy is most beneficial to brand new projects like Arverne East.
The project is slated to be completed in eight to ten years. In the meantime, the community plans to keep a watchful eye.
"There's one thing to talk about it, there's another thing to be about it," said Jeffries. "We plan to hold Arverne East accountable for that."