"Our research suggests that the promises implied in such studies could actually set back meaningful action on climate change. This is because of what we call "mitigation deterrence" – promises of cheap and easy CO₂ removal in future make it less likely that time and money will be invested in reducing emissions now."
Excerpt from The Conversation, July 2019
Why would anyone expect governments or the finance sector to invest in renewable energy, or mass transit like high-speed rail, at costs of tens or hundreds of dollars a tonne if they – and shareholders and voters – are told that huge amounts of CO₂ can be absorbed from the atmosphere for a few dollars a tonne by planting trees?
Why should anyone expect energy companies and airlines to reduce their emissions if they anticipate being able to pay to plant trees to offset everything they emit, for the paltry price of less than 50 cents a tonne. If studies like this suggest removing carbon is cheap and easy, the price of emitting carbon for businesses – in emissions trading schemes – will remain very low, rather than rising to the levels needed to trigger more challenging, yet urgently needed, forms of emission reduction.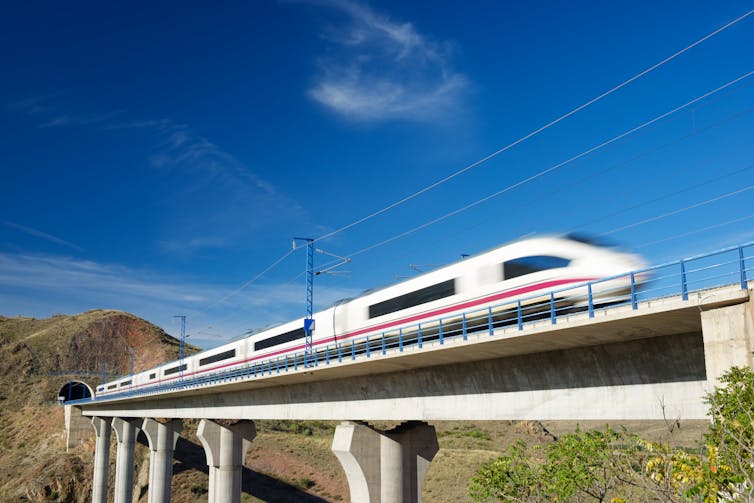 A false carbon economy
The promises of cheap and powerful tech fixes help to sideline thorny issues of politics, economics and culture. But when promises that look great in models and spreadsheets meet the real world, failure is often more likely. This has been seen before in the expectations around carbon capture and storage.
Despite promises of its future potential in the early 2000s, commercial development of the technology has scarcely progressed in the last decade. That's despite many modelled pathways for limiting global warming still assuming – increasingly optimistically – that it will be deployed at a large scale in coming decades.
---
Read more: George Monbiot Q + A – How rejuvenating nature could help fight climate change
---
This model of tackling climate change goes hand in hand with another tool – pricing carbon emissions. This potentially allows companies to go on emitting by paying someone else to cut emissions or remove CO₂ elsewhere – an approach called climate offsetting. But offsetting makes exaggerated promises of carbon removal even more risky.
Tree planting financed through offset markets would guarantee the polluter could continue emitting carbon, but the market couldn't guarantee removals to match those emissions. Trees might be planted and subsequently lost to wildfire or logging, or never planted at all.
Trusting in trees to remove carbon in future is particularly dangerous because trees are slow to grow and how much carbon they absorb is hard to measure. They're also less likely to be able to do this as the climate warms. In many regions of the world but particularly in the tropics, growth rates are predicted to fall as the climate warms and devastating wildfires become more frequent.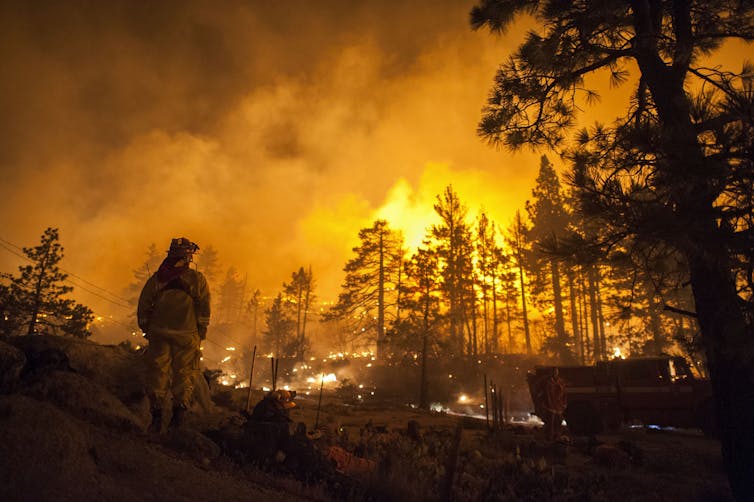 Relying on trees to absorb CO₂ from the atmosphere in the future also appears misleadingly cheap because of the effects of economic discounting. Economists discount the current value of costs or benefits more deeply, the further in the future they occur. Models which determine the cheapest mix of policies available all use some form of discounting.
When researchers add carbon removal options like tree planting to these models, they tend to generate pathways for slowing temperature rise which reduce the role of short term action and replace it with imaginary removals late in the century.
This is because discounting over 30 to 60 years makes the removal options look incredibly cheap in today's prices. Priming models to focus on minimising cost causes them to maximise the use of discounted future removals and reduce the use of more expensive near term emissions reduction.
I am not arguing against reforestation, nor for a purely technological response to climate change. Trees can help for many reasons – reducing flooding, shading and cooling communities, and providing habitat for biodiversity. Incentives for reforestation are important, and so are incentives for removing carbon. But we shouldn't make trees or technology carry the whole burden of tackling climate change. That demands moving beyond technical questions, to deliver immediate political action to cut emissions, and to begin to transform economies and societies.
This article was amended on July 13 2019 to clarify the proposed costs of carbon removal by reforestation.
**
Assessing the Mitigation Deterrence Effects of GGRs
Blog posts and media items
Working papers
AMDEG Working Paper 1, Towards a cultural political economy of mitigation deterrence by Greenhouse Gas Removal (GGR) techniques
AMDEG Working Paper 2, Quantifying the Potential Scale of Mitigation Deterrence from Greenhouse Gas Removal techniques
Journal Papers
Previous Publications
Mitigation deterrence and the "moral hazard" of solar radiation management
McLaren, D. 20/12/2016 In: Earth's Future. 4, 12, p. 596-602. 7 p.
The political economy of technical fixes: the (mis)alignment of clean fossil and political regimes
Markusson, N.O., Gjefsen, M.D., Stephens, J., Tyfield, D.P. 01/2017 In: Energy Research and Social Science. 23, p. 1-10. 10 p.
New research shows that communities in coal country are at an increased risk of fiscal collapse. The data is the latest blow to President Donald Trump's ongoing but faltering efforts to rescue the industry and its workers.
Local governments dependent on coal are failing to account for the financial implications of the industry's demise, according to new findings from Columbia University and the Brookings Institution. That trend is likely to worsen should the federal government take action to curb carbon emissions, which would be likely if a Democrat were to triumph in 2020.
Released Monday, the new report looks at 26 counties in 10 states, all in Appalachia or the Powder River Basin in Montana and Wyoming. Those areas are all classified as "coal-mining dependent," meaning that the industry is a major employer there, with some 53,000 workers noted by the study.
Coal also serves as a major contributor to local governments in those places. Despite that dependency, however, the report finds that those areas, already hard-hit by coal's decline, are not prepared for the implications of potential climate policies. TOP ARTICLES2/5READ MOREIllinois GOP chairs accuse four Democraticcongresswomen of 'jihad'
"If the United States undertakes actions to address the risks of climate change, the use of coal in the power sector will decline rapidly," the report observes, while going on to note that coal-dependent governments "have yet to grapple with the implications of climate policies for their financial conditions."
With the backdrop of the plummeting coal industry, the study broadly examines the fiscal risk posed to communities heavily reliant on that sector. Between 2007 and 2017, coal production fell by a third, a decline that is set to continue even under current policies with a pro-coal federal government. But even a "moderately stringent climate policy," the researchers note, could lead the industry to plummet by around 75% into the 2020s.
That would likely be disastrous for unprepared communities. School districts and other systems in these areas rely on coal-dependent revenue and local economies are heavily intertwined with the industry. Historically, the study argues, "the rapid decline of a dominant industry" has led to the fiscal collapse of local governments, threatening their long-term well-being.
And despite the risk that coal's decline poses to reliant communities, government filings fail to capture this. "[M]unicipalities are at best uneven and at worst misleading (by omission) in their characterizations of climate-related risks," the report notes.Trump's EPA announces new plan to save the coal industry. Experts say it won't.
Those findings come at a grim time for the industry. Coal has been declining for years, a trend due largely to market factors. Renewables and cheaper fossil fuels, like natural gas, have dethroned coal in recent decades. But Trump has made rescuing the industry a key mission of his presidency, going so far as to float bailing out coal, along with the also-struggling nuclear power sector.
Trump's efforts to save coal have been primarily concentrated in regulatory rollbacks and rule-weakening. In May, the Environmental Protection Agency (EPA) unveiled the Affordable Clean Energy (ACE) rule, replacing the Obama-era Clean Power Plan (CPP), which used the federal government to target the emissions produced by coal-fired power plants.
By contrast, the ACE rule largely turns that authority over to the states, in a move experts have argued would not save the coal industry but would likely drive up emissions.Coal's demise in Appalachia leaves education in the lurch
New data similarly indicates that the administration's efforts aren't shifting coal's trajectory, even short-term. S&P Global reported Monday that despite the ACE rule, several coal plant operators are still going ahead with scheduled retirements.
Those operators argue that even despite the rule change, the "dynamics" within the industry will not shift, such as the rising popularity of renewables and natural gas. Notably, more coal plants shuttered during Trump's first two years in office than during the entire first term of the Obama administration.
Even as coal collapses, however, experts argue that more can be done to help impacted communities. Proposals like the Green New Deal, a blueprint for rapidly decarbonizing the economy, include calls for a "just transition" — a clause that would ensure protections for coal miners and other impacted fossil fuel workers. Many Democratic 2020 contenders have endorsed the Green New Deal along with calling for a just transition for frontline communities hit hard by efforts towards net-zero emissions.
But some unions have aligned against the Green New Deal, expressing concern over the impact of decarbonization on those workers, even as other unions — including Service Employees International Union (SEIU) — have backed the proposal.
As Monday's study emphasizes, advance planning is needed as coal communities head towards collapse; this could include potentially a carbon pricing system that would see funds redistributed to those impacted.
"A new source of government revenue may be required to push a serious economic development program across the finish line," the report says, underscoring that a "logical source of these funds would be a federal carbon price."
Even that may be a hard sell in many communities. Trump has expressed no interest in a carbon tax and local efforts have struggled. Washington state failed last November to enshrine a carbon pricing effort after a record-breaking financial opposition effort from out-of-state oil companies. And last month, Oregon Republicans left the state in order to kill a similar effort.
Still, the coal industry is keeping close ties to the administration. Bob Murray, CEO of coal mining corporation Murray Energy, is hosting a private fundraising event for Trump's re-election campaign later this month, according to Documented. The fundraiser will be held in West Virginia, one of the most coal-reliant communities.