Posted on October 29th, 2019 by Amy Turner in Carbon Law Blog, LEGAL CONSIDERATIONS FOR URBAN CARBON MITIGATION POLICIES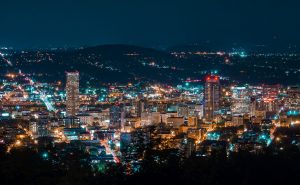 By Amy Turner
Last month, the Sabin Center announced our new Cities Climate Law Initiative, a project aimed at helping U.S. cities achieve their climate mitigation commitments by addressing critical gaps or obstacles to advancing implementation of the laws and legal tools available to help reduce urban greenhouse gas emissions. The Initiative is conducting foundational legal research on the policy approaches being used by cities to reduce the carbon footprints of their buildings, transportation, energy and waste sectors. The Initiative is also working directly with urban sustainability offices and city attorneys to address legal questions arising in connection with carbon mitigation efforts.
U.S. cities are growing, and they are increasingly taking the lead on climate mitigation. (So, too, are towns, counties and other municipal governing bodies – for ease of writing, we refer only to "cities" here but are focused on all forms of local government.) Dozens of U.S. cities have set greenhouse gas mitigation targets, more than 400 U.S. mayors signed onto a joint commitment to "adopt, honor and uphold the Paris Climate Agreement goals," and more than 90 American cities have committed to a 100% renewable energy target. These goals—whether framed as "80×50," carbon neutrality, or 100% renewable energy—are necessarily bold. And they demand that we not only fundamentally reimagine our economy and energy systems but also rethink the legal mechanisms by which we authorize and regulate our transportation, buildings, energy and waste, and the countless pieces of our lives these sectors touch.
Cities are out front on climate change, and are developing policy tools that can be used to help achieve these laudable objectives. These include direct regulation of existing buildings and changes to building codes, modal transportation shifts and electric vehicle adoption, spurring utility-scale and local distributed renewable energy, managing waste streams, engaging the private sector, and much more. But the challenges to cities are myriad. There are, as of 2017, 35,748 municipal and township governments and 3,031 county governments in the U.S. (there are another 38,542 "special district" local governments), and no two of them are exactly the same. In particular, cities are political subdivisions of the states in which they are located, meaning that they have no more authority than their respective states have granted them. Municipal enabling statutes, which grant cities the authority to enact laws and policies, look different from state to state and, in some cases, vary among cities in the same state. So while there are shared legal challenges that all cities face in enacting climate-friendly laws and policies, there are also significant differences in the types of policies cities may be able to enact, or at least in the way they would need to go about implementing them.
There are five major types of legal challenges that U.S. cities face in crafting and adopting climate-friendly laws and policies (there are many more challenges cities face from a legal perspective as well, such as litigation from local residents and groups):
Central to all of this, of course, is equity. The significant and structural legal changes that will be needed to achieve cities' climate mitigation goals must be implemented in a way that is just, that protects vulnerable communities and that reflects the needs of all of a city's residents. Some of the carbon mitigating measures discussed herein have the potential to create more equitable living conditions, as with Boulder's rental licenses policy, which aims to improve the condition of Boulder's rental housing stock. Others have the potential to be deployed in ways that improve equity or in ways that do further harm: micromobility could be used to serve "transit deserts" or reserved for wealthier areas already served by transportation options. Renewable energy procurement and generation have the potential to improve local air quality. These considerations are a significant part of crafting any laws, policies or legal tools that cities can use to combat climate change.
The Cities Climate Law Initiative is seeking U.S. cities, towns, counties and other municipal actors to partner with on challenging legal questions associated with climate mitigation policies. Together, the Sabin Center and each partner city will identify a legal question, issue or obstacle, or a drafting need. The Sabin Center will conduct academic research on the question to help inform each city's approach to developing or implementing an identified climate mitigation policy and will provide tailored insights and learning to the city. The cities, in turn, will lend their perspectives to help facilitate additional learning by other U.S. cities and metro areas that are considering similar policies. In this way, the Cities Climate Law Initiative and its partner cities will help scale up use of some of the most promising legal tools available to assist in achieving quantified goals to reduce greenhouse gas emissions and bring new sources of renewable energy online.
For more information, or to discuss partnering with the Sabin Center and the Cities Climate Law Initiative, please contact Amy Turner at aturner@law.columbia.edu.
[1] Boston's methodology appeared to differ from the 11 other cities, as it reported a zero percent share of waste in GHG emissions.
[2] Dockless Mobility Regulation, Practical Law Government Practice Law Practice Notes w-017-6569 (2019), available on Westlaw.Posted in Cities Climate Law InitiativeArticle tags: Citie
By Amy Turner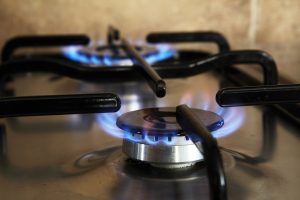 In July 2019, Berkeley, California made news with the first-ever municipal ban on new natural gas hookups in the U.S. Hailed as "momentous" and a "landmark move," Berkeley's ordinance inspired other municipalities in California and beyond to consider and enact similar bans. At latest count, more than 50 municipalities – mostly in California and Massachusetts – have considered or enacted an all-electric requirement for new construction. Though they differ in their details — some exempt uses such as cooking ranges, laboratories and more; some include major renovations in addition to new construction — these bans are largely aligned with local climate action planning and municipal goals to reduce greenhouse gas emissions. They are also giving rise to legal questions and challenges. This post offers a quick survey of the state of play.
Authority under applicable state law
The bans in California and Massachusetts rely on different sources of authority. Many of the California bans are structured as amendments to the local building codes. In that state, municipalities are permitted to adopt building energy code provisions that are more stringent than the state code with California Energy Commission approval. San Jose, Menlo Park, San Mateo, West Hollywood and Santa Monica, and Marin County have obtained this approval, while other municipalities have proposals pending before the Commission. Berkeley took a different approach, relying on its local police powers to ban natural gas connections, and the city of Morgan Hill followed Berkeley's lead. Berkeley later supplemented its police power ban with updates to the local building energy code (still pending approval before the CEC).
In Massachusetts, where municipalities generally do not have the authority to augment the state building energy code, the tension between state and municipal authority takes a different form. Brookline's ban relies on its "its home rule powers and its police powers" under Massachusetts law, which include the authority to "direct[] and manag[e] their prudential affairs" and to "regulat[e] the inspection, materials, construction, installation, alteration or use of pipes, fittings and fixtures through which gas is supplied within buildings." Because Brookline is a town, Massachusetts law requires that it submit the by-law implementing the ban to the state attorney general's office for approval, which is pending.
Massachusetts cities, which are not subject to the same attorney general approval as towns, also face unresolved questions about their authority to implement natural gas bans. The Cambridge city attorney shared her office's view with the city's council that the a ban on new natural gas hookups would be preempted by state building code law. This has not deterred some city lawmakers, including a Cambridge city council member who told Inside Climate News that "if this boils down to a fight in court over whether or not we ban gas, I welcome the fight."
Other localities are waiting in the wings. The city of Newton appears poised to take the same tack as Cambridge, while the town of Lexington has indicated it will wait to see the outcome of the attorney general's review of the Brookline ban.
Court challenges
Not surprisingly, litigation has been filed to challenge these local government actions.
In November, the California Restaurant Association sued the city of Berkeley seeking to enjoin that city's ban.[1] The complaint claims that the Berkeley ban is preempted by the U.S. Energy Policy and Conservation Act, or EPCA, which preempts state and local promulgation of energy efficiency standards for certain household appliances such as furnaces, air conditioners, water heaters, dishwashers, clothes washers and dryers, kitchen ranges and ovens and more. (See 42 U.S.C. §§ 6297(a) and 6292.) The California Restaurant association also claims in its suit that the Berkeley ban is preempted by the California Building Standards Code and the California Energy Code, and that Berkeley should not have relied on its police power but rather pursued approval from the California Building Standards Commission or the California Energy Commission for an update to the building or energy code. As noted above, Berkeley has sought CEC approval for an electrification component in its "reach code" to supplement the ban; it is not yet clear whether or how this will impact the litigation.
The building code and energy code amendment approach is also being challenged in court. Two local home builders have filed suit[2] against the town of Windsor, CA's ban – structured as an amendment to the local building energy code – alleging, among other things, that the municipality failed to properly consider under the state's environmental review statute hazards and reliability concerns that could result from increased electrification, particularly in the face of increasing wildfires.
These cases, though in preliminary stages, may influence future municipal efforts and the lawsuits challenging them.
More opposition
Municipal natural gas bans offer an area ripe for continued opposition by the natural gas industry and others. An industry group has indicated it will file suit challenging the Brookline, MA ban. Some environmental advocacy organizations have suggested that natural gas interests may be behind the California Restaurant Association suit in Berkeley. Natural gas groups are also intervening at the local level. For example, opposition letters came in from such groups in the days before the Brookline vote. A California gas company has also apparently funded "grass-roots" anti-ban advocacy in that state as well. Other interest groups have also expressed reservations about these natural gas bans, leading Seattle to table voting on a proposed ban there while it considers input from labor and industry groups. Given the essential interest of the natural gas industry in maintaining the ability to connect to new customers, we are sure to continue seeing anti-ban advocacy during the lawmaking process and in the courts.
The Cities Climate Law Initiative is continuing to monitor developments in the promulgation of municipal bans on new natural gas hookups and related litigation in order to help advise municipalities on structuring such bans, or electrification requirements, in their jurisdictions.
[1] Cal. Restaurant Ass'n v. City of Berkeley, Case No. 3:19-cv-07668 (N.D. Cal. 2019).
[2] Gallagher v. Town of Windsor, Docket No. SCV-265553 (Cal. Super. Ct. Nov 19, 2019) and Windsor Jensen Land Company, LLC v. Town of Windsor, Docket No. SCV-265583 (Cal. Super. Ct. Nov 22, 2019).Posted in Cities Climate Law Initiative, UncategorizedArticle tags: Cities Climate Law Initiative, Green Buildings, Natural Gas