Announcement comes as thousands of students walk out of school in nationwide strikes over global warming
Labour would make climate change a "core" part of the curriculum from primary school onwards if it gained power.
All young people would be educated about the ecological and social impact of climate change under a Labour government, shadow education secretary Angela Rayner said.
The announcement came as pupils prepared to walk out of school once again as part of a nationwide school strike to call for immediate action on global warming.
Under the party's plans, the curriculum would also focus on the skills and knowledge young people need to deal with the changing world, particularly in renewable energy and green technology jobs.
Issues around climate change are covered in both science and geography lessons in secondary school up to the age of 16, but students have said they want more.
The government said climate change was already in the primary school curriculum.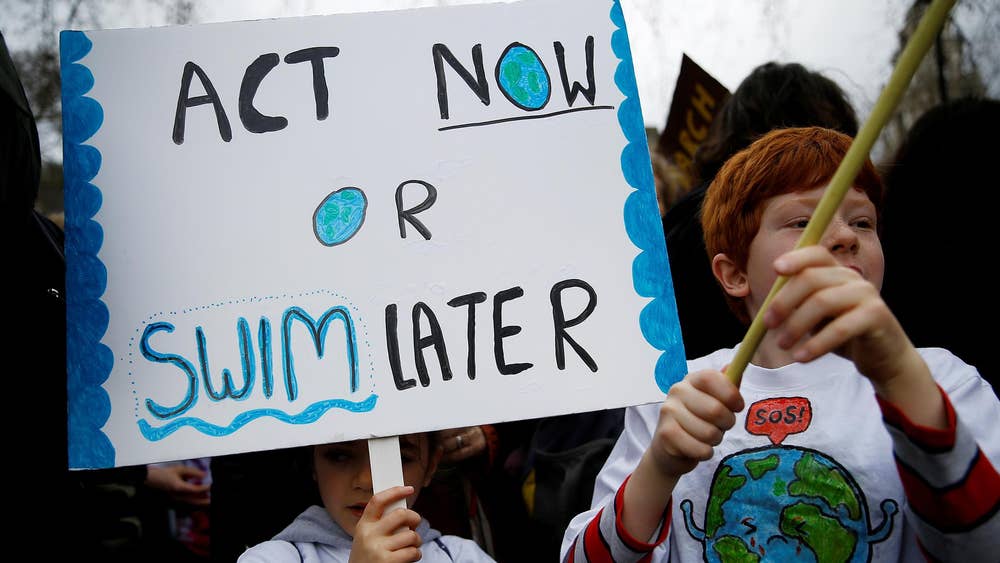 A petition, set up by school pupils in Oxford, which calls for more lessons in schools on climate change, has been signed by more than 72,000 people.
Thousands of students have taken part in monthly school walkouts on Fridays since February as part of a global campaign for action inspired by 16-year-old activist Greta Thunberg.
Ms Rayner said: "Today, young people are taking to the streets to send a clear message to the government that climate change will be a fundamental and defining feature of their adult lives, and we must take the action needed to tackle it.
"We need to equip people with the knowledge to understand the enormous changes we face, and skills to work with the new green technologies that we must develop to deal with them.
"That must be part of a broad education and that prepares pupils for adult life. Climate change should be a core part of the school curriculum, and under a Labour government it will be."
Last month, teachers at the annual conference of the National Education Union (NEU) backed a motion calling on school staff to stand in full solidarity with students striking against climate change.
Teachers said students who missed school for climate change protests should escape detentions as they called for ministers to prioritise the global issue in the school curriculum.
It came after Geoff Barton, general secretary of the Association of School and College Leaders, said heads should consider issuing lunchtime detentions to students who miss school for the protests.
Kevin Courtney, joint general secretary of the NEU, welcomed the announcement from Labour, adding that it shows the party's "willingness to listen to students' concerns".
He said: "Labour is helping to move education policy away from a sterile emphasis on testing towards a focus on new questions, essential to present day society.
"To address these questions effectively means not only curriculum change, but also an investment in resources and in teacher development."
School leaders at the annual conference of the National Association of Head Teachers (NAHT) backed a motion calling on schools to "incorporate information about the potential for global catastrophe into learning plans".
Graham Frost, headteacher of Robert Ferguson Primary School in Cumbria and a branch official of the NAHT, said: "There is plenty of scope within the curriculum already for teaching it."
But he added: "It is not young people that need to sit up and take note on climate change because they are already doing that. We need to educate all generations.
"If we just educate the young people, we then need to provide them with avenues and channels where they can influence adults into making the radical steps necessary."
Joe Brindle, a youth strike movement campaigner, said: "Putting climate change at the forefront of our education system has been one of the core demands of the student climate strikes in the UK, so the announcement from Labour is an important step forward for the climate justice movement.
"Learning about the climate crisis cannot be understated because we need to have the knowledge and tools to prevent a climate crisis but this has to go beyond education."
He called for "strong action" from all parties to boost renewable energy and create green jobs, as well as to put an end to "climate time-bombs like fracking."
A Department for Education spokesperson said: "It is important that pupils are taught about climate change, which is why it is in the national curriculum as part of science and geography in both primary and secondary school.
"The curriculum also includes the knowledge pupils need to help address climate change in the future. For example, in design and technology pupils are taught to consider the impact of the products they design on individuals, society and the environment.
"Schools have the autonomy to go into as much depth on these subjects as they see fit."
**
Record methane levels pose new threat to Paris climate accord
The Financial Times reports that scientists have "sounded the alarm" as levels of methane in the atmosphere have reached a record high. New data from the National Oceanic and Atmospheric Administration (NOAA) in the US shows that concentrations of atmospheric methane surged last year and accounted for a sixth of the atmosphere's capacity to trap heat, according to the FT. "Methane's unexpected rise is a major challenge to the Paris agreement – and we don't know why it's happening," Euan Nisbet, earth sciences professor at Royal Holloway University of London, tells the FT. "Much of the rise seems to be coming from the tropics."