Dharna Noor, Gizmodo, 9/25/20 GREEN NEW DEAL https://earther.gizmodo.com/why-unions-are-the-key-to-passing-a-green-new-deal-1845169012
There's a persistent conservative myth that the clean energy transition must come at the expense of employment. Nothing could be further from the truth, though. The Congressional resolution on a Green New Deal, introduced by Rep. Alexandria Ocasio-Cortez and Sen. Ed Markey last February, includes a proposal guarantee employment to all those who want it. And increasingly, climate activists are focusing on the potential to create millions of good jobs in clean energy.
These pro-worker proposals—and the knowledge that it will take an economy-wide effort to kick fossil fuels and the curb to avert climate catastrophe—have won the platform support from swaths of the labor movement. Yet some powerful unions still oppose the sweeping proposal. The president of the AFL-CIO—the largest federation of unions in the U.S.—criticized the Green New Deal resolution, and heads of the Laborers' International Union of North America, the Unit­ed Mine Work­ers of Amer­i­ca, and the Inter­na­tion­al Broth­er­hood of Elec­tri­cal Work­ers have outright opposed it. That poses a political roadblock to achieving the necessary transformation of the U.S. economy.
"The Green New Deal movement needs broader support from the labor movement to be successful," Joe Uehlein, founding president of the Labor Network for Sustainability and former secretary-treasurer of the AFL-CIO's Industrial Union Department, said. "As long as labor isn't a central player in this movement, they will they have the power to block pretty much anything. on Capitol Hill. They contribute in electoral campaigns. They're a very powerful force."
---
This summer, the Amer­i­can Fed­er­a­tion of Teach­ers, the sec­ond largest educators' union in the coun­try, passed a res­o­lu­tion backing the Green New Deal. Their endorsement followed earlier ones from the Asso­ci­a­tion of Flight Atten­dants-CWA, Ser­vice Employ­ees Inter­na­tion­al Union, and Nation­al Nurs­es Unit­ed. It's not just the upper echelons of these unions that support the platform: a 2019 Data for Progress poll shows that the Green New Deal enjoys overwhelming support from rank and file union members, too. Yet opposition from some trade unions and federations remains.
This is certainly sparked by union leaders' concerns about losing membership, but in some cases, it may also be due in part to some labor leaders' personal politics. LIUNA's leadership has praised Donald Trump and backed the Dakota Access Pipeline. Richard Trumka, president of the AFL-CIO supported the U.S.-Mexico-Canada Agreement despite its weak protections for workers. He has also willingly engaged with Trump, though he's distanced himself from the president more recently.
In these cases, a key way to build broader support for the Green New Deal among organized labor is to help workers change who is heading these organizations. For instance, there are rumors that Trumka is considering stepping down by the end of his current term, which would leave his seat open next year. If this comes to pass, there are hints that Sara Nelson, current head of the AFA-CWA who has been a consistent and vocal Green New Deal supporter, will run to be his successor. Successfully electing her would be a longshot, but this week, labor organizer Dave Kamper wrote a piece laying out a roadmap to getting it done.
"Union leaders at every level, from the shop floor to the international, should be encouraged to speak openly about what they want out of the AFL-CIO," he wrote. "Rank-and-file leaders should press for open meetings and discussions at every level of the union. Potential candidates for the AFL-CIO presidency should be asked to state their views on crucial questions."
This will all take some serious organizing, and the climate movement could help make that happen, consistently engaging labor from the local level up to the international ranks.
That need not be limited to organizing in support of more progressive leadership. By speaking with workers more broadly about the potential for job creation in the Green New Deal, climate activists could inspire members to push their unions to back the plan.It's true that the plan could eliminate many currently existing unionized jobs. But with the market for dirty energy crashing monumentally and energy companies laying off workers with few protections in the face of that economic hardship, it's becoming clearer than ever that jobs in the extractive industry are already under threat.
Climate organizers will also have to address union members' real concerns. It's not enough to say that the Green New Deal will fight for workers' rights. Climate groups will need to work with labor groups and agree to a plan to support them.
Though that 2019 Data for Progress poll shows that while the Green New Deal has broad worker support, there are signs of worker skepticism in some areas where the fossil fuel sector reigns. Peer-reviewed research on Wyoming's Powder River Basin, the largest coal mining region in the U.S., showed that workers remain skeptical of just transition policies—or policies to "mitigate these losses and provide an equitable transition away from fossil fuel extraction and use"—even as they saw coal plants in the state shut down and workers laid off with few benefits.
Similarly, when the largest oil refinery on the East Coast shuttered after an explosion last year, hundreds of workers were laid off. Environmental justice organizers rightfully praised the toxic plant's closure, but in doing so, some refinery workers expressed frustration that those organizers didn't fight harder to protect those who lost their jobs.
"You can understand why people are concerned," J. Mijin Cha, a professor of urban and environmental policy at Occidental College and a fellow at the Cornell University Worker Institute who conducted the research on the Powder River Basin, said. Jobs in the fossil fuel industry can pay well, and workers are often left with few opportunities if a plant, refinery, or mine is the biggest employer in town.
Central to the principles of the Green New Deal is prioritizing a just transition for laid-off fossil fuel workers so they don't have to go through that pain. But in the absence of federal regulations requiring these protections, much of these fights will have to happen at the local level.
"There is the plant-by-plant organizing that has to happen, so when we know that these plants are shutting down, there can be specific efforts to push for a concrete transition," Cha said. "And there also has to be a more coordinated effort on a national level, bringing together a broad-based coalition so that when we have meaningful climate policy on the table, we have the support. That will take organizing. Real, deep organizing. None of it is easy and there are no shortcuts."
There are successful examples of this taking place in the energy industry. In 2017, a coalition of labor and climate activists secured a landmark victory in the agreement to shut down Diablo Canyon, California's last nuclear power plant. The plant workers' union, IBEW Local 1245, worked with local environmental organizers from Friends of the Earth to negotiate an deal securing workers a 25% retention bonus for keeping their jobs until the plant closed, early retirement incentives, and a retraining fund for workers with a job placement program at other energy sites through the state.
"They also got a commitment for the energy generated from Diablo Canyon to be replaced with renewable energy," said Cha. "Labor and environment groups stuck together and secured a better transition plan because of it."
When fossil fuel plants shut down, it's often not just the workers at those plants who can be put at risk of losing their jobs. Throughout states like Texas and Wyoming—where energy is a major part of the economy—local governments' and public employees' interests are also bound up in dirty energy because tax revenue from oil and gas companies furnish things like schools. To win support from all parts of the labor movement, the climate movement must also grapple with this reality.
"Officials often use that as a scare tactic to build support for plants," said Cha. "But I think we now have the information that we need to create such a transition policy to address all these issues."
There have been successful fights on this front, too. When the Huntley coal plant in Tonawanda, New York was slated for shutdown five years ago, officials said public sector would lose their jobs as a result since the plant was also the town's largest taxpayer. To fight back, local public unions and environmental groups worked together to pass an economic development plan to create new jobs, and push the state of New York to provide funds to replace the immediate gap in revenue.
"That's what can happen when you have labor and environment [organizations] on board," said Cha. "But you need the relationships to make that happen."
---
Of course, the Green New Deal's energy policy is not merely about moving away from fossil fuels, but also replacing those fossil fuels with clean alternatives. Building out all that new infrastructure will create massive opportunities for employment. America's clean energy sector already employs more people than their dirty counterpart, and research shows that it could expand to create over 40 million more jobs.
But currently, the vast majority of clean energy jobs are not unionized. That's true of fossil fuel jobs, too, but the transition presents a massive opportunity for labor organizations to grow their dues-paying membership.
"Boosting union density in renewables is of course a good idea," said Uehlein.
Right now, many green firms aren't exactly friendly to labor. Tesla, for instance, is notorious for its anti-worker policies. By working with clean energy employees to help them organize, the climate movement could not only build union support for the Green New Deal, but also help ensure these workers are able to advocate for themselves in a fair and democratic manner.
"Environmentalists have to be willing to take on green capital," said Uehlein. "On this question of unionization, they've got to be squarely on the side of labor, and make that clear to everyone in the green industries."
Uehlein has worked in the climate and labor movements for decades. Over that time, he said he's seen massive growth in mutual understanding between the two groups.
But to win a Green New Deal, those relationships will have to deepen and strengthen even further.
"There's no shortcut around organizing and building trust," said Cha.
August 18, 2020 Joshua Carney jcarney@craigdailypress.com
Colorado Gov. Jared Polis, center, listens to concerns from local residents who would be most impacted by the divestment from coal in Routt County on March 6. Polis has committed the state to going fossil fuel-free by 2040.
Courtesy Photo
It took a month longer than expected due to challenges from the COVID-19 pandemic, but Colorado finally has a plan to transition away from coal. The Just Transition Advisory Committee released its draft to the public in early August, marking some five months of work to compile the outline of the plan. In its draft, the committee came up with 11 recommendations to assist workers and communities impacted by Colorado's transition away from coal as fuel for generating electricity.
Colorado House Bill 19-1314 established the advisory committee for a Just Transition plan, tasking the committee with developing recommendations for the state. The bill also declared that "a strong and comprehensive policy is needed to invest new financial resources in coal communities that are seeking to diversify and grow their local and regional economies in a manner that is both sustainable and equitable."
Colorado is the first state to establish an office to help with the transition and to develop a statewide strategy to move away from coal. The 19-member advisory committee includes representatives of affected workers and communities as well as people with expertise in economic development and workforce programs, utilities, legislators and agency leaders. The members elected Dennis Dougherty, executive director of Colorado's AFL-CIO labor union, as the chair and Ray Beck, Moffat County commissioner, as the vice-chair.
According to the Just Transition draft, the advisory committee focused on three key areas for the plan: coal transition workers, coal transition communities and fiscal issues.
COAL WORKERS
The coal transition workers section was the most robust of the proposed plan.
"Our goal for workers is to ensure the shift to a clean energy economy fulfills a moral obligation to assist impacted workers who have powered Colorado for generations," the advisory committee said. "Workers displaced from coal-related jobs should receive the support necessary to plan effectively for their transitions and achieve new career goals that allow them and their families to thrive economically and continue to contribute to Colorado and their communities."
In the section, the committee came up with the following recommendations:
Assist all interested coal transition workers in developing individual transition plans for achieving their financial, career and/or retirement goals while maintaining or achieving economic self-sufficiency.
Develop a package of training, job search and relocation support services, similar to the federal Trade Adjustment Assistance program, to help workers achieve their transition goals.
Assist worker transitions with temporary income and benefit assistance, including a wage and health differential benefit for most workers, and a wage and health replacement benefit as an option for workers nearing retirement.
Establish length-of-service requirements for coal workers to be eligible for the training, job search, and relocation services outlined in Recommendation 2 and the income and benefit assistance outlined in Recommendation 3.
Ensure that workers who accept positions with their existing employer at lower pay will qualify for the wage and health differential benefit, and that workers who choose a training program or job do not waive their right to other benefits if those initial choices do not work out for them (subject to established timeframes and eligibility requirements).
"For coal transition workers, we recommend the state provide a comprehensive set of supports to help them thrive in a future without coal. That includes assistance with career planning, mentorships, and robust and flexible support for workers seeking retraining, searching for new jobs or starting new businesses," the draft states. "It also includes financial assistance for those who must relocate for new jobs. And, ultimately, it includes several years of income support for those engaged in training programs or whose new jobs do not pay as well or have as good a set of benefits as the coal jobs they lost."
COAL COMMUNITIES
Following the recommendations for coal transition workers, the plan then focused on the coal transition communities.
"Our goal for communities is to help those that are transitioning away from coal to develop and implement locally driven, asset-based plans that achieve long-term prosperity by creating jobs that can support families, building a viable and diversified tax base, and spurring long-term local wealth creation and social cohesion," the advisory committee said.
In the section, the committee came up with the following recommendations:
Assist affected communities with the creation of local transition plans that pivot from resource extraction to new industry sectors that provide living wages and an adequate tax base.
Align and coordinate existing State programs to support local transition plans and facilitate the growth of existing businesses while attracting new industries and businesses.
Invest in local physical and community infrastructure to maintain and improve quality of life and critical services.
Establish a state-wide independent investment intermediary focused on leading and structuring investments in coal transition communities, consistent with their established local transition plans.
Establish a state-wide investment fund focused on making investments in coal transition communities, in collaboration with those communities and consistent with their local transition plans. The purpose of the fund is to lower risk for other investors and to provide a mechanism for long-term investments in these communities.
"For coal transition communities, we recommend the state help build the capacity for communities to plan their own economic futures and help with technical assistance and expertise from around the state and nation," the draft states. "We also recommend the state align and coordinate its wide array of economic and community development programs and services to help coal transition communities (and communities throughout rural Colorado) to better compete. And we suggest some new ideas for how to coordinate and fund these efforts, with special attention to reducing the risk for those who choose to invest in communities facing the greatest challenges."
FISCAL ISSUES
Finally, the committee highlighted the fiscal issues with the transition from coal for workers and communities. In the section regarding fiscal issues, the committee made just one recommendation:
Review State tax, fiscal, and regulatory policies to continue support for essential services and infrastructure, identify appropriate state and local taxation policies for utility-scale renewable energy projects, and support efforts by utilities to reinvest in coal transition communities.
The problems with the fiscal issues that could arise from the transition are too difficult to project at this time, the committee says.
"The legislation creating this planning process also directed us to consider the costs of our proposals and potential sources of funding to pay those costs," the committee says. "In the era of COVID-19, this has been difficult. While we have made some efforts to estimate costs, we are not yet comfortable enough with their accuracy to share them in this plan.
"The question of how to pay for the costs is even less clear," the committee added. "Colorado is a relatively low tax state — and many of the coal transition communities are relatively low tax communities. Colorado also has some of the most restrictive tax and spending limitations in the nation, so even in the best of times the issue of funding would likely be our most daunting challenge."
NEXT STEPS
Now that the draft has been submitted, there's still work to be done before the final plan is submitted to Gov. Jared Polis and the General Assembly by Dec. 31.
The Office of Just Transition, in cooperation with other state agencies, will review, further develop and vet suggestions in preparation for completing the final plan.
The OJT will work with other appropriate agencies to assess the capacity of the various coal transition communities to develop and successfully implement their local transition plans, and it will begin to coordinate the State's support for these efforts.
The OJT will coordinate virtual public engagement efforts to help ensure the voices of all parties affected by this transition have a chance to be heard.
"This is just the first step in a long process of ensuring a just transition for Colorado's coal workers and communities," the committee says. "Much work lies ahead, and the JTAC is committed to do what it can to ensure the workers and communities that helped power our state's prosperity in the past can continue to thrive here in the future."
jcarney@craigdailypress.com
President Donald Trump's newest Supreme Court pick will offer conservatives an opportunity to start achieving a long-sought goal: chipping away at the vast administrative state that Americans have known since the New Deal.
The rightward shift could imperil much of the agenda of a potential Biden administration or a Democratic Congress, making it easier for the courts to block initiatives such as a "Green New Deal" or vast expansion of Medicare. The addition of a sixth conservative justice — expected to be Amy Coney Barrett — could provide the final ingredient needed for Republicans to restrict or reverse decades-old precedents that have protected a range of government programs from legal challenges, including regulations on health care, the environment, technology and the financial industry.
Some of the right-leaning legal arguments needed to block aggressive government programs have been just a vote or two shy of prevailing on the Supreme Court in recent years. Barrett, now a federal appellate judge, has called on the court to be more ready to overturn its constitutional precedents.
Such a change would elate conservatives frustrated by Washington's growing web of agencies and regulations — too often untethered, they say, from any specific directions from Congress. But liberals counter that long-abandoned legal theories shouldn't block elected leaders and their appointees from meeting challenges and carrying out the will of the voters.
"Without question a 6-3 Court captured by right-wing and corporate interests could shut down much of the progressive agenda, if it could act with impunity," said former Sen. Russ Feingold (D-Wis.), president of the progressive legal nonprofit the American Constitution Society. "Clean water, clean air, food and drug safety, regulation of the health care and health insurance industries, consumer protections and workers' rights (up to and including the right to organize) are all on the chopping block in that scenario."
Nicholas Bagley, a law professor at the University of Michigan, said expanding the court's existing five-person conservative bloc makes it all the more likely for once-unorthodox views of government power to prevail.
"The thing that's different with a 6-3 court versus a 5-4 court is you've just got a bigger margin for crazy," Bagley said, noting that the outcomes of several high-profile Supreme Court cases in recent years have flipped because of just one conservative defection. "I just think that people underestimate dramatically the aggressiveness and zealotry of the conservative legal movement."
Conservative legal scholar Jonathan Adler agreed that the Supreme Court's new lineup may soon be willing to place more limits on federal power than has been seen in the recent past. But he said it's unlikely to bring about one of the worst fears of liberals — a return to the early decades of the 20th century, when the high court repeatedly struck down rules and laws regulating wages, work hours and other labor policies.
"They're not going to endorse some kind of broad libertarian theory of the Constitution," said Adler, a law professor at Case Western Reserve University.
The attacks on the regulatory state could include two major arguments that conservative lawyers and judges have made in recent decades: Courts have given agencies too much leeway to write rules that go beyond what lawmakers have prescribed. But at the same time, they say, a dysfunctional Congress too often writes vague laws that leave major policy decisions up to the bureaucracy.
By placing sharper limits on the agencies, and restricting the amount of power that Congress can delegate to the executive branch, a more conservative SCOTUS could go far beyond just rolling back individual regulations — such as the Obama-era climate, air pollution, auto safety and water protection rules that Trump has taken steps to reverse. It could also make it harder for future Democratic administrations to enact new ones, even with lawmakers' support.
But it could also mean fewer legal fights in the future if Congress started passing laws with clearer directions for agencies, some conservatives contend.
"There shouldn't be so much litigation over hugely important rules," said Misha Tseytlin, a partner at Troutman Pepper and the former solicitor general of Wisconsin who challenged the Obama administration's EPA regulations. "Rules should be to fill in the details of policy that Congress enacted rather than having wild policy swings when you have a change of administration where you have the exact same law on the books."
Partying like it's 1935
There are "two big gorillas in the room" when it comes to the legal arguments the Supreme Court could use to rein in the executive branch, Tseytlin said.
The first, known as the "nondelegation doctrine," allows judges to strike down laws that are too vague aboutthe powers they grant to the executive branch. The court has used it only twice to strike down laws, both times involving New Deal programs in 1935, but five sitting justices have expressed an interest in rejuvenating it.
It's "a real sleeper area," Tseytlin said. "Because if a statute violates the nondelegation doctrine, the statute is invalid, it's entirely struck down."
The doctrine holds that Congress cannot delegate its lawmaking powers to the executive when it passes laws, at least not without providing an "intelligible principle" to guide an agency. As recently as 2001, Justice Antonin Scalia rejected an attempt to use the doctrine to strike down Environmental Protection Agency air pollution regulations. But two decades later, the Supreme Court's conservative wing appears to be champing at the bit to go the other direction.
The court last year issued a fractured ruling in a challenge to a sex offender registry law that became a test case for nondelegation. With just eight justices participating in the decision, the conservative wing could muster only four who expressed interest in applying the doctrine more aggressively, including Trump appointee Neil Gorsuch.
Fellow Trump appointee Brett Kavanaugh, who didn't participate in that decision, later wrote that Gorsuch's argument "may warrant further consideration in future cases." And with Trump's upcoming Supreme Court nominee likely to join the court, the way would be paved for action, said Aaron-Andrew Bruhl, a law professor at William and Mary Law School.
Liberals have expressed alarm at the potential fallout if the court were to begin rejecting laws that delegate major decisions to the executive branch, because that would cover a lot of laws that Congress has enacted over the decades.The Affordable Care Act, for example, has required thousands of pages of regulations sketching out the details of everything from insurance coverage rules to discrimination protections to Medicaid expansion.
In the sex offender case, Justice Elena Kagan wrote that if the law in question were unconstitutional under the nondelegation doctrine, "then most of Government is unconstitutional."
"The difficult thing there is it's potentially really disruptive if you want to start imposing serious limits on congressional delegation," Bruhl said. "So much of the existing structure of regulation depends on delegation."
To avoid the potentially disastrous results that might come with striking down laws wholesale, the Supreme Court might instead interpret those laws as giving the agencies narrow powers. That would strengthen judges' ability to reject expansive implementing rules while sidestepping the constitutional concerns, Bruhl said.
The end of deference
A related conservative argument seeks to undo the Supreme Court's "Chevron doctrine," which has been crucial to upholding major federal regulations on issues ranging from climate change to health care to payroll taxes.
The doctrine stems from a unanimous 1984 Supreme Court decision, Chevron v. Natural Resources Defense Council, that courts have applied to all manner of executive actions under both Republicans and Democrats. It requires judges to consider whether a statute directing agency action is ambiguous — and if it is, to defer to the agency's interpretation, so long as it falls within the wide realm of reasonableness.
At first, Adler said, the Supreme Court's decision delighted Republican presidents because it reined in the powerful D.C. Circuit Court of Appeals, which reviews many federal regulations and was seen four decades ago as an "activist and progressive" bench.
"Chevron was built upon and advocated and reinforced by the Reagan and first Bush administrations because they saw it as a way of making it easier for a conservative administration to adopt more flexible regulatory policies that would otherwise be blocked by what was initially a fairly progressive D.C. Circuit," Adler said.
But in recent years, especially under the Obama administration, conservatives have grown critical of Chevron for ceding judicial interpretive powers to the executive branch. In 2016 and 2017, House Republicans twice passed legislation to end Chevron deference, though it never made it past the Senate.
Gorsuch and Justice Clarence Thomas have both criticized the doctrine, while Kavanaugh said during his confirmation that he would strike down any regulation "that's outside the bounds of what the laws passed by Congress have said."
Barrett has not spoken specifically about whether or how Chevron deference should be limited. But in a fight this year over the Trump administration's public charge rule, she broke from two other judges and voted to defer to the agency, showing how judges can use Chevron to uphold conservative regulations.
Revisiting Chevron is "a prime candidate for a change that will make a difference in the way we think about the administrative state," said Randolph May, president of the Free State Foundation, a free-market think tank. Because it limits judicial authority in certain ways, Chevron can lead to a "bouncing ball" effect as changes in political control of the executive branch mean agencies are frequently reversing themselves on regulatory decisions, May argued.
One recent example concerns net neutrality, an effort championed by the Obama administration to prohibit internet service providers from limiting or favoring some types of content on their networks. The Obama-era Federal Communications Commission used an ambiguous statute to classify ISPs as subject to regulation, a move the D.C. Circuit upheld in 2016 while citing Chevron. Under Trump, the FCC reversed that policy call — and again, the D.C. Circuit upheld it based on Chevron.
Limiting Chevron deference may become even more important if Joe Biden wins the White House but Democrats fail to capture the Senate and cannot pass new laws. In that case, Bruhl argued, Biden would be left to push policies on major issues like climate change via existing statutes — but could face a much harder time than Obama did in withstanding the inevitable court challenges.
For the moment, Chevron survives, even with the Supreme Court's current conservative majority. Katie Keith, a health law expert at Georgetown University, noted that federal judges — including recent Trump appointees — have actually shown significant deference to agency actions in several high-stakes cases. Those include decisions in which judges rejected attempts to block the Trump administration from increasing hospital pricing transparency and allowing insurance plans that don't meet Obamacare's coverage requirements.
But Keith suspects that might change if the White House flips in November.
"If it's Biden, I think they really push forward on this and do what they can to limit the administrative state," she said. "That's been a goal for a very long time."
Restricting or even ending Chevron deference could backfire, some experts have warned — it could give liberal judges more power to strike down actions by Republican administrations. May conceded that that could happen in specific instances, but said he supports restraining Chevron primarily because of separation-of-power concerns.
Revisiting Lochner
A more far-reaching question concerns whether a conservative Supreme Court would return the U.S. to the so-called Lochner era, the period from the 1890s to 1937 when the justices repeatedly struck down business and workplace regulations. A Trump-appointed federal judge in Pennsylvania raised eyebrows earlier this month when he struck down the state's coronavirus-related shutdown policies while citing the 1905 Lochner case that gave the era its name.
In these unprecedented times, courts might revive some limits on government powers that haven't been imposed in some time, Adler said. But that doesn't mean Lochner is back with a vengeance.
"Are we going to see what anyone would characterize as a true laissez faire jurisprudence that says no government at any level can regulate certain things?" he said. "I think that's very unlikely both given who's on the court now and the people who are being talked about as possible Ginsburg replacements."
Other court-watchers say the conservatives on the bench simply haven't decided yet which route to take in hobbling the government's regulatory authority.
"There really is a groundswell among conservative jurists to try to undo this strong deference that courts have given to agencies, but thus far they've not yet coalesced around what the alternative should be," said Ryan Owens, a political science professor at the University of Wisconsin, Madison, who wants the courts to rein in the power of agencies to set rules and regulations. "That's the one thing that's really hanging this up."
Survey Shows 60% of US Families Struggling to Get By
"He's been blocking the original HEROES Act for 138 days. As always, his priorities are appalling." by Julia Conley, staff writer
Marlen Valencia, 38, of Fremont, California tries to comfort her 2-year-old daughter Sara as she cries while being prepped to see the doctor at a clinic which serves only the uninsured on May 12, 2020. The clinic serves mainly the undocumented, working poor. (Jessica Christian/The San Francisco Chronicle via Getty Images)
On the Senate floor Wednesday, Majority Leader Mitch McConnell indicated once again that he has no intention of providing badly-needed aid to struggling families across the U.S. even as new research found that nearly two-thirds of households with children are having trouble making ends meet.
McConnell dismissed the Democratic Party's latest version of the HEROES Act as a "political stunt," making it clear that like the bill which passed in the House in May—which has now languished in the Senate for 138 days—the $2.2 trillion relief package which House Democrats unveiled on Monday is not likely to reach the millions of families who need it.
"As always, his priorities are appalling," Vanita Gupta, president of the Leadership Conference on Civil and Human Rights, tweeted, noting McConnell's determination to push through the confirmation of Judge Amy Coney Barrett—who has frequently ruled in favor of powerful corporations—to the U.S. Supreme Court.
McConnell's dismissal of the legislation—which includes a renewal of the $600-per-week enhanced unemployment benefits passed as part of the CARES Act in March, another round of $1,200 direct payments for most Americans, and aid for state and local governments—came amid the release of a new poll displaying the struggles of families across the country.
"The numbers of people in trouble, that is the shock. It's a very large number of people who can't pay the basics."
—Dr. Robert Blendon, Harvard T.H. Chan School of Public Health
NPR, the Robert Wood Johnson Foundation, and the Harvard T.H. Chan School of Public Health released the results of a survey taken in July and August of 3,400 adults including 1,000 with children at home, finding that 60% of respondents in the latter group have lost jobs or businesses or have otherwise had their incomes reduced since the coronavirus pandemic began in March.
Sixty-one percent of families reported having "serious financial problems" during the public health and economic crisis. Just over half of white families said they have been facing severe difficulties affording necessities like mortgages or rent, credit card bills, groceries, and medical expenses, while a higher share of people of color reported trouble making ends meet. Eight-six percent of Latino families and 66% of Black families said they are facing serious economic strife.
Among the millions of American households where at least one person has contracted Covid-19—of which "essential workers" in the healthcare, retail, food, and other public-facing industries are especially at risk—the effects of the economic crisis are being felt even more acutely, according to the survey. Ninety-four percent of families in which someone has had the disease reported serious financial problems and 84% said they have faced reduced income.
Researchers who conducted the survey expressed alarm that after the enhanced unemployment benefits and direct relief included in the CARES Act—relatively minor steps taken by the federal government compared to those taken in other wealthy countries, but ones that had a measurable, positive impact on poverty levels—families are still struggling to make ends meet as much as they are.
"The numbers of people in trouble, that is the shock," Dr. Robert Blendon, director of the study behind the poll and a professor at the Harvard T.H. Chan School of Public Health, told the New York Times. "It's a very large number of people who can't pay the basics."
Researchers who examined the study also raised concerns over the long-term impacts of the crisis on the children of families who are struggling, as school-age children face social isolation due to remote schooling while also coping with their parents' financial hardships.
"Could this course correct if everything goes back to school and everything opens up again in the next eight months to 12 months?" Anna Johnson, a developmental psychologist at Georgetown University who was not involved in the study, told NPR. "Maybe. But [there are] going to have to be a lot of resources targeted just to these families to help them overcome what is probably a traumatic experience for them."Our work is licensed under a Creative Commons Attribution-Share Alike 3.0 License. Feel free to republish and share widely.
**
Vistra to retire 6.8 GW coal, blaming 'irreparably dysfunctional MISO market'
Catherine Morehouse@cmorehouse10, Sept. 30, 2020
Competitive energy supplier Vistra on Tuesday announced it would retire 6,800 MW of coal by 2027, blaming in part its grid operator's "irreparably dysfunctional" market.
The company owns seven coal-fired power plants across the Midwest, mostly within the territory of the Midcontinent Independent System Operator (MISO), and would retire the majority of its plants through 2025-2027 "or sooner should economic or other conditions dictate," the company said in a statement. Alongside those retirements, Vistra plans to reach net-zero emissions by mid-century and add nearly 1,000 MW of solar, plus one energy storage project by the end of 2022.
Company officials blamed state subsidies, declining gas prices, an overbuild of resources and the "systemic failure of the MISO capacity market to provide Illinois-based power plants with adequate revenues" for its coal fleet. The announcement marks one of the largest coal fleet retirements in U.S. history, according to the Sierra Club.
More competitive prices for wind, solar and gas, along with an increase in state-level efforts to eliminate coal-fired power have exacerbated the pressure on coal, rendering it largely uncompetitive compared to other market resources. Merchant coal plants are uniquely vulnerable to coal's failing economics within competitive markets, because unlike vertically integrated rate-regulated utilities, competitive energy providers are unable to recover any losses associated with plants through their ratebase.
Vistra blames the economic decline of its coal fleet on a number of factors, including state subsidies for renewable energy and nuclear power, existing and future environmental regulations and "regulatory and political headwinds," said Vistra spokesperson Meranda Cohn in an email. These already unfavorable conditions in MISO, along with the PJM Interconnection, are further under threat from Illinois' and New Jersey's threats to leave the wholesale markets through a Fixed Resource Requirement (FRR), or some other option, she said.
MISO declined to comment.
Zero-emission credits in Illinois have been blamed for similar price distortions in the PJM Interconnection, which shares the state with MISO. Those complaints wrought by competitive generator Calpine ultimately led to the creation of the Minimum Offer Price Rule, which raises the bid floor for subsidized resources selling into the PJM market. And that rule is the reason behind New Jersey and Illinois' threats to leave PJM, which Cohn said would put "pressure on our PJM plants."
But though the company blames state policies in part for failing economics, Vistra's CEO earlier this year noted the pressure was almost entirely markets-based.
"The one key about coal plants is that they're closing naturally because natural gas prices are low, which then turns power prices low," Curt Morgan, president and CEO said in a February interview. "Even though the States are anti coal, what is interesting is that's not why coal plants are shutting down."
| Plant | State/Market | Capacity | Retirement Date* |
| --- | --- | --- | --- |
| Edwards Power Plant | Illinois (MISO) | 585 MW | 2022 (previously announced) |
| Baldwin Power Plant | Illinois (MISO) | 1,185 MW | 2025 |
| Joppa Power Plant | Illinois (MISO) | 1,002 MW (plus 239 MW gas) | 2025 |
| Kincaid Power Plant | Illinois (PJM) | 1,108 MW | 2027 |
| Miami Fort Power Plant | Ohio (PJM) | 1,020 MW | 2027 |
| Newton Power Plant | Illinois (MISO) | 615 MW | 2027 |
| Zimmer Power Plant | Ohio (PJM) | 1,300 MW | 2027 |
* Retirement dates will be shifted "sooner should economic or other conditions dictate."
The company made an effort to save the facilities by lowering plants' minimum operating levels and increasing its ability to turn the plants off and on more efficiently.
"Unfortunately, even with these efforts, the plants remain uneconomic," Cohn said.
Rate-regulated utilities often cite the inefficiency of turning plants on and off fully as part of their reasoning for keeping plants running even when they aren't competitive in the wholesale markets, and others have cited coal plants' lack of flexibility for their failure to compete in markets at large.
Vistra also plans to build out its renewable energy portfolio, adding 928 MW of solar over the next two years, totaling six projects plus one 10 MW addition to an existing project. The projects represent a capital investment of about $850 million, and are all located within the "attractive" Electric Reliability Council of Texas market.
| Project Name | Capacity |
| --- | --- |
| Andrews Solar Facility | 100 MW |
| Brightside Solar Facility | 50 MW |
| Emerald Grove Solar Facility | 108 MW |
| Upton 2 Solar and Energy Storage Facility – Phase III | 10 MW addition (will make total project capacity 190 MW) |
| DeCordova Energy Storage Facility | 260 MW/260 MWh |
| Forest Grove Solar Facility | 200 MW |
| Oak Hill Solar Facility | 200 MW |
The company's accelerated coal plant retirements and renewable energy additions bump its emissions reduction targets to 60% below 2010 levels by 2030 and net-zero carbon emissions by 2050.
**
The Toll Beyond Coal
The Toll Beyond Coal: Who Bears the Cost of Coal Plant Decommissioning and Coal Ash Disposal? A Case Study of the Municipal Energy Agency of Nebraska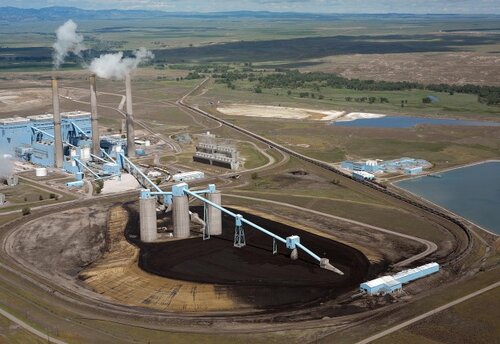 A REPORT COMPLETED BY SDSG IN 2020
THE REPORT CAN BE FOUND HERE
THE PRESS RELEASE CAN BE FOUNDHERE
A SLIDE DECK FOR THE 09/24/20 WEBINAR CAN BE FOUNDHERE
This study assesses the costs of transitioning to a renewable energy infrastructure, specifically the retrofit and closure of coal ash ponds and how the Municipal Energy Agency of Nebraska (MEAN) may be preparing for such a transition.
Because MEAN works with 14 communities throughout Colorado, the information within SDSG's previous and current study are relevant and ongoing for many Colorado energy customers. The previous MEAN study, in two volumes addressed: first, limitations to renewable energy under the municipal utilities' contracts and policies; and second, seven community profiles which underline the complexity of the MEAN system and its customers. That initial study of MEAN led to more questions about how this energy agency based in Nebraska affects the energy future of Colorado. SDSG's most recent study, "Toll Beyond Coal," investigates how MEAN may be responsible for the decommissioning costs of its coal assets and how planning for those costs could affect Colorado customers.
U.S. coal plants are experiencing record closures, so the logical question is when, not if, the coal assets under MEAN will close and how the agency plans to afford their portion of the closure costs. This study begins by looking at how environmental, fiscal, and regulatory changes have expedited coal plant closures. Although there are many economic and regulatory factors driving the decline of coal's cost competitiveness, this study highlights the effects of the Environmental Protection Agency's 2015 coal combustion residuals rule. This rule addresses the safe disposal of the waste from burning coal, coal ash. Since the regulations for the disposal of coal ash were initially less stringent, the retrofits necessary to comply with updated environmental standards considerably increase the costs of decommissioning coal plants.
How will MEAN pay the costs of decommissioning and how will it affect Colorado communities served by the energy agency?