Under a proposal being considered in the Texas House this week, activists who engage in civil disobedience to stop or delay construction on pipelines would be charged with the same level of felony as attempted murderers.
House Bill 3557, by state Representative Chris Paddie, R-Marshall, would increase the penalties and fees for intentional acts that "impede, inhibit or interfere" with the operations of "critical infrastructure," including electric power facilities, water treatment plants and oil and gas facilities. The bill would go beyond the state's definition of critical infrastructure to include equipment and projects under construction.
Alleged violators would be charged with second-degree felonies, which carry up to 20 years in prison, under HB 3557. Additionally, individuals would face a fine of up to $10,000 and organizations accused of violating the law would face a fine of $1 million. Violators would also be liable for damages.
So-called critical infrastructure, specifically at oil and gas pipeline easements, has been the target of protests across the state in the last several years. Environmental activists have delayed construction on pipelines including the southern leg of the Keystone XL in East Texas in 2012 and the Trans-Pecos in far West Texas in 2016 and 2017. Denton protesters also took action to delay operations at a fracking site in 2015 after nearly 60 percent of voters approved a fracking ban that was later invalidated by the Texas Legislature.
The new proposal "is criminalizing conscientious, caring people who are the canaries for their communities," said Lori Glover, co-founder of the Big Bend Defense Coalition, an activist group that mobilized against the Trans-Pecos Pipeline. She and other critics say the measure is unnecessary because laws to protect private property are already on the books.
In fact, Glover knows what it's like to face a felony charge after taking direct action. She was arrested in Presidio County in 2017 after locking herself to pipe-laying equipment at an Energy Transfer Partners work site to delay construction on the company's controversial pipeline. Glover was charged with an elevated version of criminal mischief at the time since she allegedly blocked gas supply, despite the fact that the pipeline was still under construction. The charge was later lowered to a Class A misdemeanor by the district attorney.
"It was pretty stressful and terrifying," Glover said in an interview. "It really created a lot of pressure on [me] to accept any lower charge, whatever it was, even if it wasn't fair. You felt like you had to take it because anything is better than a felony… You get the feeling like there's no justice."
Glover traveled to Austin in late March to testify during a committee hearing against the Senate version of the bill, SB 1993, by state Senator Brian Birdwell, R-Granbury. She said she visited several legislators' offices to lobby against the proposals and noticed that some Democrats seemed to be on the fence. The bill passed out of the House Judiciary and Civil Jurisprudence Committee in a 6-3 vote, with state Representative Victoria Neave, D-Dallas, breaking rank and voting for the bill. Neave's office did not respond to the Observer's request for comment.
State lawmakers around the country are advancing similar legislation developed by the American Legislative Exchange Council (ALEC), a corporate-backed group that is the most prolific organization in the country at writing model legislation. Similar industry-backed bills have already passed in North Dakota, Louisiana, Iowa and Oklahoma in the aftermath of the high-profile protests at Standing Rock. Other "critical infrastructure" bills have been introduced in at least 10 other statehouses this year.
In Texas, the authors of both the House and Senate versions of the bill have attended ALECconferences in recent years. Paddie's political action committee received at least $40,000 from energy companies during the 2018 election cycle, according to the Center for Responsive Politics. Neither Paddie nor Birdwell's office responded to a request for comment.
The bills could do more than just chill future acts of civil disobedience, critics say. Pipeline opponents and even workers involved in labor disputes might fear simply demonstrating with signs at oil and gas sites, since their protest and presence could be construed as impeding operations.
Indigenous people who attempt to protect native burial grounds in the pathway of oil and gas infrastructure could also be charged, according to Yolanda Bluehorse, a member of the Rosebud Sioux tribe of South Dakota and board member of the Dallas Peace and Justice Center. She also lobbied against the bill at the Texas Capitol, asking legislators whether indigenous people could be charged as felons for protecting their burial plots.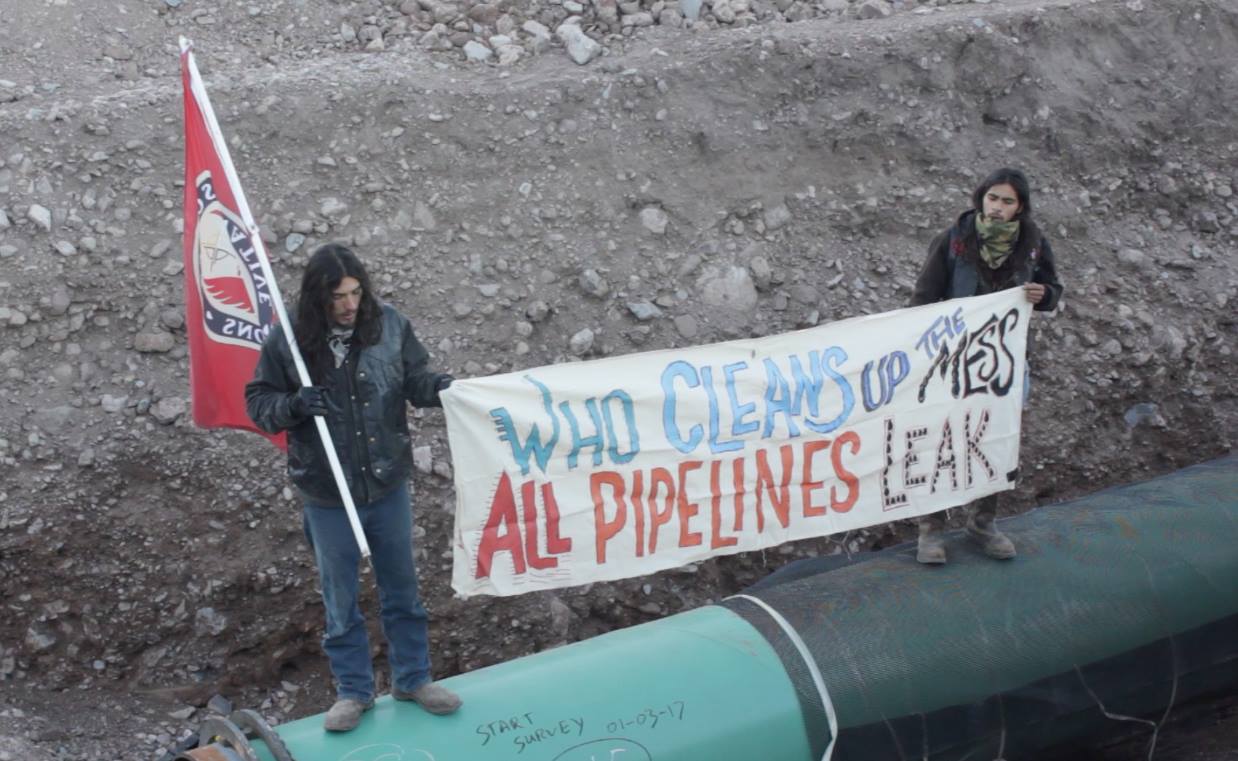 Further, the bills raise significant First Amendment implications not just for protesters, but also for journalists covering pipeline protests, free speech advocates say. They too could be hit with felony charges if their presence is interpreted to interfere with operations — one reason why the Freedom of Information Foundation of Texas registered opposition. Meanwhile, the Texas Oil and Gas Association, the Texas Pipeline Association, Enbridge, ExxonMobil, Chevron, Shell and slew of other energy interests registered support for the bill in committee.

HB 3557 is advancing as environmental organizations fend off other bills this session, including House Bill 2771 and its companion in the Senate, which give the Texas Commission on Environmental Quality authority to issue permits to oil and gas companies to discharge water from fracking operations and gas plant effluent into lakes, streams and riverways.

"I was only under that machine for a couple of hours," Glover says. "So the proportion of the punishment to the actual inconvenience [to the company], the misconduct, is already outrageous. With this new bill, it really becomes a violation of the Eighth Amendment."

Candice Bernd is a senior editor/staff reporter with Truthout. Her work has also appeared in The Nation, In These Times, Salon, Rewire.News, YES! Magazine and Earth Island Journal. Her work has received awards from the San Francisco Press Club, the Fort Worth chapter of Society of Professional Journalists and the Dallas Peace and Justice Center. Follow her on Twitter @CandiceBernd.
More States Crack Down on Pipeline Protesters, Including Supporters Who Aren't Even on the Scene
South Dakota's law is the latest as pipeline companies encourage tougher penalties for activists who block oil and gas projects—and for the groups that support them.
Nicholas Kusnetz Inside Climate News MAR 28, 2019
This story was updated with a lawsuit filed March 28 over the South Dakota law.
Bills to clamp down on pipeline protests have spread to at least nine new states this year, part of an industry-backed push that began two years ago to heighten penalties for activists who try to block fossil fuel infrastructure projects.
Several of the bills also allow prosecutors to go after people or organizations as "conspirators" or "riot boosters" for merely supporting or coordinating with others who violate the law.
Civil liberties advocates argue that these vague and far-reaching provisions risk violating free speech protections under the First Amendment, and they have already started launching legal challenges.
The latest government move came on Wednesday in South Dakota—one of the states the planned Keystone XL pipeline is slated to cross—when Republican Gov. Kristi Noem signed a law that enables state and local governments, as well as "third parties," to seek civil damages from people or organizations that engage in "riot boosting."
Lawmakers in North Dakota, a hub of oil and gas development, also passed a bill this week that stiffens penalties for anyone who interferes with the construction or operation of pipelines and other "critical infrastructure." Once the Senate approves some minor changes, it heads to Republican Gov. Doug Burgum, who has not said whether he will sign it.
The North Dakota bill was based on a law that was enacted in Oklahoma in 2017 and then circulated by the industry-backed American Legislative Exchange Council (ALEC). Versions of that legislation have now been introduced in at least 15 states, three of which have enacted it: Oklahoma, Louisiana and Iowa. A version of the bill passed the Indiana legislature this week, too, though the Senate there must also approve some amendments before sending it to the governor.
While the details vary from state to state, the bills generally increase penalties for trespassing on or tampering with a range of facilities, including pipelines, oil storage tanks, railroads and utility infrastructure. Several of them, including North Dakota's, also include language assigning higher penalties—up to $1 million in some cases—for any group found to be a conspirator in violating the law.
The South Dakota law is different. Rather than imposing new penalties for interfering in pipeline construction, the bill enables state or local governments—or a third party working with government—to seek compensation from anyone who engages in "riot boosting," which includes encouraging or directing someone to engage in a riot, defined by the state as the use of force or violence by three or more people acting together.
Someone can qualify as a "riot booster" even if they reside out of state and act indirectly "through any employee, agent or subsidiary." Anyone found liable would be responsible for three times the ordinary penalty.
The bill was introduced at the end of the legislative session and approved over the course of four days, with only one hearing.
Environmental and civil liberties advocates, as well as many Native American tribes, say the bills are an attempt to stifle legitimate protest by creating harsh penalties for minor infractions and by trying to scare off advocacy groups. An organization that holds a nonviolence training, for example, might be targeted under the law if attendees are later part of a protest that ends in a clash with private security forces or police.
"'Riot boosting' is an unusual and new term. You might be asking yourself what that means, and I think protesters will too," said Vera Eidelman, an attorney with the American Civil Liberties Union who has tracked the bills. "I think it poses a unique threat to speech and appears to be targeted at protests. It uses words like 'encouraging' and 'advising' that are very broad and refer to a category of protected speech."
On Thursday, the ACLU sued South Dakota officials in federal court on behalf of indigenous and environmental groups, arguing that the new law and two related statutes violate the Constitution by suppressing free speech and failing to describe what actions could qualify as violations. In a statement, the group said "such vague and broad language invites arbitrary enforcement, will chill protected speech, and will result in indiscriminate targeting of peaceful organizers."
Industry-Backed Group's 'Model Legislation'
The legislation is part of a wave of state bills introduced across the country since President Donald Trump's election in response to high-profile protests like those against the Dakota Access Pipeline on the Standing Rock Reservation in North Dakota in 2016 and 2017.
Oklahoma state Rep. Scott Biggs said he was responding to those protests when he introduced a bill in 2017 to impose harsh penalties on people or groups who interfere with "critical infrastructure." After ALEC adopted the bill as model legislation, versions quickly spread across several states with active pipeline projects.
The bills' supporters have said they make it easier for prosecutors to go after protesters or vandals who violate the law, and that they do not target free speech.
Advocates have pointed out that the actions in question—trespassing, vandalism—are already covered by existing laws. Instead, they say, the aim of the bills is to intimidate protesters who draw attention to their concerns through civil disobedience, including minor infractions like blocking the gates of construction sites. Advocates say these protests are part of a long tradition of American civil disobedience dating back to the Boston Tea Party.
"Even where these bills are simply introduced, even if they do not move, even if they do not become law, they have potential to chill free speech and curtail activism," said Maggie Ellinger-Locke, a staff attorney with Greenpeace. "We're hearing from people on the frontlines of activism in these states that these bills frighten them."
Pipeline Companies Register Their Support
Energy companies and associations have supported the bills and have continued to push the legislation this year, according to documents compiled by Greenpeace.
TransCanada, the Canadian company behind the Keystone XL pipeline, registered its support for the bill this year in Missouri along with the American Fuel and Petrochemical Manufacturers and other industry groups. In Illinois, TransCanada was joined by Enbridge and Energy Transfer, two other leading pipeline developers, as well as the American Petroleum Institute.
Sen. Janne Myrdal, who sponsored the North Dakota bill this year and is a member of ALEC's energy task force, did not respond to requests for comment. But she told the Associated Press that she introduced the bill in response to a protester who in 2016 broke into a control site for the existing Keystone pipeline that cuts through the state and manually closed one of the valves.
"There was frustration from law enforcement and residents that there wasn't enough teeth in current law to go after these people and the organizations that support them," she said.
An activist is arrested at a pipeline construction site while trying to hang a protest banner. At least 15 states are considering or recently approved stricter penalties for trespassing on or tampering with oil and gas facilities, including pipelines. Some include penalties for "conspirators" who may have supported the protesters. Credit: Julie Dermansky/Corbis via Getty Images
The protester, Michael Foster, was convicted and sentenced to three years in prison, though two of those years were suspended. He ended up serving about half a year.
In South Dakota, Gov. Noem's office did not answer emailed questions about TransCanada's role in drafting the bill, but Noem said in Februarythat she had met with representatives of the company to discuss her legislative package, which also includes a bill that requires pipeline developers to contribute to a fund that would help pay for government costs associated with construction.
"I fully support the freedoms of speech and assembly, but we must also have clear expectations and the rule of law," Noem said in a statement issued Wednesday. "My pipeline bills make clear that we will not let rioters control our economic development."
Terry Cunha, a spokesman for TransCanada, said in an email that "we appreciate the efforts of Governor Noem and her administration to help advance Keystone XL construction and other pipelines," adding that "any legislation that deters unlawful activities and encourages the advancement of critical infrastructure projects is a positive step."
Is It Stifling Dissent?
Some activists say the bills are part of a wider effort by the oil and gas industry and its allies in government—through lawsuits, public relations campaigns and legislation—to paint protesters as criminals and even terrorists.
"All of these things I think incorrectly mischaracterize protesters and respond to a powerful pushback against pipelines and other protests, not by trying to engage on the issues but by trying to stifle dissent," Eidelman said. "I think this is really part of a broader trend."
Last year, the ACLU sued the federal government, accusing several agencies of withholding documents detailing preparations for the potential construction of the Keystone XL pipeline. The group had submitted records requests seeking information about the preparations, and the documents that did emerge, mostly from state agencies, showed that law enforcement agencies were conducting trainings for potential protests. The ACLU said the activities risked treating activists as criminals even before protests broke out. State officials have said they are simply doing their jobs.
In January, The Intercept reported on similar concerns in Minnesota, where police had been preparing for a year and a half for protests against Enbridge's proposed Line 3 pipeline expansion project by identifying groups opposed to construction and monitoring some activists.
The ACLU and other civil liberties groups said they are continuing to evaluate the state bills and considering whether they may challenge them as unconstitutional. So far, Louisiana is the only state where protesters have been arrested under the new laws. Bill Quigley, a lawyer who is representing several of the activists, said prosecutors have two years to press charges and have yet to do so.
Nicholas Kusnetz is a reporter for InsideClimate News. Before joining ICN, he ran the Center for Public Integrity's State Integrity Investigation, which won a New York Press Club Award for Political Coverage. He also covered fracking as a reporting fellow at ProPublica and was a 2011 Middlebury Fellow in Environmental Journalism. His work has appeared in more than a dozen publications, including Slate, The Washington Post, Businessweek, Mother Jones, The Nation, Fast Company and The New York Times.
Nicholas can be reached at: nicholas.kusnetz@insideclimatenews.org. PGP key: http://bit.ly/2k5fncn