Study: Air pollution causes 200,000 early deaths each year in the U.S. (but we have options and need to choose better ones!)
Jennifer Chu, MIT News Office
August 29, 2013
The group tracked ground-level emissions from sources such as industrial smokestacks, vehicle tailpipes, marine and rail operations, and commercial and residential heating throughout the United States, and found that such air pollution causes about 200,000 early deaths each year. Emissions from road transportation are the most significant contributor, causing 53,000 premature deaths, followed closely by power generation, with 52,000.
In a state-by-state analysis, the researchers found that California suffers the worst health impacts from air pollution, with about 21,000 early deaths annually, mostly attributed to road transportation and to commercial and residential emissions from heating and cooking.
The researchers also mapped local emissions in 5,695 U.S. cities, finding the highest emissions-related mortality rate in Baltimore, where 130 out of every 100,000 residents likely die in a given year due to long-term exposure to air pollution.
"In the past five to 10 years, the evidence linking air-pollution exposure to risk of early death has really solidified and gained scientific and political traction," says Steven Barrett, an assistant professor of aeronautics and astronautics at MIT. "There's a realization that air pollution is a major problem in any city, and there's a desire to do something about it."
Barrett and his colleagues have published their results in the journal Atmospheric Environment.
Data divided
Barrett says that a person who dies from an air pollution-related cause typically dies about a decade earlier than he or she otherwise might have. To determine the number of early deaths from air pollution, the team first obtained emissions data from the Environmental Protection Agency's National Emissions Inventory, a catalog of emissions sources nationwide. The researchers collected data from the year 2005, the most recent data available at the time of the study.
They then divided the data into six emissions sectors: electric power generation; industry; commercial and residential sources; road transportation; marine transportation; and rail transportation. Barrett's team fed the emissions data from all six sources into an air-quality simulation of the impact of emissions on particles and gases in the atmosphere.
To see where emissions had the greatest impact, they removed each sector of interest from the simulation and observed the difference in pollutant concentrations. The team then overlaid the resulting pollutant data on population-density maps of the United States to observe which populations were most exposed to pollution from each source.
Health impacts sector by sector
The greatest number of emissions-related premature deaths came from road transportation, with 53,000 early deaths per year attributed to exhaust from the tailpipes of cars and trucks.
"It was surprising to me just how significant road transportation was," Barrett observes, "especially when you imagine [that] coal-fired power stations are burning relatively dirty fuel."
One explanation may be that vehicles tend to travel in populated areas, increasing large populations' pollution exposure, whereas power plants are generally located far from most populations and their emissions are deposited at a higher altitude.
Pollution from electricity generation still accounted for 52,000 premature deaths annually. The largest impact was seen in the east-central United States and in the Midwest: Eastern power plants tend to use coal with higher sulfur content than Western plants.
Unsurprisingly, most premature deaths due to commercial and residential pollution sources, such as heating and cooking emissions, occurred in densely populated regions along the East and West coasts. Pollution from industrial activities was highest in the Midwest, roughly between Chicago and Detroit, as well as around Philadelphia, Atlanta and Los Angeles. Industrial emissions also peaked along the Gulf Coast region, possibly due to the proximity of the largest oil refineries in the United States.
Southern California saw the largest health impact from marine-derived pollution, such as from shipping and port activities, with 3,500 related early deaths. Emissions-related deaths from rail activities were comparatively slight, and spread uniformly across the east-central part of the country and the Midwest.
While the study is based on data from 2005, Barrett says the results are likely representative of today's pollution-related health risks.
Jonathan Levy, a professor of environmental health at Boston University, says Barrett's calculations for the overall number of premature deaths related to combustion emissions agree with similar conclusions by the Environmental Protection Agency. The group's results — particularly the breakdown of emissions by state — provide valuable data in setting future environmental policy, he says.
"A public-health burden of this magnitude clearly requires significant policy attention, especially since technologies are readily available to address a significant fraction of these emissions," says Levy, who was not involved in the research. "We have certainly invested significant societal resources to address far smaller impacts on public health."
By Tom Randall, Bloomberg April 2017 plus Michael L. September 2017 presentation
Wind and solar are about to become unstoppable, natural gas and oil production are approaching their peak, and electric cars and batteries for the grid are waiting to take over. This is the world Donald Trump inherited as U.S. president. And yet his energy plan is to cut regulations to resuscitate the one sector that's never coming back: coal.
Clean energy installations broke new records worldwide in 2016, and wind and solar are seeing twice as much funding as fossil fuels, according to new data released Tuesday by Bloomberg New Energy Finance (BNEF). That's largely because prices continue to fall. Solar power, for the first time, is becoming the cheapest form of new electricity in the world.
But with Trump's deregulations plans, what "we're going to see is the age of plenty—on steroids," BNEF founder Michael Liebreich said during a presentation in New York. "That's good news economically, except there's one fly in the ointment, and that's climate."  Here's what's shaping the future of power markets, in 15 charts from BNEF: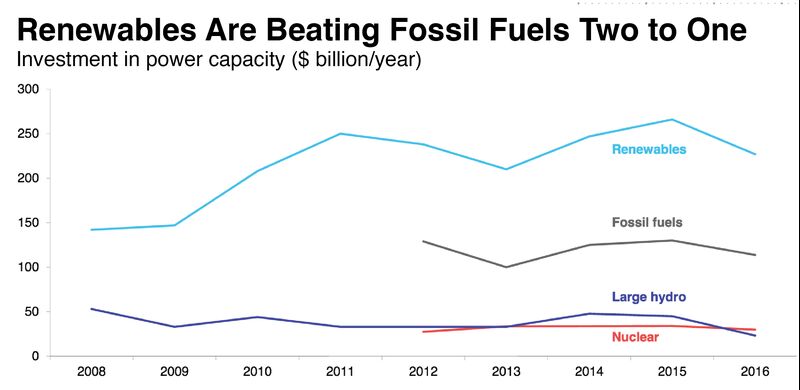 Government subsidies have helped wind and solar get a foothold in global power markets, but economies of scale are the true driver of falling prices. Unsubsidized wind and solar are beginning to outcompete coal and natural gas in an ever-widening circle of countries.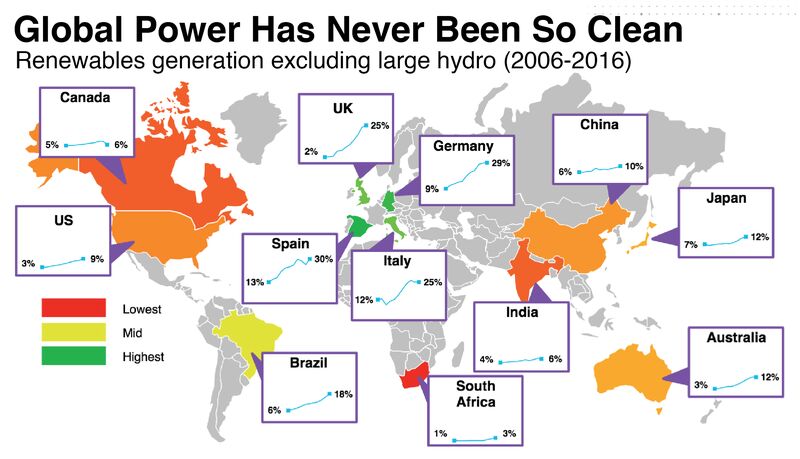 The U.S. may not be leading the world in renewables as a percentage of grid output, but a number of states are exceeding expectations.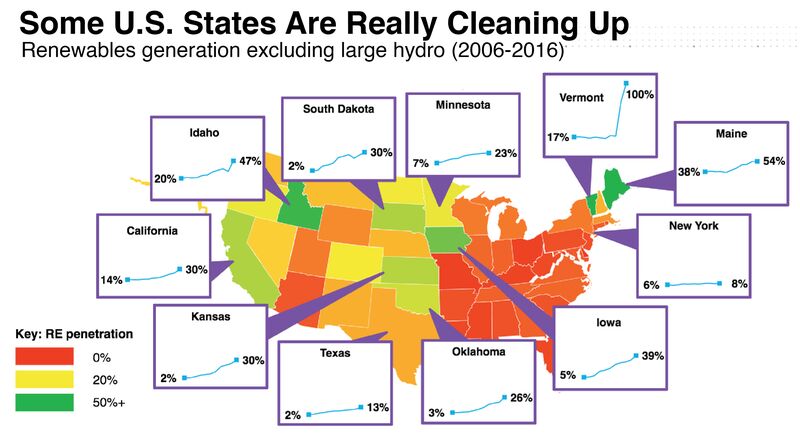 Wind and solar have taken off—so much so that grid operators in California are facing some of the same challenges of regulating the peaks and valleys of high-density renewables that have plagued Germany's energy revolution. The U.S. boom, while not the first, has been remarkable.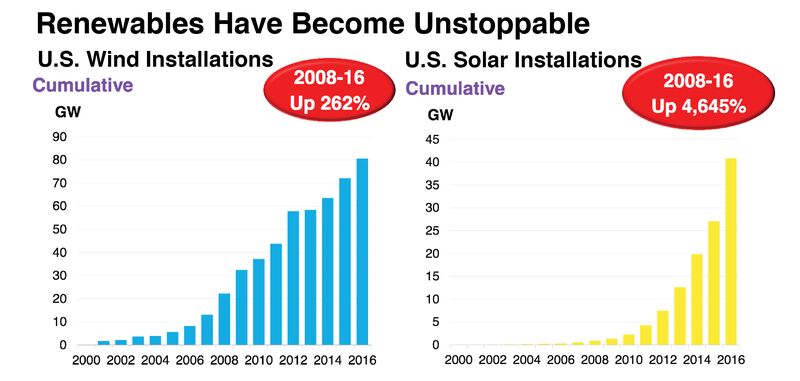 Electricity demand in the U.S. has been declining, largely due to increased energy efficiency in everything from light bulbs and TVs to heavy manufacturing. In such an environment, the most expensive fuel loses, and increasingly that's coal.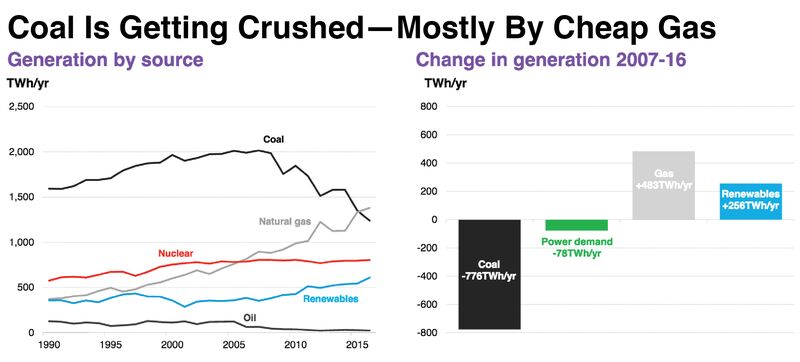 With renewables entering the mix, even the fossil-fuel plants still in operation are being used less often. When the wind is blowing and the sun is shining, the marginal cost of that electricity is essentially free, and free energy wins every time. That also means declining profits for fuel-burning power plants.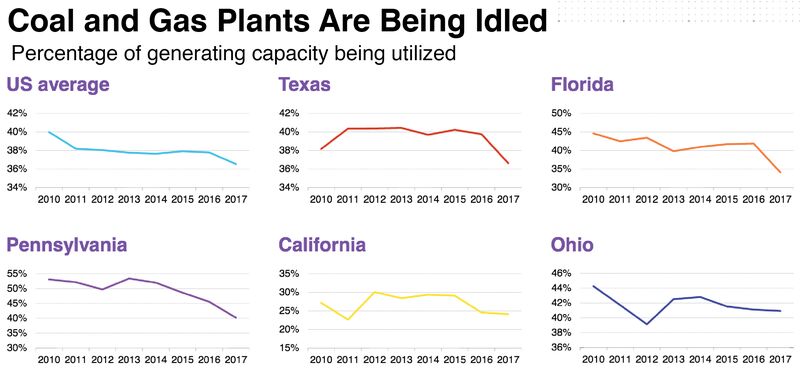 The bad news for coal miners gets even worse. U.S. mining equipment has gotten bigger, badder, and way more efficient. Perhaps the biggest killer of coal jobs is improved mining equipment. The state of California now employs more people in the solar industry than the entire country employs for coal.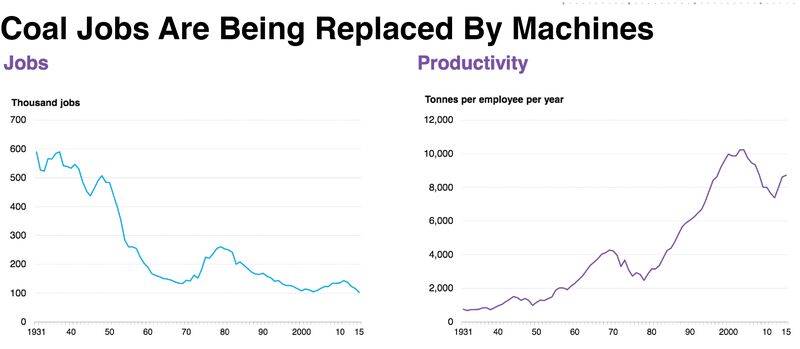 Historically, economic growth has gone hand-in-hand with increased energy consumption. Advances in efficiency are changing that, too. Call it the Great Decoupling.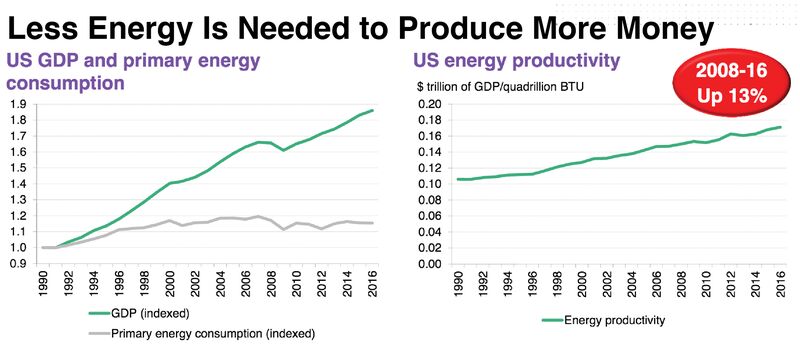 The sharpest change in U.S. energy has been driven by advances in oil and gas drilling through shale rock. This type of horizontal drilling has also seen enormous improvements in efficiency, deploying fewer workers, fewer rigs, and drilling fewer wells to produce ever-more fossil fuels. The natural gas that comes out of these wells is practically free.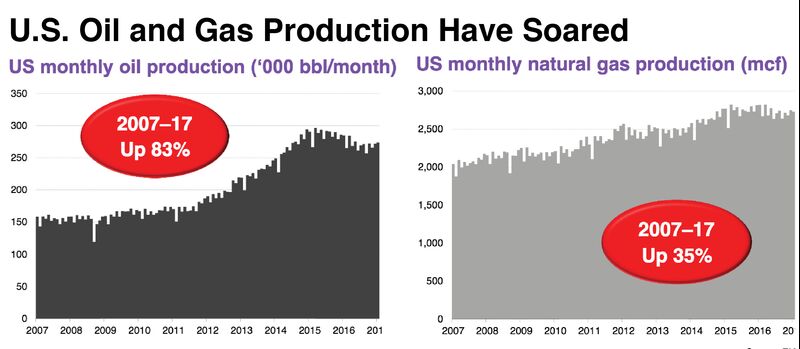 But demand for that oil and gas may not be long for this world. The world's cars are getting wildly more efficient.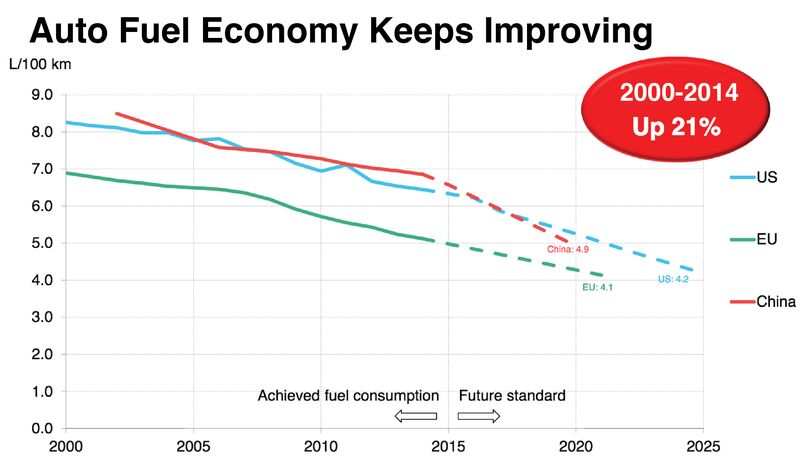 And the biggest threat to oil markets—electric cars—is just getting started. Joel Couse, the chief economist for Total SA, told the BNEF conference that EVs will make up 15 percent to 30 percent of new vehicles by 2030, after which fuel "demand will flatten out," Couse said. "Maybe even decline."
Couse's projection for electric cars is the highest yet by a major oil company and exceeds BNEF's own forecast.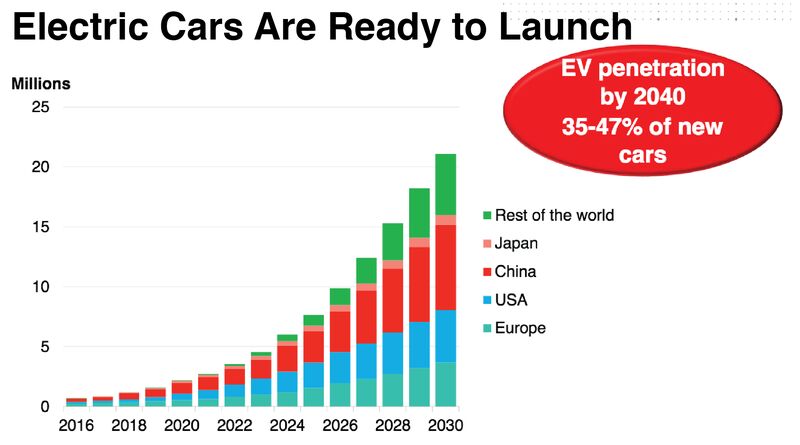 The outlook for electric cars—and for battery-backed wind and solar—is improving because the price of lithium-ion packs continues to tumble.

The shift to cleaner energy is ridding the air of local pollutants that cause heart disease, asthma, and cancer, as well as the greenhouse gas emissions responsible for climate change. Trump's Energy Secretary, Rick Perry, told the BNEF Summit that the U.S. should remain in the Paris climate accord, but should renegotiate it to draw out stronger pledges from European countries.
Meeting U.S. commitments made under President Barack Obama shouldn't be too difficult. America is already half way to meeting its 2025 goal.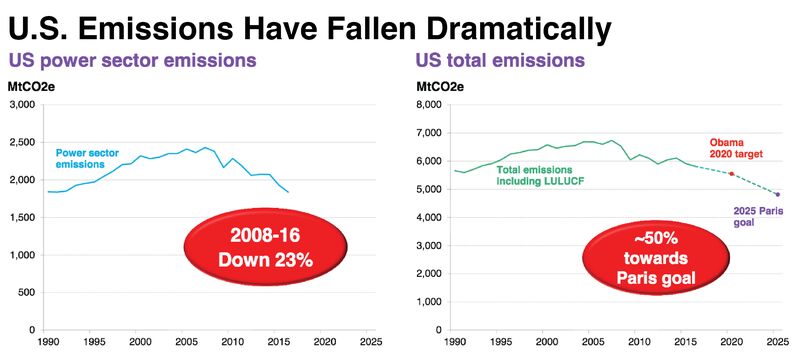 And cleaning up emissions hasn't exactly burdened consumers. Personal expenditures on electricity and fuels is down significantly.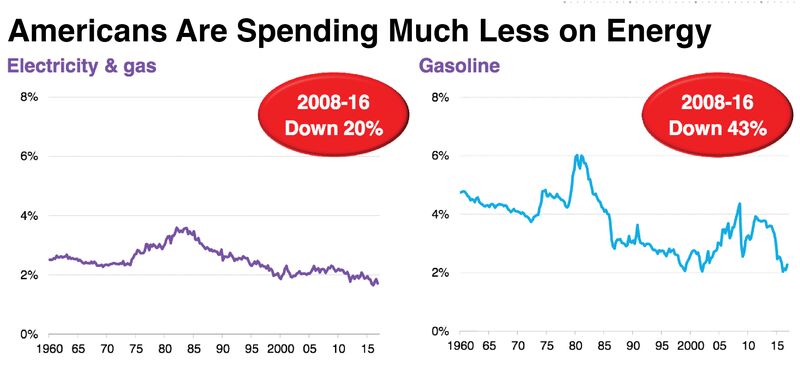 Just meeting the Paris goals for emissions reductions doesn't go far enough to fend off the catastrophe scientists anticipate from climate change. Eventually the economy will need to decarbonize completely—in energy, agriculture, construction, manufacturing, and land use. And solutions for some of the trickiest and most expensive parts of that equation are still decades away.
Fortunately, global energy markets at least seem headed in a cleaner direction.