A study published Wednesday in the journal Nature focuses on what is known as translation speed, which measures how quickly a storm is moving over an area, say, from Miami to the Florida Panhandle. Between 1949 and 2016, tropical cyclone translation speeds declined 10 percent worldwide, the study says. The storms, in effect, are sticking around places for a longer period of time.
With wind speeds that can top 180 miles per hour, hurricanes are not usually thought of as slow. Yet tropical cyclones, which include hurricanes, have grown more sluggish since the mid-20th century, researchers say. That may mean bad news for people residing in their path.
A study published Wednesday in the journal Nature focuses on what is known as translation speed, which measures how quickly a storm is moving over an area, say, from Miami to the Florida Panhandle. Between 1949 and 2016, tropical cyclone translation speeds declined 10 percent worldwide, the study says. The storms, in effect, are sticking around places for a longer period of time.
Lingering hurricanes can be a problem, as Texans learned last year when Hurricane Harvey stalled over the state, causing devastating flooding and billions of dollars of damage. The storm dropped more than 30 inches of rain in two days and nearly 50 inches over four days in some places. A report released this month by Harris County, which includes Houston, found that Harvey's rainfall exceeded every known flooding event in American history since 1899.
"The really, really high rainfall totals were because the storm moved so slowly," said Deanna Hence, a professor of atmospheric sciences at the University of Illinois at Urbana-Champaign, who was not involved in the new research. "The large amount of rain that is going to come out of a tropical storm or hurricane anyway fell in the same place over a long period of time."
To analyze the changes in translation speeds, James Kossin, a climate scientist with the National Centers for Environmental Information at the National Oceanic and Atmospheric Administration, tapped into a global data set on past tropical storms. The data include estimates of the latitude and longitude of each named storm's center at six-hour intervals.
By comparing a given storm's positions over time, Dr. Kossin was able to measure how quickly it had moved across the landscape. He then calculated the average speeds of the storms from year to year, and found that tropical cyclones had been slowing over time.
There are limitations to the analysis, said Dr. Hence. The study does not say how much of the extra rainfall produced by a storm like Harvey was caused by the storm staying in one place, as compared to other contributing factors, like the unusually warm ocean waters that fueled the hurricane.
There is also the question of what is causing the slowdown. The new paper is a study based on analysis of observations, so it does not answer that question directly. But broader evidence suggests that climate change is playing a role.
Belts of wind known as steering winds are responsible for moving hurricanes along their paths. "Hurricanes are carried passively by the winds that they're sitting in," Dr. Kossin said. "It's not quite like a cork in a stream, but not too different, either."
The steering winds draw power from the temperature differences between the tropics and the poles. But because of climate change, that temperature difference is declining, weakening the winds. The slower steering winds move hurricanes more slowly.
Adding to the evidence, researchers at the National Center for Atmospheric Research compared computer simulations of 22 past storms with simulations of those same storms based on future climate conditions. They found that average hurricane translation speeds slowed in the future simulations. The Journal of Climate published their conclusions this year.
A growing body of research is showing that hurricanes are becoming more dangerous. A recent analysis by noted climate scientists, though not a peer-reviewed study, suggested that even as the winds that move hurricanes along are getting weaker, the winds inside hurricanes are getting stronger.
The threats aren't limited to those who live along coastlines. "Freshwater flooding is particularly dangerous because that happens inland and people don't typically evacuate," Dr. Kossin said. "If you live in a place with any sort of mountainous area — or any topography at all, really — then you have that compound danger of mudslides. As it's turning out, it's the freshwater flooding that poses the highest mortality risk nowadays in certain regions."
Kendra Pierre-Louis is a reporter on the climate team. Before joining The Times in 2017, she covered science and the environment for Popular Science. @kendrawrites
Flooding from high tides has doubled in the US in just 30 years
Shoreline communities may be inundated in the next two years as ocean levels rise amid serious climate change concerns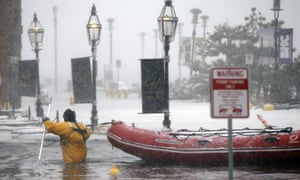 The frequency of coastal flooding from high tides has doubled in the US in just 30 years, with communities near shorelines warned that the next two years are set to be punctuated by particularly severe inundations, as ocean levels continue to rise amid serious global climate change concerns.
Last year there was an average of six flooding days per area across 98 coastal areas monitored by the National Oceanic and Atmospheric Administration (NOAA) – an all-time record. More than a quarter of these locations tied or broke their records for high tide flood days, the federal agency states in a new report.
Known as "sunny day flooding", these events swamp streets and homes with water simply from the incoming tide, without the aid of a storm. NOAA said that in 2017 areas across the US north-east and Gulf of Mexico were worst hit, with Boston, Massachusetts, and Atlantic City, New Jersey, both experiencing 22 days of flooding, while Galveston, in Texas, was soaked on 18 different days.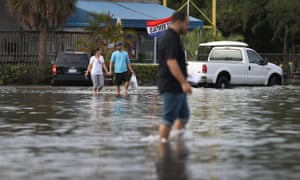 NOAA warned that cyclical climatic conditions during 2018 and 2019 "may result in higher than expected flood frequencies" in around half of the coastal sites it measures.
The longer-term trend is even more certain, NOAA said, with melting glaciers, thermal expansion of sea water and altered ocean currents pushing the sea level steadily higher and causing further floods.
"Breaking of annual flood records is to be expected next year and for decades to come as sea levels rise, and likely at an accelerated rate," the report states. "Though year-to-year and regional variability exists, the underlying trend is quite clear: due to sea level rise, the national average frequency of high tide flooding is double what it was 30 years ago."
The Noaa report is "comprehensive" and "clearly illustrates the increasing problems along our coastlines", said Ben Horton, a sea level rise expert at Rutgers University. "There is flooding on all our coastlines, places where people live and work. There needs to be a national response to that."
Last year was marked by three high-profile hurricanes that pummelled the US, triggering flooding that resulted in dozens of deaths and billions of dollars in damage. Scientists have found that warming temperatures, driven by human activity, is making hurricanes stronger, but it is also exacerbating more chronic nuisance flooding events by pushing up the level of the ocean.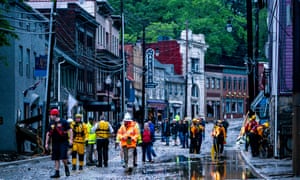 "There's a clear upwards trend of this type of flooding," said Andrea Dutton, a geologist at the University of Florida. "Extreme events like hurricanes may be the breaking point but this sort of frequent flooding is the taste of what is coming in the future on a permanent basis. We need to rethink our relationship with the coastline because it's going to be retreating for the foreseeable future."
Dutton said that south Florida, where weather forecasts in some places now come with tidal warnings, and fish are a regular sight on flooded roads, is particularly vulnerable. The low-lying region sits on porous limestone, which pushes up floodwater from underground, and many communities are unable to easily retreat because they back on to the Everglades wetlands.
"They used to get just one day a year of tidal flooding, now it's two months of it in the fall," she said. "Engineering can help delay things but ultimately the oceans will win. We are going to have to live with the water."
Globally, the seas have risen by an average of nearly three inches since 1992. Parts of the US coastline are unusually prone, with Noaa forecasting last yearthat the oceans could swell by more than eight feet by 2100.
Despite the risk posed to the US by sea level rise and flooding events, there is no national plan to deal with the issue, with much of the adaption work left to states and counties. The Trump administration has rescinded previous rules to build federally funded infrastructure with climate change in mind and has sought to reverse various measures aimed at taming global warming.
"We need to take this report as a warning to prepare ourselves, or we will just sit around and wait for disaster to happen," Dutton said.