The Production Gap report says G20 governments have committed more than $230bn (£173bn) in Covid-19-related funding to fossil fuel production and consumption to date, far more than the $150bn to clean energy. But it found that between 2020 and 2030, global coal, oil, and gas production must fall by 11%, 4%, and 3% a year respectively, to meet the 1.5C target.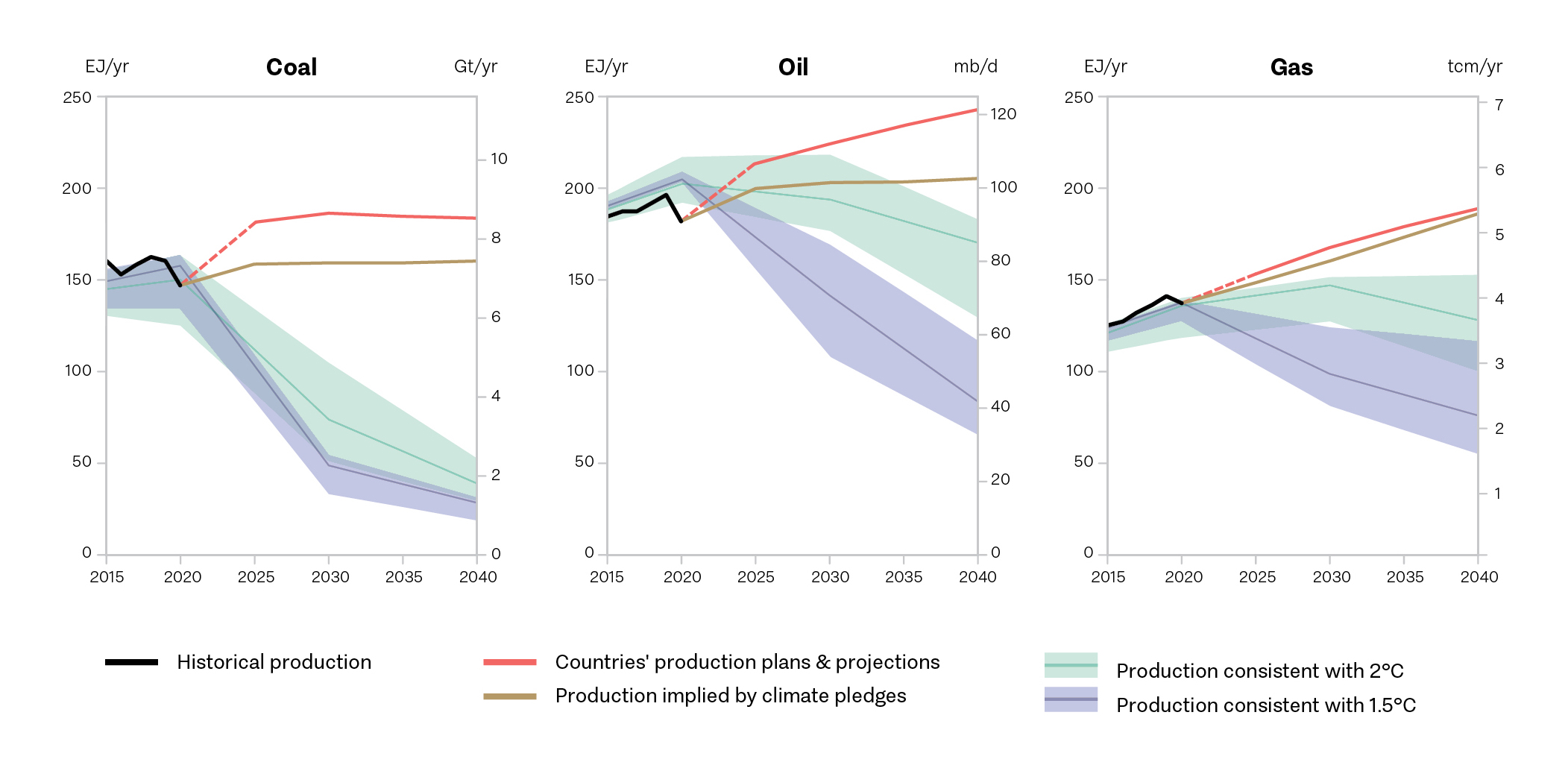 A pair of UN reports released Wednesday detail the dire state of the planet's heating caused by the chasm between expected fossil fuel use and the dramatic reductions needed to avoid the most catastrophic impacts of climate change. 2020 is set to be the third-warmest year since the industrial revolution, just behind 2016 and 2019, according to the State of the Climate report released by the UN World Meteorological Office and other UN agencies.
Global temperatures are expected to average 1.2°C above the pre-industrial baseline, with a 20% chance of hitting the critical 1.5°C threshold outlined in the Paris Agreement by 2024. The WMO warnings are heightened by the parallel Production Gap report, released by the UN Environment Program and four NGOs, finding that instead of cutting fossil fuel extraction by 6% per year over the next decade, countries are planning to increase extraction by 2% annually. "Humanity is waging war on nature. This is suicidal," UN Secretary General Antonio Guterres said in an address on the release of the WMO report. "Nature always strikes back — and it is already doing so with growing force and fury," (WMO: Washington Post, CNN, The Nation, E&E $, Bloomberg $, AP, The Hill, CNN, BBC; UN EP: The Guardian, InsideClimate News, Earther, Axios, Climate Home, CNN, USA Today)
World is 'doubling down' on fossil fuels despite climate crisis – UN report
Production must fall by 6% a year to avoid 'severe climate disruption' but Covid-19 funding is supporting increases
Damian Carrington Environment editor @dpcarrington
Wed 2 Dec 2020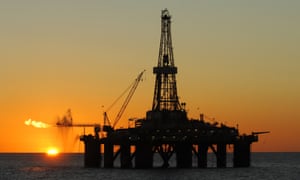 The world's governments are "doubling down" on fossil fuels despite the urgent need for cuts in carbon emissions to tackle the climate crisis, a report by the UN and partners has found.
The researchers say production of coal, oil and gas must fall by 6% a year until 2030 to keep global heating under the 1.5C target agreed in the Paris accord and avoid "severe climate disruption". But nations are planning production increases of 2% a year and G20 countries are giving 50% more coronavirus recovery funding to fossil fuels than to clean energy.
The Covid-19 pandemic is expected to cut production in 2020 by 7%, the report says, but this barely changes the total production expected by 2030. Countries are on track to produce more than double the amount of fossil fuels consistent with a 1.5C limit by that date.
The challenge of deliberately cutting fossil fuel production every year by similar amounts to that forced by a global pandemic lockdown is large. But a managed wind-down can help repair the global economic damage by creating many new clean energy jobs, the researchers say.
"The pandemic-driven plunge in oil prices this year has once again demonstrated the vulnerability of many fossil-fuel-dependent regions and communities," said Ivetta Gerasimchuk, at the International Institute for Sustainable Development and a lead author of the report.
"Alas, in 2020 we saw many governments doubling down on fossil fuels. Instead of governments letting these fossil fuel projects die, they resurrect them from death – it's kind of zombie energy."
Inger Andersen, the head of the UN environment programme (Unep), said: "With governments injecting trillions into their economies, we find ourselves at a critical juncture where decisions can either further lock in fossil fuel energy systems or transition us to a cleaner and safer future. This year's devastating forest fires, floods, and droughts serve as powerful reminders for why we must succeed."
"The research is abundantly clear that we face severe climate disruption if countries continue to produce fossil fuels at current levels, let alone at their planned increases," said Michael Lazarus, at the Stockholm Environment Institute and another author of the report.
The Production Gap report says G20 governments have committed more than $230bn (£173bn) in Covid-19-related funding to fossil fuel production and consumption to date, far more than the $150bn to clean energy. But it found that between 2020 and 2030, global coal, oil, and gas production must fall by 11%, 4%, and 3% a year respectively, to meet the 1.5C target.
The assessment of future fossil fuel production is based on the most recent published energy plans by eight key countries that produce 60% of the world's fossil fuels: Australia, Canada, China, India, Indonesia, Norway, Russia and the US.
The report also sets out how policymakers can start a gradual decline in production, including ending fossil fuel subsidies and supporting affected communities into new jobs.
"It's a matter of recognising that fossil fuels are no longer the economic powerhouse they used to be, and I think we're beginning to see that happen," said Lazarus. Mary Robinson, chair of the Elders and a former UN climate envoy, said: "Working together, governments, companies and investors can bring forward a managed decline in a way that minimises disruption and ensures a just transition for workers and communities."
Niklas Hagelberg, at Unep, said: "Governments are injecting trillions of dollars into their economies – this is money borrowed from future generations. If we keep on investing into fossil fuels, we're going to give our children not only a planet in its worst state, but also wasted money."
The report has prompted a coalition of NGOs, including Global Witness, Friends of the Earth and Carbon Tracker, to write to the UK prime minister, Boris Johnson, who will host a critical UN climate summit in November 2021, calling on him to "show climate leadership" by announcing the UK would abandon its policy of maximising the economic recovery of its oil and gas reserves.
The letter adds: "The world – and its people – are looking to the UK for climate leadership. We must not fail them."
**
To follow a 1.5°C-consistent pathway, the world will need to decrease fossil fuel production by roughly 6% per year between 2020 and 2030. Countries are instead planning and projecting an average annual increase of 2%, which by 2030 would result in more than double the production consistent with the 1.5°C limit.
Between 2020 and 2030, global coal, oil, and gas production would have to decline annually by 11%, 4%, and 3%, respectively, to be consistent with a 1.5°C pathway. But government plans and projections indicate an average 2% annual increase for each fuel.
This translates to a production gap similar to that estimated in the 2019 report, with countries aiming to produce 120% and 50% more fossil fuels by 2030 than would be consistent with limiting global warming to 1.5°C or 2°C, respectively.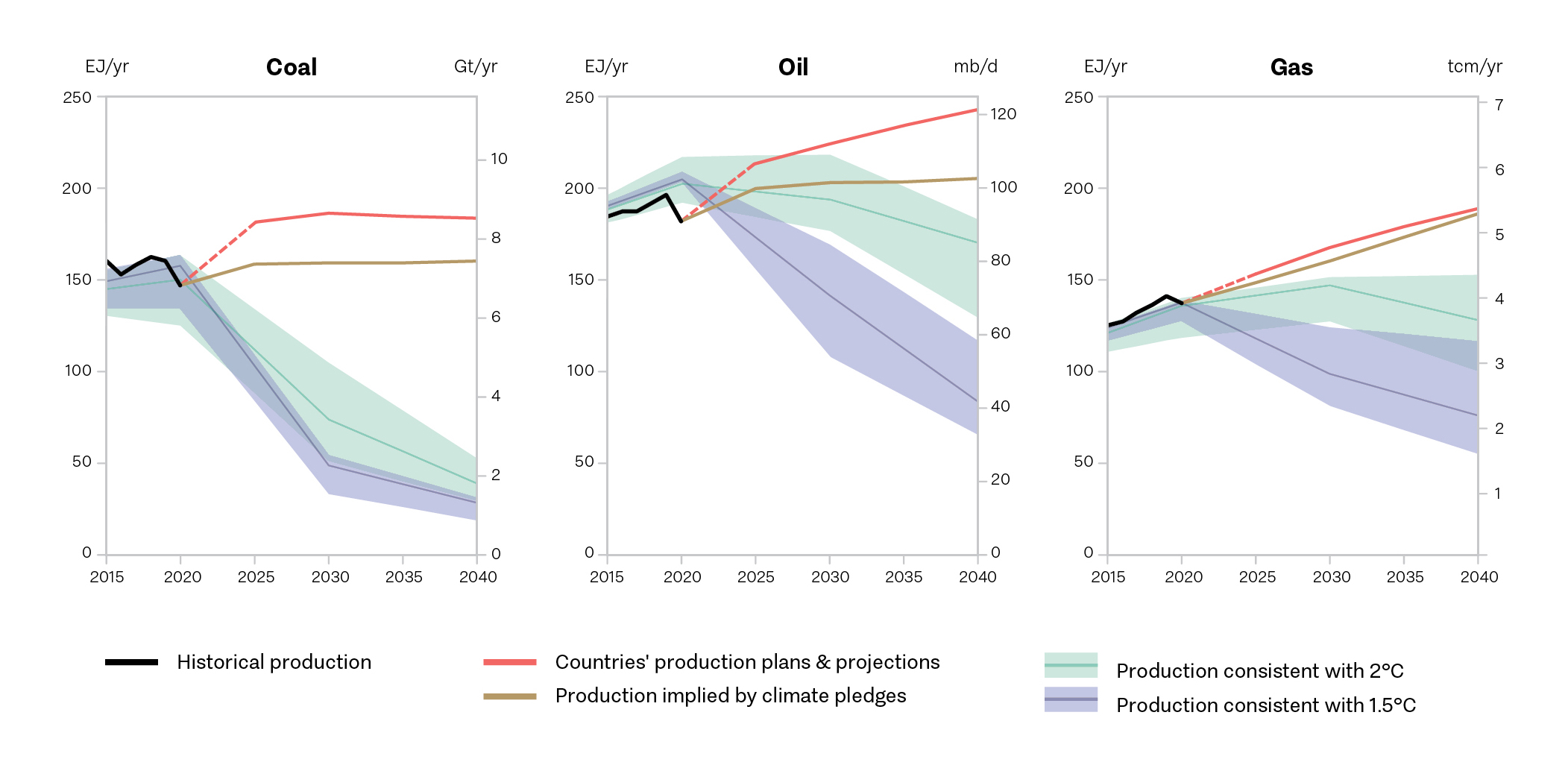 The COVID-19 pandemic — and the "lockdown" measures to halt its spread — have led to short-term drops in coal, oil, and gas production in 2020. But pre-COVID plans and post-COVID stimulus measures point to a continuation of the growing global fossil fuel production gap, locking in severe climate disruption.
Preliminary estimates suggest that global fossil fuel production could decline by 7% in 2020, primarily as a result of the COVID-19 pandemic and lockdown measures. Specifically, coal, oil, and gas supply could decrease by 8%, 7%, and 3%, respectively, in 2020 relative to 2019,
But countries are still planning to produce far more fossil fuels by 2030 than consistent with limiting warming to 1.5°C or 2°C. Government production plans and projections — updated largely prior to the COVID-19 outbreak — point to a continuation of the very wide production gap.
However, the future of the production gap is subject to large uncertainties, as the COVID-19 pandemic and its ramifications on fossil fuel supply and demand continue to unfold. The 2021 Production Gap Report will include a more comprehensive re-analysis of the gap, including updated country profiles that were a centrepiece of the 2019 report.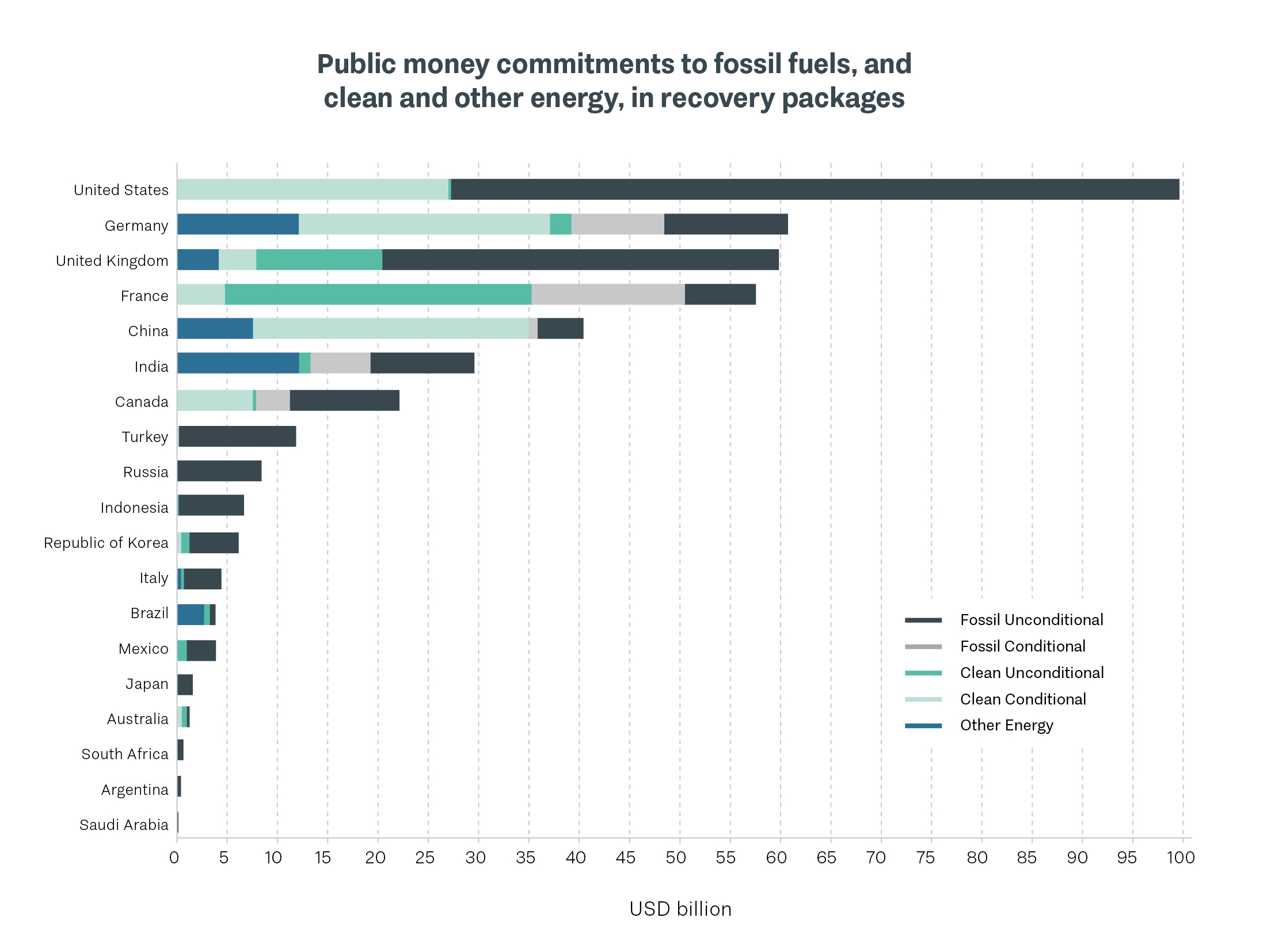 To date, governments have committed far more COVID-19 funds to fossil fuels than to clean energy. Policymakers must reverse this trend to meet climate goals.
As of November 2020, G20 governments had committed USD 233 billion to activities that support fossil fuel production and consumption, as compared with USD 146 billion to renewable energy, energy efficiency, and low-carbon alternatives such as cycling and pedestrian systems.
In general, government responses to the COVID-19 crisis have tended to intensify patterns that existed prior to the pandemic: jurisdictions that already heavily subsidized the production of fossil fuels have increased this support, while those with stronger commitments to a transition to clean energy are now using stimulus and recovery packages to accelerate this shift. Unfortunately, most of the world's major producing countries are in the former category; this needs to change, if the world is to meet climate goals.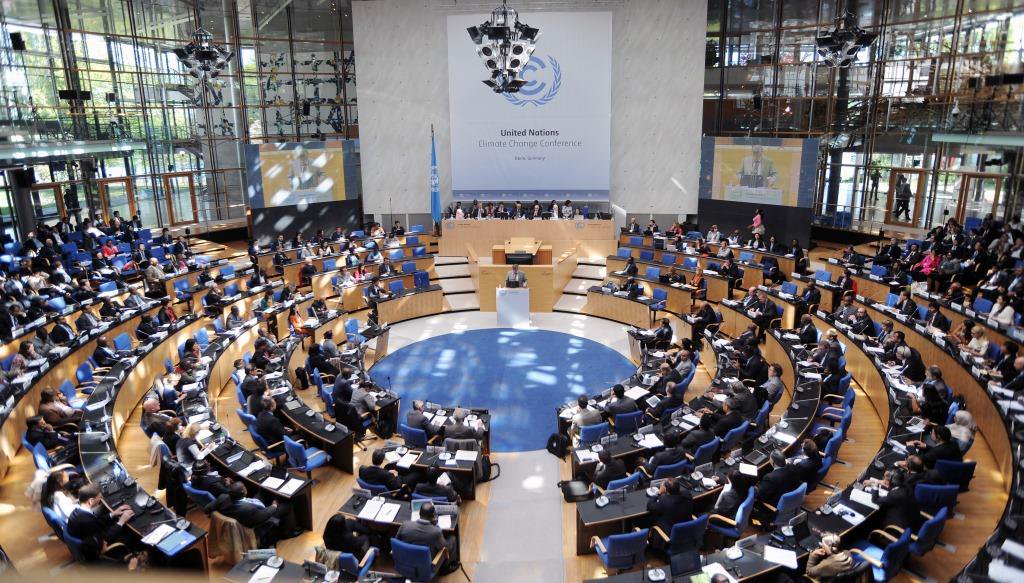 The COVID-19 pandemic has provided a reminder of the importance of ensuring that a transition away from fossil fuels is just and equitable. Countries that are less dependent on fossil fuel production and have higher financial and institutional capacity can transition most rapidly, while those with higher dependence and lower capacity will require greater international support.
Developing countries have borne the brunt of the fossil fuel industry's fragility during the pandemic, with lost oil revenue, for example, driving a 25% cut in government spending in Nigeria, significantly reducing Iraq's social benefits, and severely affecting Ecuador's public sector.
But a just and equitable transition away from fossil fuels offers the potential for alternative high-quality jobs, improvements in public health, a re-envisioning of urban areas, and a refocusing of economic systems on human well-being and equitably shared prosperity. This requires recognizing that countries' transitional challenges differ widely, depending on their level of dependence on fossil fuel production and their capacity to support a transition.
Policymakers can support a managed, just, and equitable wind-down of fossil fuel production through six areas of action:
Ensure COVID-19 recovery packages and economic stimulus funds support a sustainable recovery and avoid further carbon lock-in.
Provide local and international support to fossil-fuel-dependent communities and economies for diversification and just, equitable transitions.
Reduce existing government support for fossil fuels.
Introduce restrictions on fossil fuel production activities and infrastructure.
Enhance transparency of current and future fossil fuel production levels.
Mobilize and support a coordinated global response.
DOWNLOAD THE REPORTDOWNLOAD THE EXECUTIVE SUMMARY
"Making peace with nature is the defining task of the 21st century," he said, in a virtual address entitled The State of the Planet, at Columbia University in New York. "It must be the top, top priority for everyone, everywhere."
He said future generations would face ruin from our actions today. "This is an epic policy test. But ultimately this is a moral test … We cannot use [our] resources to lock in policies that burden [future generations] with a mountain of debt on a broken planet."
He also put inequality firmly at the heart of the problem, warning that the poorest and most vulnerable – even in rich countries – were facing the brunt of the attack.
Guterres said greenhouse gas emissions were 62% higher than when international climate negotiations began in 1990. A report from the World Meteorological Organisation, also published on Wednesday, found 2020 was on track to be one of the three warmest years on record globally, despite the cooling effects of the La Niña weather system, while the past decade was the hottest in human history and ocean heat was found to be at record levels.
Even with the impacts of the coronavirus crisis, greenhouse gas emissions are set to rise again this year.
However, Guterres also struck a note of hope. Many countries, including the biggest emitter, China, the EU, and the US president-elect, Joe Biden, have adopted targets of reaching net-zero emissions around the middle of the century. Renewable energy is now cheaper than coal in many regions, and new technologies such as electric vehicles are gaining pace.
He said: "I firmly believe that 2021 can be a new kind of leap year – the year of a quantum leap towards carbon neutrality. Sound economic analysis is our ally."
Investors and governments must seize the opportunity to "flick the green switch" while there was still time, he said. He looked ahead to the vital UN Cop26 climate talks, to be hosted by the UK next year, as the moment when nations should make a decisive turn towards a green global economy.
In 10 days' time, Guterres, along with the French government and Boris Johnson, will host a summit of world leaders to prepare for the Cop26 talks that were postponed by a year to next November because of the pandemic.
At the Climate Ambition Summit, which marks five years since the forging of the Paris agreement, governments are expected to affirm plans to reduce greenhouse gas emissions drastically in the next decade, in line with their long-term goals.
Earlier this week, the Climate Action Tracker calculated that if all the net-zero pledges made by governments and leaders were to be fulfilled, temperatures would rise by about 2.1C above pre-industrial levels. That is not far above the upper limit set by the Paris agreement, of holding temperatures to no more than 2C above pre-industrial levels, regarded as the limit of safety beyond which climate breakdown is likely to become catastrophic and irreversible.
However, that depends on long-term targets set for decades hence to be fulfilled with action now. Guterres warned that pledges were not enough in themselves.
He said: "We need all governments to translate these pledges into policies, plans and targets with specific timelines. This will provide certainty and confidence for businesses and the financial sector to invest for net zero."
Guterres called for countries to put a price on carbon emissions, stop investing in fossil fuels and phase out fossil fuel subsidies, stop building new coal power plants, and to shift their fiscal base from taxing incomes to taxing pollution.
He also said governments must act swiftly on the biodiversity crisis, as the UN plans several major conferences next year that will address species destruction, the oceans, food production and cities. "Next year gives us a wealth of opportunities to stop the plunder and start the healing," he said.
The stark message from Guterres was echoed by Laurent Fabius, the French foreign minister, who led the landmark Paris conference in 2015. "There is no vaccine against climate warming," he warned. "But there is an antidote, which is to fully implement the Paris agreement."
He said financial assistance for developing countries would be essential to forging a global consensus on reaching net-zero emissions, as it was fundamental to success at Paris.
"Money, money, money," said Fabius, was key to the talks, and rich countries must make good on their promise to provide at least $100bn a year to developing nations, to help them cut emissions and cope with the impacts of climate breakdown.
Along with financial assistance, governments must try to ensure that the transition to a green economy benefited all sections of society, added Fabius. "The question of climate change is also a question of inequality. We must deal with this, otherwise we have a big problem."
Amber Rudd, the former UK energy and climate minister, who represented the UK at the Paris talks, said Boris Johnson had weakened his own position at Cop26 by reducing the UK's spending on overseas aid, which would diminish the host's leverage in bringing developing countries together.
"A country that understood the seriousness of Cop26 would not be cutting international aid right now," she said.