By Susan Kraemer, Correspondent, 2 Aug 2016, Cross-posted from Renewable Energy World
Within the next six years, India needs $300 billion for renewables and grid efficiency, with $100 billion needed for solar alone to meet Prime Minister Narendra Modi's ambitious plan for energy growth in the country.
"In the last months we've seen commitments of over $100 billon dollars from global companies in the Indian renewable energy sector," Tim Buckley, director of Australasian energy finance studies for the Institute for Energy Economics and Financial Analysis, told Renewable Energy World. "Taiwan's Foxconn and India's Adani announced $20 billion between them, with $10 billion for solar. The three major global Asian companies, between them, committed $20 billion. It all builds momentum."
According to Buckley, Energy Minister Piyush Goyal is bypassing the banking system and bringing in creditworthy major global investors.  "Goyal is bringing in international companies like Fortum of Finland, Canada's Skypower, Taiwan's Foxconn, SoftBank of Japan, ENGIE of France and First Solar from the U.S.," Buckley said. "But he has also brought in Indian corporates: the Adani Group, Tata Power, Reliance Power, NTPC and India Railways."  All of those companies, he added, bring their own "massive" balance sheets.  "They have the existing equity capacity, and they have borrowing capacity," he said. "All of that will bring sufficient capital and should keep the projects and the investment program moving forward."  Japan is investing $20 billion in Indian solar power.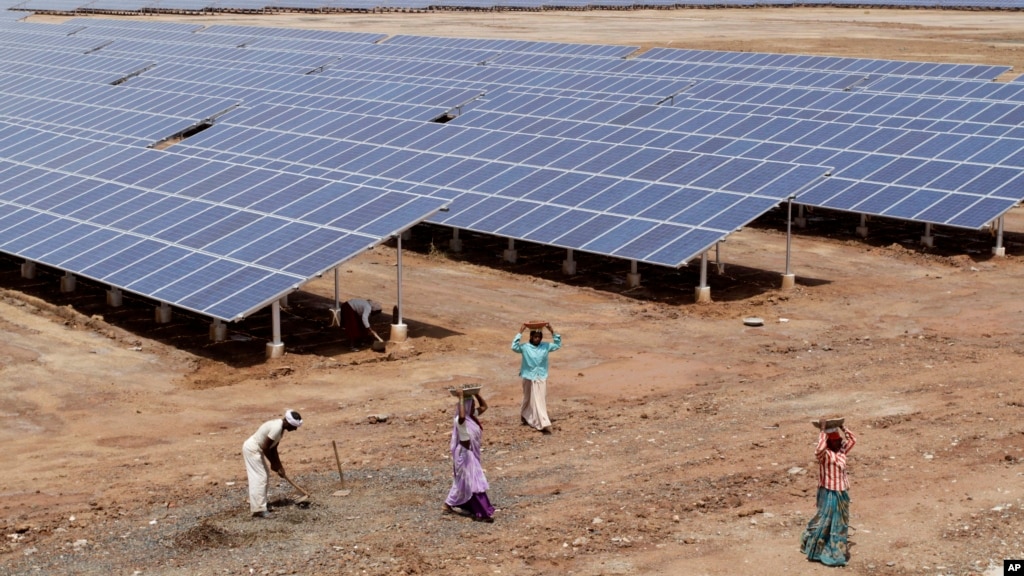 Image: Fortum bids India's record lowest price to date at $65 per MWh for their third Indian solar farm, at 70 MW. Credit: Fortum OyjBy 2015, India was the fifth largest solar investment market in the world.
The speed of solar deployment from this influx of dollars is amazing. Finland's largest utility firm, Fortnum Oyj, is ramping up its Indian solar investment to utility-scale very rapidly. Its first Indian project was 5 MW in 2013, its second; 10 MW. The third was 70 MW. In 2016, its fourth solar project is 100 MW.
Gigawatt-scale Solar Investment by India's Fossil Fuel Industry
This global influx of renewable investment is reverberating locally, with Indian fossil-dominated utility industries getting in on the action.
Two big oil companies, Indian Oil Corp and Oil India, which are partly or fully state-owned, have begun permitting a 1-GW solar farm in Madhya Pradesh, according to the state agency.
India's largest coal-fired electric utilities, the partly state-owned Tata Power, and NTPC, are competing to become the biggest players in developing renewable energy. Oil & Natural Gas Corp. says it plans a "reasonable share" in its overall business mix for renewables.
Globally, State-owned Fossil Firms Do Invest in Renewables
A fossil energy switch to renewables at this scale is not unknown when states own oil companies. In Denmark, Norway, France and Saudi Arabia, gigantic state-owned oil companies are becoming some of the biggest players in renewables.
Denmark's DONG (Danish Oil and Gas) Energy is the leading offshore wind developer. Norway's Statoil parlayed its pioneer R&D in offshore oil platforms into global leadership in floating offshore wind platforms.
Total of France just bought the battery firm SAFT with $1 billion; increasing its ownership of SunPower. The quasi-governmental Saudi firm ACWA Power is breaking records in both PV and CSP bids globally.
Modi sees a similar future for India: "Make in India" is in every presentation he gives. So India needs to quickly grow a sustainable energy supply.
"Modi's major campaign strategy is to make India the manufacturing hub of the world," Buckley said.
Local Confidence-building
Just as the 30 percent investment tax credit overcame early investors' hesitance when utility-scale solar began in the U.S., a key step in India's solar expansion is calming the fears of everyday Indian bankers.
India represents one of the planet's biggest climate risks, due to its coal dependence, its rapid growth, both in its economy and population, and its extreme and rising temperatures.
One of the major constraints preventing renewable development has long been the Indian banking sector's extreme conservatism. Commercial capital in India is currently around 12 percent. The country's inflation rates have historically been very high, which leads to high interest rates.
The World Bank's recently announced $1 billion in lending is aimed at supporting a more confident local lending environment for Indian solar going forward. That environment is achieved by having these loans administratively handled through Indian banks to gain experience in solar lending.
"The World Bank is looking to partner with and facilitate domestic Indian banks to build their capacity; to lend to small and medium enterprises, which will build out capacity of local Indian electricians and local Indian bank branch managers; so that they can be in a position to accelerate the deployment of distributed solar," Buckley said.
The $1 billion investment from the World Bank will help unleash this influx of cheaper finance from overseas, he said, as "you can bring in cheap money as long as you hedge the currency risk and project off-take risk."
The banking system is structurally incapacitated because of bad debt in its existing loan book, Buckley said, adding that "you must take inflation risk, currency risk and local business risk into account when you go to India."
Project development of any kind is affected; even fuel-dependent projects like coal or gas plants, but hardest hit are the more capital-intensive renewables.
Sydney-based Buckley compared Australia's astonishing rooftop solar deployment rate of nearly 1 GW a year in a country of only 24 million with India's potential, saying India could easily be doing up to 20 GW a year of just rooftop solar if it developed financing capacity.
Gaining Experience with 7,000 Solar Roofs
It is not just a matter of local branch managers getting comfortable with solar finance, however: installation experience must scale too.
Buckley pointed to the state-owned Indian Railways Co., one of the world's largest railway networks. It is putting solar on every one of its over 7,000 railway stations and on every administration building that it owns.
Local bootstrapped Indian solar firms would find it arduous trying to finance at 12 percent to install small systems on individual rooftops.
But with this multi-project, 7,000-roof commercial demand, viable solar firms can be born, because it becomes feasible for local electrical contracting firms to invest in acquiring hands-on solar expertise. India has no shortage of engineering talent.
Gigantic-scale Solar Farms
India doesn't want to rely purely on rooftop solar; even at commercial scale.
"At the other end of the spectrum, they are actually talking about ultra-mega solar power plants," Buckley said. "Projects at the gigawatt scale."
India is now building some of the biggest solar in the world. Adani just commissioned the world's largest solar project at 648 MW. With over 300 days of sunshine a year and the seventh-largest land area in the world, gigawatt-scale solar makes sense for India.
The 1-GW solar farm in Madhya Pradesh is expected to be just the first at that astonishing scale.
Modi's target is to expand solar generation to 100 GW by 2022, up from 5.25 GW currently, both distributed and utility-scale solar. Solar industrial parks will get to economies of scale on the acquisition and the grid connectivity.
Fast Dropping Prices
Like South Africa and Chile, which also ramped up renewable deployment fast from a very fossil-dependent base; rather than setting a tariff, the Indian government is using competitive auctions. Prices bid have dropped steadily, despite India's early stage market.
India's utilities typically offer power purchase agreement terms of 25 years. Fortnum's 70-MW project was bid at India's lowest-ever price; R 4.34 per kWh (US $65 per MWh) and that was only its third Indian solar project.
U.S. utility-scale solar only hit that price after many more installation generations.
Lead image: Fortum bids India's record lowest price to date at $65 per MWh for their third Indian solar farm, at 70 MW. Credit: Fortum Oyj