The legacy of Dr. King goes so much deeper than the "I have a dream" soundbite and his message of nonviolence. In the wake of an armed insurrection at the U.S. Capitol — a mob that included overt white supremacists and fueled by lies about voter fraud with roots in Jim Crow racism — the more challenging parts of King's legacy are even more important to acknowledge.
King preached nonviolence, but he also called out for solutions to the cultural, economic and governmental root causes of racism, not just bland calls for a vague "peace" that doesn't change the status quo. King's quote from Letter from Birmingham Jail about the "white moderate" who is "more devoted to 'order' than to justice" being the "great stumbling block in the stride toward freedom" feels particularly relevant these days.
The Poor People's Campaign PPC along with other social justice leaders released the agenda in December, framing it as a blueprint to "repair and transform the lives of people of every race, ethnicity, age, sexual and gender orientation, who have been suffering unjustly, for far too long."
Fourteen priorities are listed:
Enact comprehensive and just Covid-19 relief that provides free testing, treatment, vaccines, and direct payments to the poor.
Guarantee quality healthcare for all, regardless of any pre-existing conditions.
Raise the minimum wage to $15/ hour immediate.
Update the poverty measure.
Guarantee quality housing for all.
Enact a federal jobs program to build up investments, infrastructure, public institutions, climate resilience, energy efficiency, and socially beneficial industries and jobs in poor and low-income communities.
Protect and expand voting rights and civil rights.
Guarantee safe, quality, and equitable public education, with supports for protection against re-segregation.
Comprehensive and just immigration reform.
Ensure all of the rights of Indigenous peoples.
Enact fair taxes and targeted tax credits.
Use the power of executive orders.
Redirect the bloated Pentagon budget towards these priorities as matters of national security.
Work with the PPC to establish a permanent Presidential Council to advocate for this bold agenda.
"These policy priorities for the first hundred days lift from the bottom and take seriously the cost of inequality—the more than $1 trillion child poverty costs the nation each year and the $2.6 trillion annually lost wages due to gender and racial wage gaps. Any vision for healing this nation must include naming these costs and poverty and low-wealth as a threat to our future," Barber said in a statement last month announcing the agenda.
The need for the sweeping policy changes, president of Union of Reform Judaism Rabbi Rick Jacobs stressed Monday, is especially clear as President Donald Trump leaves office—a departure that will occur less than two weeks after Trump incited the Capitol mob's violence and after months of presiding over a disastrous coronavirus response.https://platform.twitter.com/embed/index.html?creatorScreenName=commondreams&creatorUserId=14296273&dnt=false&embedId=twitter-widget-1&frame=false&hideCard=false&hideThread=false&id=1351256445396934657&lang=en&origin=https%3A%2F%2Fwww.commondreams.org%2Fnews%2F2021%2F01%2F18%2Fpoor-peoples-campaign-mlk-day-message-biden-act-bold-agenda-heal-nation&siteScreenName=commondreams&siteUserId=14296273&theme=light&widgetsVersion=ed20a2b%3A1601588405575&width=550px
"In 48 hours, Joe Biden and Kamala Harris will be sworn in to lead America forward. The work before them and us is daunting and morally urgent," said Jacobs. "The twin plagues of coronavirus and racial injustice have shined a spotlight on the deadly impact of systemic racism in our country."
Jacobs added that "140 million poor and low-wealth Americans desperately need comprehensive and just Covid-19 relief."
"We need the new administration to protect and expand the voting rights and civil rights of all Americans. We need to end unjust policing practices that disproportionately target Black men. We need to ensure just wages and compassionate immigration policies," Jacobs said.
Joyce Ajlouny, general secretary of American Friends Service Committee, also addressed the nation's deeply entrenched injustices.
"The events of the past two weeks are the product of centuries of white supremacy that must be reckoned with and dismantled," she said. "The thousand dead from Covid-19—disproportionately Black and Brown people—are a product of structural racism and a healthcare system that values profit over people. It is time to chart a new path forward."
"In 1967, Rev. Dr. Martin Luther King called out the giant triplets of racism, materialism, and militarism. In 2021, his words are no less relevant," Ajlouny said.
Keeanga-Yamahtta Taylor on MLK's Radical Anticapitalism
By Haymarket Books / January 15 2020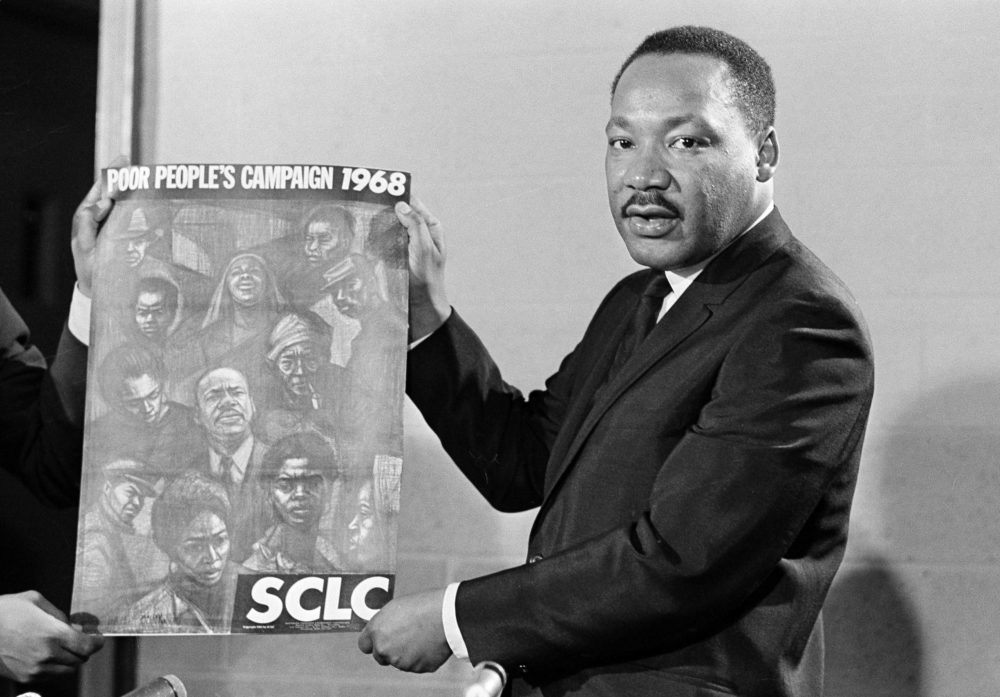 In this short excerpt from the book Fifty Years Since MLK, Keeanga-Yamahtta Taylor examines MLK's turn towards a radical critique of capitalism before his life was cut short.
In a posthumously published essay, Martin Luther King, Jr. pointed out that the "black revolution" had gone beyond the "rights of Negroes." The struggle, he said, is "forcing America to face all of its interrelated flaws—racism, poverty, militarism and materialism. It is exposing the evils that are rooted deeply in the whole structure of our society. It reveals systemic rather than superficial flaws and suggests that radical reconstruction of society itself is the real issue to be faced."

But it had not started out that way. Over the course of a decade, the black struggle opened up a deeper interrogation of U.S. society, and King's politics traversed the same course.

Indeed, in the early 1960s, the Southern movement coalesced around the clearly defined demands to end Jim Crow segregation and secure the right of African Americans to unfettered access to the franchise. With clear targets and barometers for progress or failure, a broad social movement was able to uproot these systems of oppression. King was lauded as a tactician as well as someone who could articulate the grievances and aspirations of black Southerners.

But despite the successful example of nonviolent civil disobedience across the South, it appeared to have little, if any, lasting impact on the edifice of racial discrimination that defined black life elsewhere. Indeed, the seeming permanence of black marginalization across the United States produced hundreds of urban uprisings in the middle of the 1960s. If King's strategic genius in the South was deploying nonviolent civil disobedience to disarm Southern racists while coercing the political establishment into securing first-class citizen rights, it was a strategy that ultimately failed in cities such as Los Angeles, Chicago, Philadelphia, and Washington, D.C. In those places, obnoxious signs of Jim Crow were not the problem; rather, it was the insidious but obscured actions of the real-estate broker, the banker, the employer, the police officer, and other agents that maintained racial inequality.

As King's attention drifted from the South to the entrenched northern ghettos, he faced denunciations and chastisement from former allies in the North. These people had supported him so long as he confined his demands to ending legal discrimination. Indeed, because Southern racism was rendered as antiquated and regressive, King was celebrated for helping to pull the South toward progress and modernity. But even as the civil rights movement was valorized for its intervention in the South, it was demonized when it brought its call for black power and liberation to the North—a dynamic that continues to the present day.
Excerpted from Keeanga-Yamahtta Taylor's contribution to the book Fifty Years Since MLK, edited by Brandon Terry. Continue reading at The Paris Review.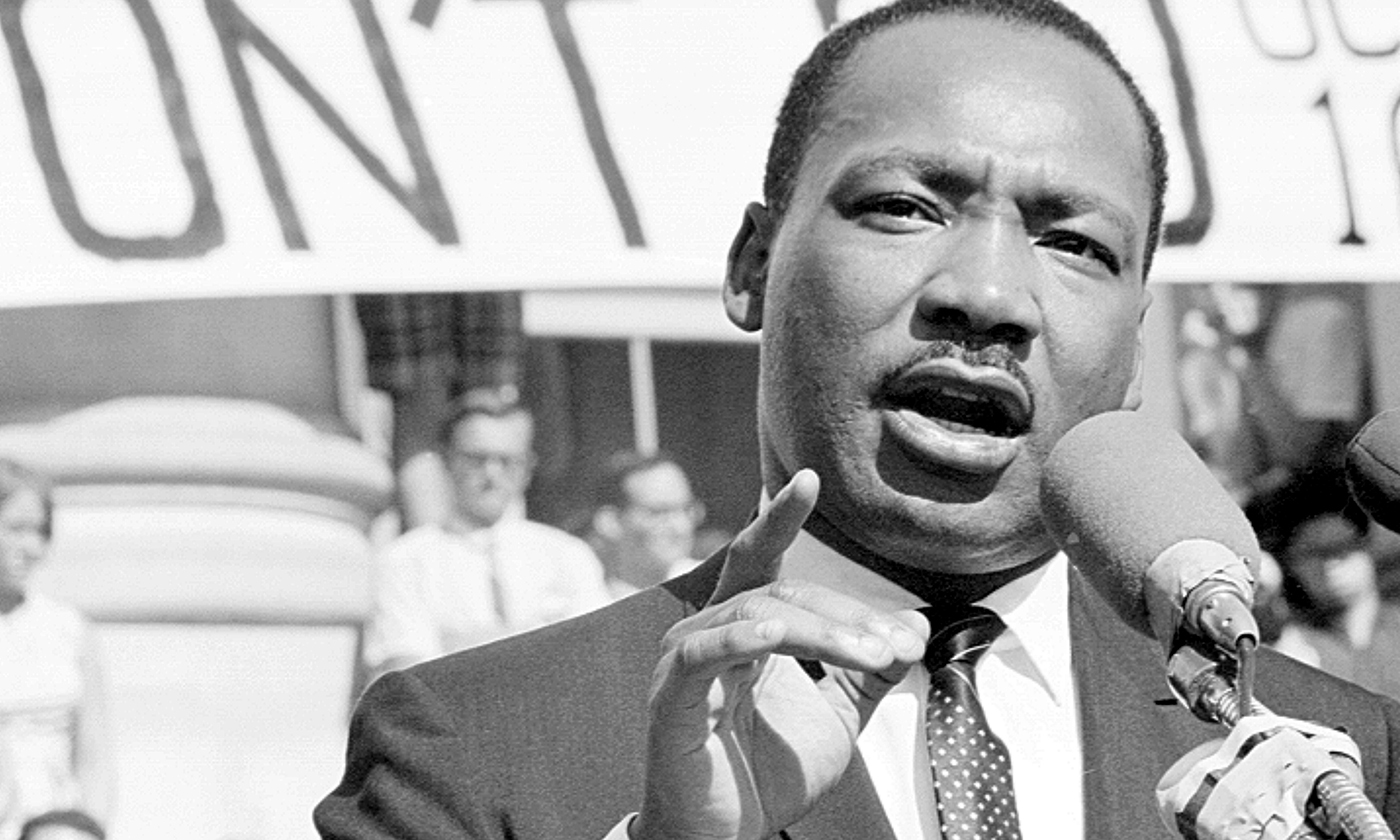 Civil rights leader Reverend Martin Luther King, Jr. delivers a speech to a crowd of approximately 7,000 people on May 17, 1967 at UC Berkeley's Sproul Plaza in Berkeley, California. Photo by Michael Ochs Archives/Getty Images. How the civil rights icon changed from a hopeful reformer to a radical critic. Why you can trust us
---
BY PAUL HARVEY  in Yes Magazine, Apr 5, 2018
Martin Luther King Jr. has come to be revered as a hero who led a nonviolent struggle to reform and redeem the United States. His birthday is celebrated as a national holiday. Tributes are paid to him on his death anniversary each April, and his legacy is honored in multiple ways.
But from my perspective as a historian of religion and civil rights, the true radicalism of his thought remains underappreciated. The "civil saint" portrayed nowadays was, by the end of his life, a social and economic radical, who argued forcefully for the necessity of economic justice in the pursuit of racial equality.
Three particular works from 1957 to 1967 illustrate how King's political thought evolved from a hopeful reformer to a radical critic.
King's Support For White Moderates
For much of the 1950s, King believed that White southern ministers could provide moral leadership. He thought the White racists of the South could be countered by the ministers who took a stand for equality. At the time, his concern with economic justice was a secondary theme in his addresses and political advocacy.
Speaking at Vanderbilt University in 1957, he professed his belief that "there is in the White South more open-minded moderates than appears on the surface." He urged them to lead the region through its necessary transition to equal treatment for Black citizens. He reassured all that the aim of the movement was not to "defeat or humiliate the White man, but to win his friendship and understanding."
King had hope for this vision. He had worked with White liberals such as Myles Horton, the leader of a center in Tennessee for training labor and civil rights organizers. King had developed friendships and crucial alliances with White supporters in other parts of the country, as well. His vision was for the fulfillment of basic American ideals of liberty and equality.
Letter From Birmingham Jail
By the early 1960s, at the peak of the civil rights movement, King's views had evolved significantly. In early 1963, King came to Birmingham to lead a campaign for civil rights in a city known for its history of racial violence.
During the Birmingham campaign, in April 1963, he issued a masterful public letter explaining the motivations behind his crusade. It stands in striking contrast with his hopeful 1957 sermon.
His "Letter From a Birmingham Jail" responded to a newspaper advertisement from eight local clergymen urging King to allow the city government to enact gradual changes.
He argued how oppressors never voluntarily gave up freedom to the oppressed.
In a stark change from his earlier views, King devastatingly targeted White moderates willing to settle for "order" over justice. In an oppressive environment, the avoidance of conflict might appear to be "order," but, in fact, supported the denial of basic citizenship rights, he noted.
"We merely bring to the surface the hidden tension that is already alive," King wrote. He argued how oppressors never voluntarily gave up freedom to the oppressed—it always had to be demanded by "extremists for justice."
He wrote how he was "gravely disappointed with the White moderate … who paternalistically believes he can set the timetable for another man's freedom." They were, he said, a greater enemy to racial justice than were members of the White supremacist groups such as the Ku Klux Klan and other White racist radicals.
Call For Economic Justice
By 1967, King's philosophy emphasized economic justice as essential to equality. And he made clear connections between American violence abroad in Vietnam and American social inequality at home.
Exactly one year before his assassination in Memphis, King stood at one of the best-known pulpits in the nation, at Riverside Church in New York. There, he explained how he had come to connect the struggle for civil rights with the fight for economic justice and the early protests against the Vietnam War.
He proclaimed, "Now it should be incandescently clear that no one who has any concern for the integrity and life of America today can ignore the present war. If America's soul becomes totally poisoned, part of the autopsy must read 'Vietnam.' It can never be saved so long as it destroys the hopes of men the world over."
He remained, to the end, the prophet of nonviolent resistance.
He angered crucial allies. King and President Lyndon Johnson, for example, had been allies in achieving significant legislative victories in 1964 and 1965. Johnson's "Great Society" launched a series of initiatives to address issues of poverty at home. But beginning in 1965, after the Johnson administration increased the number of U.S. troops deployed in Vietnam, King's vision grew radical.
King continued with a searching analysis of what linked poverty and violence both at home and abroad. While he had spoken out before about the effects of colonialism, he now made the connection unmistakably clear. He said, "I speak for those whose land is being laid waste, whose homes are being destroyed, whose culture is being subverted. I speak for the poor in America who are paying the double price of smashed hopes at home, and death and corruption in Vietnam."
King concluded with the famous words on "the fierce urgency of now," by which he emphasized the immediacy of the connection between economic injustice and racial inequality.
The Radical King
King's "I Have a Dream" speech at the March on Washington in August 1963 serves as the touchstone for the annual King holiday. But King's dream ultimately evolved into a call for a fundamental redistribution of economic power and resources. It's why he was in Memphis, supporting a strike by garbage workers, when he was assassinated in April 1968.
He remained, to the end, the prophet of nonviolent resistance. But these three key moments in King's life show his evolution over a decade.
This remembering matters more than ever today. Many states are either passing or considering measures that would make it harder for many Americans to exercise their fundamental right to vote. It would roll back the huge gains in rates of political participation by racial minorities made possible by the Voting Rights Act of 1965. At the same time, there is a persistent wealth gap between Blacks and Whites.
Only sustained government attention can address these issues—the point King was stressing later in his life.
King's philosophy stood not just for "opportunity," but for positive measures toward economic equality and political power. Ignoring this understanding betrays the "dream" that is ritually invoked each year.
This article was originally published by The Conversation. It has been edited for YES! Magazine. 
The Part About MLK White People Don't Like to Talk About
---
ZENOBIA JEFFRIES WARFIELD 4 MIN READJAN 22, 2019 Yes Mag
Dr. Martin Luther King Jr. is shoved back by Mississippi patrolmen during the 1966 March Against Fear from Memphis to Jackson
Photo by Underwood Archives/Getty Images
"Alie cannot live." —Dr. Martin Luther King Jr.
"…at least not forever." —Zenobia Jeffries Warfield
At the time of his death, Dr. Martin Luther King Jr. was one of the most reviled men in the United States. Today, we remember him as the beloved Dr. King, and many of us refer to him as such.
But as we read mainstream articles and hear reports and speeches about how far we've come on this federal holiday honoring him, it is important that we remember some of the most hateful things that have been said about Dr. King and what he stood for by leaders of and in this country—Black and White—then and now. Why? Many of the conditions that he marched, boycotted, and spoke out against still exist today—racism, materialism, militarism. We celebrate him now, even while condemning today's activists the same way Dr. King was condemned 60 years ago.
Some regarded him as "too passive" for his position on nonviolent action. Others, "too radical," for his stance against racism and oppression.
Dr. King was widely disliked for his message of liberation for oppressed people in this country—Black people, Brown people, Native people, all poor people. The year he died, nearly 75 percent of American people disapproved of him, according to a 1968 poll.
His contemporary Malcom X said that "ignorance of each other is what has made unity impossible. Therefore, we need enlightenment. We need more light about each other. Light creates understanding, understanding creates love, love creates patience, and patience creates unity. Once we have more knowledge about each other, we will stop condemning each other and a united front will be brought about."
It's true. The sanitizing of Dr. Martin Luther King Jr. along with the message of equality he was preaching, the uphill battle he was fighting, is doing more harm than good to today's movement for Black Lives and other modern freedom fighters.
I understand the temptation. We are a country led by a racist, misogynist, xenophobic, bigoted bully. Donald Trump is the modern version one of those White men, spitting and shoving and kicking the civil rights activists of Dr. King's era.
There are people who cringe at the thought of this and wish we could all just focus on the progress, the good of Dr. King and his message, the good of the civil rights movement, the good of today's movements that are demanding justice for Black men, women, and children killed by police, proclaiming that Black Lives Matter; justice for women in the #timesup movement, girls and women of the #metoo and #muterkelly and missing and murdered Indigenous women movement; justice for immigrants; justice for Indigenous peoples of this land in movements like Standing Rock; justice for trans, nonbinary, and gender-nonconforming people.
It's a problematically romantic and often White vision of Dr. King as the Moses who led his people to freedom. It's the discomfort of privilege and the resulting cognitive dissonance that make folks avoid the pain and anger still brewing in oppressed communities. They cannot see how ineffective are their attempts at building bridges—that are still burning.
There's a saying in some Black church communities about folks like this, "Everybody wanna go to heaven, but don't nobody wanna die."
Even Dr. King saw this tendency of White people to too quickly and with too much relief declare success and head home smiling. In his famous Letter from a Birmingham Jail, he wrote:
13 Inspiring Quotes From Martin Luther King Jr.
By Jacqueline GulledgeUpdated May 15, 2020
Martin Luther King Jr.'s name is synonymous with the civil rights movement that swept the nation in the '60s. He fought for equal rights for African-Americans at a time when segregation was prevalent. From his iconic "I Have a Dream" speech during the March on Washington in 1963 to his famous Alabama march from Selma to Montgomery, King was a beacon of hope during a dark time in American history. He advocated for non-violence, preaching love, acceptance and equality while pushing for change.
Tragically, his life came to an abrupt end on April 4, 1968. He was assassinated outside his hotel room in Memphis, Tennessee, the day after he had delivered what would become his final speech — his "I've Been to the Mountaintop" address, in which he discussed the Memphis sanitation workers' strike but also made some references to his own, untimely death. Here's an excerpt:
"We've got some difficult days ahead. But it doesn't matter with me now. Because I've been to the mountaintop. And I don't mind. Like anybody, I would like to live a long life. Longevity has its place. But I'm not concerned about that now. I just want to do God's will. And He's allowed me to go up to the mountain. And I've looked over. And I've seen the promised land. I may not get there with you. But I want you to know tonight, that we, as a people, will get to the promised land. So I'm happy, tonight. I'm not worried about anything. I'm not fearing any man. Mine eyes have seen the glory of the coming of the Lord."
King's words are as meaningful now as they were during his life, a reminder not just to remember the man who spoke them but to inspire all of us to be better people.
Here are some of his most memorable quotes:
"Everybody can be great … because anybody can serve. You don't have to have a college degree to serve. You don't have to make your subject and verb agree to serve. You only need a heart."
— "The Drum Major Instinct" given on Feb. 4, 1968 in Atlanta's Ebenezer Baptist Church, was an adaptation of "Drum-Major Instincts" by J. Wallace Hamilton, a well-known white, liberal Methodist preacher.
"I believe that unarmed truth and unconditional love will have the final say in reality. Right temporarily defeated is stronger than evil triumphant."
— Noble Peace Prize acceptance speech, given in Oslo, Norway, on Dec. 10, 1964
"The time is always right to do what is right."
— Oberlin College visit on Oct. 22, 1964. This appearance at the small, liberal arts college in Ohio was King's second public appearance after winning the Nobel Peace Prize.
"A riot is the language of the unheard."
— "The Other America" given on April 14, 1967 at Stanford University. King also delivered similar versions of this speech including at Grosse Point High School in Detroit on March 14, 1968 — less than a month before he was assassinated.
"Darkness cannot drive out darkness, only light can do that. Hate cannot drive out hate, only love can do that."
— King's book "Strength to Love" published in 1963. The book was a collection of King's sermons — including "I Have a Dream" and "I've Been to the Mountaintop."
"Injustice anywhere is a threat to justice everywhere. We are caught in an inescapable network of mutuality, tied in a single garment of destiny. Whatever affects one directly, affects all indirectly."
— "Letter from Birmingham Jail" written on April 16, 1963 after King was arrested on April 12 during a nonviolent campaign of organized marches and sit-ins in Birmingham
"Our lives begin to end the day we become silent about things that matter."
— "I Have a Dream" speech delivered on Aug. 28, 1963 on the steps of the Lincoln Memorial in Washington, D.C., during the March on Washington for Jobs and Freedom. More than 250,000 people were in attendance.
"Hatred paralyzes life; love releases it. Hatred confuses life; love harmonizes it. Hatred darkens life; love illuminates it."
— "Strength to Love"
"Freedom is never voluntarily given by the oppressor; it must be demanded by the oppressed."
— "Letter from Birmingham Jail"
"The ultimate measure of a man is not where he stands in moments of comfort and convenience, but where he stands at times of challenge and controversy."
— "Strength to Love"
"The true neighbor will risk his position, his prestige and even his life for the welfare of others."
— "Strength to Love"
It's fitting that Rev. Ralph D. Abernathy, who was with Dr. King when he was assassinated, summed up King's death and legacy best:
"The mortal heart of Martin Luther King was stopped by an assassin's bullet. But no power on Earth can stop his work."
**