Tree initiative in Denver – further down. In Wildfire-Prone California, Grasslands a Less Vulnerable Carbon Offset Than Forests.
Increased drought and wildfire risk make grasslands more reliable carbon sinks than trees
Grasslands should be given opportunities in state's cap-and-trade market as long-term investment
By Kat Kerlin | Jul 9, 2018
Forests have long served as a critical carbon sink, consuming about a quarter of the carbon dioxide pollution produced by humans worldwide. But decades of fire suppression, warming temperatures and drought have increased wildfire risks — turning California's forests from carbon sinks to carbon sources.
A study from the University of California, Davis, found that grasslands and rangelands are more resilient carbon sinks than forests in 21st century California. As such, the study indicates they should be given opportunities in the state's cap-and-and trade market, which is designed to reduce California's greenhouse gas emissions to 40 percent below 1990 levels by 2030.
The findings, published in the journal Environmental Research Letters, could inform similar carbon offset efforts around the globe, particularly those in semi-arid environments, which cover about 40 percent of the planet.
"Looking ahead, our model simulations show that grasslands store more carbon than forests because they are impacted less by droughts and wildfires," said lead author Pawlok Dass, a postdoctoral scholar in Professor Benjamin Houlton's lab at UC Davis. "This doesn't even include the potential benefits of good land management to help boost soil health and increase carbon stocks in rangelands."
Carbon up in smoke
Unlike forests, grasslands sequester most of their carbon underground, while forests store it mostly in woody biomass and leaves. When wildfires cause trees to go up in flames, the burned carbon they formerly stored is released back to the atmosphere. When fire burns grasslands, however, the carbon fixed underground tends to stay in the roots and soil, making them more adaptive to climate change.
"In a stable climate, trees store more carbon than grasslands," said co-author Houlton, director of the John Muir Institute of the Environment at UC Davis. "But in a vulnerable, warming, drought-likely future, we could lose some of the most productive carbon sinks on the planet. California is on the frontlines of the extreme weather changes that are beginning to occur all over the world. We really need to start thinking about the vulnerability of ecosystem carbon, and use this information to de-risk our carbon investment and conservation strategies in the 21st century."
The study ran model simulations of four scenarios:
Global carbon emissions largely stop, resulting in up to 3.06 F (1.7 C) of warming by 2100
Business as usual, in which carbon emissions continue at the current rate, leading to a temperature increase of up to 8.64 F (4.8 C) by 2100
Periodic drought intervals, similar to La Niña/El Niño weather patterns
Megadrought, which can last for a century or longer.
Study Figure 1: Grassland (A) and forest (B) retreat or expansion in response to 21st century climate changes. Blue indicates expansion; red indicates contraction. Forests retreat in all future climates except those associated with aggressive emissions reductions (RCP 2.6)
The only scenario where California's trees were more reliable carbon sinks than grasslands was the first one, which requires even more aggressive global greenhouse gas reductions than the Paris Climate Agreement. The current path of global carbon emissions reveals grasslands as the only viable net carbon dioxide sink through 2101. And grasslands continue to store some carbon even during extreme drought simulations.
Grassland carbon solutions
The model results can help guide "climate-smart" options for maintaining carbon sinks in natural and working lands in California. Ranchers are beginning to use innovative management approaches to improve carbon storage, which can further boost the ability of grasslands to store carbon in the future..
Sheep from Skyelark Ranch graze a field planted with a cover crop in Brooks, California. (Joe Proudman/UC Davis)
Trees are still critical
Trees and forests in California are a national treasure and an ecological necessity, but when you put them in assuming they're carbon sinks and trading them for pollution credits while they're not behaving as carbon sinks, emissions may not decrease as much as we hope.
– Benjamin Houlton

The study does not suggest that grasslands should replace forests on the landscape or diminish the many other benefits of trees. Rather, it indicates that, from a cap-and-trade, carbon-offset perspective, conserving grasslands and promoting rangeland practices that promote reliable rates of carbon sequestration could help more readily meet the state's emission-reduction goals.
As long as trees are part of the cap-and-trade portfolio, protecting that investment through strategies that would reduce severe wildfire and encourage drought-resistant trees, such as prescribed burns, strategic thinning and replanting, would likely reduce carbon losses, the authors note. But the study itself did not consider in its models forest management strategies that reduce wildfire threats.
Since 2010, about 130 million trees have died in California forests due to high tree densities combined with climate change, drought and bark beetle infestation, the U.S. Forest Service reports. Eight of the state's 20 most destructive fires have occurred in the past four years, with the five largest fire seasons all occurring since 2006.
"Trees and forests in California are a national treasure and an ecological necessity," Houlton said. "But when you put them in assuming they're carbon sinks and trading them for pollution credits while they're not behaving as carbon sinks, emissions may not decrease as much as we hope."
The study was funded by the National Science Foundation.
**
URBAN FOREST INITIATIVE
Urban Forest Initiative Mission
Cultivate the Culture | Build the Canopy | Maintain the Forest
The Urban Forest Initiative seeks to transform Downtown's public realm by expanding existing and/or installing 500 new tree pits in the next 36 months with goal of growing the urban canopy 4% to 10%
---
URBAN FOREST BENEFITS
U.S. CITIES – ECONOMICS
$1.37 to $5.5 annual Average Profit from every dollar invested in urban forestry
11% average higher prices for goods in treescaped areas
$15,000-$25,000 average increase in property value, homes and businesses, on treescaped street
12% average higher income streets for businesses located on treescaped streets
12% decrease in crime is correlated to a 10% increase in tree Canopy*Stats by U.S. Forest Service, University of Washington and University of California
DOWNTOWN DENVER – CURRENT ECOSYSTEM
$689,291 equivalent saved in ecosystem services
$614,435 in property value benefits
1,842,498 pounds of carbon dioxide captured
$40,273 saved in air quality pollutants filtered
623,948 kilowatt-hours of energy saved*Stats provided by the City and Country of Denver. Economics data for trees as not captured in Downtown Denver due to its narrow geographic scope
---
TREES ARE A STRATEGIC INVESTMENT
The Urban Forest Initiative will empower the community by improving the aesthetics, quality, and economy of Downtown Denver's public realm. Research shows that trees are a catalyst for economic growth. Property values, income streams, and prices for goods are, on average, higher in treescaped areas. People also tend to spend more time and more money in treescaped areas. The Urban Forest Initiative will kick of at 17th St. and Broadway, a tree desert and head toward Upper Downtown, and branch outward
TODAY VS TOMORROW
The effect of 500 trees will provide measurable benefit to economic vitality, individual health, urban identity and personal well-being to our community.
---
CITY & COUNTY OF DENVER
($1.6M)
PROPERTY OWNERS
($1.6M)
PRIVATE DONATIONS
($1.6M)
=
A $5MM PROJECT
FUNDING STRATEGY
Transforming Downtown's urban forest is estimated to be five-million dollar ($5MM) project and will require collaboration from the following stakeholders: The City and County of Denver, adjacent property owners, and private donations, including but not limited, to individuals, corporations, and grants. Currently, the Downtown Denver Business Improvement District (BID) provides $208,000 annually in funding support for tree maintenance of all trees in the BID and additional tree pit expansion efforts. The City and County of Denver has committed to support the Urban Forest with over ($1MM). Properties adjacent to tree infrastructure improvement projects are asked to support the initiative with a thrived of the cost. The remainder cost of the initiative, roughly $1.6MM will come through the support of private donation and major funders to help grow a distant and branded forest within our Downtown Denver environment. With your commitment, the Urban Forest Initiative will transform Downtown Denver's public right-of-way, bringing nature back to the city. Tree-lined streets will provide and escape to nature for employees, residents, and tourists, shading them as they explore, shop, and unwind.
---
FUNDING RECOGNITION
Depending on investment level in Urban Forest Initiative, donors and organizations will be recognized for their leadership in sustainable investments that will have a lasting impact on future generations. Formal recognition of founding support will be incorporated into the Urban Forest Initiative at levels including signage as agreed upon by the Partnership and donor. In addition, the Urban Forest Initiative Executive Team is being formed to guide the process and will include representations from major donors as a way to further engage and direct the process. It is understood that through this partnership, the Downtown Denver Partnership will make every effort to create a green space that will incorporate recognition of major founding supporters.
**
Film by Swedish activist and Guardian journalist George Monbiot says nature must be used to repair broken climate
Damian Carrington Environment editor @dpcarrington
Thu 19 Sep 2019 06.00 EDTLast modified on Fri 20 Sep 2019 04.12 EDT
Shares18,849
The protection and restoration of living ecosystems such as forests, mangroves and seagrass meadows can repair the planet's broken climate but are being overlooked, Greta Thunberg and George Monbiot have warned in a new short film.
Natural climate solutions could remove huge amounts of carbon dioxide from the atmosphere as plants grow. But these methods receive only 2% of the funding spent on cutting emissions, say the climate activists.
Their call to protect, restore and fund natural climate solutions comes ahead of a global climate strike led by young people on Friday and a UN climate action summit of world leaders in New York on Monday. The film will be shown to heads of state and the UN's climate and biodiversity chiefs in New York.
Restoring nature also helps protect people from the increasing extreme weather events the climate crisis is bringing, as trees help prevent flooding and mangroves protect coasts. Furthermore, the annihilation of wildlife that has resulted in animal populations falling by 60% since 1970 can be tackled be recreating lost habitat. However, it remains vital that fossil fuel burning is stopped if the climate emergency is to be ended.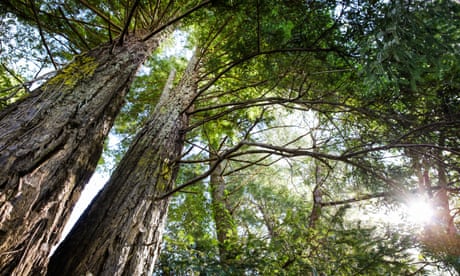 Read more
"Right now, we are ignoring natural climate solutions," said Thunberg. "We spend 1,000 times more on global fossil fuel subsidies than on nature-based solutions. This is your money, it is your taxes, and your savings."
"Nature is a tool we can use to repair our broken climate," said Monbiot, an author and Guardian journalist who founded a Natural Climate Solutions campaign earlier this year. "These solutions could make a massive difference, but only if we leave fossil fuels in the ground as well."
Shyla Raghav from Conservation International, which helped fund the film, said: "The fact is, we simply will not succeed in avoiding climate breakdown without nature."
Global carbon emissions must be halved in the next decade to avoid serious impacts from global heating, but they are still rising. It is therefore near certain that carbon dioxide will have to be removed from the atmosphere, and technology such as burying CO2 underground has not been demonstrated at scale.
In the film, Monbiot says: "There is a magic machine that sucks carbon out of the air, costs very little, and builds itself. It's called a tree." A recent scientific analysis concluded that growing billions of trees across the world is the single biggest and cheapest way to tackle the climate crisis, though coal, oil and gas burning must also end.
"We are living in the beginning of a mass extinction and our climate is breaking down," says Thunberg in the film. "But we can still fix this – you can still fix this."
"It's simple," she says. "We need to protect, restore, and fund." That means protecting tropical forests that are being cut down at the rate of 30 football pitches a minute, she said, restoring the large areas of the planet that have been damaged and stopping the funding of things that destroy nature and instead paying for activities that help it.
The film's producer, Tom Mustill of Gripping Films, said: "We tried to make the film have the tiniest environmental impact possible. We took trains to Sweden to interview Greta, charged our hybrid car at George's house, used green energy to power the edit and recycled archive footage rather than shooting new."
Luke, writer for the Guardian in Australia: As a result of joining XR my mental health has improved. I've redirected my anxiety about the climate crisis into other initiatives, such as (shameless plug!) building the first national index of climate change protests. Extinction Rebellion is hugely supportive: there are people to grieve with, to laugh with, to stand together with, to demand action with. Everybody is welcome provided they adhere to a set of core principles and values and agree to these three demands. And everybody is needed. In Australia, Extinction Rebellion is building towards its "spring rebellion" which begins on 7 October and will involve rolling protests across the country. I took my conservative 74-year-old Christian mother to the XR presentation. She is attending her first protest on Friday, standing up for her grandkids at the global climate strike. She told me that if I decide to get arrested she will support my decision. Now there's a conversation I never thought I'd have. Before the protest at the weekend, the group practised a song we performed many times throughout the day. The lyrics go like this: People gotta rise like the water
Our future's on the line
I hear the voice of my sons and daughters
Singing climate justice now