There is continuing reaction to the UK's new climate goal, announced last week by Theresa May, that emissions should be "net zero" by 2050. (Read Carbon Brief's in-depth Q&A.) In the FT, Camilla Cavendish, who used to head the Downing Street policy unit under David Cameron, says the goal is "a great cause to fight for, and one that could unite a country crumpled by Brexit". She adds: "The combination of growing public concern and the falling cost of renewable energy may be bringing us to a tipping point…This post-fossil fuel world is closer than some think, and investments are made with 30, 40 and 50-year horizons. Developing countries are seeking advice on how to decarbonise, rather than invest in fossil fuel infrastructure…Britain should not fear getting out in front. We are in a global race to decarbonise, and it is only going in one direction…The west exports aspirations, not just emissions. If we can change our own habits, that might have a more powerful effect than we can yet imagine." In the Guardian, Susanna Rustin writes: "It is extremely difficult to see a safe way through the next few decades that does not involve a drastic reorientation of global priorities, towards wildlife and away from consumption. Meeting the UK's 2050 net-zero target, for example, will require planting almost 3bn trees. We can expect air quality to improve as we shift to electric cars. Some people are already discovering a new relationship with food. If the world is to come together as we need it to, human values will have to assert themselves over the forces of capital." Ivana Kottasová writing for CNN says the goal is "extremely ambitious – the roadblocks massive", adding: "Drastic restrictions on almost every aspect of people's lives, from the cars they drive, the way they heat their homes, to the fridges they buy – even the food stored in them." Umair Irfan writing for Vox says that the UK has committed itself to the "most aggressive climate target in the world", adding: "This is a much bigger shift than, say, Costa Rica, another country that's committed to carbon neutrality…It's also not clear on who is required to pay for the transition to a cleaner economy." In the Hill, Bob Ward of LSE's Grantham Institute says that the UK's move "highlights how quickly the US is falling behind in the global transition to clean, smart and modern economies". In an interview in the New Statesman, Sir Ed Davey, the former climate and energy secretary of state who is currently running to be leader of the Liberal Democrats, says that "the climate change emergency is so great that if there are things that we need to do together to make sure we address that, we have to go the extra mile". The Sunday Telegraph gives space to Matt Ridley, the climate sceptic who declares an "indirect" income from coal mining taking place on his inherited estate, who writes that "a way must be found to use oil and gas, but capture their CO2 emissions – and have the industry do something more than signal its regret; to be part of the solution, rather than most of the problem". In the Financial Times, Jonathan Ford says that "net zero requires a wartime level of national mobilisation, and wars demand renunciation from people". He adds: "Rather than glossing over the challenges, responsible politicians would at least debate them first." Meanwhile, Climate Home News has launched a tracker of the countries committing to a net-zero climate goal.
We must transform our lives and values to save this burning planet
In decades to come we must rethink our agriculture, our love of consumption and our short-termist priorities. It won't be easy @SusannaRustin
Sat 15 Jun 2019 01.00 EDTLast modified on Sat 15 Jun 2019 11.55 EDT
Shares1,031Comments1,404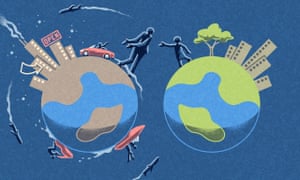 The case for action to tackle the climate emergency, on a scale far beyond anything that has yet been attempted, is increasingly widely understood. Almost three decades after the first UN climate treaty was agreed in Rio de Janeiro in 1992, and despite the commitments thrashed out among nation states at every summit since, global carbon emissions last year rose to a record 37.1bn tonnes.
In October, UN scientists warned that within 12 years a target of 1.5C of global heating would be out of reach. Above this level, temperature increases are predicted to cause colossal disruption: 10 million more people displaced as a consequence of higher sea levels; greatly increased risk of fires, drought and extreme weather of all kinds; shrinkage of plant and insect habitats with massive effects on agriculture as well as nature; the extinction of coral.
Theresa May's net-zero emissions target is a lot less impressive than it looks
Caroline Lucas
Thankfully, and due to efforts by activists as well as scientists, in some parts of the world the climate emergency is finally receiving some of the attention it deserves. Last month's elections to the European parliament saw Greens win nearly 10% of the seats. For a week in Britain at the end of April, when four sites in London were occupied by Extinction Rebellion activists, and the Swedish school striker Greta Thunberg met party leaders in Westminster, the story dominated the national news. This was a stunning achievement by campaigners, and appears to have had an effect. An opinion poll last week showed the environment overtaking every other issue apart from Brexit and health among voters' priorities. As one of her final acts as prime minister, Theresa May this week committed to a target of net-zero carbon emissions by 2050.
But the danger remains. For decades, our attitude to the climate crisis has combined complacency and denial, while the number of people (and politicians) firmly committed to action on anything like the required level has struggled to climb above a tiny minority. With attention focused by recent, alarming temperature rises and emissions increases, as well as by the prospect of a series of crunch meetings at the UN, serious attempts are at last being made to frame a policy response.
The Green New Deal embraced by leftwing US Democrats and elsewhere is the best chance we have. Economist Joseph Stiglitz wrote recently that we should think of the response to climate change as a "third world war". It is helpful to have a historical analogy on which to draw, when thinking about the transformation that is needed if we are to avoid a descent into chaos and dystopia. To be paralysed by panic would be a disaster. But there are also big differences between the situation human civilisation faces now, and any we have ever faced before.
The climate crisis differs from a war because it does not have an end – or not in the same way. And while there is an enemy, in the hugely powerful fossil fuel industry and the politicians who are its backers, this is a much harder foe to identify than a foreign power. As for the Green New Deal, there is a risk that it can be made to sound too much like a leftwing utopia.
It is extremely difficult to see a safe way through the next few decades that does not involve a drastic reorientation of global priorities, towards wildlife and away from consumption. Meeting the UK's 2050 net-zero target, for example, will require planting almost 3bn trees. We can expect air quality to improve as we shift to electric cars. Some people are already discovering a new relationship with food. If the world is to come together as we need it to, human values will have to assert themselves over the forces of capital.
But everyone who is serious about addressing what Thunberg rightly calls an "existential crisis" must be honest about what the process of getting there will entail. Some are already doing this. US activist Emily Johnston takes as a starting point her sense of "despair" about the state of the oceans, but goes on to argue that "the only sane thing to do is to radically change our agriculture and our forestry to help stabilise the climate". Richard Powers' recent Booker-shortlisted novel The Overstory focused on the immense psychological challenge, for humans, of making wildlife a priority above the struggles between ourselves that so preoccupy us all.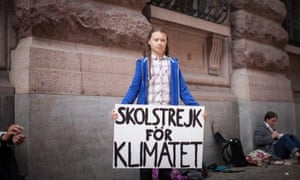 Individual choices matter: in Sweden, air passenger numbers have fallen as a result of people choosing not to fly. Analysis shows that the generation taking part in the climate strikes (born between 1997 and 2012) should have an allowance of six times less carbon per person than their grandparents. Cutting down on carbon is essential, and cannot be left to governments.
But lifestyle audits are not the main point. If taken to extremes, the focus on personal habits can even become a distraction. Turning vegan or giving up flying are good and important things to do. But they will not save the world. What we must do is reorient our politics towards a recognition of the limits of our planet. Increased numbers of "climate voters" are one indication that this is already happening. But the number of British adults who regard climate as a priority remains small: only 27% see it as one of the top three issues.
That figure doubles among 18- to 24-year-olds. Currently, young people seem to have a better handle on the situation than most. It makes sense that they are at the forefront of the new wave of environmentalism. As the humans with the most years ahead of them, they have the most to lose from the status quo.
But children know they cannot solve the crisis on their own; there are only a handful of countries in which 16- and 17-year-olds even have a vote. That's why, last month, Thunberg and others called for adults to join them on 20 September in a global general strike.
Whether and where such action takes place will depend on local factors as well as how the global climate movement develops over the summer. In the US and Australia, vigorous activism coexists with entrenched denial, while China's authoritarian government makes mass protests there a remote prospect. But in Europe, particularly in countries where Green politicians have made gains, large-scale climate strikes are possible.
There are many reasons why they might not happen. But when it comes to the environment, as the Indian writer Arundhati Roy has argued, imagination is at the heart of it; and the question of whether we can see the future clearly enough to prioritise it over short-term gain. Having cheered on the school strikers, we adults must now show them that we can. This is what a climate emergency means.
Vox.com Umair Fain, updated June 2019
Achieving these ambitions means that by 2035, all new cars must be electric. Forests must expand from covering 13 percent of land today to 17 percent by 2050. All buildings must be retrofitted and decarbonized. People must consume less meat. Thermostats in the winter should be set no higher than 19 degrees Celsius.
May's announcement makes the UK the first G7 country to make such a robust commitment. It's also one of the most aggressive and comprehensive climate goals in the world since the CCC's recommendation encompasses the entire UK economy, and the country is starting from an inefficient, fossil fuel-heavy baseline.
This is a much bigger shift than, say, Costa Rica, another country that's committed to carbon neutrality. Costa Rica is a much smaller economy and already gets a much larger share of its energy from clean sources. The climate committee's recommendation also reaches further than the net zero by 2045 law in Sweden, which excludes international shipping and aviation totals.
The UK, the birthplace of the Industrial Revolution, also has a long history of greenhouse gases to take into account. It ranks seventh in the world in cumulative emissions since 1750.
However, activists are still not satisfied and have said the new targets are still not aggressive enough.
Here are some things to know about the UK's new climate change commitment.
The United Kingdom has already made significant progress in cutting greenhouse gas emissions
Carbon dioxide emissions in the UK have been trending downward since the 1970s as the country shifted away from burning coal. In 2017, UK greenhouse gas emissions fell to levels not seen since 1890:
But the UK still has a long route to zero. Fossil fuels still provide the bulk of energy in the country, so there needs to be vastly more deployment of clean energy and wider electrification across the economy.
The committee did call for electrifying transportation, one of the largest sources of emissions, as a critical tactic to fight climate change, but air travel has proved to be an extremely difficult sector to decarbonize and shows no signs of slowing down.
Hitting zero net emissions wouldn't be any more expensive than the current target
The climate committee estimated that drawing down emissions in the United Kingdom would cost 1 to 2 percent of the country's gross domestic product each year until 2050. That's the same cost bracket as the current UK goal.
"Falls in cost for some of the key zero-carbon technologies mean that achieving net-zero is now possible within the economic cost that Parliament originally accepted when it passed the Climate Change Act in 2008," according to the report.
And the UK has experienced a growing divergence between its economy and its emissions over the past two decades, which likely means the UK economy will continue to grow even as it cuts its emissions.
Activists think the new target still doesn't go far enough
The committee report came out in April just as a massive weeks-long climate protest in London by the activist group Extinction Rebellion was winding down. Protesters achieved one of their main objectives last month when the UK Parliament declared a climate change emergency.
But Extinction Rebellion activists have described the new target as a "betrayal."
Extinction Rebellion @ExtinctionR
Let's not mince words, 2050 is a death sentence: people are already dying and this will only get worse with far off dates. Were we to put our minds to it to address the threat, the UK could embrace transformative change and decarbonise in years not decades.
"2050 condemns us to a bleak future," said Lorna Greenwood of Extinction Rebellion in a statement. "We may as well not have a target at all. Others are already dying around the world thanks to inaction and far off target setting."
The group argues that the committee's recommendation would only give the world a 50 percent chance of limiting temperature increases this century to 1.5 degrees Celsius.
The fight over when to reach net-zero emissions mirrors similar objections environmental groups raised in the United States last month when presidential contender Beto O'Rourke unveiled his plan to draw down US emissions to zero by 2050.
Some researchers said the UK climate committee was too optimistic in its recommendation, presuming that many aspects of a modern energy-intensive lifestyle would go unchanged. It's also not clear on who is required to pay for the transition to a cleaner economy.
"This generational transfer of responsibility enables the CCC to maintain a thriving aviation sector and leave unquestioned the huge inequality in who is responsible for most of UK emissions," wrote Kevin Anderson, a professor at the Tyndall Centre for Climate Change Research at the University of Manchester, in a statement. "What's not to like — business as usual, albeit with a sizeable green twist, and influential high-emitting groups left unencumbered by policies tailored towards their carbon-intensive lifestyles."
The Labour Party government introduced the Climate Change Act in 2008, and it was passed by U.K. Parliament almost unanimously. It committed the U.K. to reducing annual emissions of greenhouse gases by at least 80 percent by 2050 compared with 1990.
Theresa May, the current Conservative Party prime minister, recently announced the strengthening of the act, stating: "Now is the time to go further and faster to safeguard the environment for our children. This country led the world in innovation during the Industrial Revolution, and now we must lead the world to a cleaner, greener form of growth."
The U.K. has already cut its annual emissions of carbon dioxide and other greenhouse gases by almost 44 percent since 1990, during a period when its gross domestic product has grown by about 75 percent.
The new legislation is expected to receive parliamentary approval quickly, with the support of all the major political parties in the U.K.
There is widespread support for action on climate change among British businesses and the public, particularly after recent strikes by school students and public protests by the Extinction Rebellion campaign group.
Recent opinion polls show that 80 percent of the U.K. public are fairly or very concerned about climate change.
The government put forward the new legislation after receiving detailed recommendations last month from its expert advisers, the Committee on Climate Change, about how the U.K. should respond to the Paris Agreement on climate change.
The committee's report concluded:
A net-zero GHG [greenhouse gas] target for 2050 will deliver on the commitment that the UK made by signing the Paris Agreement. It is achievable with known technologies, alongside improvements in people's lives, and within the expected economic cost that Parliament accepted when it legislated the existing 2050 target for an 80% reduction from 1990.
Net-zero means that emissions will be cut to a minimal level and any residual amounts would be balanced by the removal of greenhouse gases from the atmosphere naturally, for instance by planting new trees, or artificially.
The committee estimated that meeting the new target will require additional investments equivalent to 1-2 percent of gross domestic product each year until 2050.
Economists have pointed out that the returns are likely to be even bigger than the investments when the avoided impacts of climate change and other benefits, such as reductions in local air pollution, are taken into account.
The U.K. is the second country to introduce a legal target for reaching net-zero emissions, after Sweden. Several other countries, including France and New Zealand, are currently planning similar laws.
Prime Minister May, who resigned as leader of the Conservative Party on June 7 and is due to step down as Prime Minister as soon as a successor has been elected by party members, is creating a strong legacy through her actions.
Her domestic and international leadership on climate change stands in stark contrast with President Trump's policy of denial and inaction.
May has listened carefully to the robust advice of the independent experts on the Committee on Climate Change, whereas Trump has rejected the findings of the United States National Climate Assessment.
May was urged by 250 climate change experts to challenge the president during his official state visit to the U.K. earlier this month about his approach on climate change.
She restated her government's support for the Paris Agreement during her joint press conference with the president, but he did not address the issue.
In a television interview shortly afterward, Trump showed a fundamental lack of knowledge about climate change, bizarrely claiming that "now it's actually called 'extreme weather.'"
He also wrongly asserted that "the United States right now has among the cleanest climates there are based on all statistics." In fact, the United States is the world's second-largest emitter of greenhouse gases, after China.
The United States has annual emissions that are 14-times higher than those of the United Kingdom, whose population is only five-times smaller.
The Energy Information Administration has estimated that the output of energy-related carbon dioxide by the United States started to rise last year after falling significantly during President Obama's period in office.
Trump has also initiated the withdrawal of the United States from the Paris Agreement, a process that cannot be completed until the day after the presidential election next year, inaccurately suggesting that it would save the coal industry in the United States.
Trump cited a profoundly flawed economic report, which included a hugely inflated estimate of the costs of the United States meeting the modest commitment made by the Obama administration to reduce annual emissions by 26-28 percent by 2025 compared with 2005.
Despite Trump's pledge, coal production in the United States last year was at its lowest level since 1978 because electricity can be generated more cheaply across most of the country using natural gas or renewables, such as solar and wind.
Trump's climate change denial is clearly damaging the standing of the United States around the world and hindering its economy from becoming clean, modern and efficient.
Bob Ward is policy and communications director at the Grantham Research Institute on Climate Change and the Environment at the London School of Economics and Political Science.