A quick video to highlight the 10+ years of organizing that led to this victory, and calling out Biden for abstaining from the vote today.
Here's the gist: "Fracking is banned in the Delaware river basin! This is a huge victory for our grassroots movement. Govs from PA, NY, NJ & DE voted to #BanFracking & protect 15 million ppl's drinking water, but President @JoeBiden abstained. Instead of fracking, we need to #BuildBackFossilFree!"
Video to share:
—
Thomas Meyer, National Organizing Manager
(He/Him) | Cell: 360-460-7397
Food & Water Action and Food & Water Watch
Fight like you live here.
From: Thomas Meyer <tmeyer@fwwatch.org>
Date: Thursday, February 25, 2021 at 9:39 AM
To: "build-back-fossil-free@googlegroups.com" <build-back-fossil-free@googlegroups.com>, "noffbailoutcampaign@googlegroups.com" <noffbailoutcampaign@googlegroups.com>
Subject: Fracking Ban in Delaware River Basin a Historic Victory
Hey Build Back Fossil Free allies — big victory against fracking today that is relevant to our campaigns targeting Biden!
The Delaware river basin commission voted to permanently ban fracking in the basin, protecting the health and drinking water of over 15 million people. This has been a major fight for more than 10 years and wouldn't have happened without sustained grassroots organizing from the anti-fracking movement and a powerful regional coalition.
The DRBC is made up of the governors of New York, New Jersey, Delaware, and Pennsylvania, plus a representative of President Biden. All 4 governors voted to ban fracking, while the President abstained. We should celebrate this important victory and slam President Biden for choosing politics of health, water, and the climate.
Please help amplify this important victory! A tweet thread and statement below make the connection to Biden and BBFF that I would encourage your groups to incorporate into whatever message you put out about this.
Tweets to share (more at #BanFracking and #BanItInTheBasin)
Food & Water Watch's statement (also pasted below): https://foodandwaterwatch.org/news/fracking-ban-delaware-river-basin-historic-victory
FWW web piece on the history of this campaign: https://www.foodandwaterwatch.org/news/we-fought-keep-frackers-out-delaware-river
Sample tweet and thread:
Fracking is banned in the Delaware river basin! This is a huge victory for the grassroots anti-fracking movement. Govs from PA, NY, NJ, DE voted to #BanFracking & protect the drinking water of 15 million ppl, but @JoeBiden abstained. Fracking is too dangerous to allow anywhere!
VICTORY! ➡️ Today the Delaware River Basin Commission, made up of governors from NY, NJ, PA & DE, voted to #BanFracking in the DE River Basin! 🎉 #DRBCFrackingBan 1/
The Delaware River Basin supplies drinking water for millions of people, and this is a MAJOR victory for the grassroots anti-fracking movement that wouldn't have been possible without years of relentless organizing. 2/
President @JoeBiden abstained from this vote to #BanFracking in the Delaware River Basin, but that doesn't change the facts. Biden should listen to communities and science and support a ban on fracking everywhere. We can't #BuildBackFossilFree without banning fracking!. 3/
—
Thomas Meyer, National Organizing Manager
(He/Him) | Cell: 360-460-7397
Food & Water Action and Food & Water Watch
Fight like you live here.
For Immediate Release: February 25, 2021
Contact: Peter Hart, phart@fwwatch.org , 732-266-4932

Fracking Ban in Delaware River Basin a Historic Victory
Today, the Delaware River Basin Commission voted unanimously in favor of new regulations that will ban fracking in the Delaware River basin. The Biden administration's representative to the commission abstained from the vote.
For a decade, the grassroots anti-fracking movement has pushed for a ban on the dangerous drilling process in the river basin, citing the threat it would pose to a drinking water supply for millions of people.
The draft rules also included controversial provisions that would have allowed fracking waste to be treated in the river basin, and would have created rules for fracking companies to withdraw water to support drilling activities. The commission removed those provisions and voted to start a new process to create rules on those issues.
In response, Food & Water Watch Executive Director Wenonah Hauter issued the following statement:

"A decade ago, we saw the dirty energy industry was eager to exploit a region that supplies drinking water to millions of people across four states — and we took action. Grassroots activists stopped a plan to frack the Delaware, and never stopped fighting until today's victory was assured.
"The Biden administration's decision to abstain from this vote is a major disappointment. Fracking is a threat to the Delaware, and everywhere else. Communities living with the harms of fracking have known for years that there's no way to make fracking safe. The White House chose political expediency today over protecting the drinking water of 15 million people. Biden should listen to communities and science and support a ban on fracking everywhere."
**
IMPACTS: Atlantic Ocean circulation at weakest in a millennium, say scientists
Decline in system underpinning Gulf Stream could lead to more extreme weather in Europe and higher sea levels on US east coast
Fiona Harvey, The Guardian Environment correspondent, 25 Feb 2021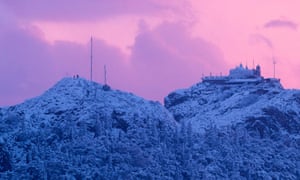 The Atlantic Ocean circulation that underpins the Gulf Stream, the weather system that brings warm and mild weather to Europe, is at its weakest in more than a millennium, and climate breakdown is the probable cause, according to new data.
Further weakening of the Atlantic Meridional Overturning Circulation (AMOC) could result in more storms battering the UK, more intense winters and an increase in damaging heatwaves and droughts across Europe.
Scientists predict that the AMOC will weaken further if global heating continues, and could reduce by about 34% to 45% by the end of this century, which could bring us close to a "tipping point" at which the system could become irrevocably unstable. A weakened Gulf Stream would also raise sea levels on the Atlantic coast of the US, with potentially disastrous consequences.
Stefan Rahmstorf, of the Potsdam Institute for Climate Impact Research, who co-authored the study published on Thursday in Nature Geoscience, told the Guardian that a weakening AMOC would increase the number and severity of storms hitting Britain, and bring more heatwaves to Europe.
He said the circulation had already slowed by about 15%, and the impacts were being seen. "In 20 to 30 years it is likely to weaken further, and that will inevitably influence our weather, so we would see an increase in storms and heatwaves in Europe, and sea level rises on the east coast of the US," he said.https://interactive.guim.co.uk/uploader/embed/2021/02/gulf_stream_map/giv-3902UmGnuWe7p2AI/
Rahmstorf and scientists from Maynooth University in Ireland and University College London in the UK concluded that the current weakening had not been seen over at least the last 1,000 years, after studying sediments, Greenland ice cores and other proxy data that revealed past weather patterns over that time. The AMOC has only been measured directly since 2004.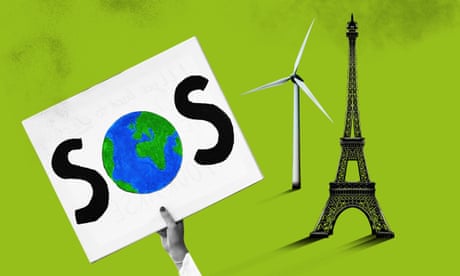 Read more
The AMOC is one of the world's biggest ocean circulation systems, carrying warm surface water from the Gulf of Mexico towards the north Atlantic, where it cools and becomes saltier until it sinks north of Iceland, which in turn pulls more warm water from the Caribbean. This circulation is accompanied by winds that also help to bring mild and wet weather to Ireland, the UK and other parts of western Europe.
Scientists have long predicted a weakening of the AMOC as a result of global heating, and have raised concerns that it could collapse altogether. The new study found that any such point was likely to be decades away, but that continued high greenhouse gas emissions would bring it closer.
Rahmstorf said: "We risk triggering [a tipping point] in this century, and the circulation would spin down within the next century. It is extremely unlikely that we have already triggered it, but if we do not stop global warming, it is increasingly likely that we will trigger it.
"The consequences of this are so massive that even a 10% chance of triggering a breakdown would be an unacceptable risk."
Research in 2018 also showed a weakening of the AMOC, but the paper in Nature Geoscience says this was unprecedented over the last millennium, a clear indication that human actions are to blame. Scientists have previously said a weakening of the Gulf Stream could cause freezing winters in western Europe and unprecedented changes across the Atlantic.
The AMOC is a large part of the Gulf Stream, often described as the "conveyor belt" that brings warm water from the equator. But the bigger weather system would not break down entirely if the ocean circulation became unstable, because winds also play a key role. The circulation has broken down before, in different circumstances, for instance at the end of the last ice age.
The Gulf Stream is separate from the jet stream that has helped to bring extreme weather to the northern hemisphere in recent weeks, though like the jet stream it is also affected by the rising temperatures in the Arctic. Normally, the very cold temperatures over the Arctic create a polar vortex that keeps a steady jet stream of air currents keeping that cold air in place. But higher temperatures over the Arctic have resulted in a weak and wandering jet stream, which has helped cold weather to spread much further south in some cases, while bringing warmer weather further north in others, contributing to the extremes in weather seen in the UK, Europe and the US in recent weeks.
Similarly, the Gulf Stream is affected by the melting of Arctic ice, which dumps large quantities of cold water to the south of Greenland, disrupting the flow of the AMOC. The impacts of variations in the Gulf Stream are seen over much longer periods than variations in the jet stream, but will also bring more extreme weather as the climate warms.
As well as causing more extreme weather across Europe and the east coast of the US, the weakening of the AMOC could have severe consequences for Atlantic marine ecosystems, disrupting fish populations and other marine life.
Andrew Meijers, the deputy science leader of polar oceans at British Antarctic Survey, who was not involved in the study, said: "The AMOC has a profound influence on global climate, particularly in North America and Europe, so this evidence of an ongoing weakening of the circulation is critical new evidence for the interpretation of future projections of regional and global climate.
"The AMOC is frequently modelled as having a tipping point below some circulation strength, a point at which the relatively stable overturning circulation becomes unstable or even collapses. The ongoing weakening of the overturning means we risk finding that point, which would have profound and likely irreversible impacts on the climate."
Karsten Haustein, of the Climate Services Center in Germany, also independent of the study, said the US could be at risk of stronger hurricanes as a result of the Gulf Stream's weakening.
"While the AMOC won't collapse any time soon, the authors warn that the current could become unstable by the end of this century if warming continues unabated," he said. "It has already been increasing the risk for stronger hurricanes at the US east coast due to warmer ocean waters, as well as potentially altering circulation patterns over western Europe."