Thanks to Derek Markham! (@derekmarkham)
© Flash
The Flash e-bike promises to be "an evolution in what a bike can be" thanks to a host of smart features integrated into its design.
Another day, another crowdfunded e-bike launch. In a near future that looks to be jam-packed with personal electric transportation options, electric-assisted bicycles are well-suited to mass adoption, as most of us are probably more comfortable on a bike than a scooter or a skateboard. And It's far easier to get someone in the saddle of a bike than to convince them to ride a self-balancing monowheel for their daily commute, so electric bikes are a natural fit for a cleaner, more human-scale transportation system.
However, just slapping an electric motor and a battery pack onto a bike, while considered innovative just a few short years ago, isn't nearly enough to attract loads of new riders nowadays, when customers expect more from their everyday objects. But a new breed of electric bike, one built to be electric from the ground up, with all the added bells and whistles that tech can supply, has been emerging lately, and these new e-bikes promise a new era of cycling, where the once optional features have become standard. Granted, the more complex they get, the more failure points there are, so there is a bit of a downside risk to tech innovation, but as battery and motor and controller hardware continue to evolve, mechanical and electronic issues should be reduced as well.
The Flash electric bike, which was just launched via Indiegogo a few days ago, has already tripled its crowdfunding goal, and appears to be hitting all the right sweet spots with potential e-bike riders with its "evolved" design that integrates a number of features geared toward making the bike safe, secure, and smart. The Flash is driven by a 500W rear hub electric motor, which has four pedal-assist levels to choose from, and powered by a 36V 11.6Ah lithium ion battery pack said to be capable of a riding range of up to 50 miles per charge, with a 4-5 hour charge time.
A touchscreen dashboard is embedded in the bike's downtube, which allows the rider to access data and functionality while riding, and an accompanying app enables turn-by-turn navigation using the display. LED headlights, brake lights, and running lights help with visibility, turn signals notify others of your intentions, and an 85 db horn can let riders be heard as well as seen, while also acting as a theft alarm. GPS tracking, remote locking and unlocking, and complete ride tracking and route data are all available through the app as well.
© Flash
According to the company, the Flash has a top speed of 28 mph, and offers not only pedal-assist but also has a throttle electric function, so bursts of speed are possible, even on grades over 8%. The bike has a mountain bike type of frame, which doesn't really enable an upright riding style, although perhaps bar risers can adjust that, and the Flash is said to fit riders up to 6'2″ in height. Weighing in at 49 pounds, the aluminum-framed Flash integrates the battery pack into the bike's frame, so it isn't removable for charging, which may be an issue if you can't run a cord to the bike or bring the whole thing inside to charge it.
Backers of the Indiegogo campaign at the $1199 level will get some of the first Flash bikes off the line (said to be a 40% discount off the MSRP), which are expected to ship in January of 2018. The company also has a calculator on its website that aims to estimate the impact on your health, wallet, "and the world around you" that riding a bike a few days per week can have.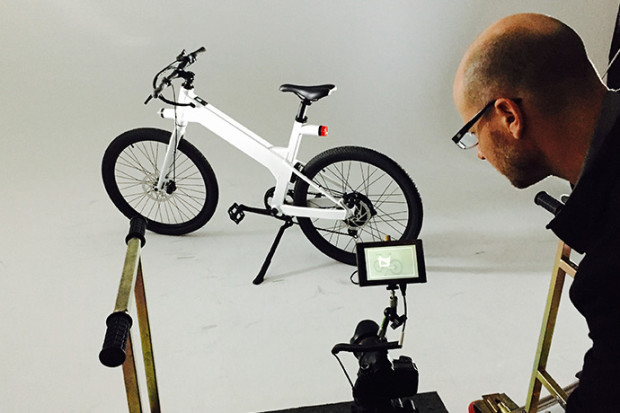 On set for our video and photo shoot in Los Angeles.
Flash: The Bike Evolved
Power. Safety. Security. Intelligence. Flash isn't just an electric bike; it's an evolution.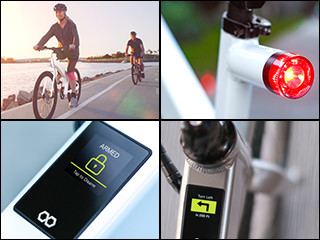 Flash sets a new standard in bike safety, security and onboard intelligence. And unlike many other crowd campaigns, we're not asking backers to donate money to fund a dream or concept; we're using crowdfunding to match demand with actual production. Our campaign approach is simple. We offer one awesome bike in three available colors. The earlier you order, the better pricing and earlier shipping date you'll get. It's as simple as that.

We all know how great it is to ride a bike: it's healthy for the mind, body and soul; it beats sitting in traffic; and it's good for the environment. Plus, there's real cost savings in gas, parking and car maintenance.
But let's face it; like millions of others, there are physical and mental barriers that keep you from grabbing those handlebars every day.
Our purpose-built features and technology–obsessively developed from the ground-up in order to address concerns over distance, safety and security–are baked right into the bike, so you don't have to worry about a thing.
Flash isn't just an electric bike; it's an evolution in what a bike can be.
Great things happen when you ride your bike.
Don't just take our word for it. Use the calculator below to estimate how you'll impact your health, wallet and the world around you just by riding your bike a few days each week.
Live Healthier
Reduce fatigue by 65%
Boost energy by 20%
Reduce the risk of heart disease by 50%
Improve quality of sleep
Relieve stress and improve your mood
Be Greener
Replace just 10 miles of car trips each week, and you'll prevent 471 lbs of CO2 from being released into the atmosphere every year.
Spend Smarter
There are plenty of better uses for the thousands of dollars you spend every year on gas, parking and car maintenance.