Dr Gunnar Luderer from the Potsdam Institute for Climate Impact Research, who said the role of electrification in the future is underestimated. "Electricity is set to become a cheaper energy carrier than combustible fuels," he noted.
His team's analysis has found that under 1.5C-consistent pathways, renewable power will be cheaper than energy from oil and gas from 2030, and they set out to find to what extent this would result in "deep electrification".
They looked at the extent to which different sectors are electrified so far and found "deep" potential everywhere, including industrial heating, which accounts for around 30% of total final energy consumption. Under effective climate policies, they suggested electrification could increase from around 20% to 70% of final energy use by 2050.
However, Luderer concluded that for this to work out, once again there was a need to consider both the people at the heart of this transformation and interactions between systems, for example ensuring that electricity comes from sources like wind and solar.
Here's @GunnarLuderer concluding slide, showing how system interactions, policies and people matter:#NetZero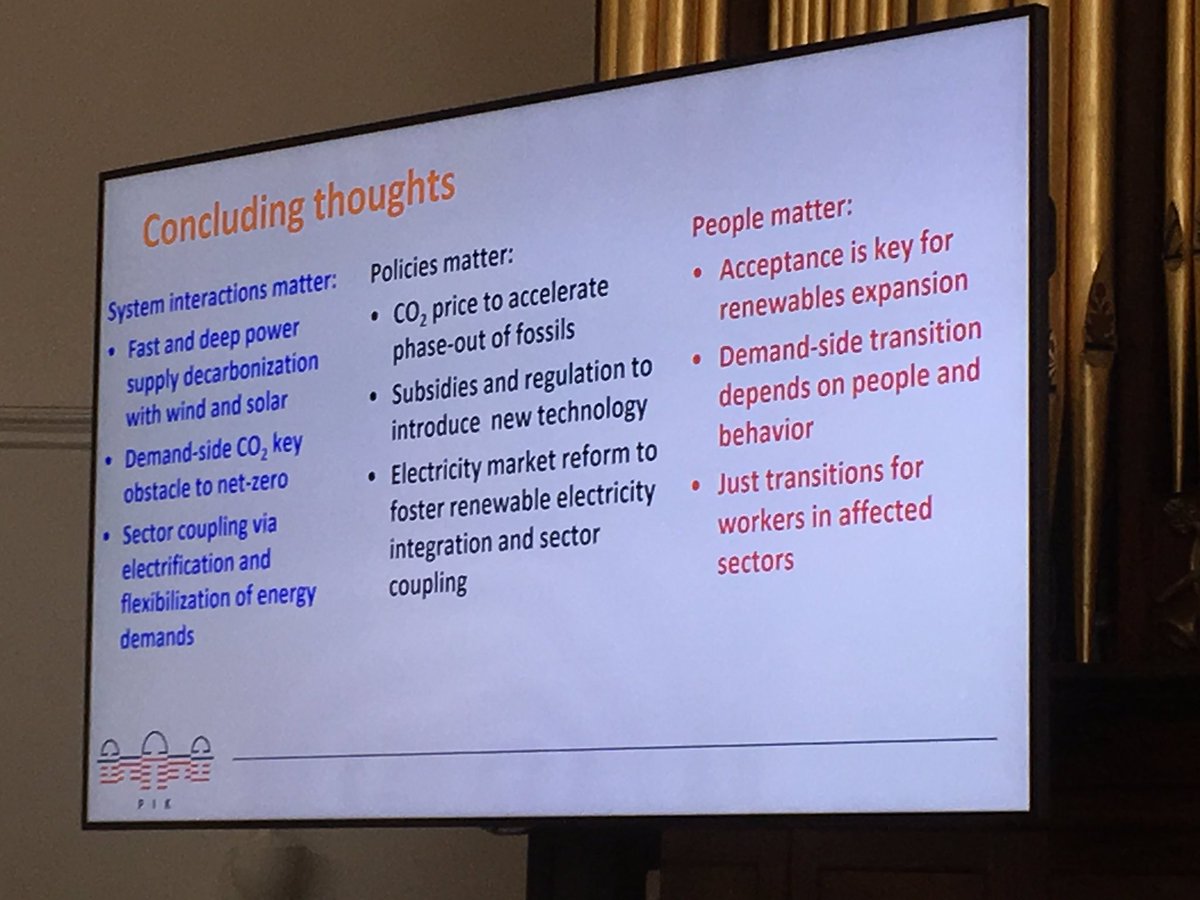 2:50 AM – Sep 10, 2019Twitter Ads info and privacySee Robert McSweeney's other Tweets
Luderer was followed by Prof Nick Eyre, director of the UK Centre for Research on Energy Demand, who began by outlining the key characteristics of a "zero carbon energy transition". Namely, these are high levels of variable renewables, a major increase in electrification and a reduction in primary energy demand.
Eyre laid out a hypothetical post-transition scenario for the UK, involving 100% of energy from wind and solar – although he emphasised he was not saying this was plausible – with liquid fuels coming from hydrogen via electrolysis and with efficiency gains arising largely from electrification.
To approach this kind of world, he said there would be three key areas requiring innovation.
Firstly, Eyre said a system based on variable renewables must be balanced, using storage technologies such as batteries. Second, attention must focus on difficult sectors such as aviation and shipping. Eyre suggested hydrogen fuels would be key.
Finally, he said the pace of these changes would exceed that of historic socio-technical shifts and would therefore require large changes for people as well:
"While we can change the technology very quickly, 30 years is less than half a human lifetime, so we are talking about retrofitting humans…We are going to need to retrofit our brains."
When asked why nuclear and carbon capture and storage did not feature in his scenario, he said the answer was "basically cost". He asked:
"Why would you want to do something difficult and expensive, when you can do something cheap and easy?"
The energy transition has started already, says Eyre. "We're doing this stuff already!"

For a window into how the UK has transformed its electricity supply over the past decade, check out @CarbonBrief's interactive: https://interactive.carbonbrief.org/how-uk-transformed-electricity-supply-decade/ …#NetZeroInteractive: How the UK transformed its electricity supply in just a decadeThis is the story of the policy decisions and other developments behind the UK electricity sector's decade of transformation.interactive.carbonbrief.org13:05 AM – Sep 10, 2019Twitter Ads info and privacySee Robert McSweeney's other Tweets
The final talk of the opening session was given by Dr Fredric Bauer of Lund University, who discussed innovations in European industry that can contribute to net-zero pathways.
Specifically, his work has focused on "hard-to-cut" industries where emissions have traditionally proved difficult to reduce, including plastics, steel, pulp and paper, and meat and dairy.
Day two: Another plenary
The late-morning plenary looked specifically at "innovation to recapture the already emitted". The first speaker was David Hone, chief climate change adviser in the Shell scenarios team, who unpacked the company's "Sky" scenario – a pathway to keeping global warming to "well below" 2C. (Carbon Brief has previously published a deep dive into what Shell calls its "radical" climate change scenario. This shows that although Sky is consistent with other well-below 2C pathways in the academic literature, almost all of these alternative futures share a heavy reliance on negative emissions.)
Shell scenarios for #NetZero rely on #BECCS because it is "viable today" … we have a "clear line of sight" says @davidshellblog4:29 AM – Sep 10, 2019Twitter Ads info and privacySee Duncan McLaren's other Tweets
"The Sky scenario meets the goals of the Paris Agreement," said Hone. And in addition to the technological change in the energy system that it is based on, "if you combine it with large-scale reforestation, you can actually bring the curve just that little bit further to meet the 1.5C goal", noted Hone.
Next up was Dr Phil Renforth, associate professor in the Research Centre for Carbon Solutions at Heriot-Watt University, presenting on the potential of "enhanced weathering, ocean alkalinity and all things carbon mineralisation".
Renforth focused his talk on enhanced weathering, which involves speeding up the natural CO2-absorbing rock weathering process by crushing and spreading rocks on land.
As Renforth mentioned in his talk at the negative emissions conference in Gothenburg last year, there are some "myths or assumptions" around the "cost, scale and speed" of enhanced weathering. While these are important issues, "there's a lot more nuance here", he told the audience in Oxford.
The key energy cost for this technique is grinding up the rocks, explained Renforth. It is potentially more energy intensive that CCS, but of a similar scale as Direct Air Capture, he noted, adding that "there is scope to reduce costs by improving the efficiency of the grinding technology".
Next up was Dr Andrew Cavanagh, a geologist at the University of Edinburgh, who highlighted the "extraordinary disconnect between readiness of CO2 storage in Europe and the world – and the expectations embedded in net-zero".

Andrew Cavanagh says that the assumption for Europe is that the current 1 million tonnes of CO2 currently stored per year goes to 100x this by 2030… and it only grows after that. #NetZero https://twitter.com/Josh_Gabbatiss/status/1171373965157249025 …Josh Gabbatiss@Josh_GabbatissThere is an "extraordinary disconnect" between readiness of world for CO2 storage and expectations placed on it, says @acavasta in his talk, titled "mind the gap".#NetZero34:50 AM – Sep 10, 2019Twitter Ads info and privacySee Dr Michelle Cain's other Tweets
Cavanagh presented some stark numbers on the huge amount of CO2 storage that he said that was needed and the dearth of suitable locations that have been identified and confirmed. (See video above where Cavanagh explains some of these numbers.) And the amount of storage needed would increase rapidly if carbon capture becomes more widespread, noted Cavanagh: "There are orders of magnitude increases in the rate of storage every decade out from now to 2050. That's very…challenging."

Dr Michelle Cain@civiltalker · Sep 10, 2019
Andrew Cavanagh says that the assumption for Europe is that the current 1 million tonnes of CO2 currently stored per year goes to 100x this by 2030… and it only grows after that. #NetZero https://twitter.com/Josh_Gabbatiss/status/1171373965157249025 …Josh Gabbatiss@Josh_GabbatissThere is an "extraordinary disconnect" between readiness of world for CO2 storage and expectations placed on it, says @acavasta in his talk, titled "mind the gap".#NetZero

Andrew Cavanagh noting that currently we are 1/1000th of where we need to be on CO2 storage… "makes you wonder what we are doing." #NetZero54:55 AM – Sep 10, 2019Twitter Ads info and privacySee Dr Michelle Cain's other Tweets
The last presentation of the session came from Prof Andrew Barron, Sêr Cymru chair of low carbon energy and environment at Swansea University, who claimed his talk would "probably be the most controversial of the conference".
His talk looked at whether shale gas and oil extraction could make carbon storage commercially viable. The rock formations that hold shale are "perfect" for storing CO2, said Barron. It can hold three molecules of CO2 for every molecule of natural gas it replaces, he explained, and it has managed to hold gas for millions of years without leakage.

Andrew Barron at #NetZero showing how you can do fracking without water (which damages the rock formations and causes seismic activity), to remove the ch4 and replace with co2. Shale has kept ch4/co2 in place for millions of years, and it preferentially stores co2 over ch4.5:06 AM – Sep 10, 2019Twitter Ads info and privacySee Dr Michelle Cain's other Tweets
He described a newly developed method of "waterless fracking". ("Water is absolutely the worst thing the industry could ever use," explained Barron, because it damages the clay-based reservoir being fracked.) This method follows a "huff and puff" approach, he said, which involves extracting methane, injecting CO2, getting out more methane, injecting more CO2 and so on, until the reservoir is full of CO2.
There is a field trial in its early stages in Pennsylvania and Barron is planning another in the UK.
If the UK extracted all its gas needs through this method – rather than relying on imports – and then buried CO2 at the same time, the country could be sequestering 100% of its annual CO2 emissions within two years, Barron told Carbon Brief afterwards. Barron emphasised that such an idea could be a means to buy time for large-scale decarbonisation, rather than being an end in itself.
Day two: Parallel sessions
Day two saw the second set of parallel sessions. In the first session, the conversation focused on the international governance and regulatory frameworks that will be required for a net-zero world.
With the Katowice "rulebook" largely agreed in December last year (though with some outstanding issues), the Paris Agreement is now ready to be implemented when it enters force at the start of 2020.
However, talks in this session noted that the existing regime is not perfect and addressed the potential for the current system to foster significant change, as well as shortcomings and what might need to be improved.
The chair, Prof Lavanya Rajamani from the University of Oxford, said the speakers would focus on the "creative gap-filling" that would be required in the coming years.
Proceedings began with Andrew Higham, who was closely involved with the Paris Agreement negotiations and is co-founder of Mission 2020, an initiative which seeks to give a sense of urgency to climate action.
He used his talk to highlight three areas in which the Paris regime is "not really adequate". Firstly he highlighted the "ever present urgency" of meeting global climate goals and the need to ratchet up ambition in the coming years.
Next there was the "loose arrangement" around pushing for net-zero targets, which are not explicitly required under Paris, and finally its lack of focus on the long-term future:
"Really the Paris Agreement does not look beyond 2050, it is silent on the long term. If you think about the fact we have atmospheric [CO2] concentrations of 415ppm, the fact that in geological history that is not a very human-friendly environment to be living in, we need to be thinking of a millennial timescale."
Next to speak was analyst Claire Fyson, from non-profit science and policy institute Climate Analytics. She was joined in the presentation by MJ Mace, a lawyer based at University College London who has been involved with climate negotiations for several years.
Together they explored the need for CO2 removal in the coming decades, which they argued is effectively enshrined in Article 4 of the Paris Agreement. (This sets a goal of achieving "a balance between anthropogenic emissions by sources and removals by sinks of greenhouse gases in the second half of the century".) They considered whether the international community was prepared to implement such action on an "unprecedented scale".
"It's quite scary the multiple gaps that we have," said Mace, citing political constraints on overcoming these gaps and noting previous shortcomings:
"I'm going to start ranting now…we haven't even been able to agree on common timeframes for NDCs [nationally determined contributions to the Paris Agreement]…we have not been able to agree common accounting approaches in some fundamental areas."
MJ Mace from @CA_Latest says she's "getting angry" in her talk with @CFyson on governance of large scale CO2 removal – some parties still "actively promoting double counting" of emissions:

"How can that be?"#NetZero27:48 AM – Sep 10, 2019Twitter Ads info and privacySee Josh Gabbatiss's other Tweets
Fyson then considered what scientists could do to help overcome these issues, despite the significant political challenges ahead.
They were followed by Janos Pasztor, executive director of the Carnegie Climate Governance Initiative, who continued on the theme of governance challenges around carbon removal.
"We are in deep, deep trouble and while on the one hand we hear lots of scientists saying there are all these fantastic opportunities…on the other side we have exactly the opposite."
He said the number one challenge was simply to get leaders accepting that emissions reduction is not enough and large-scale CO2 removal is necessary.
He also cited the lack of joined-up thinking on this topic, with agriculture, wetlands and the ocean all being considered by separate international entities. He said there was a need to "bring these issues together".
The final speaker was Cleo Verkuijl from the Stockholm Environment Institute, who considered how international governance could be used to curtail fossil fuel production. (See Carbon Brief's 2016 explainer on this concept for more.)
While one method to address supply is limiting demand – through the growth of renewables and energy efficiency, for example – she said progress so far had not been sufficient. Instead, Verkuijl told the audience "we should be addressing both supply and demand".
Cleo Verkuijl from @SEIresearch argues that while there is "famously" no mention of fossil fuels in the Paris Agreement, there is a need for international action through UNFCCC to leave a large fraction of the world's coal, oil and gas unburned in order to reach a #NetZero target 58:16 AM – Sep 10, 2019
Her suggestion was the adoption of "supply side" policies that limit fossil fuel exploration, extraction or transportation in a bid to "get us where we need to be".
Over in the second parallel session, the focus was "Achieving net-zero in cities, regions, and the private sector". The first speaker was Tom Hayes, Oxford City Council's "cabinet member for a zero carbon Oxford".
Hayes pointed out that the city council had declared a climate emergency and had established a citizens assembly to help advise on measures to address it.
In terms of local measures, Hayes offered the example of the roof-mounted solar park – "one of the biggest in the country" – at the local BMW plant that manufactures the Mini. This generates enough electricity to power 850 homes, said Hayes.
Next up was Galina Alova, a PhD candidate at the Smith School of Enterprise and the Environment. She presented her ongoing research into transition patterns among electricity-generating companies around the world. Her initial findings suggest a transition towards renewables and away from coal is underway, but it is "often accompanied by growth in gas". Overall, there is "little evidence for fossil fuel reduction", she said.
The third speaker was Dr Margot Pellegrino, assistant professor in spatial planning and urbanism at the Université Paris Est Marne la Vallée.
Pellegrino presented on boosting the energy performance of existing residential buildings. Such projects can often miss objectives by not renovating as many buildings as hoped and the performance of the upgraded building being lower than expected, she said. Pellegrino described three experimental projects in northern France that are applying the Dutch "Energiesprong" concept of energy efficient housing.
Closing this session was Kathy Mulvey, accountability campaign director on climate and energy at the Union of Concerned Scientists (UCS), who presented on engaging fossil fuel companies on net-zero.
Day two: Closing plenary
The final session in the main conference on day two was dedicated to "equity, ethics and inter-generational justice" of achieving net-zero.
It began with a late addition to the programme – an update on the aftermath of Hurricane Dorian. Tarran Simms – executive director of environmental NGO Andros Conservancy & Trust in the Bahamas – gave a short talk on the destruction caused by the slow-moving storm, emphasising that "small island states contribute the least amount to the overall GHG emissions, but we are ground zero of the entire climate crisis".
This short talk received the largest ovation of the whole conference.
In his opening remarks, session chair Dr Matthew Ives – senior research officer in complex systems economic modelling at Oxford University's Smith School of Enterprise and the Environment – spoke of the birth of his first child and the sharpened focus it had given him of the challenge at hand.
"I want the best for his future," Ives said in his emotional introduction, "and I certainly don't want him to have to clean up the crap from our work, or lack thereof, for the rest of his life".
"Achieving net-zero will get us a heck of a lot towards giving us equity, and social and intergenerational justice," he added.
(Recent analysis by Carbon Brief shows that, for a world where warming is limited to 1.5C, the average person born today can emit only an eighth of the lifetime emissions of someone born in 1950.)
The first formal talk of the session was from Prof Henry Shue, senior research fellow at Oxford's Centre for International Studies, giving a philosopher's perspective on net-zero.
"All decisions about the degree of ambition for emissions mitigation in the present are unavoidably also decisions about how to distribute risks and burdens across generations," he noted. "The less risk we bear, the more they bear."
If we can't achieve action on climate now, "there's good reason to believe it will become relatively more difficult precisely when the physical climatic threats themselves become worse", Shue warned. "Action by us now can make future lives vastly better than they otherwise would be, and this gift is ours to give."

"The challenges facing the generations alive now may seem daunting but if we fail to meet them the challenges facing future generations will be more daunting still", says Henry Shue of @UniofOxford on #climate change #netzero9:21 AM – Sep 10, 2019Twitter Ads info and privacySee Laurie Goering's other Tweets
Offering a view from South Africa, Celeste Renaud – a postgraduate student at Oxford's Environmental Change Institute – discussed how the country is attempting to achieve a "just transition" to low carbon sources.
"We have an incredibly carbon-intensive economy, Renaud explained, "largely due to our reliance on coal for primary energy supply and most of our electricity generation". (More details can be found in Carbon Brief's country profile of South Africa.)
"A quarter of South Africa's population lives in extreme poverty," said Renaud, which means an energy transition needs to meet the challenges of inequality and unemployment in order to "gain political buy-in".
This transition is already underway, noted Renaud, "but it must choose the inclusive path, which does exist – if we can imagine it".

Dr Michelle Cain@civiltalker · Sep 10, 2019Replying to @civiltalker @mat_ives
Celeste Renaud now talking about a just transition to #NetZero in South Africa. How will net zero responsibility be shared? Especially for those countries with a current heavy reliance on fossil fuels?

Celeste Renaud: South Africa has a per capita carbon footprint about the same as the UK, but has much higher poverty and unemployment. Promise for significant job creation in wind and solar. Transition has started, but the country is not planning for it. #NetZero9:38 AM – Sep 10, 2019Twitter Ads info and privacySee Dr Michelle Cain's other Tweets
The third speaker was Prof Dave Frame, director of the New Zealand Climate Change Research Institute at Victoria University of Wellington, returning to the topic of the metrics used to compare the warming impact of different GHGs.
"Historical responsibility and polluter pays argument ought to take proper account of the temporal aspects of pollution," argued Frame. In practice, he said this means not treating short-lived GHGs such as methane as equivalent to long-lived gases such as CO2, because they don't accumulate in the atmosphere over very long time periods.
Dave Frame asks if historical responsibility and "polluters pays" arguments ought to take account of how long gases (e.g. short-lived pollutants like methane) hang around in the atmosphere for.

He reckons yes as current system is unfair on poor countries#NetZero9:58 AM – Sep 10, 2019Twitter Ads info and privacySee Josh Gabbatiss's other Tweets
If you apply GWP100 in a net-zero emissions target, "that implies you have to go all the way to zero" for agricultural emissions too, argued Frame – this would be "a cooling [impact] from that sector". This is because methane has around a 10-year lifespan in the atmosphere, so cutting methane emissions reduces how much is entering the atmosphere while previously emitted methane is constantly being broken down in the atmosphere at the same time.
So the sectors that produce a lot of methane "want to have a conversation about sectorial fairness", explained Frame:
"We see that in Ireland, we see that in New Zealand, and other places [where methane emissions make up a large proportion of the total]. And we will see it more and more as time goes by and other countries also go on the mitigation journey."
"The point here is not that there's a specific right answer," noted Frame, but "this is something that your way of thinking about climate policy should take account of". He added: "This will matter more for poor countries, where methane is a bigger deal, fractionally speaking".
Concluding this session was Dr Oliver Geden, head of the EU Research Division at the German Institute for International and Security Affairs, who presented on the "distributional challenges" of designing policy for a net-zero target for the European Union.
Final talk of the day is from @Oliver_Geden, head @SWP_Europe, begins by dispelling the "myth" that the EU already has a #NetZero target – although says it is highly likely it will have one10:10 AM – Sep 10, 2019Twitter Ads info and privacySee Josh Gabbatiss's other Tweets
Day three: how do we get there?
The third and final day of the conference had a definite policy angle, attempting to tackle the theme of "how do we get there?".
In the opening plenary session, James Shaw MP – New Zealand's Minister for Climate Change – gave a speech on their government's response to climate change.
On last day of the #NetZero conference, we are greeted by a video link to NZ climate minister @jamespeshaw who outlines his nation's "zero carbon" plans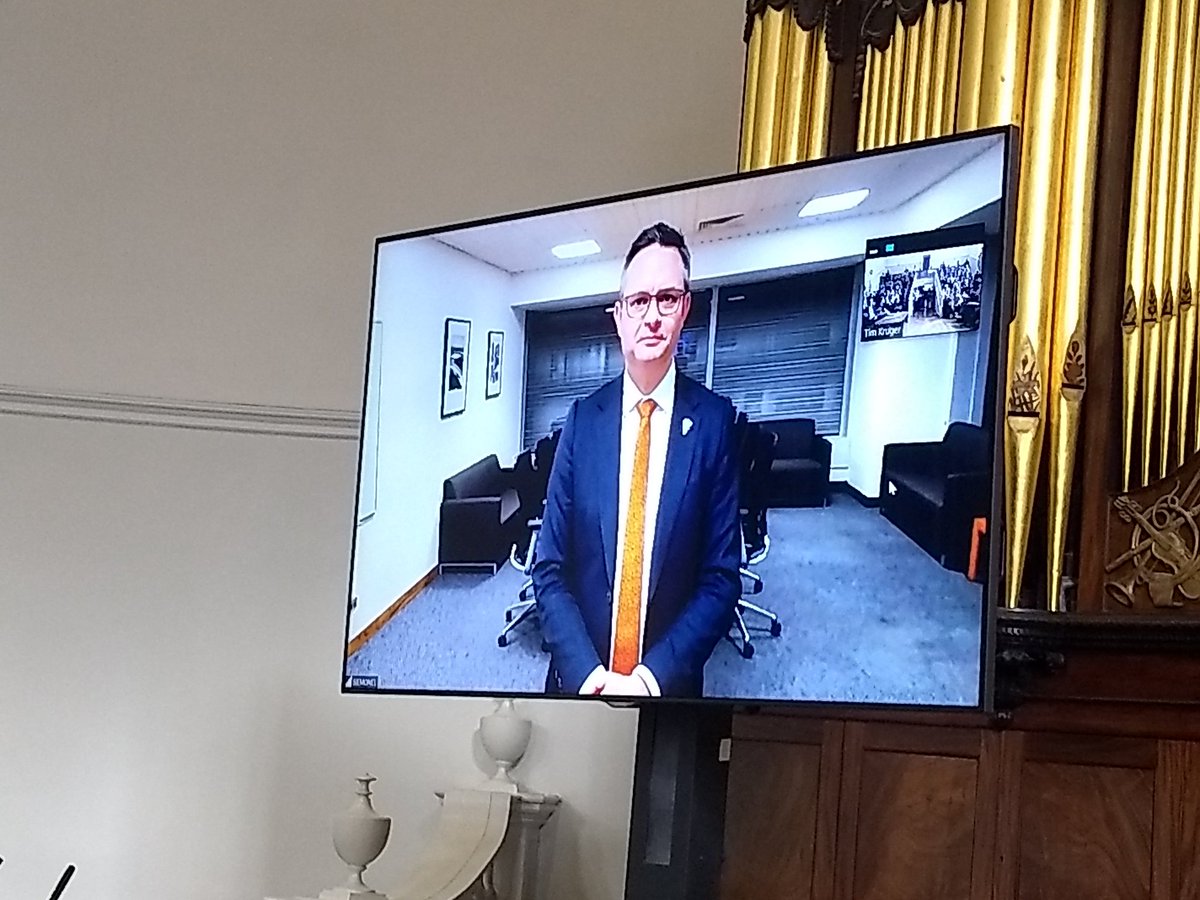 22:11 AM – Sep 11, 2019Twitter Ads info and privacySee Josh Gabbatiss's other Tweets
"There's a lot of work we're doing in New Zealand to achieve net-zero emissions by 2050," said Shaw. He highlighted three areas in particular – New Zealand's first-ever government climate action plan, its Zero Carbon Bill, and fixing New Zealand's emissions trading scheme and reducing emissions from agriculture.
The climate action plan is a "massive programme of work right across government that will run for many, many years", explained Shaw. It was produced in response to an inquiry by the Productivity Commission into the low emissions economy.
This inquiry produced 77 recommendations, said Shaw, including "setting up a green investment fund", "a clean car discount", and "introducing a new requirement to scrutinise all policy decisions made by government with climate impact statements".
The government "agreed immediately" with 43 of the recommendations, noted Shaw, and "and agreed to do more work on another 33".
Another recommendation was to establish an independent climate change commission, similar to the CCC in the UK. This commission will "set clear targets that set us on that path down to net-zero emissions", said Shaw. It is included in the Zero Carbon Bill currently before the New Zealand parliament.

"We're a pipsqueak in terms of our contribution to global emissions & we won't solve #climatechange on our own. But, with an aggressive approach to domestic decarbonisation we can show other OECD countries what's possible in a short period of time." @jamespeshaw #NetZero22:38 AM – Sep 11, 2019Twitter Ads info and privacySee ECI, Univ of Oxford's other Tweets
In a technologically challenging session, using a video link crossing 11,000 miles and 11 hours of time difference, Shaw took questions from the floor.
Dr Carl-Friedrich Schleussner asked whether, "as a developed country with comparatively high methane emissions", New Zealand should "strive to lead" on emissions reductions.
Shaw noted that this had been an ongoing debate in the New Zealand government, and they hadn't been able to settle on specific methane target. As a result, their net-zero target is a range – a 24-47% cut from 2017 levels. This "is a really unsatisfactory target", said Shaw, because the actions a farmer might take to cut emissions by 24% "are completely different" from those for a 47% target. New Zealand's new climate change commission will be asked to "come up with a more robust target for methane", Shaw added.
Janos Pasztor, executive director of the Carnegie Climate Governance Initiative (C2G), asked how New Zealand's close relationship with other Pacific nations has influenced their climate change ambition.
"For me, one of the most important things about the Zero Carbon Bill is that we've made the commitment to 1.5C and no more," replied Shaw. And "that was critical for us", he added, because "north of 1.5C, the existential risk to a number of low-lying Pacific states dramatically increases. And so we felt that it would be simply irresponsible of us to commit to anything other than 1.5C".
Among other questions, Dr Steve Smith – head of climate science at the UK's Department for Business, Energy and Industrial Strategy – asked what New Zealand can teach the UK on climate action.
Shaw suggested agriculture as a potential area for collaboration between the two countries. "You've committed to net zero for all gases by 2050 – we haven't – and so that means that you're planning to reduce your biogenic methane to net zero – so offsetting what you don't reduce, said Shaw. "And I don't know how you're going to do that, but I'm keen to talk to you about how we might do that together."
Day three: Closing plenaries
The conference ended with a series of plenary talks from an array of speakers, including yet more discussions around carbon capture.
Bjorn Haugstad, director general of the climate department in the Norwegian Ministry of Petroleum and Energy, began his talk by stating what he described as the "bleeding obvious" – that carbon capture and storage (CCS) will be needed to achieve the Paris targets.
He said the EU's emissions trading system (ETS) will not be enough to incentivise commercial CCS before discussing early Norwegian projects and attempts to create a viable business model for this technology.
Haugsted outlines some of the current concerns around large-scale CCS:#NetZero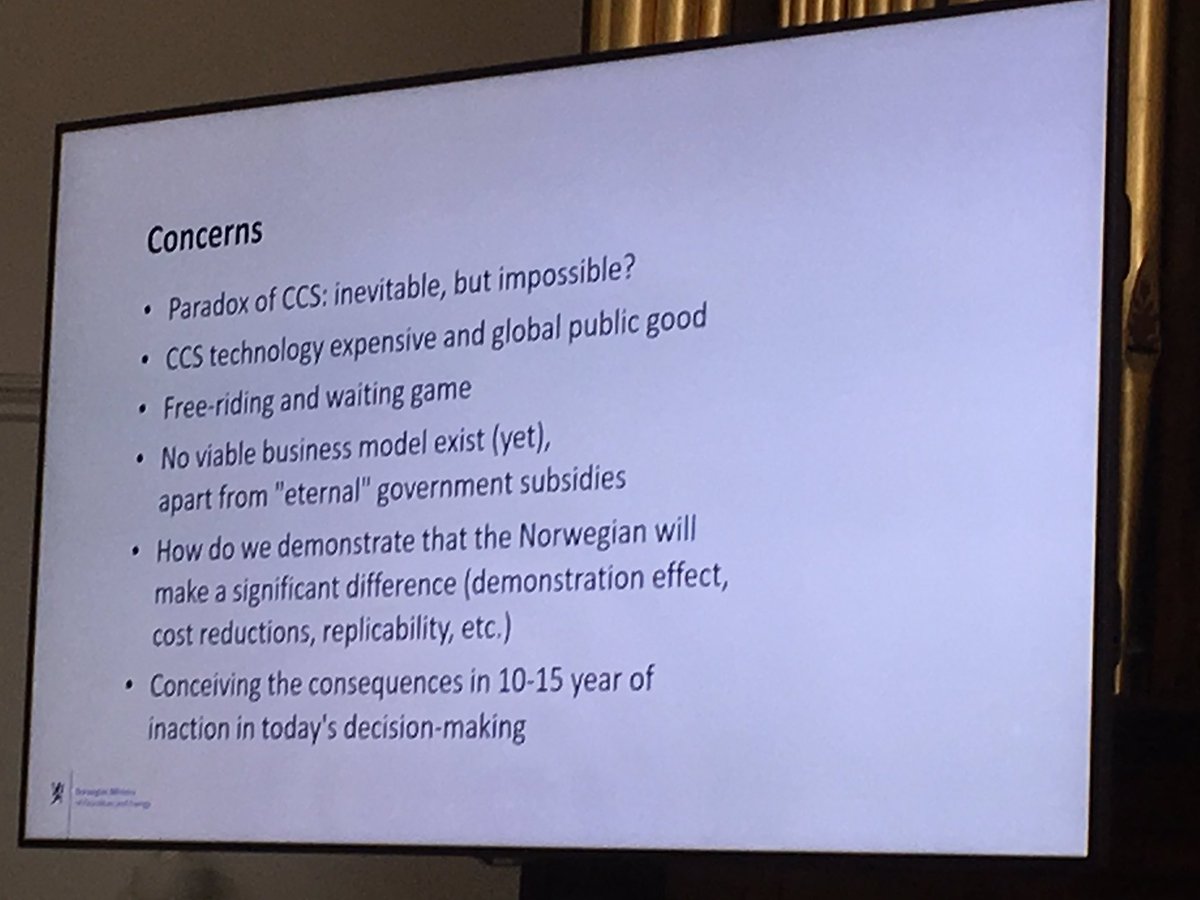 3:50 AM – Sep 11, 2019Twitter Ads info and privacySee Robert McSweeney's other Tweets
Haugstad was followed by David Hawkins, director of climate policy at NGO the Natural Resources Defense Council, who began by painting a picture of the "climate suffering" already being seen and the importance of CO2 removal:
"Climate suffering is here, it's here in these forest fires in California, it's here in the devastation in the Bahamas…it's here in these heatwaves that are killing people today…where does that suffering emanate from? Well it emanates from the CO2 that is already in the air."
He said we must deal with this "legacy" and added that without removing CO2 from the atmosphere this suffering will increase in the near future.
To achieve this, he said both technological and natural methods must be employed. He suggested government-supported R&D, the use of tax credits and regulations that require fossil fuel suppliers to use direct air capture to reduce their emissions.
While he accepted that, as other speakers had mentioned, this technology would certainly be expensive to roll out in the short term, he said that does not mean it will be "harder and more expensive in perpetuity".
More discussion of CO2 removal came next from Dr Jessica Strefler of the Potsdam Institute for Climate Impact Research, who considered how to bring down the high levels of negative emissions included in many existing IAM pathways.
Based on work from her team, she suggested that a linear carbon price path would drive decisive short-term action while ensuring moderate long-term prices that would avoid excessive carbon removal in the future.
The final talk in this section came from Jamie Clarke, executive director of Climate Outreach, who outlined why public engagement with net-zero would be essential to achieve this target.
He cited the recent Committee on Climate Change report on net-zero, which found that 62% of emissions reductions would require some degree of societal and individual behaviour change. He said:
"One would assume that 62% of discussions would be around these areas, but no, maybe that is not the case quite yet."
Warning that poorly planned policies may encounter resistance of the kind seen with the gilets jaunes in France, Clarke said messages on this topic must cross the political spectrum and be delivered using relatable language and imagery.
The final plenary of the conference continued the policy focus, starting with a talk from Dr Rebecca Heaton, head of climate change at power station Drax and a member of the UK's CCC.
Four of six boilers at the Drax plant in North Yorkshire have been converted from coal to "sustainably sourced biomass", said Heaton. (The extent to which Drax's use of biomass is good for the climate has been the subject of intense debate for a number of years.)
Drax also has a pilot biomass energy with carbon capture and storage (BECCS) project – the first in Europe, noted Heaton. This is currently capturing one tonne of CO2 per day, which is being stored on site and offered to utilisation companies.
Final round of talks at the #NetZero conference…

First up we have Rebecca Heaton from @Draxnews talking about their BECCS project, the first in Europe, where 1 tonne CO2 a day is being stored.

Says she understands concerns about biomass – reckons there's good and bad biomass.15:20 AM – Sep 11, 2019Twitter Ads info and privacySee Josh Gabbatiss's other Tweets
"This all sounds very good, but negative emissions has no commercial value" at the moment, said Heaton. "We're a relatively small company, we don't have deep pockets…we need some help to try and make this happen".
There are issues with "eternal subsidies", she noted, so "we're looking at various policy mechanisms, which we think might work to help get this off the ground". One option could be selling negative emissions "to people who need them", Heaton suggested, which may be a way of "doing this at a cheaper cost".
Next up was Dr Jonathan Scurlock, the chief policy adviser on renewable energy and climate change at the National Farmers' Union, who presented on UK farming's net-zero goal.
"Agriculture may be viewed as a bit of a problem child," began Scurlock, because of residual emissions that are hard to mitigate entirely. But "we see ourselves as part of the solution", argued Scurlock, pointing out that farmland is both a sink and source of GHGs.
Josh Gabbatiss@Josh_Gabbatiss · Sep 11, 2019
Jonathan Scurlock from @NFUtweets is here to discuss UK farming's 2040 #NetZero goal – his talk comes shortly after the union released its report on how it plans to achieve this ambitious target.
Methane, N20 from farms are one way flows, but CO2 moves in cycles and therefore farming can be part of the solution, he says.

BECCS will be part of this, but also other strategies for capturing and storing carbon.#NetZero15:29 AM – Sep 11, 2019Twitter Ads info and privacySee Josh Gabbatiss's other Tweets
In January 2019 – ahead of the UK government's own net-zero goal – the NFU committed to taking UK farming to "net-zero climate impact" by 2040, said Scurlock.
The NFU published its "white paper" on achieving net-zero yesterday, he explained, which include three key "pillars" of boosting productivity and reducing emissions, enhancing carbon storage, and "coupling bioenergy to carbon capture, utilisation and storage". [The strategy does not include cutting beef production or large-scale afforestation.]
The penultimate talk was from Steve Jermy, a board member of the Cornwall and Isles of Scilly Local Enterprise Partnership, providing a regional viewpoint. Discussing some examples from Cornwall, Jermy noted that there were "a number of technologies that we're interested in", including "deep geothermal" and floating offshore wind farms.
And rounding off the whole conference was Barry Gardiner MP, UK shadow secretary of state for international trade and shadow minister for international climate change.
Discussing the failure of the Copenhagen UN climate summer in 2009 and the success of Paris six years later, Gardiner noted "politics is the only way we have to achieve climate justice".
The impact of Extinction Rebellion and the youth climate strikes in recent months has "absolutely transformed here in the UK the way in which politicians are approaching the issue of climate change", said Gardiner. "We change things because we're no longer talking about climate change, we're talking about the climate emergency," he added"
"And that's a big thing in parliament. And in framing things as a crisis, we're coming to the understanding that our response has to be motivated by what is political[ly] convenient, but [also] what the cold logic of climate science demands of us."
(The shifting language around climate change in the UK's parliament is the subject of a recent Carbon Brief analysis piece.)
Asked by an audience member about the potential impact of a no-deal Brexit on the UK's membership of the EU ETS, Gardiner said it would be a "complete disaster for just about everything, but in particular for our climate targets".

"No deal Brexit would be a disaster… for our climate targets" says UK's shadow climate chief @BarryGardiner at Oxford #NetZero conference @ecioxford #Brexit6:01 AM – Sep 11, 2019Twitter Ads info and privacySee Laurie Goering's other Tweets
And finally, responding to a question about the UK's leadership at next year's UN climate summit – which will be hosted in Glasgow – Gardiner warned that "one of the things that really worries me about COP26 is the complete lack of diplomatic preparation. The recent cuts to the number of government officials dedicated to climate climate has left "an appalling situation as the host of the COP", he added.
"Internationally, the credibility our country has on climate change is enormous and we need to leverage it at COP26," argued Gardiner. But "we will not be able to do that" unless the UK is "making those diplomatic engagements" and alliances with "a clear strategy of what we want out of the COP".
Gardiner said that just two days ago, Claire Perry O'Neill MP – who will be COP26 President – told him that "I do not have an office; I do not have any officials; and I have no administrative back-up whatsoever". "I don't know when or if that's going to be resolved," continued Gardiner, "but if it's not, the idea of us actually setting realistic targets for the outcomes that we want from COP26 are straight down the pan – and this government has to get to grips with it".
Josh Gabbatiss@Josh_Gabbatiss · Sep 11, 2019
Closing remarks at #NetZero conference, @BarryGardiner says no-deal Brexit would be disaster "for just about everything", but definitely for climate targets.

He adds civil servants are in "meltdown", his personal advice is to "get the hell out" (but adds "please, please stay"
He's worried about "complete lack" of diplomatic preparation for COP26 – says UK climate diplomacy cut to about 10% of what it once was.

Says Claire Perry has no administrative backup or even an office for her role at COP president.#NetZero16:08 AM – Sep 11, 2019Twitter Ads info and privacySee Josh Gabbatiss's other Tweets
The issue of diplomats came up when Carbon Brief asked Gardiner about priorities for achieving net-zero, which you can watch below.
Sharelines from this story
Highlights: The net-zero climate change conference in Oxford