Excerpt from an interview with Jordan Peterson – Don't focus on happiness
https://www.theguardian.com/global/2018/jan/21/jordan-peterson-self-help-author-12-steps-interview
if we are all monsters, how are we to be saved? The first thing is to understand how our worldview evolves. Crucial to this is a 20-year-old experiment on inattention – the famous Invisible Gorilla experiment. This involved recording two teams of basketball players and playing back the game to observers, who were asked to count the number of passes their team made. During the game, a man in a gorilla suit walks on to the court, pounds his chest and then walks off. More than 50% of the observers, astonishingly, did not notice the gorilla at all.
"It's all very well to think the meaning of life is happiness, but what happens when you're unhappy? Happiness is a great side effect. When it comes, accept it gratefully. But it's fleeting and unpredictable. It's not something to aim at – because it's not an aim. And if happiness is the purpose of life, what happens when you're unhappy? Then you're a failure. And perhaps a suicidal failure. Happiness is like cotton candy. It's just not going to do the job."
But how do we build meaning? By putting it before expediency. Which is quite close to simply "acting right". Peterson believes that everyone is born with an instinct for ethics and meaning. It is also a matter of responsibility – you need to have the courage to voluntarily shoulder the great burden of being in order to move towards that meaning. This is what the biblical stories tell us. The great world stories have a moral purpose – they teach us how to pursue meaning over narrow self-interest. Whether it's Pinocchio, The Lion King, Harry Potter or the Bible, they are all saying the same thing – take the highest path, pick up the heaviest rock and you will have the hope of being psychologically reborn despite the inevitable suffering that life brings.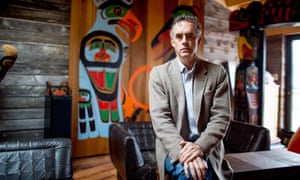 "God", in Peterson's formulation, stands in for "reality" or "the future" or "the logos" or "being" or "everything that isn't you and that you don't know". And the principal discovery of early mankind is that "God" can be bargained with, through sacrifice – which is no more than saying if you sacrifice the pleasures of the present, reality is likely to reward you in the future. It's not guaranteed, but it's the best option you've got.
Having said that, and noting that his lectures are purely about the psychological rather than the theological value of the Bible, Peterson is a devout Christian. "Yes. Which is a form of insanity. The ethical burden is ridiculous. God might swipe you down even though you're doing the right thing. But it's your best bet. There is a great level of reality out there which we don't know and don't understand. We can bargain with it, but it doesn't guarantee you anything and God can turn on you. That is the thing about life. There's no guarantee of success."
Does he believe in life after death? "I don't know that I even believe in death! I'm not sure we understand anything about the role of consciousness in space and time. I don't think the world is the way we think it is. I'm not a materialist. Whatever is going on down there at the subatomic level of matter is so weird that the people who understand it don't understand it."
The last chapter of Peterson's book, misleadingly titled "Rule 12: Pet a cat when you encounter one on the street", goes into the personal struggles he went through when it was discovered that his daughter, Mikhaila, had a rare bone disease. For many years, Peterson, his wife and daughter fought the illness, which clearly caused Mikhaila terrible suffering. It is also on record that Peterson and his daughter have suffered clinical depression. It is impossible to be sure, but it seems clear that the agony of these experiences has had a major impact on him and how he comes to focus on the underlying darkness of life.
There is much more to be said about Jordan B Peterson. He is a strange mixture of theologian, psychologist, conservative, liberal, wit and lay preacher. He's a powerful advocate of the scientific method who is not a materialist. He can go from cuddly to razor sharp in a beat. His primary concern, however, which underpins nearly everything about him, is the defence of the individual against groupthink, whether on the right or the left.
"Your group identity is not your cardinal feature. That's the great discovery of the west. That's why the west is right. And I mean that unconditionally. The west is the only place in the world that has ever figured out that the individual is sovereign. And that's an impossible thing to figure out. It's amazing that we managed it. And it's the key to everything that we've ever done right."
Peterson's 12 rules
Rule 1 Stand up straight with your shoulders back
Rule 2 Treat yourself like you would someone you are responsible for helping
Rule 3 Make friends with people who want the best for you
Rule 4 Compare yourself with who you were yesterday, not with who someone else is today
Rule 5 Do not let your children do anything that makes you dislike them
Rule 6 Set your house in perfect order before you criticise the world
Rule 7 Pursue what is meaningful (not what is expedient)
Rule 8 Tell the truth – or, at least, don't lie
Rule 9 Assume that the person you are listening to might know something you don't
Rule 10 Be precise in your speech
Rule 11 Do not bother children when they are skate-boarding
Rule 12 Pet a cat when you encounter one on the street
12 Rules For Life by Jordan B Peterson is published by Allen Lane (£20). Buy it for £17 from bookshop.theguardian.com