They're more likely than drivers, walkers, and straphangers to get to work on time and feeling good.
With so many commuting choices—bikes, trains, buses, and those god-forsaken, gas-guzzling death-boxes also known as cars—and so many variables—cost, time, distance, traffic, and weather conditions—we transit nerds at CityLab are constantly reconsidering the virtues of one mode of travel or another.
But here's a consideration that might hit especially close to home when we bicker about the best way to roll up to the office: What kind of commuters are more likely to feel energized and arrive on time?
To get at this, a new study by McGill University's Charis Loong, Dea van Lierop, and Ahmed El-Geneidy analyzed the commuting patterns of the students, staff, and faculty at the school located in downtown Montreal, surveying 5,599 people at the campus in 2013.
The survey asked participants how they commuted to campus—walking, cycling, driving, or taking public transit—and paired those patterns with their responses of feeling energized and whether their commute negatively impacted their punctuality.
The researchers also asked respondents to detail explanatory factors such as their distance from campus, the amount of time they spent commuting, or the weather. The results were published in Science Direct this week.
A key caveat: The study did not control for demographics in their analysis. Walkers skewed significantly to younger students, while drivers tended to be older staff and faculty, and cyclists and public-transit riders fell somewhere in the middle.
Active forms of transportation leave people feeling energized
Overall, 36 percent of the respondents said they felt energized when they arrived to campus. Commuters who drove or took public transit were slightly less likely to feel energized (28 percent and 29 percent) and commuters who walked were slightly more likely to feel that way (42 percent).
Respondents who felt energized arriving to work or school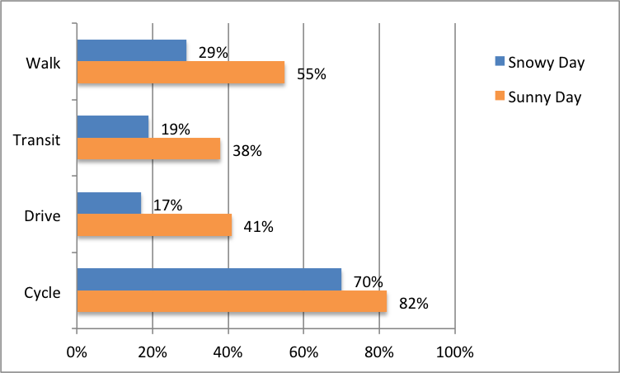 The majority of cyclists reported feeling energized after their commute, regardless of the weather. As the chart above shows, even snowy days don't discourage intrepid riders. Though small numbers skew their enthusiasm, cyclists who endure cold, snowy weather do so with greater energy than their counterparts in their heated cars, trains, and buses.
People-powered commutes tend to be more punctual
Certainly, cyclists and walkers must be so chill because they're rolling or strolling into work or class late, while drivers breeze to work. Wrong.
Transit riders, followed by drivers, were more likely to say their commute negatively affects their punctuality, attendance, or amount of hours they put in at work.
Respondents who said their commute negatively affects their punctuality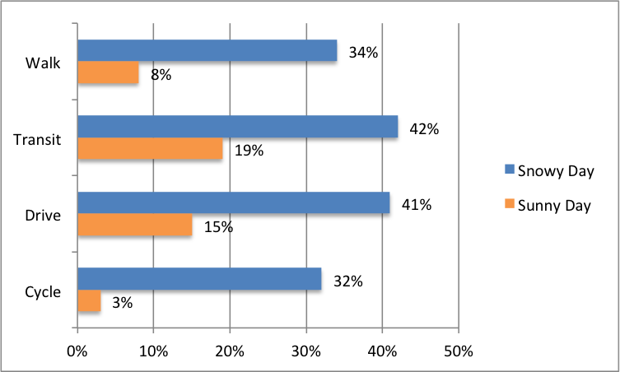 Cyclists and walkers were less likely to report having their commute negatively affect their work attendance, though a snowy day will set pretty much everyone back. Bus riders were especially more likely to have difficult commutes, which correlated to long wait times.
Travel time might not be the best measure of how much a commute sucks
For the commuters at McGill University, pedestrians had the shortest average commute (about 18.5 minutes), followed by cyclists (23.5 minutes), drivers (32.5 minutes), and transit riders (43.5 minutes).
That order flips a bit when you consider who budgets out the most additional time: Cyclists had the least buffer time (5.10 minutes), followed by walkers (5.80 minutes), transit riders (13.77 minutes), and finally, drivers (17.03 minutes).
However, the study found that factors other than travel time affected commuters' punctuality and energy level. Comfort, safety, consistency, or reliability matter as much, sometimes more, in whether commuters felt ready to go.
Whether the McGill study results can be replicated, we'll have to wait and see. We know that not all commutes follow the same patterns everywhere—you could be a miserable cyclist in a place that has poor infrastructure for it, and snow might make more of a difference to a commuter outside of Canada.