Seth Klamann seth.klamann@gazette.com Aug 26, 202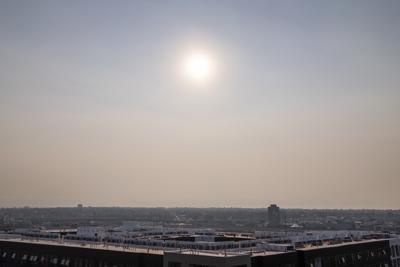 Residents in North Denver and Commerce City had the highest levels of fine particle pollution of anywhere in Denver or any city in Colorado during the past three months, data collected by the state shows. The exposure risked the health of some residents.
The state Department of Public Health and Environment dispatched its mobile lab to the area in May, it said in a press release, "because of department and community concerns regarding air quality in the area." Between May 14 and July 17, the lab collected pollution data and found that fine particulate matter – emitted by vehicles, coal-fired power plants and wildfires – were high enough to pose health risks to some at-risk people, like children or people with respiratory or cardiac issues.
The pollution "comes from local sources," the health department said, like vehicles and the Suncor refinery located in Commerce City. In a settlement with the state, Suncor agreed to spend $12 million on improving its refinery technology and operations. Wildfire smoke, another contributor, contains this type of particulate matter and comes from outside of the state from fires elsewhere. For reasons experts don't entirely understand, local fires typically do not carry that type of pollutant when they're fresh, researchers previously told the Gazette.
Denver was consistently rated as having some of the worst air quality in the world for parts of this summer, and it was often ranked worst of anywhere.
The health effects associated with this type of particulate matter – PM 2.5, which refers to the fact that they're 2.5 micrometers in diameter or smaller – can harm your heart, lung function and exacerbate existing issues within those systems, according to the Environmental Protection Agency.
Overall, the findings were "not surprising at all," said Colorado State University's Sheryl Magzamen, who published a study looking specifically at wildfire smoke's health impacts earlier this year. She drew a direct line from the demographic makeup of Commerce City to pollution levels.
"The most recent data for Commerce City indicates that nearly half of the city's population is Latinx," she said in an email Thursday. "Study after study have documented that Black, Indigenous and People of Color (BIPOC) populations are disproportionately exposed to air pollution. Further, about 1/3 of Commerce City's population are (under the age of) 18, and we know that air pollution can adversely impact the respiratory health in children, who are vulnerable due to a higher intake of air for their body weight compared to adults, more time spent outside, and rapid development of respiratory system in early childhood."
Ozone, a different type of pollution, was lower in North Denver and Commerce City than in it was other areas of the state. That makes sense, Magzamen said.
"(Particulate matter) and Ozone have a negative correlation," she wrote. "Because ozone is a secondary pollutant (not directly emitted by outdoor sources, but created through a photochemical process in the atmosphere), we find higher ozone downwind of emission sources. So, we'd expect to see higher ozone downwind of Commerce City."
The state health department wrote that it plans to send its mobile lab back to the area "in the future as part of an enhanced focus on air monitoring in the area."
Man-made emissions still make up a bulk of the pollutants hanging in the air, experts have said. But as cars get cleaner and coal-fired power plants continue to phase out, Magzamen said, wildfire smoke will become a bigger player. Even with the decline in emissions from man-made sources, "the demand for refined petroleum and gasoline isn't going to change unless we have changes to our transportation infrastructure."
Wildfires, the ones that belch the fine, harmful particulate matter that ends up in Colorado, don't have the same policy levers that can be pulled to address man-made pollutants, she said. That makes them a larger problem and growing problem, one inherently tied to climate change's warming, drying effect on the West.
"Our strongest tools to prevent health effects from wildfire smoke exposure are on strong communication policies from impacted areas, with resources for community members to avoid and mitigate smoke exposure (e.g., cooling centers, filters, staying indoors," she wrote. "As wildfires grow in size, intensity and duration, wildfire smoke particulate matter is going to continue to impact our communities."
COLORADO SPRINGS, Colo. — For successive days this week, Colorado ranked among the worst areas in the world for air quality, and statewide ale…