What makes this April stand out is how much land is an extreme or exceptional drought — nearly a third of the state. In the 21-year history of the U.S. Drought Monitor, only Colorado's 2013 drought shows more D3 and D4 conditions in April.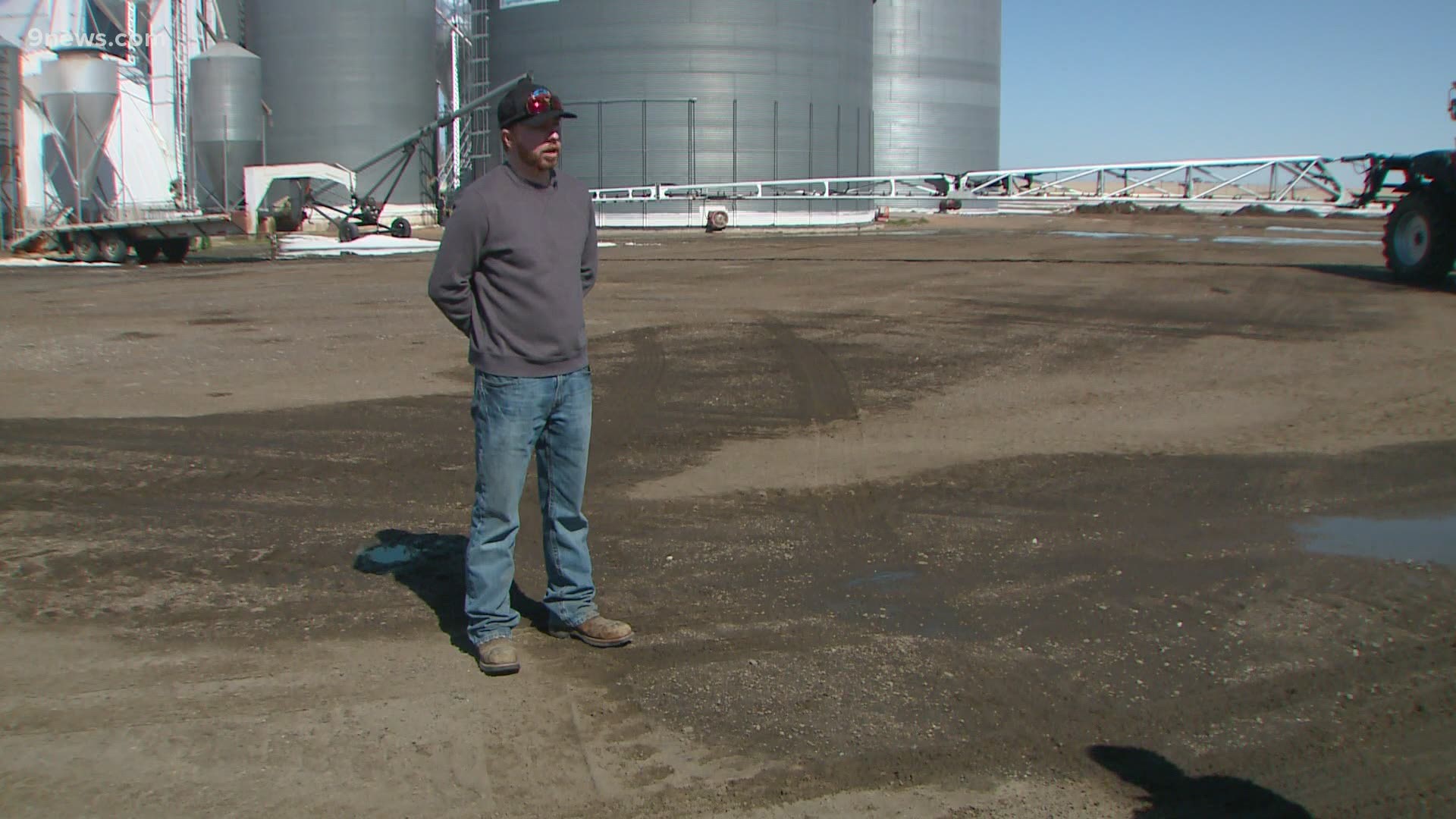 CENTENNIAL, Colo — We're halfway through April and the longer days are warming up the soil, so Colorado farmers and ranchers are starting to plant.
But a quick look at the drought map for Colorado shows why agriculture producers are concerned for the future of their crops. Almost 90 percent of the state is in a moderate drought.
> Video above from March 19: 'It's been bone dry' | Snowstorm brings much needed moisture to Colorado farmers.
What makes this April stand out is how much land is an extreme or exceptional drought — nearly a third of the state. In the 21-year history of the U.S. Drought Monitor, only Colorado's 2013 drought shows more D3 and D4 conditions in April.
"It's unusual for a month like April to have so much D4," said Richard Heim with the National Oceanic and Atmospheric Administration. "Last year [2020] was very unusual with record heat and record dryness which led to rapid development of D3-D4 across much of the region."
"It's not a good sign" that Colorado is going into the spring and summer with this much drought, Heim said.
"If this summer is as hot as it was last summer, it will make evapotranspiration excessive and that will just make drought conditions worse if rain is not sufficient," Heim said.
For overall drought, this April lands in fifth place for driest in Colorado in the last 20 years. In April of 2002 and 2013, the entire state was in some level of drought.
But a big-picture look at the West shows that this April is the driest.
RELATED: 'It's been bone dry': Snow storm brings much needed moisture to Colorado farmers
A major concern for farmers and ranchers
Les Owen, the conservation services division director with the Colorado Department of Agriculture, said the drought conditions are "extremely concerning" for farmers and ranchers.
"Last year during the critical growing times when we needed moisture, there just wasn't much in most areas of the state," Owen said. "So folks have already been punched in the gut pretty hard from drought."
Colorado's drought has persisted over the last 20 years, with some scientists calling the shift an emerging megadrought that won't likely improve with climate change.
Owen noted that last year's wildfires burned swaths of federal land that ranchers usually graze their cattle on.
"So there's a lot of displaced grazing that, because of the fires and the drought, folks are struggling to find replacement for," Owen said.
Owen said it's going to take a few years for that land to heal, but "if it burns and then it's followed by a long, long period of drought and there's not that vegatative regrowth to protect the soil, then we run the risk of wind and water erosion."
RELATED: Officials warn that 2021 has the potential to be another devastating wildfire year
Addressing the 'water crisis'
Owen is part of the state's Agriculture Impact Task Force, which he said is focused on gathering information on resources for producers struggling with drought conditions. The Biden administration announced this week the formation of a drought relief working group to address the urgency of the "Western water crisis."
"Water is a sacred resource. This Interagency Working Group will deliver a much-needed proactive approach to providing drought assistance to U.S. communities, including efforts to build long-term resiliency to water shortages," said Interior Secretary Deb Haaland in a statement. "We are committed to using every resource available to our bureaus to ensure that Tribes, irrigators and the adjoining communities receive adequate assistance and support."
Owen is glad to see the creation of a task force like this, which he said recognizes that "water scarcity is a major issue that's facing folks and it needs some national attention." A State Senate bill under consideration would create an agriculture and drought resiliency fund, which would help support farmers and ranchers prepare for, mitigate and adapt to climatological disturbances. A State House bill under consideration would create an agricultural drought and climate resilience office in the Department of Agriculture.
**
Key Points
Extreme to exceptional drought continues across the Intermountain West.
Snow drought and early, accelerated snowmelt raise concerns about available water this summer.
Current ConditionsU.S. Drought Monitor Conditions: Intermountain West | April 20, 2021U.S. Drought Monitor
Current U.S. Drought Monitor map for the Intermountain West Drought Early Warning System region with data valid for April 20, 2021. The U.S. Drought Monitor is updated each Thursday to show the location and intensity of drought across the country.
Over half (56%) of the combined Intermountain West region is in Extreme (D3) to Exceptional (D4) drought.
Extreme (D3) drought conditions have been in place in this region since May 2020.
The extent of D4 drought in the Intermountain West reached a peak of 45% area in December 2020, a new record for the region.
Moderate (D1) or worse drought has been in the region since August 2009.
U.S. Drought Monitor Categories
The color with the hex code #ffff00 identifies: D0 – Abnormally DryThe color with the hex code #ffcc99 identifies: D1 – Moderate DroughtThe color with the hex code #f5ad3d identifies: D2 – Severe DroughtThe color with the hex code #ff0000 identifies: D3 – Extreme DroughtThe color with the hex code #660000 identifies: D4 – Exceptional Drought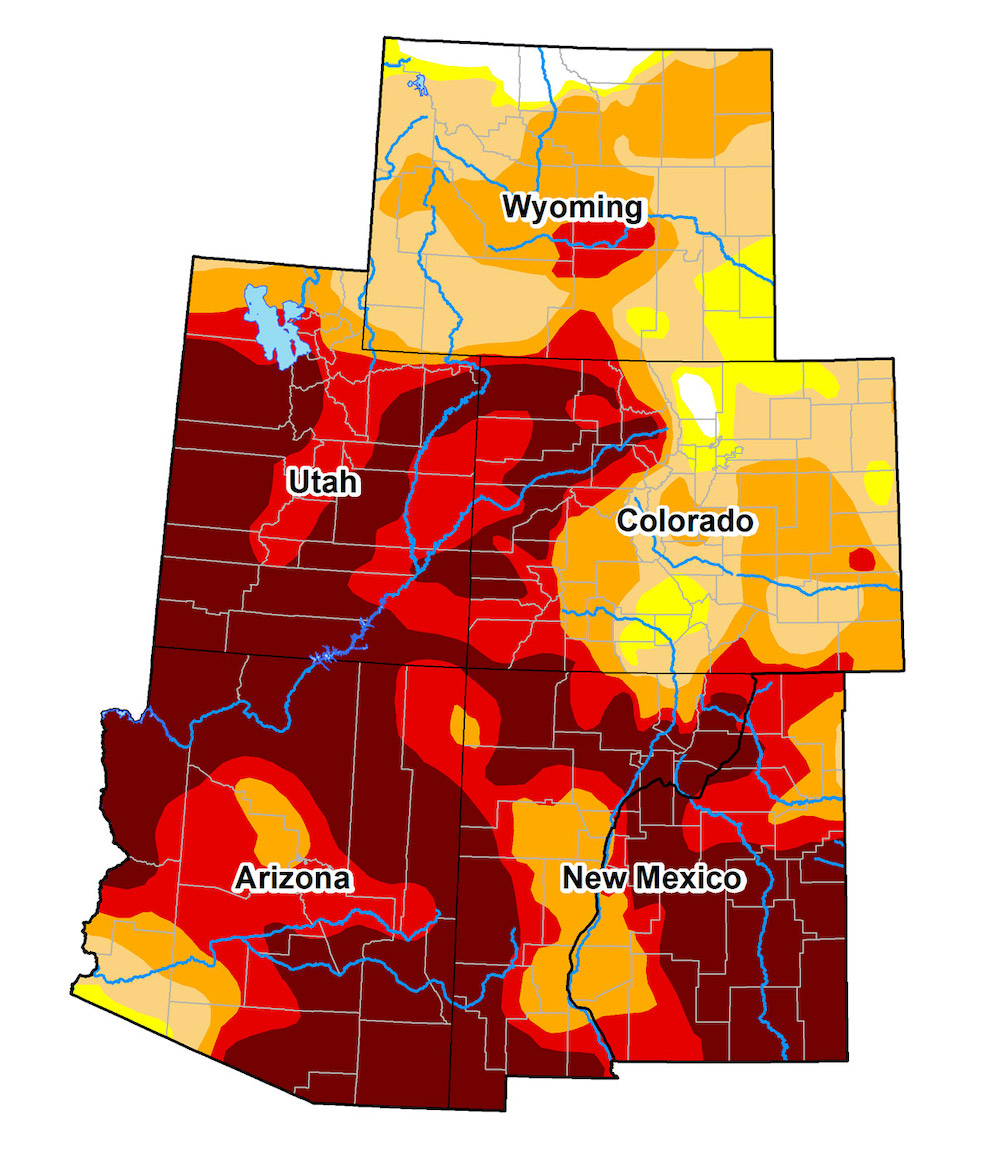 Source(s):
NDMC, NOAA, USDALast Updated – 04/20/21
**
Current snow water equivalent is well below normal for most Colorado river drainage basins. The South Platte basin in northeast Colorado, at 92 percent of normal, is the best in the state, while the San Miguel, Dolores, Animas and San Juan basin in the state's southwest corner has fallen to 61 percent. The adjacent Gunnison basin fairs little better at 64 percent. Remaining basins range from 70 to 84 percent.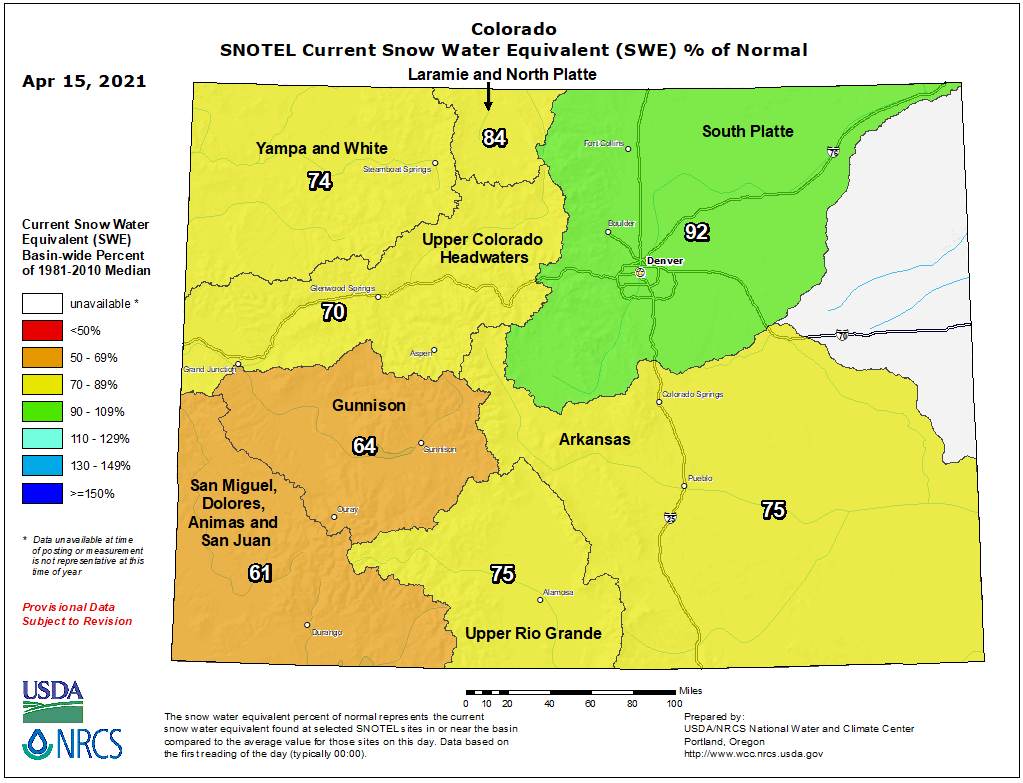 Colorado snow water equivalent as of April 15, 2021 – NRCS
Statewide, the snow water equivalent – the measure of available water in the snow as it melts – stood at 73 percent of the median as of April 14, down from 79 percent April 9.
The USDA National Agricultural Statistics Service noted concerns about reduced irrigation water supplies this season in northeast Colorado, while some producers in the San Luis Valley began irrigating last week. One report in the Valley expressed a possibility that fewer barley acres are being planted due to water supply concerns.
Overall, eight percent of Colorado is abnormally dry. Moderate drought covers 31 percent of the state, while severe conditions account for an additional 30 percent. Extreme drought is present in 17 percent of Colorado, with 15 percent in exceptional conditions. Total does not equal 100 due to rounding.
Just over 4.6 million people in Colorado are in drought-impacted areas
One year ago, 33 percent of the state was drought-free, with an additional 14 percent experiencing abnormally dry conditions. Moderate drought was impacting 40 percent of the state, with 13 percent in severe drought.
Early in the summer of 2019, the state was in an eight-week span of drought-free conditions – the first time Colorado had been clear from all levels of drought and abnormally dry conditions since records became available starting in 2000. In late May of that year, the state's snow water equivalent stood at 437 percent of normal following a series of storms that brought abundant moisture across Colorado's river basins. As much as 77 percent of the state has fallen into the extreme and exceptional categories within the past year.
Drought classes include (ranked from least to most severe) D0 – abnormally dry, D1 – moderate, D2 – severe, D3 – extreme, and D4 – exceptional drought.
Colorado Drought by the Numbers
Week
Date
None
D0
D1
D2
D3
D4
Current
4/13/21
0
8
31
30
17
15
Last Week
4/6/21
0
8
31
30
17
15
3 Months Ago
1/12/21
0
0
9
17
46
28
Start of Calendar Year
12/29/20
0
0
6
18
49
28
Start of Water Year
9/29/20
0
1
10
36
50
3
One Year Ago
4/14/20
33
14
40
13
0
0
***
Municipal Drought Response
In June 2020, Governor Polis activated Phase 2 of the State's Drought Mitigation and Response Plan (PDF(External link)) which initiated the Drought Task Force and the Agricultural Impact Task Force.
On November 30th, 2020, Governor Polis expanded activation to Phase 3 of the State Drought Plan and enacted the Municipal Water Task Force. The objective of this task force is to coordinate with over 700 water providers across the state to prepare for anticipated drought-related challenges in 2021. The task force is co-chaired by the Colorado Department of Local Affairs and Colorado Water Conservation Board.
To explore current conditions and active watering restrictions, visit the CWCB drought app(External link), the US Drought Monitor(External link) for Colorado, or for more detail, the Colorado Climate Center's outlook maps(External link).
Submit Urban Drought Stories06 Apr 2021The State of Colorado and Municipal Water Task Force representatives are listening for stories of drought IMPACTS and drought RESILIENCE throughout 2021. These stories can be personal accounts and observations or public news media (e.g. links from local reporting). Stories may be added to and featured on the COLORADO DROUGHT STORY PROJECT at bit.ly/codroughtreport(External link). Currently this resource features agriculture stories from 2020. As drought conditions continue for our state, impacts extend to our urban and residential landscapes, necessitating conversations about how our urban environments are adapting to (or struggling to cope with) limited water availability statewide. Your participation can directly inform current and future statewide drought response efforts. Thank you for your willingness to engage!Please submit your story links or summaries to DROUGHT@STATE.CO.US(External link)NOTE: The primary audience for drought impact reports and success stories are the four interagency drought teams that collectively report to legislators and the Governor on recommended actions. Activity here is closely monitored by CWCB staff. Please note that all stories submitted will be part of the state's official record and subject to the Colorado Open Records Act.


Drought planning: An updated guide for water providers09 Feb 2021The CWCB has recently updated the "2010 Municipal Drought Management Plan Guidance" and supporting worksheets to assist water providers and local governments in developing drought management plans. These resources can be found on the CWCB website(External link) and are linked here for convenience.
Needs Survey: Help identify water provider needs and anticipated impacts(External link)12 Jan 2021With over 700 community water providers in Colorado, the water provider needs survey(External link) offers an opportunity for input on how to best focus the efforts of the Municipal Water Task Force. Water providers and interested parties are invited to share concerns related to drought planning and associated impacts from fire, COVID-19, and other compounding issues. Survey results will be shared with the Task Force and will be used to support statewide drought coordination.
THIS SURVEY CLOSED ON JAN. 26th. We received 121 responses statewide (marked on map above). Responses will be reviewed and inform the Municipal Water Task Force on Feb. 3rd.
Municipal Water Task Force Activated18 Dec 2020On November 30th, 2020(External link), Governor Polis declared Phase 3 of the State Drought Plan and enacted the Municipal Water Task Force. The task force's objective is to coordinate with water providers to prepare for anticipated drought-related challenges in 2021.