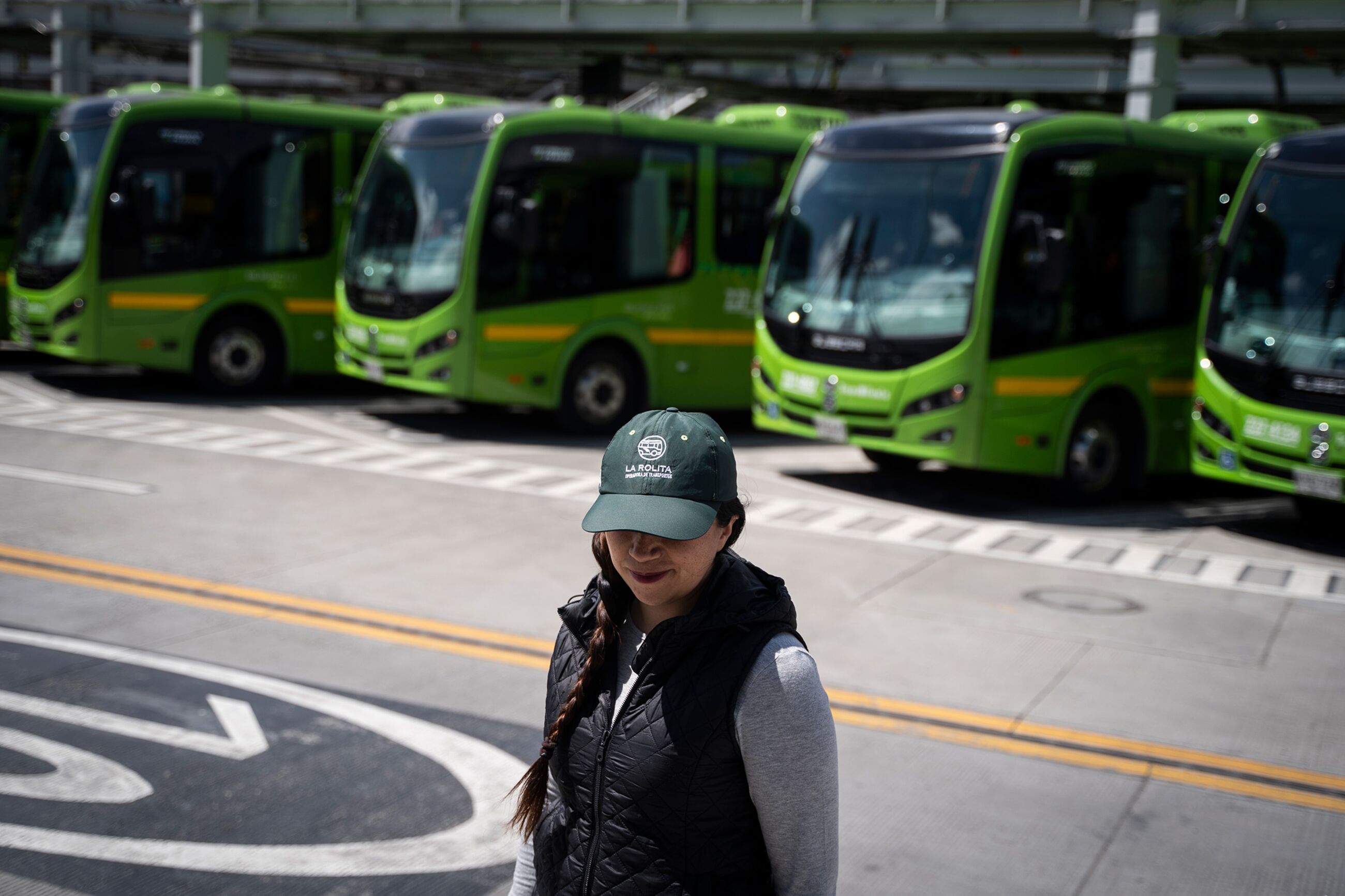 CityLab Transportation. The project is a bet that public investment can help change perceptions of mass transportation. By Jose OrozcoMay 8, 2023
At 15 years old and pregnant with her first child, Diana Ruiz started working on Bogotá's buses selling peanuts and candy, a sort of entry-level role in the city's hardscrabble informal economy.
Fourteen years later she now drives a bus for the city's public bus company La Rolita, an all-electric fleet with a focus on gender equity that began operating last year. Created as part of Mayor Claudia Lopez's development plan for the Colombian capital, the project is a bet that public investment can help shift perceptions of mass transportation.
"This has been a great opportunity, and it has done a lot to change people's view of the public transportation system in Bogotá," Ruiz said from La Rolita's depot in the hilly working-class district of Ciudad Bolivar on the city's south side. Women make up 48% of drivers on the new fleet of buses, but represent just 2.8% of the city's overall public bus drivers, according to March data from TransMilenio, which manages the city's public transportation system.
These kinds of opportunities to enter the formal economy are seldom available to many working class Bogotanos — especially women — who often flounder in the informal economy, she said. More than half of Colombia's workforce is made up of informal workers.
The Ciudad Bolivar neighborhood went more than 10 years without formal public transit after a series of deserted auctions, according to La Rolita's general manager, Carolina Martinez, who attributed the disinterest to fare evasion and concerns about public safety.

So part of the company's challenge has been winning over riders who have become disillusioned with public transport: A 2022 annual poll by Bogotá Como Vamos found that 41% of people were unsatisfied with the city's flagship bus rapid transit system. Bogotá last year had the 10th worst traffic congestion worldwide and ranked second in Latin America behind Lima, according to TomTom data.
That's where La Rolita's community outreach and focus on quality of service comes in, Martinez said. Public transportation operators need to meet the needs of their riders, who will in turn pitch in, she said.
As part of its pact with riders, La Rolita was quick to comply when the community asked for one of the routes to be modified, Martinez said. The more expensive electric buses — whose electrical system, scant fluids and regenerative braking mean minimal maintenance — cost less to keep running and cause fewer service disruptions, she said. By going longer without breaking down, La Rolita can hew more closely to its timetables, helping meet its commitments to the public.Colombia's Women-Led Electric Bus Fleet
La Rolita's 195 electric buses, manufactured by the Warren Buffett-backed Chinese company BYD, are accessible for passengers with disabilities and offer Wi-Fi, USB outlets, screens for public service and route information and security cameras. There are currently 11 routes covering 210 miles (338 kilometers) of the city, though Lopez has already said the project will expand to operate along a 14-mile stretch of the iconic Carrera Septima.
The vehicles are charged nightly using certified clean energy from Enel Colombia, which also has a 20% stake in La Rolita. The other 80% is owned by the city, making it the first mostly public operator in decades.



La Rolita offers transparency by being an "open book" on costs, as Martinez explains it. Too many private operators don't share this information, making it impossible to know where efficiencies could be gained, she said. The city's TransMilenio system, known for its namesake bus rapid-transit system, is made up almost entirely of private companies that have contracts to operate public bus routes.
Disrupting Traditional Gender Roles
La Rolita's women drivers said that their traditional roles as caregivers make them more sensitive to the needs of riders going about their days in the traffic-clogged metropolis of 8 million people. Melissa Diaz, who's been driving for La Rolita since it launched last September, said that when a person with disabilities or someone with children gets on the bus, she and her colleagues are more likely to take greater care. The company takes its name  from the diminutive form of the word rola, which refers to a woman from Bogotá.

Her coworker Paola Perez told a story about a male passenger who was talking to his companion about how driving a bus is men's work. When the bus arrived at his stop, the passenger turned to congratulate the driver only to find that it had been a woman. "My pleasure, my pleasure," Perez responded.
"It's not that this is something for men," Lorena Rodriguez said about driving a bus. "But that society made it this way."
Slashing Emissions
In addition to advancing gender equity in the city's male-dominated public transit field, the company's focus on electric mobility is also intended to boost the city's commitment to combat climate change.
The World Wildlife Fund named Bogotá a global winner of its sustainability challenge in 2022, citing Lopez's climate action plan, which seeks to reduce the city's emissions by 15% from 2020 through next year and by 50% as of 2030. The aim is to reach carbon neutrality in 2050.
As part of the plan, half of Bogotá's bus rapid transit fleet should be electric by 2030 and the entire fleet by 2050. La Rolita will also take over operations of the city's public cable car and is developing a pilot plan for electric school buses.
"It's a very good thing that one of the operators — the public operator — is placing so much emphasis on quality of service, treating people well, the fulfillment of expectations," said Dario Hidalgo, a former executive at TransMilenio and a transportation and logistics professor at Bogotá's Javeriana University.

Not everyone is so keen. Some private operators joined together to challenge La Rolita's launch in court, arguing that the city failed to conduct a study proving the need for it. La Rolita was allowed to start operating but awaits another ruling, which could come at any moment.
La Rolita has paid for its drivers, many of whom are single mothers, to upgrade their driving licenses, and enables employees to access social security, which includes a pension. Drivers make 1.7 million pesos ($376) monthly, compared to the national monthly minimum wage of 1.16 million pesos. While employees can use a public daycare center for local residents, La Rolita hopes to build one on-site, Martinez said.
For Ruiz, driving La Rolita's electric buses hasbeen a "lifesaver."
"I feel that I now occupy a more important place in society, that I can contribute something and that what I do is very important," Ruiz said.(Corrects spelling of Warren Buffett's surname in ninth paragraph.)
Jose Orozco writes for Bloomberg. @orozcomjo+ Get alerts forJose Orozco https://www.bloomberg.com/news/features/2023-05-08/la-rolita-electric-bus-company-prioritizes-gender-equity