Austin's Affordability Unlocked bonus program, which amends city code to promote more density, is strict about which developers will be nudged to build, and where. For a developer to gain relaxed site restrictions, for example, at least 50 percent of all units must be made affordable for income-restricted residents—the more affordable housing units built, the higher developers will be allowed to build.
Proposals for upzoning are also evolving in response to criticism. After SB 827, a predecessor to SB 50, died in committee in 2018, Wiener retooled the bill to expand the affected area beyond places adjacent to transit, since these tend to be lower-income areas. (Wealthier communities have a history of blocking transit access.) SB 50 is a more robust upzoning bill, Wiener says, that covers jobs-rich areas, not just transit-adjacent places. It applies a lighter touch to communities that don't have access to jobs or transit.
"The mayor of Beverly Hills has been one of the foremost critics of the bill, so 90210 is covered," Wiener says, noting that Beverly Hills is rich in both jobs and transit.
In Seattle, Durkan says that building more housing in Seattle's high-opportunity neighborhoods will continue to be a challenge. Where the exit-ramp to pay into a fund rather than build affordable housing exists, the majority of developers choose to take it, she says. This trend contributes to wealth and racial segregation, which she says could be avoided with on-site development."It's got benefits, because you can aggregate that money and then use that money to leverage it with the federal benefits to build more housing," Durkan says. "But it has, I think, a real downside, which is that you then create affordable housing that is separate and apart from all the other housing where people live."
Skeptics of density still retain power, despite the upswell in interest in upzoning. In Philadelphia, officials are pushing back against land-use reforms passed in 2011. City Council President Darrell Clarke just introduced two bills that would lower density and increase parking. He aims to create a commission under the council comprising residents, developers, and other professionals, which does not give much voice to future residents who have yet to move to this growing city. "Growing" is a relative term for what's happening in Philadelphia today, which (like many American cities) is only now rebounding from a massive population fall-off.The dynamic in Philadelphia is tied to the broader shape of urban growth in America. For decades now, wealthier residents in districts zoned exclusively for single-family homes have consolidated their political power. They have held tight to these zoning restrictions and developed a sophisticated vocabulary for defending them, arguing that change will usher in traffic congestion, crime, over-crowded public schools, a "change in neighborhood character," or even too much shade. With this input, cities have historically balked at passing ambitious measures like that of Minneapolis.
But as Benjamin Schneider, a CityLab alum, writes in The Nation, cities once allowed for far greater density. And with enough pressure, they could return to those roots. Between 1960 and 2010, zoning laws in Los Angeles changed from accommodating 10 million people to 4.3 million people. As Schneider writes, "San Francisco's 1978 citywide downzoning decreased the number of housing units that could be built in the city by 180,000, equivalent to more than 50 percent of the city's housing stock at that time."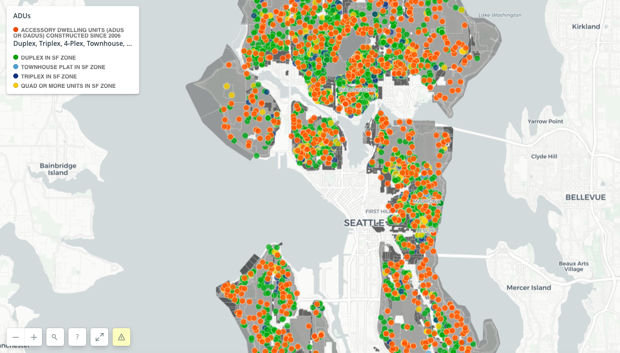 Seattle, too, used to allow for denser development. Part of advocates' campaign is to communicate to residents just how common older multifamily housing is across the city, in neighborhoods that are now zoned strictly for single-family homes, and would not allow similar construction to happen today. The Sightline Institute, a think tank, published a map that reveals the city's historic multifamily housing, home to some 12,000 Seattle residents across the city's more exclusive neighborhoods.
Downzoning efforts changed the fabric of cities. Upzoning policies could change them again. "We missed a lot of the uptick in Seattle," Durkan says, referring to a population spike that has outpaced new housing construction in her city. "But hopefully we've got uptick remaining."
Residential "upzoning" policies being adopted from Minneapolis to Seattle were once politically out of the question. Now they're just politically fraught.