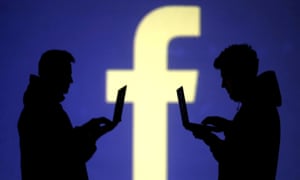 A Cambridge University ethics panel rejected research by the academic at the centre of the Facebook data harvesting scandal over the social network's "deceptive" approach to its users privacy, newly released documents reveal.
A 2015 proposal by Aleksandr Kogan, a member of the university's psychology department, involved the personal data from 250,000 Facebook users and their 54 million friends that he had already gleaned via a personality quiz app in a commercial project funded by SCL, the parent company of Cambridge Analytica.
Separately, Kogan proposed an academic investigation on how Facebook likes are linked to "personality traits, socioeconomic status and physical environments", according to an ethics application about the project released to the Guardian in response to a freedom of information request.
The documents shed new light on suggestions from the Facebook CEO, Mark Zuckerberg, that the university's controls on research did not meet Facebook's own standards. In testimony to the US Congress earlier this month, Zuckerberg said he was concerned over Cambridge's approach, telling a hearing: "What we do need to understand is whether there is something bad going on at Cambridge University overall, that will require a stronger action from us."  But in the newly published material, the university's psychology research ethics committee says it found the Kogan proposal so "worrisome" that it took the "very rare" decision to reject the project.
The panel said Facebook's approach to consent "falls far below the ethical expectations of the university".
Correspondence around the decision was released hours before Kogan appeared before a Commons inquiry into fake news and misinformation. In written and oral evidence to the committee Kogan insisted that all his academic work was reviewed and approved by the university (pdf). But he did not mention to the MPs the ethics committee's rejection of his proposed research using the Facebook data in May 2015.
Explaining the decision, one member of the panel said the Facebook users involved had not given sufficient consent to allow the research to be conducted, or given a chance to withdraw from the project. The academic, whose name was redacted from the document, said: "Facebook's privacy policy is not sufficient to address my concerns."
Appealing against the panel's rejection, a letter believed to be written by Kogan pointed out that "users' social network data is already downloaded and used without their direct consent by thousands of companies who develop apps for Facebook".
It added: "In fact, access to data by third parties for various purposes is fundamental to every app on Facebook; so users have already had their data downloaded and used by companies for private interest."
Another panel member felt that information shared with Facebook friends should not be regarded as public data. In a response to Kogan's appeal, the academic said: "Once you have persuaded someone to run your Facebook app, you can really only collect that subject's data. What his or her friends have disclosed is by default disclosed to 'friends' only, that is, with an expectation of confidence."
The ethics panel member added: "Facebook is rather deceptive on this and creates the appearance of a cosy and confidential peer group environment, as a means of gulling users into disclosing private information that they then sell to advertisers, but this doesn't make it right to an ethical researcher to follow their lead."
The academic also likened Facebook to a contagion. The letter sent in July 2015 said: "My view of Facebook is that it's a bit like an infectious disease; you end up catching what your friends have. If there are bad apps, or malware, or even dodgy marketing offers, they get passed along through friendship networks. An ethical approach to using social networking data has to take account of this."
Kogan accepted that he made mistakes in how the Facebook data was collected. He told Tuesday's committee hearing: "Fundamentally I made a mistake, by not being critical about this. I should have got better advice on what is and isn't appropriate."
But asked if he accepted that he broke Facebook's terms and conditions, Kogan said: "I do not. I would agree that my actions were inconsistent with the language of these documents, but that's slightly different."
Kogan collected Facebook data before the network changed its terms of service in 2014 to stop developers harvesting data via apps.
Facebook has banned Kogan from the network and insisted that he violated its platform policy by transferring data his app collected to Cambridge Analytica. The company has previously said it is "strongly committed to protecting people's information".
In an initial statement on Kogan's research, Mark Zuckerberg said Facebook had already taken key steps to secure users' data and said it would go further to prevent abuse. He added: "This was a breach of trust between Kogan, Cambridge Analytica and Facebook. But it was also a breach of trust between Facebook and the people who share their data with us and expect us to protect it."
Kogan said the ethics committee raised a "number of issues" when it rejected his proposal. In an email to Guardian he added: "We were in the process of resubmitting a new application to the university having addressed these issues – a process that was ultimately stopped once Facebook asked us to delete all of the data."
Jeff Bezos v the world: why all companies fear 'death by Amazon': With its profound knowledge of its customers, Amazon can move into almost any sector – striking fear into the hearts of rivals. And the $740bn company is 'just getting started', by Olivia Solon and Julia Carrie Wong in San Francisco, in The Guardian, 
The computer on which this article was written is sitting on a laptop stand that tells you everything you need to know about how Amazon does business. At $19.99 (£14.99) a pop, the laptop stand combines everything customers love about Amazon: utility, price and convenience. It's also a total and complete knockoff – of a laptop stand that the San Francisco-based company Rain Design began selling nearly a decade before Amazon decided to make its own.
Amazon's innovation with its own version was to replace Rain Design's raindrop logo with its own smiley arrow logo – and cut the price in half.
"All Amazon had to do was pick the best one and copy it," said Rachel Greer, a former product manager for Amazon who runs a consulting firm for Amazon vendors.
Rain Design isn't the first company to fall victim to the aggressive techniques Amazon uses to achieve market dominance. Although its retail site is the most visible of its business strands, the $740bn company has quietly stretched its tentacles into an astonishing range of unrelated industries. Google and Facebook might have cornered the online advertising market, but Amazon's business successes now include groceries, TV, robotics, cloud services and consumer electronics.
"If you try to measure power by how many executives are up at night because of X company, I think Amazon would win," said Lina Khan, legal fellow with the Open Markets Program at the thinktank New America.
Amazon has a restaurant delivery service, a music streaming service and an Etsy clone called Amazon Homemade. It makes hugely successful hardware and software; it makes movies, television shows and video games. It runs a labour brokerage for computer-based work and another for manual labour. It publishes books, sells books, and owns the popular social network site for book readers GoodReads.com. It sells diapers, baby food, snacks, clothing, furniture and batteries. It sells ads, processes payments, and makes small loans. It is the unexpected owner of a huge number of websites – everything from the gaming livestream site Twitch to the movie database IMDb.
Of the top 10 US industries by GDP (information, manufacturing non-durable goods, retail trade, wholesale trade, manufacturing durable goods, healthcare, finance and insurance, state and local government, professional and business services, and real estate), Amazon has a finger in all but real estate.
And how confident can the real estate industry be right now that Amazon won't at some point decide to allow people to buy and sell homes on its platform?
"I see them as kind of a great white shark," said Greer. "You don't really want to mess with them."
"It's basically become a railroad for the 21st century," added Khan. "It's existential for so many businesses but also competing with all those businesses."
What makes Amazon so frightening for rival businesses is that it can use its expertise in data analytics to move into almost any sector.
"Amazon has all this data available. They track what people are searching for, what they click, what they don't," said Greer. "Every time you're searching for something and don't click, you're telling Amazon that there's a gap."
Amazon knows where you live, who you live with, your current location (if you use an Amazon smartphone app), what TV shows you watch, what music you listen to and what websites you visit.
"It's obsessed with understanding its customers," said the Tuck School of Business professor Vijay Govindarajan. "The more you understand every aspect of a customer, the more it can satisfy your needs."
This obsession with knowing its customers means that, while feared by almost every business, Amazon is beloved by customers. It's viewed as cheap, convenient and reliable.
"Amazon's north star is to delight the customer," said Gene Munster, a former Amazon analyst who runs an investment firm, Loup Ventures.
Despite its treasure trove of personal data – the kind that allows retailers to predict if their teenage customers are pregnant before their parents know – Amazon has mostly avoided using that data in ways that unnerve people.
But the consumer trust it has built up does not reflect the damage the company does to competitors, partners and workers, according to Khan. "Only looking at a consumer side of a business power is totally ludicrous. It slices the human in half, not looking at them as a worker, producer or supplier."
Customers might be getting super-fast deliveries of cheap laundry detergent and binge-worthy TV shows, but the same company has also been accused of displacing jobs in the locations where it builds its fulfilment centres, treating warehouse workers like robots, aggressively undercutting rivals and squeezing suppliers and producers.
"The algorithms are designed to serve up things that best serve Amazon, steering us to some books and not others," said Stacy Mitchell, co-director of the Institute for Local Self-Reliance. "You have a company that can shape whether a particular author is able to find an audience, and whether they can even get published."
That power means that "people don't know if there's something they're missing".
The company doesn't even shy away from competing with its own investments. After pumping $5.6m into the startup Nucleus and its Alexa-powered video-conferencing tablet, Amazon turned around and released its own suspiciously similar device, the Echo Show.
"They probably copied us," the Nucleus co-founder Jonathan Frankel said last year. "When they had the opportunity to extend their tentacles into millions of homes, they had to do it, even if it means throwing us under the bus, even if it means putting their whole ecosystem at risk and letting people know that they're not necessarily a trusted partner."
Amazon declined to comment on its investment into Nucleus or on the design of its laptop stand, but noted that Rain's design remained the bestselling stand on the site.
The company's success has produced panic among investors. When Amazon bought Whole Foods, grocery chains' stock prices crashed. Two months later, when Amazon announced it would cut Whole Foods' prices, grocery stocks plummeted again. The meal kit maker Blue Apron's stock price fell 11% after the news that Amazon was filing for a meal kit trademark. A vague announcement from Amazon that it was collaborating with JP Morgan and Berkshire Hathaway on some kind of non-profit healthcare venture sent healthcare stocks on a downward slide.
Since 2012, Bespoke Investment Group has been tracking an index of 54 retail stocks, known as the "Death by Amazon index", that it considers most vulnerable to Amazon. "It's a somewhat melodramatic title, we admit," said George Pearkes, a macro strategist with Bespoke. "But it encapsulates what is going on in retail quite well."
Between February 2012 and January 2018, Amazon's value rose 560%, the S&P index rose 102%, and the Death by Amazon index grew just 42.8%.
Amazon still has a lot of room to grow. It dominates e-commerce, but that's only about 9%, (according to eMarketer) of the total retail market in the US. With the acquisition of Whole Foods and the launch of the concept store Amazon Go – which has no cashiers and no checkouts – the tech giant can start to take on the other 91%.
And it wouldn't be surprising if Amazon were to sell the technology that powers the futuristic stores to other retailers so that they too could automate their stores and cut jobs. Doing that would allow the company to keep track of the sales made by its competitors – just as it does on Amazon.com – and use that data to inform its decisions about other retail categories to move into.
"Amazon is just getting started," said Govindarajan.
Another huge growth area is healthcare and the pharmacy business, according to Khan, who sees the health insurance joint-venture Amazon launched with Berkshire Hathaway and JP Morgan as a way to "get experience in the sector and then double down".
The company, which is already taking payments and making loans to third-party sellers, has also laid the foundations to push further into financial services. "It wouldn't surprise me if they tried to look at the option of obtaining an industrial bank charter," said Mitchell.
What's the CEO Jeff Bezos's endgame? Khan suggests it could be a "tax on all economic activity".
"If you view it that way it's difficult to think about what sector he wouldn't touch," she said.
Khan believes that Amazon needs to face antitrust regulation, but current law is not equipped to deal with it. "I think a rule that prohibited it from competing with the businesses that use its platforms would eliminate a lot of the core conflicts I mentioned," she said.
Eliminating this conflict of interest would mean Amazon could provide the Amazon.com marketplace, but not its products, for example.
Without regulation, Amazon will "continue to extract wealth that other businesses are creating", Khan added.
"I see them as kind of a great white shark. You don't really want to mess with them." The words are those of a former manager at Amazon – and she is describing her former employer.
It is an apt analogy. Amazon is huge – worth $740bn (£530bn) at Monday night's share price – but it moves fast and is a lethal predator.
This week, the Guardian is shining a spotlight on Amazon, examining how the company has disrupted an ever-expanding range of industries and the power it wields.
One of the 14 business principles set out by founder Jeff Bezos, who started the company in a Seattle garage in 1994, is "think big". Amazon does exactly that. It operates in nine out of the 10 biggest industrial sectors in the US and its scale and control is such that it has been compared to a private company owning the road network. It has also turned Bezos into the world's richest man, worth $130bn.
Later this week, the company, which employs 560,000 staff worldwide, is expected to report a 40% jump in sales. Analysts say Amazon's revenues in the first three months of the year will hit nearly $50bn – or more than $500m a day.  The company has fundamentally changed the way hundreds of millions of people across the world shop for books, music, movies, electrical gadgets, clothing and – more recently – food. But it is now much more than just a retail business.
Amazon Web Services controls around 45% of the world's cloud-computing capacity and provides the web infrastructure on which thousands of other huge businesses and vital organisations are built – with customers ranging from Netflix to the CIA to the UK's Department of Justice.
Amazon is blamed for driving traditional retailers out of business; it is accused of copying other firms' products and services and driving them out of business too. It is accused of treating staff poorly and avoiding tax by all legal means possible, no matter how contrived its offshore structures.
It knows where its customers live, what they buy and what web pages they browse. It has been accused of not wanting to dominate the market – but to own it.
Its scale and attitude to paying tax has drawn the ire of Donald Trump, the European Union and the International Monetary Fund (IMF), but the online behemoth and its multibillionaire owner show no signs of slowing down or bending to the demands of politicians.
Last week, the head of the IMF, Christine Lagarde, warned that technology companies such as Amazon had "too much market power – in the hands of too few". She said the tech companies' dominance was "not helpful to the economy or to the wellbeing of individuals". She said that in order to tackle their hegemony "a lot of new thinking has to be done".
President Trump has tweeted his anger about Amazon six times so far this year. Last month, he said: "Unlike others, they pay little or no taxes to state & local governments, use our Postal System as their Delivery Boy (causing tremendous loss to the U.S.), and are putting many thousands of retailers out of business!"
But Amazon is focused on further expansion – new countries, new products (from Alexa voice recognition speakers to healthcare and home robots), into bricks and mortar stores (some of which have replaced bookshops that Amazon had put out of business) – and making even more money.
**
In the early days of Amazon, Jeff Bezos instituted a rule: every internal team should be small enough that it can be fed with two pizzas. The goal wasn't to cut down on the catering bill. It was, like almost everything Amazon does, focused on two aims: efficiency and scalability. The former is obvious. A smaller team spends less time managing timetables and keeping people up to date, and more time doing what needs to be done. But it's the latter that really matters for Amazon.
The thing about having lots of small teams is that they all need to be able to work together, and to be able to access the common resources of the company, in order to achieve their larger goals.
That's what turns the company into, in the words of Benedict Evans, of venture capital firm Andreessen Horowitz, "a machine that makes the machine". 
"You can add new product lines without adding new internal structure or direct reports, and you can add them without meetings and projects and process in the logistics and e-commerce platforms," Evans notes. "You don't need to fly to Seattle and schedule a bunch of meetings to get people to implement support for launching makeup in Italy, or persuade anyone to add things to their roadmap."
Amazon is good at being an e-commerce company that sells things, but what it's great at is making new e-commerce companies that sell new things.
The company calls this approach its "flywheel": it takes the scale that can smother a typical multinational, and uses it to provide an ever-increasing momentum backing up its entire business. The faster the flywheel spins, and the heavier it is, the harder it is for anyone else to stop it.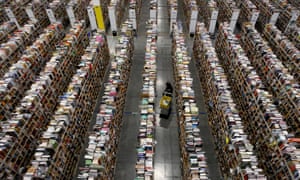 Perhaps the best example of that approach in action is the birth and growth of AWS (previously called Amazon Web Services). That's the division of Amazon that provides cloud computing services, both internally and for other companies – including those that are competitors to Amazon in other areas (both Netflix and Tesco use the platform, for instance, despite Amazon also selling streaming video and groceries).
It started, like so many things at Amazon, with an edict from the top. Every team, Bezos ordered, should begin to work with each other only in a structured, systematic way. If an advertising team needed some data on shoe sales to decide how best to spend their resources, they could not email analytics and ask for it; they needed to go to the analytics dashboard themselves and get it. If that dashboard didn't exist, it needed to be created. And that approach needed to cover everything.
From there, it was almost an afterthought to take the obvious next step, and let others use the same technology that Amazon made available internally.
Those humble beginnings spawned a beast. The business is now 10% of Amazon's overall revenue, making so much money that financial regulations forced the company to report it as a top-level division in its own right: Amazon divides its company into "US and Canada", "International", and "AWS".
AWS is large enough that it is dealt with on the same tier as the entire rest of the world. AWS is large enough that Netflix, a company that accounts for around a third of all internet traffic in North America, is just another customer. 
AWS is large enough that in 2016 the company released the "Snowmobile", a literal truck for moving data. The companies that work with AWS move so much information around that sometimes the internet simply cannot cope. So now, if you want to upload a lot of data to Amazon's cloud, the company will drive a truck to your office, fill it with data, then drive it back. If you need to upload 100 petabytes – that's roughly 5m movies in 4k with surround sound – it turns out there's no quicker way to do it than driving it down the freeway at 75mph.
While AWS saw Amazon open up its internal technology to external customers, another part of the company does the same trick with Amazon's actual website.
Amazon Marketplace launched in 2000, allowing third-party sellers to put up their own wares on the site. The feature has expanded over the years to become a major plank in the company's quest to be the "everything store" – the one destination on the internet you need to go to to buy anything in existence.
Marketplace goes one better than the pizza rule, allowing Amazon to expand into new sectors without needing to employ a single extra employee.
The variety of things sold on Amazon is now so huge that its internal computer scientists faced a problem. "E-commerce companies such as Amazon … process billions of orders every year," a team of Amazon researchers wrote. "However, these orders represent only a small fraction of all plausible orders." The solution? Train an artificial intelligence purely to generate plausible fake orders, to better guess how to market brand-new products.
Amazon reports the revenue it makes from Marketplace as around 20% of the company's total income. But that metric, which only counts the fees paid to the company by third-party sellers, understates the colossal scale of the business. "Marketplace is now around half of the total volume of goods sold through Amazon," estimates Andreessen Horowitz's Evans. "In other words, Marketplace means that Amazon handles (but does not, incidentally, itself set prices for) double the share of e-commerce that it reports as revenue."
Increasingly, then, Amazon resembles less a big-box retailer such as Tesco or Walmart, hovering at the edge of town sucking up commerce and killing the local high street, and more a shopping mall: independent retailers can exist, and even make a tidy living, but only if they get a slot in the mall itself – and if they always remember that the real moneymaker is the landlord.
Since 2014, Amazon has added a third flywheel to its business: artificial intelligence. The company has always been near the leading edge of the industry, most obviously in its neural-network-powered recommendation algorithms. But, until recently, that approach was scattershot, segmented, and hardly world-class (think of the last time you bought something on Amazon only to have it recommended to you for weeks afterwards. "You like duvets? Why not buy 10 more?").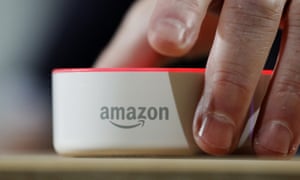 That changed when the company decided to build the hardware that would become the Echo. In classic Amazon fashion, it started at the end and worked backwards from there, writing a "press release" for the notional future product and then trying to figure out what expertise needed to be developed – or bought – to make it. Need a personal assistant? Buy Cambridge-based True Knowledge, once working on a Siri competitor, and you get Alexa. Require far-field voice recognition, letting you hear people on the other side of the room? Start working on that now, because no one's really cracked the problem.
Institutionally, the bulk of the Alexa AI team still sits under AWS, using its infrastructure and offering another tranche of digital services to third parties who want to build speech control into their devices. But the economies of scale that come to AI are unique. There's the value to the data, of course: the more people use an Echo, the more speech samples it has to train with, and so the better the Echo becomes. And beyond that, machine learning technologies are so fundamental, and so general purpose, that every advancement Amazon makes ricochets throughout its business, increasing efficiency, opening up new fields, and suggesting further avenues of research.
But nothing lasts forever, and even Amazon has its weak points. The two-pizza rule, for instance, may be a good strategy for building an infinitely expandable company, but it doesn't lend itself to a pleasant, stress-free working environment.
Amazon has long faced criticism over its treatment of warehouse workers: as with many companies in its sector, huge valuations and high-tech aspirations sit uneasily alongside the low-paid, low-skilled work that makes the company tick over.
Where Amazon differs from companies such as Deliveroo, Apple and Facebook is that the highly skilled employees sitting in the headquarters have almost as many complaints.
A New York Times exposé from 2015 described employees crying at their desks and suffering near-breakdowns from the pressure they were put under. The company's rapid employee turnover is legendary, with insiders describing a sort of Forth Bridge of technical debt: someone leaves, and someone else has to rewrite all their code to make it understandable to the people still there – but by the time the rewrite is finished, the person doing the rewriting has also left, requiring someone else to start the whole process again.
But the one thing that's been true from day one is that Jeff Bezos sits at the top of the food chain, with direct control of a $740bn (£530bn) business matched by few other bosses. It would take a bold gambler to bet against the company right now.